| | |
| --- | --- |
| | XENA1956's Recent Blog Entries |


Tuesday, August 10, 2010
The sun came out about an hour earlier today than yesterday. The weatherman keeps talking about it warming up, but we shall see. Took Phred for an AM & PM walk and also did an LS dvd: Advanced 5 miles with 5# weights, walkbelt and resistance band.

We took a break this afternoon and finally watched an old movie we purchased a while back, "Cat Ballou" with Jane Fonda and Lee Marvin. Her love interest looked so familiar and afterwards I looked up the guy and realize he had played on one of my favs soaps in the mid eightys (OLTL).

Made grilled salmon with healthy whole grain rice, mixed veggies, peaches and honey biscuits. All turned out great!




Sunday, August 08, 2010
Got up this morning to go kayaking and once again it was overcast and cold. When I went by the local bank that shows the time and temperature it was 9:01am and 62 degrees. I wore a light jacket when I left the house. It did warm up later in the morning, but there has been a pretty cool breeze almost everyday that has kept the temp. in the mid 70's locally.

I was once again in the back with the newbies. We got pretty far behind this time. The couple who were each in a separate kayak had some problems at first but soon Patti and Ken were catching on and doing well. Then there was the mother/daughter in a double kayak, OMG. Wouldn't take instructions well at all, the daughter was in front and wasn't even trying to help her mother paddle. When I was trying to give them helpful instructions, the mother got testy and said something to the effect that her daughter was tired. So I ask if she wanted to go back. She says "Oh not that kind of tired just being a 13 year old girl","You know how they can be". I was thinking well I had a 13 year old daughter and if she acted like that after I paid for this outing I wouldn't be too happy with her. But the mother wasn't helping the situation any by making snide remarks. So I paddled up to the middle and told Bijan that they were having some problems and not listening to me. He went back, and he is the gentlest person, and the mother was the same with him. So, he finally goes up to the front and gets Marc, our leader/organizer. Marc comes back, I am still keeping an eye on them and Patti/Ken. I look back and Marc is getting farther behind with the mother/daughter team. Next time I look back I only see Marc, I knew then m/d team had return to the docks.

Here are some shots from today of the area, the clouds were very thick in the morning but by 10:30am or so the sun was starting to come out.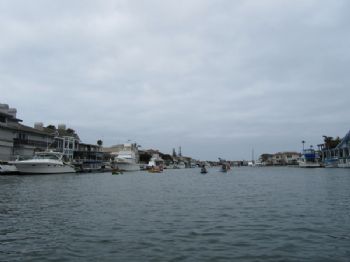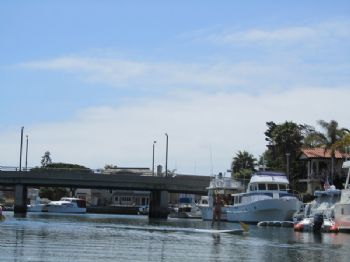 Bijan did not have a good day. When we got to our break point he discovered he had lost his plastic bag with his belongings. No wallet, car keys, ID or credit cards. We got together to buy him lunch. One of the ladies drove him to his home in Irvine to meet up with a locksmith (he had no house key either), and to get him his spare car key, and they drove him back to Huntington Beach. He will spend the rest of tonight and tomorrow canceling credit cards, changing locks on house & car doors and a trip to the DMV to get a new DL. I really felt so bad for him.

Came home, took a shower, started dinner for the guys and did some Sparks. Not going to be on long tonight because there are things I want to see on TV tonight. Hope everyone had a wonderful Sunday.





Sunday, August 08, 2010
Got up this morning a bit late because I thought that Jeff would be doing a side job at a friends home. Turned out he miss-read the email and it was next Sat. he needed some help with electrical wiring.

Ate breakfast and read some of the paper and started to get my grocery list ready when Jeff asked me to come with him to the big Home Depot over in Anaheim Hills. We have a lot closer but not as big. He wanted to check out kitchen cabinets because we did that the other day on Loews. We are checking what is at these two places just to get a idea of what is available and what is out there. We will not be purchasing at either of these places because they are both way too expensive. We also looked at new appliances, DW,Dryers,Washers,
stove/ovens and refrigerators, again most likely would not purchase from either of these places unless we could get a great deal.

Where we live happens to be the best place to buy cabinets, counters, tiles and carpet in the country, my husband says in the world because for about a 4- 5 mile area on both sides of St.College Blvd., is one after the other of these types of stores. Designers come from all over to one stop shop. Jeff wants real granite, not the fake stuff. So I have plenty of places and time to go looking to see what is out there that I like to match my tile. There are also a lot of discount furniture and appliances places here in OC, Too.

After we left Home Depot we went to lunch at a place called "Knollwoods", Jeff had a hamburger and I had a veggie burger on whole wheat bun dry. I did have a few of Jeff's french fries but that is OK once in a while. Went to the market when I got home and had over $100 taken off the bill.


could hardly believe it.

We are watching John Wayne movies tonight on AMC. Jeff loves the Duke.





Friday, August 06, 2010
Frank and I had a lot of fun hiking last evening. The weather was perfect, we had 15 people show up this time. We went a bit farther than the last hike so it was around 4 miles this time. I got some interesting shots but haven't uploaded them yet.

Afterward they decided to go back to Marc's house right up the road for the pot luck. He has the most beautiful home that he built himself. Like a log cabin, I took some shots. Very handy guy and he lives right next to wear he works, the fire station. Talk about a short drive to work, his back deck looks at the side of the fire station building. We didn't get home until almost 10pm and after I showered I went to bed.

Got up this morning, took Phred for a walk and then started on the house work, bathrooms, dusting, 3 loads of laundry, vacuuming, mopping and general clean up. Then had lunch about 1:30pm and watch a little soaps and did an LS dvd at 3pm. Going to bed in a little while because I am pretty tired out.

I am mad at my scale. It gives me a different weight each time I step on it. So now I don't really know what I weigh. I will have to call the company to see what the problem may be. I stepped on it this morning and it had me at 141. I went to the bathroom and thought that just doesn't seem right, so did it again and it had me at 148, then one min. late at 144. What the hay is with that. So darn mad because the thing is suppose to do all the fancy stuff like BMI and body fat. Now I can't even believe what it says. When I first got it, it was on like 1/4 of a pound off from the doctors scale. I figured that was OK because scales can be a little bit different but 5 pounds or more just isn't right.

So thanks all my friends for congratulating me on losing 3 pounds, I just don't know if that is correct or not.

Plan for tomorrow is to get into the gym!





Wednesday, August 04, 2010
Got up this morning and read the paper while eating breakfast. Took Phred out for a nice long walk and stopped by Dr. Berry's (my eye doctor) to pick up a not for my Rhuematologist about my eyes. Dr. Sugarman needs this update to see what effects the long term steroids (prenidsone) use has on my eyes.
Came home a did some stuff around the house, ate lunch and my husband has had the tv most of the day because we finally got ATT=Uverse installed yesterday. He loves the science and history channels. I love HGTV and FX for movies.
Did 2 exercise dvd's today, TBL w/Bob "Bootcamp", LS:Walk away your waistline, 3 fast miles with the walkbelt and 66 mins walk this am with Phred and just a short one this evening. Keep within my calorie range and back on track.
NIght all.



First Page
1
2
3
4
5
6
7
8
9
10
11
12
13
14
15
16
17
18
19
20
21
22
23
24
25
26
27
28
29
30
31
32
33
34
35
36
37
38
39
40
41
42
43
44
45
46
47
48
49
50
51
52
53
54
55
56
57
58
59
60
61
62 63 64 65 66 67 68 69 70 71 72 73 74 75 76 77 78 79 80 81 82 83 84 85 86 87 88 89 90 91 92 93 94 95 96 97 98 99 100 101 102 103 104 105 Last Page

Get An Email Alert Each Time XENA1956 Posts