| | |
| --- | --- |
| | XENA1956's Recent Blog Entries |


Saturday, May 08, 2010
Frank and I headed over to Huntington Harbor this morning for kayaking fun. He had never tried this b/4 and I think he had a pretty fun time. Will put up a picture as soon as the Jerrod (the young man who took pictures last time) loads them onto our club site. He a couple of nice ones of Frank and I. Was pretty warm today down at the beach so the cold water felt wonderful.
Parking was a total bitch. No one realized that they do a special Mother's Day Fair in the Sunset Beach area so it took about 15 - 20 mins. to find a parking space. And when I did I was only about 50 yards from the rental place along PCH. Many others ended up having to pay to park for the day, anywhere from $10 - $15 dollars or park blocks away from the place.
After the cruising (lol) around the harbor a group of us walked up PCH to a place called "Harry's", where we had lunch. Frank had a chocolate shake and hamburger and I had the Turkey Club, 3/4's of it eaten and I was stuffed, I couldn't finish it, so Frank ate the rest after he finished off the burger. I ended up drinking a diet pepsi which really didn't taste too good, first diet soda I have had in about 3 1/2 months.
I made sure each of us had reusable bottled water for kayaking, so wasn't too thirsty. I put more ice in the diet soda than diet soda. Then Frank asked if we could go and walk on the beach. Sounded good to me.
We walked down to the beach and walked along the shore for close to a mile, then came back up south of where the car was parked. We cut across PCH and clean out feet off from all the sand and headed home to clean up and shower.
It was a very good day and I am so glad that my son went with me and really enjoyed himself. He said he would come with me the next time either Irene or Sandy couldn't come with me. He is taking a nap right now. Poor baby is tired out by all that exercise. lol






Friday, May 07, 2010
Got up this morning around 7:45am, sat around reading the paper and then started doing laundry for my son and myself. (Yes he will do his own clothes, it is just sometimes to have full loads I will had his stuff to mine). Walk the Phredster and came home.
My friend Irene called just at the end of the walk. She stopped by later and I feed her some lunch. She had a piece of the left over Crustless Salmon Quiche from last night and really loved it and wanted the recipe. I gave it to her. She is still separated from her family. Her son Bobby who is almost 19 has a lot of anger issues and has done a lot of damage to her home and the family. She had enough, packed her bags and told her husband for once to take care of things. She has been staying with a cousin in South County (Rancho Santa Margarita) and she loves it there. She is having dinner tonight with her husband but I don't think she is going to come home if things don't change.
Tomorrow Frank and I are going kayaking. I think Frank will enjoy himself and I am looking forward to showing him how much fun it is. It will be nice to spend my Mothers Day weekend with one of my kids.
I got my 2 new exercise dvd's today. I get $10 in Amazon gift cards every month from an RA site that I am a part of. So I had enough to get 2 of Leslie Sansones dvd's that I didn't have, both are 5 miles indoor walking dvd's. I also had enough to get "Avatar" with both the blue ray and regular version. Frank complains now when we buy dvd's because he only has a regular dvd in his room, not a blue ray.







Thursday, May 06, 2010
Got up early so we could open the windows in the house b/4 it got warm this morning. Why? We always have problems with our drains, so this morning was the day the stinky stuff was going into the kitchen, bathroom and tub sinks. This stuff works but smells just awful. Rotten eggs to the 100 degree. PU
After that I took Phred for a good walk and then came home and started the house cleaning. Cleaned up the back yard, dusting everything in every room in the house, cleaned both bathrooms, vacuumed and mopped. Then it was time for a little lunch and watch the last half of OLTL and GH.
After that I did the "30 Day shred", showered, did some Sparks stuff and made dinner using a Sparks recipe. I really enjoyed the "Crustless Salmon Quiche" but the men folk were "Real men don't eat quiche" thing. I think I should have used a little more of the pepper sauce then it said, would have given it just a bit more bite. I also grated 2 pcs of low fat string cheese in place of the mozzarella, and I used whole sharpe cheddar. I think this is a good recipe but next time I would use chopped bell pepper and maybe tomato's the next time I make it.







Wednesday, May 05, 2010
Yesterday was sort of boring. Did normal routines and somehow the day just got away. Did my indoor walking dvd, JM's "30 Day Shred", walked the dog. Nothing too special.
Today had a doctors appointment and pulmonary test on my lungs. Doing very good. Also I got weighed at Dr. Lawton's office and even after eating breakfast this morning I was 168.6. So I figured if I had weighed myself b/4 eating this morning I might be at 165. I will wait for my Monday morning weigh in and see how I do. I haven't been below 168 in about 3 1/2 yrs but I only stayed there for about 6 months b/4 the pounds came back. This time I am not going to stop until I hit my goal of bwt 135 - 145, by the end of Dec. 2010.





Monday, May 03, 2010
Went Kayaking on Sunday morning for the first time in well over 25 + years. Had a great time and plan to go again this Sat. morning. Here is a picture of me paddling with the leader Marc in front on the canoe.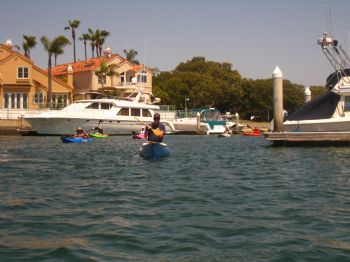 I am in the straw hat on the blue kayak with the brown shirt. We paddled around the harbor for close to 2 1/2 hrs with a 15 min. break at a little park. They have several of these parks around the harbor and between the homes for the kids in the area to play and swim. This is one of the places where the rich people play. Some of the group went to have lunch afterward but I needed to get home because I had plans with the family at 3pm. It was already close to 12:30 pm when I left to head back to the old homestead.
This weekend the Amtrak had a special engine pulling the train running from LA to San Diego. It was an old steamer and would be coming through the town of Fullerton (10 mins. from the house) around 3:30pm, of course it was late by about an hour but there was a crowd there to see it. I took some pictures but have not loaded them on the laptop yet but as soon as I do will post them.
After that we went to dinner at one of the only remaining Chris & Pitts restaurants around (you can still buy the BBQ sauce in most markets). The rumour is that it will be closing soon, but the people who work there are sure they will be staying. There was a big local protest and even someone made a FB page to keep it open here in Anaheim.
Couldn't sleep last night, first I was hot them warm but not hot flashes more stuffy in the house. I didn't wake up til 9:10am so had to rush to get some morning errands run. I went with my husband over to our friends hardware store to get some stuff we needed and then next store to the market. Jeff picked out steak to have for dinner (no surprise there). I went a few hundred calories over my count today, would have been OK if I hadn't eaten 8 oreos.
I ate the cookies while we watched "Avatar". I saw it at the movies in 3-D, but my husband and son hadn't seen it. They both enjoyed it a lot. After seeing it in 3-D, it seemed a little flat, but the story is so good and exciting that I didn't care after a while.
Did my JM'30 Day Shred" after that and walked the dog again. Had fun the last couple of days.



First Page
1
2
3
4
5
6
7
8
9
10
11
12
13
14
15
16
17
18
19
20
21
22
23
24
25
26
27
28
29
30
31
32
33
34
35
36
37
38
39
40
41
42
43
44
45
46
47
48
49
50
51
52
53
54
55
56
57
58
59
60
61
62
63
64
65
66
67
68
69
70
71
72
73
74
75
76
77
78
79
80 81 82 83 84 85 86 87 88 89 90 91 92 93 94 95 96 97 98 99 100 101 102 103 104 105 Last Page

Get An Email Alert Each Time XENA1956 Posts