Monday, May 03, 2010
Went Kayaking on Sunday morning for the first time in well over 25 + years. Had a great time and plan to go again this Sat. morning. Here is a picture of me paddling with the leader Marc in front on the canoe.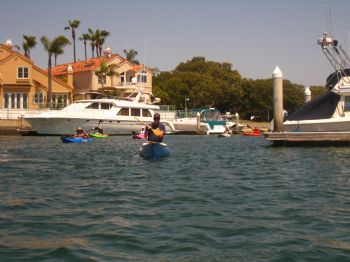 I am in the straw hat on the blue kayak with the brown shirt. We paddled around the harbor for close to 2 1/2 hrs with a 15 min. break at a little park. They have several of these parks around the harbor and between the homes for the kids in the area to play and swim. This is one of the places where the rich people play. Some of the group went to have lunch afterward but I needed to get home because I had plans with the family at 3pm. It was already close to 12:30 pm when I left to head back to the old homestead.
This weekend the Amtrak had a special engine pulling the train running from LA to San Diego. It was an old steamer and would be coming through the town of Fullerton (10 mins. from the house) around 3:30pm, of course it was late by about an hour but there was a crowd there to see it. I took some pictures but have not loaded them on the laptop yet but as soon as I do will post them.
After that we went to dinner at one of the only remaining Chris & Pitts restaurants around (you can still buy the BBQ sauce in most markets). The rumour is that it will be closing soon, but the people who work there are sure they will be staying. There was a big local protest and even someone made a FB page to keep it open here in Anaheim.
Couldn't sleep last night, first I was hot them warm but not hot flashes more stuffy in the house. I didn't wake up til 9:10am so had to rush to get some morning errands run. I went with my husband over to our friends hardware store to get some stuff we needed and then next store to the market. Jeff picked out steak to have for dinner (no surprise there). I went a few hundred calories over my count today, would have been OK if I hadn't eaten 8 oreos.
I ate the cookies while we watched "Avatar". I saw it at the movies in 3-D, but my husband and son hadn't seen it. They both enjoyed it a lot. After seeing it in 3-D, it seemed a little flat, but the story is so good and exciting that I didn't care after a while.
Did my JM'30 Day Shred" after that and walked the dog again. Had fun the last couple of days.