Wednesday, April 28, 2010
Got up this morning and took Phred for his morning walk. Decided I was going to the gym while it was not too cold. Rained last night, windy and cold this evening. After I finished with cardio, I went upstairs to do some strength and realized my little flap wallet had dropped off the necklace. I went back to the bathroom area , ellipticals and front desk with no luck. Saw that one of the other ladies I use to see a lot working out, Suzanne was now working at the gym. She has lost a ton of weight and plans are for her to hike McKinley, Alaska, this summer. Oh fantastic for her. Anyways my trainer heard what happen and we both looked and finally found it underneath a machine. Figured someone kicked it or something. Sure glad I found it cause it had my gym membership and DL inside it.

Last night went with Jeff over to Lowes and saw the tile that I love. Everytime we are in there I go and look for it. So after he got off work today (only worked half day, same tomorrow) he measured everything we are going to do in tile and off we went. We would need 27 boxes of this tile, they had 28 boxes left. Woo Hoo for us. Here is what it looks like but it is brighter than it appears in this picture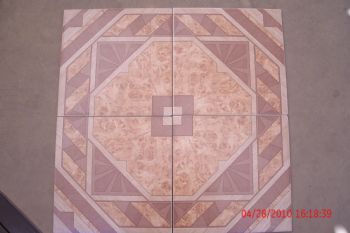 This tile will be in the entrance, kitchen, dinning room, laundry room and both bathrooms. The rest of the house will now have new carpet put in this summer. Currently our carpet is almost 26 yrs old and the current tile was put in around '87 or '88.

I told my husband that I rather have my house redone than go anywhere for our 25th anniversary in June. Looks like he will be working at that time anyways. So I suggested we go over to Catalina for the day with our son Frank. It is $34 round trip and we could still pay to do a few things like the new zip line they put in recently. Franks 24th birthday is July 3 and our anniversary is the 29th of June. We would celebrate them together and save money for the house redue.

I am so jazz to finally have my house redone this summer. It really needed it!