Saturday, April 17, 2010
I did my first official hike with the OC Hiking Club this morning. It was in the Irvine, CA area called Turtle Rock, which is located just above UCI. It was a beautiful morning, not too hot or overcast.
There was a total of 22 hikers, and we began to introduce ourselves while we waited for our leader Pat to show up. After 10 mins. pass our starting time, one of the guys mentions he had done a number of hikes in the area, so we elected him the leader of the hike. After about 3/4 of an hour Pat showed up, coming from the opposite direction, what luck she had picked the right way to go to find us. She was very sorry she was so late but glad we had taken a vote to start without her. Here is a picture of my friend Irene and I at some point in the hike.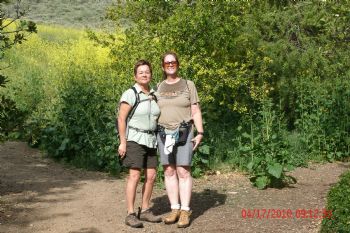 Came home and our neighbor Jim said my husband Jeff was off helping a friend with an electrical problem. While Irene waited I ran in the house to get her a coupon for her favorite Italian restaurant that her family goes to at least 2 times a week (coupons come in the Fri. & Sat. newspaper). Jeff came home just b/4 she left.
Frieda, the daughter of my friends Rosa & Francisco came down to visit for about 30 mins. She comes over pretty often to play with Phred, for years she has come over to the house to play with the dogs, b/4 Lucy passed she loved to brush her almost everyday and Lucy looked forward to seeing her. Phred still acts crazy when she gets here but mellows after 5 mins.
Later Jeff and my son Frank worked on pulling the wiring for Franks computer for his room under the house. Frank was elected by Jeff to go under because it is not a pleasant job and since Jeff has laryngitis he wasn't going under. He also decided it was time to run a computer wire to our 62" big screen so he can do the updates easier.
Here is a picture of the view looking west toward the Pacific Ocean, towards Fashion Island in Newport Beach (where all the rich people play)


Here is a shot of me sweating it up after climbing up a few hills.