| | |
| --- | --- |
| | WOLFKITTY's Recent Blog Entries |


Monday, April 02, 2012
I've called it that before.. "Exercise Medicine": There's nothing like exercise to help with healing, especially stress-related illnesses. But it also works for sore muscles, and hurting backs, and headaches, and cramps... all kinds of aches and pains.

So if exercise is so great, how come when I need it the most, it's the hardest to get up and do? Why, when I could use a little mild walk do I only want to lie around in bed?!?

It doesn't make any sense. By Saturday I was worn out from working a 14 hour day Thursday, and another on Friday. I still didn't sleep enough that night, and ended up being overly tired, emotionally wrecked with mood swings. (I was giggling in the store with Heather for a minute, and then laughing so hard I cried for no reason, and while trying to catch my breath behind a display immediate started crying with real sadness, inexplicably, before I admitted that maybe I was still tired.) I was dehydrated and feeling like I had run a 5k I was so achy.

I avoided exercise that whole day, though it might have helped a little. I know that what I really needed was rest.

On Sunday, we went to go have our normal run, but I had a head-splitting ache and more severe than normal back pain. I can tolerate a lot of pain, but during our warm-up walk it felt like I couldn't take another step, much less start to jog.

We ended up finishing our lap, and then hiking up a trail with a steep incline. My heart rate skyrocketed, my lungs were working overtime and so were my legs. Blood was pumping everywhere, but mostly hurting my head even more as all the circulation was helping my lower back feel better. I stopped just long enough to slightly catch my breath, and wait for my heart rate to slow just to ease pressure off of the headache, then forged ahead with the pounding beat.

By the time we got to a stopping point, my headache was feeling better. It didn't come back the rest of the day (although the espresso dessert drink afterward helped a little too).

For many things, exercise really is the best medicine. But so is having a positive attitude during, getting adequate sleep, and eating healthfully. These are the cornerstones of my Wellness Life. And the enjoyment I get from feeling better from all of it, and being able to do more contributes to my Adventure Life.

It's definitely worth that first bitter taste of exercise to feel the healing that comes from it. And it always gets easier the more I do it! So in the morning we will do the run that I missed Sunday; except now it'll be in the cool pre-dawn hour instead of sunshine. ;)





Monday, March 26, 2012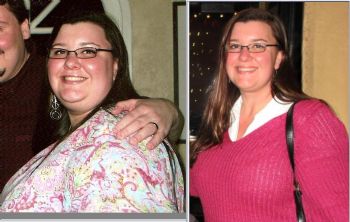 Me before at about 375 and recently about 250.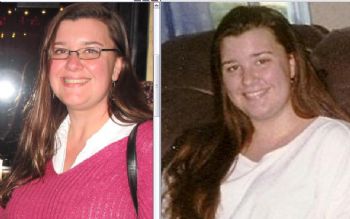 Now (250) and when I was 17 (under 200).

Today was International Waffle day. I thought I'd get a waffle after running for nearly 30 minutes straight this morning, with more fitness minutes walking before and after.... Instead I ended up going straight for the waffle. Belgian, at a local place. It was fun but I missed the running.

But between that and the sweetened White & Black Mocha coffee, syrup, fruit... I went on a major sugar high, and crashed. Then didn't eat lunch, snacked on some Trader Joe Roasted Seaweed squares, and PB M&Ms, showered and napped. Had a late dinner of white rice with Thai food for dinner; along with some caramel chocolate chip cookies I made. I mean, YES, we did over an hour of yard/garden work in there, but still....

My interpretation of the day is low on fiber (eek), low on protein, high on sugars, calories.

THAT is why I'm posting these comparison pictures. I am taking a step back, a deep breath, and not going to allow myself to come up with reasons that I want to eat this or that (instead of reasons that I want to live a fit life).

The week ahead is going to be a big challenge. I will succeed. I will come out of it with the triumph of knowing that I did the very best I could, and gave myself the healthy fuel I needed to do it.

After a challenging first day, and learning a lot the 2nd day, this will be my first full week at work - and it's their busiest. Being that it's financial, the end of the month rigmarole is their difficult time. I'll be going in 4 hours earlier than normal (as in, be there at 5 a.m.) for a couple days, and putting into practice processes I will learn on Monday (I hope). :D Plus, that 5k is just a little more than a couple weeks away. We are going to have to hit every running day planned from here until then.

This is not the time to throw fitness and feel-good eating out the window. When I say "feel good eating", I mean healthful eating that makes me FEEL GOOD. *REAL* feel-good eating. Hrmph, that's IT! I'm tracking my food 100%, darn it!

SO that's the plan, man. And I'm on it.





Thursday, March 22, 2012
I start a new job in the morning. I haven't had a daily office job in a few years now, since I was laid off. I have so many mixed feelings. There are a lot of unknowns that will be answered in the morning (I hope).

But it brings some fresh unknowns, about what will happen next. This is really the start of (I hope) a little bit of security, a time to make decisions, changes. Financially, it will not afford me the freedom that I dreamed of (my own apartment), but it is a start. It just means that I need to come up with other ideas, all of which are better than being unemployed and homeless, for sure! I will simply try to plan and deal with the rest as it comes, that's all I can do.

That doesn't quiet the nervousness.

But as I told a friend recently (who was nervous to go to some parties and meet new people with me): NERVOUSNESS is just from the adrenaline, which is there to prepare you for the challenges ahead!

I must be *really* ready. LOL.






Tuesday, March 13, 2012
[If you're short on time, skip to the runners below.] Many times we run at a park that has a loop around a man-made lake (as part of a feature for a planned housing development - the faux trail I've mentioned before). The paved path is tailor-made for strollers and bikes, kids and dogs alike.

The main loop is a little under 1 mile (.727 mi), meaning we can run it in 10 minutes. We try to make it 5 times around, doing our C25k program and walking before and after to warm-up/cool-down. Since many people run faster, whether we're walking or running, we often see runners several times during our trip around.

Inevitably, people see us, too. Some stare, some smile, some insist on a response to their "Good morning" (it's hard if I'm struggling to breathe).

I've never given much thought to whether or not I'm looking at someone else. Usually I just do all the looking and get lost in whatever I'm thinking.

I've seen puppies that are adorably cute.
I've seen kids that I'm trying to dodge while running.
I've seen trees and flowers, leaves and bugs.
I try to see dog poo that people don't pick up (eww) so I don't step in it.
I've seen people running.

When I see the runners, I have all kinds of thoughts about their form, stride, what I might learn, what kind of gear they're wearing, how fast they're going (everyone seems faster than me), how long they're running, or I admire their fitness.

When people see ME running, I try to push away any feelings of self-consciousness and dig into my reserves of determination to continue running. I used to hate to exercise in front of other people.

Sometimes, though, I think they're wondering why I'm going so slow, breathing SO HARD, taking up too much space... but I've never seen anything like that in the faces of the runners. Runners are usually friendly, and complete strangers have been encouraging to us (beyond the secret runners' club head-nod).











Then last Sunday there were three pre-teen to 14-ish boys following their father along the lake. I was struggling to breathe, to move, to keep going. And they looked at us, then knowingly looked at each other with smirks. (The type of smirk that normally makes my heart pound and all the blood drain from my face - except, my heart was already pounding from the running and I was fire-hot from the blood circulation.) They rolled their eyes (I think), and pumped their arms to mimic us in ridicule, and stared in between sharing laughs.

We probably passed in less than 10 seconds, but it felt like it took forever. Once we were behind them, it didn't stop, with the youngest turning around to look again and again. I turned around too, invoking the big-girl challenge stare that I've used since I was in Jr. High and tried to be tough while riding the public bus system or dealing with bullies that picked on me for being fat. Kids often don't like the cool-stare of authority, and I mustered what I could, but the lack of power was already evident and it was useless.

We kept running, and I was shaken, thinking of what I might say to them when we circled back around; how I might call attention to their behavior to their father, and playing out how the scenario might go. Before I had settled on anything, I saw that they didn't turn to make the loop, but headed straight up toward the hiking trails. My anger dissolved, and left me cracked open.

Struggling to maintain something of what was driving me, I raged internally at 14-yr-old boys everywhere! SINCE WHEN ARE OUR VALUES DEFINED BY 14 yr-old BOYS?! "14 yr-olds ridicule everything and know NOTHING!", I thought. "I'm a grown adult and can't be bullied by a kid!", I tried to assert. I remembered all the times I've ever read an online comment CLEARLY written by a teen-aged insensitive or bored boy, trashing how ugly a woman is; and imagined they are probably so intimidated that they don't even talk to girls in school. Grr! GRR! But then I thought about my sweet nephews, quickly threatened them in my head to never behave like that, and switched to thinking about writing a blog only about this: how we should be sick and tired of being pushed around by the beauty industry and snarky-remark side industries that sell us judgement and cruelty of thought toward ourselves and each other - the adult versions of 14 yr-old boys. Why should my barely perceptible fuzz on the upper lip be SO HORRIFICALLY moustache-y to me? WHY IS THERE SO MUCH HATRED IN THE WORLD?! Okay, so I got a little carried away... But this didn't last long after realizing my dreams of vindication were lost. I had only run less than another 5 minutes, maybe a quarter of a mile, around walking pace.

My indignation crumbled, and the hurt and shame emerged, sapping my energy. I just wanted to cry. I did cry, a little, but I fought it. Yelling "F--- them!" didn't help (as was suggested) my pathetic attempts only highlighted how weakened I felt. I continued my internal struggle, trying to conjure up something positive.

Here are the two I found, the strongest antidote because they are the most recent POSITIVE encounters with other people at the lake:

1. Most recently (on March 4th), we passed a couple in white shirts a few times around the lake. The last time that we went by, she was running ahead of him and he wryly yelled out to us, "Thanks a lot! You inspired my wife to run!" He was smiling and shaking his head. Heather and I agreed that his chagrin was due to him knowing fully well that pretty soon she'd be asking HIM to run with her.

2. In February we saw a toddler with her father several times around the lake. She stared the first time, and I smiled back. She was in and out of her stroller...

Usually tiny kids stare because they're trying to comprehend what's going on around them, or they are seeing something for the first time (I try to remember this when I'm cringing, worried they're about to say some version of "Mommy, she's so fat!")

During another pass I smiled again because she was looking at us intently, watching from behind her father as soon as we came into view.

My hands were pointed like blades, cutting through the air (envision Barbie doll arms - that plastic molded karate chop).

Slice slice slice.. with my pace, attempting to will my endurance to continue.

She thought I was waving, smiled and shyly waved back with building enthusiasm!

So I waved, and laughed, and smiled at her. And thought about how I would've missed this sweet interaction if I ignored and plowed ahead the first time, or frowned into my (seemingly always difficult) run.

We passed, I was still smiling, thinking it was over.

Then I looked over my shoulder to the other side to find Heather and at the same time that she was telling me "Hey!", the corner of my eye caught movement from the little girl - she was running after me as though we were playing a game of chase!

Then I really laughed!!
Her face was filled with the joy of spontaneous running that kids do. She was giggling. She got so far ahead of her dad that he jogged with the stroller to catch her before we rounded the corner. I barely managed to snap this picture: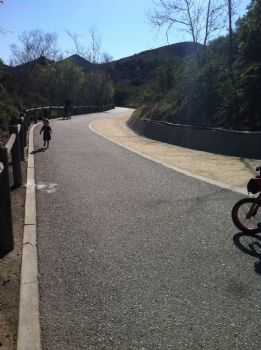 That day I thought, "I want to continue running so one day it will be that effortless!" Also, I love the unexpected experiences during running. Without question we will go back to that lake to do our run again and again no matter how many teenage boys are there.





Wednesday, March 07, 2012
Dusk run pictures at the end - But first:

There are a millionbazillion blogs that I think of and never post. Some of them are big, some of them are small. Some that are missing lately are like C25k Completed Oct 2011; Iron Girl/My 1st 5k RUN November 2011; Resolution Resolve Broken (Res 5k story) Jan 2012; various updates; 2hr Zumba Party; February Mission Hills SparkRally Hike; Torrey Pines Hike+ Peruvian Food (March)/Adventure List explanation; ...And those are just events. I take a bunch of pictures all the time with the intention of sharing them, and yet never give myself the time or permission to share them. Sometimes just I miss out, but then, so do the people to whom I promise things like pics.

So, events, pictures, but then there's the thoughts that I have; simple or complex, it's nice to get them out in a blog.

I get caught up in it wanting to be right, wanting it to be chronological*** OH MY GOODNESS, how I want it to be properly chronological!!! But this is what lead to missing out on posting blogs from SparkRallies in 2011. And my previous laptop died before the year was over, and with it went a couple of years worth of pictures (my memories, my art) that weren't saved anywhere including the 200 I took at Torrey Pines for my FIRST hike last year, with a friend CGEM, who moved away.. By the way I could've memorialized the insightful, inspiring (to me) conversations we had with her and Leah and Linda.

I want it to be perfect, so I end up missing out. And the memories in my head fade fast, I'm so focused on the now and going and doing and striving. Perfect.

It's all or nothing. How often is that true? Too often for me.

SO in my action-oriented mindframe, this is from TONIGHT.

Yeah!

Heather and I ran in the DARK- YEAH!

It was cold. It was WINDY - gusts of wind, a real wind advisory and a little bit of rain. And it was getting dark. PLUS, H already worked all day long. And I ate too many cookies after lunch. And our workout clothes were flimsy, AND IT WAS COLD. Did I mention how cold it was? Very. Especially since we were spoiled with 80 degree high/perfect beautiful weather last weekend.

But you know what?

I know Sparkers who run IN THE SNOW.
It wasn't snowing. It wasn't even snow cold.
And, this is my refrain when it's cold and I don't want to run. (Heather might be sick of me saying it by now, when I repeat it out loud to convince myself.)

When it's between 40-50 degrees, I get so cold that my hands get numb (and often forget my magic gloves- worth a whole blog in themselves). My face gets numb. My nose does annoying things, including getting numb.

But we went to go run through the numbness, the excuses, the traffic & crappy drivers, the sheer desire to stay at home! DID YOU KNOW THERE ARE PURRING CATS AT HOME?! Yeah, it's hard to temporarily give that up. And then there's the leg pain, the lung pain, the potty pain, the jiggle pain, not to mention phantom pains that we already know will pop up.

Here come the pictures (thanks for reading to this long).. WAIT! For the full effect you need to have Daktaris' song "Eltsuhg Ibal Latisi" playing while you look at these. That is the song that came on when we did our first TRACK run, and tested our time and calibrated our Nike+ sensors in Feb (another blog missed; H gave me a present). Here's a link where someone posted it on YouTube: www.youtube.com/watch?v=UkRva
BMs-ek
I AM IN MY OWN '70s MOVIE WHEN THIS SONG IS PLAYING! This is my RUNNING ANTHEM. Seriously, I got it for free on an iTunes sampler called "Songs from the House of Soul".. Sharon Jones & the Dap Kings have "Pick It Up, Lay it In the Cut" that are also inextricably tied to running, now, for me. I only have free music on my phone, so these came up in shuffle and now their running songs. No, they're POWER running songs. (Enough typing - geez, maybe it's better that I don't blog more often. Sheesh.) PICTURES, not perfect, but here: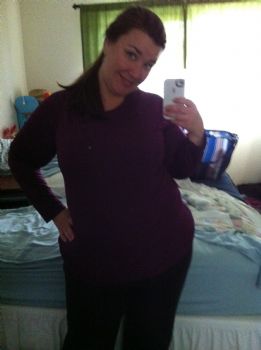 At least these pants are long - they may be more flimsy than pajama pants, but, it's the best I have to try to face the under 50 degree windy weather.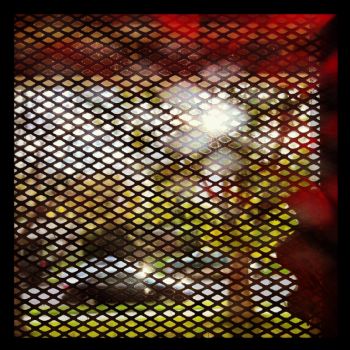 The promise of SUNLIGHT on a cloudy day! Hooray!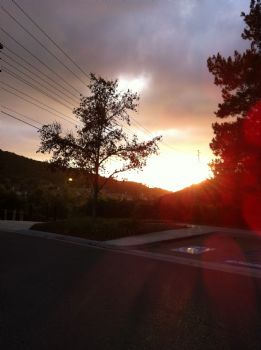 Arrival View 1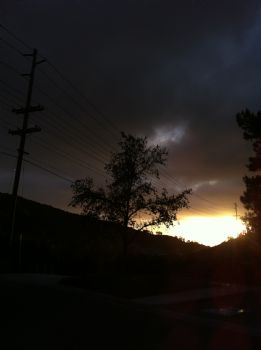 Arrival View 2 (same time/darkness, but this one shows the moody clouds better because of how the phone camera decided to expose it.)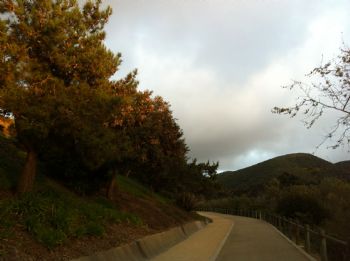 The path ahead, lit by the sunset behind us. See? Not so bad!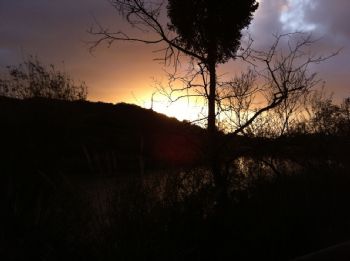 The path behind, with the sunset.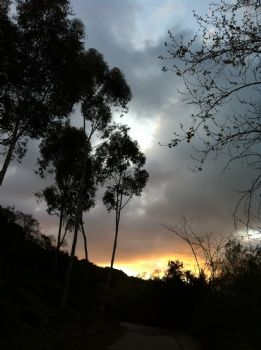 Getting darker...still walking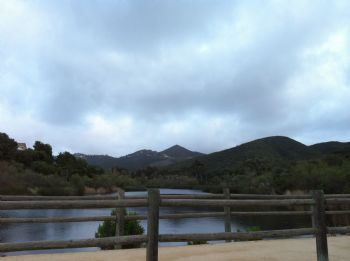 Again, sunset behind us, getting ready to run, it looks pretty good - the next picture was taken 20+ minutes later, fully dark.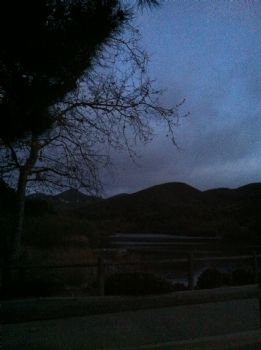 I may need new shoes.


When I bend over and stretch my back, this is the view from the ground.. Like, what the ants see.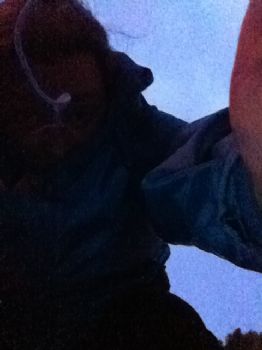 A little dizzy. And cold.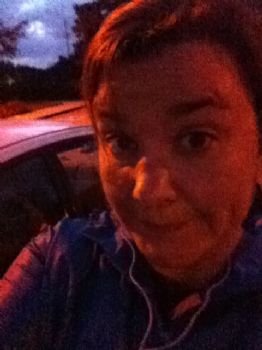 ALTERED; tried to get the moon peeking out from the clouds, but it was just a faint blob, so I fixed this picture with some iPhone trickery. This is sorta what it looked like.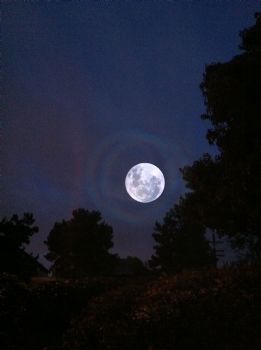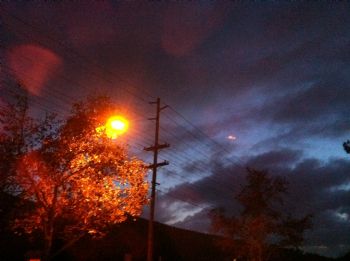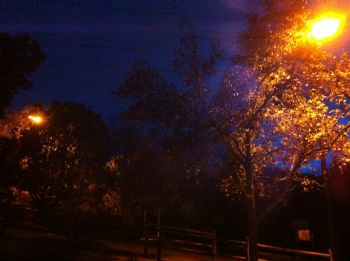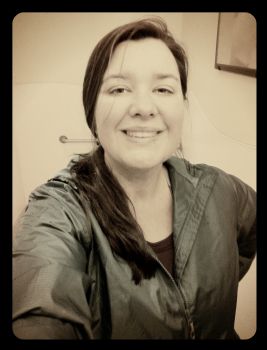 Done with 325+ minutes (includes stretching) in March! Eyes all puffy from the cold. We've run when it was dark before, but only in the morning. There's a big difference psychologically between running when you know it's going to eventually get light, and running into the darkness.

It doesn't matter if we ran for 1 minute or 100 minutes. We did it, and in the DARKENING DARKNESS(!), and clouds(!), and wind!! Next time we can say, "Well, we did this before..." and give ourselves no excuses.

I'm just glad I have Heather (NEWSGIRL2177) to run with me. I wouldn't be doing it if it wasn't for her.



First Page
1
2
3
4
5
6
7
8
9
10
11
12
13
14
15
16
17
18
19
20
21
22
23
24
25
26
27
28
29
30
31 32 33 34 35 36 37 38 39 40 41 42 43 44 45 46 47 48 49 50 51 52 53 54 55 56 57 58 59 60 61 62 63 64 65 66 67 68 69 70 71 72 73 74 75 76 77 78 79 80 81 82 83 84 85 86 87 88 89 90 91 92 93 94 95 96 97 98 99 100 101 102 103 104 105 106 107 108 109 Last Page

Get An Email Alert Each Time WOLFKITTY Posts