| | |
| --- | --- |
| | WOLFKITTY's Recent Blog Entries |


Saturday, November 12, 2011
Sometimes (at least twice a month) I casually talk to people about my weight loss when out in public. It's a way for me to share the SparkPeople.com resource, and encourage others. Sometimes, though, I think it's my defense against their my perceived "mis-judgment" of me or my fitness level or abilities. While simply losing pounds doesn't actually (necessarily) result in being "fit" or healthier, for people who see my current overweight state as automatically being lazy & unhealthy, citing my 130-pound weight loss changes the whole conversation completely.

Anyway, I'm getting off topic in my self-realizations here.

One of the strangest reactions to the "I've lost 130 pounds" discussion was this week when I was picking up some food at a local restaurant. The owner was right there, making the food, and talking. I don't remember exactly how it came up, but I was opening the Roasted Eggplant & pita bread container when he jokingly implied that I was sneaking (eating) food. It was sometime right after that when I magically brought up the losing weight while I was waiting for him to roast some garlic for us.

It was all very benign and friendly conversation. He said, "Ohhhh, did you lose [the weight] because of you loss a boyfriend or husband?" --He was sincerely asking if I lost a bunch of weight because I ended I relationship. I said, "No." And he asked what was in my bottle, I replied "Water." Then he told his (very thin, young) daughter, "See Stephanie! Water, I keep telling you."

I've heard of people being distraught and losing weight. It just was never something I thought of before in relation to my weight loss. Sometimes it's interesting what automatically comes into people's minds when they hear about significant weight loss, and can be so revealing about their personal past or experiences.





Friday, November 04, 2011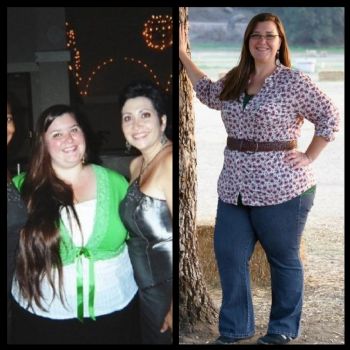 I've had friends on Facebook ask for an updated comparison picture. I'm not comfortable posting it there, but I'll gladly post it here for my SparkFriends!! :D The "before" picture here isn't at my highest weight, but I think it might be around 350. Now I weigh 245, and have maintained that for almost a year. Even my 245 now looks different from 245 a year ago, because of the running and consistent exercise that I'm doing.

I've been having some computer issues (and may have lost 3 years of photos), but that's why my photos haven't changed since July! I have difficulty uploading them.

Thanks to everyone that's been supportive during this tumultuous time. While I'm more present here than I was in 2010, I wish that I could be even more. And I'm working to have the resources to be able to share my life more openly with my SparkFriends.





Tuesday, November 01, 2011
Thanks to everyone who posted encouragement on my "Club 75" blog. I did not end up meeting the goal of exercising 75 minutes a day until the end of 2011. I did end up thinking more about fitness minutes in general, and made MORE plans to include it into my routine. I can do better.

November 1st is 60 days until the end of the year. My new goal is to meet 60 minutes of activity/fitness every day until 2012.

Did I mention I also finished the Couch to 5k Program? Yes, I did, with NEWSGIRL2177! We can now run a solid 30 minutes straight. That gets us over two miles! We are running our first 5k/3.2 miles (her first 5k ever) on Sunday. It's scary, but mostly exciting! :D I should have a full blog about it. ;D

Yeah! So, 60 minutes.
I can do that. I've got it covered for this coming Tuesday, Thursday and Sunday already.. I'll just fill in the spaces with more. That's exactly what I need!





Tuesday, October 18, 2011
On Monday, I did Day 1 of Week 8 in the Couch to 5k program - that is, simply, running for 28 minutes straight. NEWSGIRL2177 and I did our normal lap around the man-made lake, and then started running.

This was the longest we'd gone (after doing a few at 25 minutes in previous weeks). Sometimes it really is about believing that you can do it, a mental game. And although I've read about THAT VERY THING countless times on Spark, it doesn't ring the same way as it does when you experience it. It's making me think about belief and faith in new ways.

Tonight I have to go to bed on time (I always hope), and get up early for another 28 minute run. The space where we sometimes go is in the middle of houses, completely man-made. You can't really tell, though, especially when the fog is lifting off of the little lake, and the sun is just starting to peek over the hills to the East. There are signs everywhere that it isn't real nature, but at the same time it's comforting to be somewhere that was built, created.

I may not naturally be a runner, but I am creating that within myself. I'm not built like a lithe ballet dancer, but I can dance, and have grace. I'm not a boisterous entertainer, but I still sing karaoke. All of these things I do BETTER when I have confidence, belief. And that includes being healthy and losing weight/making muscle.

Pics from Monday (not bad for a very populated part of Southern California):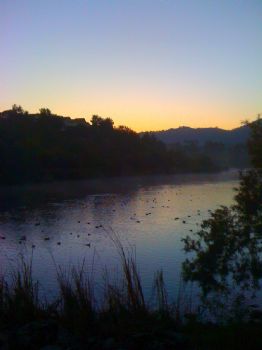 Just starting-no sun rays yet, nice and cool.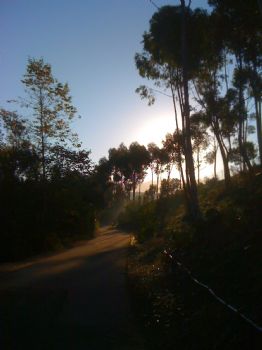 Full sun mid-way during our run laps.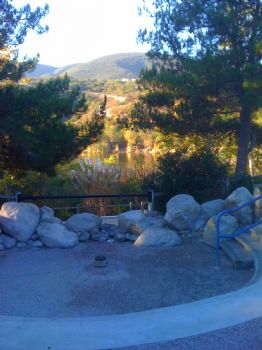 After our run- view from the park set above, sun fully drenching the lake and hiking trails.

Faux nature is better than no nature, for certain!





Monday, October 17, 2011
There are 75 days left in 2011.. I think I'm going to do 75 minutes of fitness or strength training (or more) until the end of the year.

...Yeah! That's right. I am.




First Page
1
2
3
4
5
6
7
8
9
10
11
12
13
14
15
16
17
18
19
20
21
22
23
24
25
26
27
28
29 30 31 32 33 34 35 36 37 38 39 40 41 42 43 44 45 46 47 48 49 50 51 52 53 54 55 56 57 58 59 60 61 62 63 64 65 66 67 68 69 70 71 72 73 74 75 76 77 78 79 80 81 82 83 84 85 86 87 88 89 90 91 92 93 94 95 96 97 98 99 100 101 102 Last Page

Get An Email Alert Each Time WOLFKITTY Posts