Wednesday, August 08, 2012
or "Steep Part III"

On Monday I badgered my family to get up and out to try for a geocache out in Kananaskis Country. The trail sounds not too bad on paper as it is about 4.5 miles and while the description mentions a bit of an incline I had no idea just what that meant in reality. *lol* Silly me!

I think the whole first mile is all climb, climb, climb. It was pretty brutal particularly since I was carrying a large camera, cans of Off and bear spray, 3 litres or so of water, snacks in a little lunch box and hoodies for me and my kidlet all in my backpack! Finally we got up to the top where it was pretty level and a nice stroll through a meadow where we saw a young whitetail buck and a bunch of marmots. Then we had to go back downhill to get to the actual site of the geocache. I almost turned around when I saw the steep downhill, knowing that we would have to come back up it! We were only a quarter mile or so away from the cache though and there was no point turning around (particularly since I had promised my kidlet a nice little sit down picnic once we got there).

The cache is at a nice little waterfall: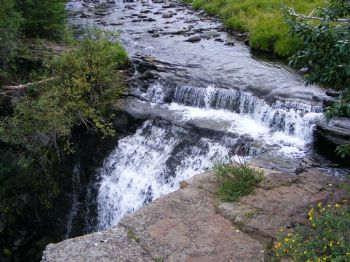 Hubby didn't believe me about where the cache was so he crossed the creek above the waterfall but the dog was pretty happy about that. She was pretty tuckered. Luckily there were strategically placed water crossings along the trail for her to drink and cool down.

We were lucky that the sky got overcast while we walked and even cooled us off with about 15 drops of rain as we walked. It was a hot day in town but nice up where we were. We didn't have to use the hoodies I packed even though we didn't get back to our vehicle until 9:00 pm or so.

Here is my little family on the trail as we head home: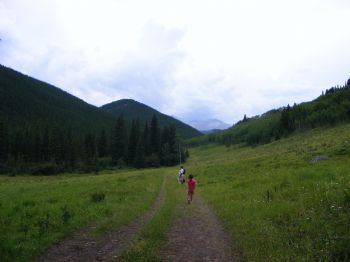 I was pretty sore by the time we got back and I was really afraid what my knees would do once the stiffness set in. Thank heavens for Voltaren Emugel!!! I used it on my feet and knees that night, took an Advil and I could actually walk the next day. I really didn't think I was going to be able to. They are still pretty stiff and I just had some weird cramp in my knee but I am mobile, better than I expected.