| | |
| --- | --- |
| | WILLOWCAT1's Recent Blog Entries |


Tuesday, October 21, 2014
I have been up to my EARS in work and plans and all kinds of crazy things! Sorry not on much! I finally found something worth blogging about and it's seasonal too! LOL!

Somehow, everyone always picks me to bring the veggie tray to the party. (probably because I'm always eating veggies LOL! Yay Me!!)

I wanted something CREATIVE to do this year, though. I mean, I haven't dressed up and gone to a Halloween party for probably 10 years! So THIS is what I'm bringing as my veggie tray! SOO awesome and fun (I hope I can do it! I have a week to practice! LOL)

Next time you get picked to bring the 'boring, obligatory veggie tray'... BRING IT for REAL!!!!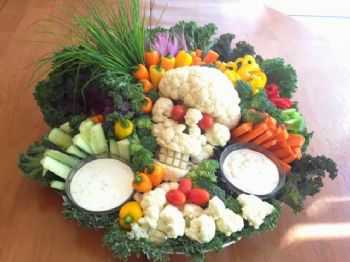 Thursday, August 28, 2014
I have GOT to add more protein to my diet! I am barely getting 30 of the 60 grams that I need! Yikes! Gee, why do I feel so tired?? (at least I can chuckle for a moment). I'm not vegetarian, but I don't eat much meat. I'm trying to eat more, but it is soooo high in fat and hormones, and I can't always afford the organic meats. Protein powder is an option, I suppose, though I hear the taste is horrible and it is high in calories too. Soy is an option, though that is mostly made with GMOs these days unless you can afford the organic.... I think beans may be my saving grace (though maybe no 'grace' for anyone around me HAHAHHAHAHAHA!)



What do YOU do to get more protein in your diet? Something lower calorie, lower fat, NOT ARTIFICIAL that tastes good?????

Any suggestions would really be appreciated. Thanks in advance, my Spark friends/sisters/brothers.. We CAN Do This!!!!







Sunday, August 10, 2014
(or tracking AGAIN in my case)

Oh, yes, the horror begins again of what actually LOOK at what you've been feeding yourself!!! (even though you know better from doing this before)

Just gulp, gape, and laugh, then laugh again, because it goes uphill once you KNOW!

I was extremely lazy this past weekend (at 2 or 3 days back on), but I was hungry. I opted to order a pizza (because I'm bloody BRILLIANT! LOL!) Here is what it looks like for 2 slices of what I ordered...

Pizza Hut Thin N Crispy Large Double Mushroom - 1 Slice, 2 serving ⊗ 340 42 12 16
Onions, raw, 3 slice, medium (1/8" thick) ⊗ 16 4 0 0
Green Peppers (bell peppers), 2 tbsp ⊗ 6 2 0 0

wait... where did the bacon go??? Well, suffice it to say, there was bacon on it too. And I took my multi vitamin (please do this if you don't now)

Knowing very well what my BODY actually LIVES on.. there are a few things missing.

Protein!!!! (really, yeah, even with bacon, it isn't much)
A TRACE of a single thing that is FRESH!!!! OMG! What happened to me????? I used to eat TONS of raw, healthful, water-filled and nutrient dense foods! I lost the habit and gained it again my 1st time around on Spark. Apparently, I lost it again.. *sigh*

I SOOO miss feeling like the rock star I felt like when I was eating well, seriously, you have NO idea! It will sneak up on you, bit by bit, and one day you're doing cartwheels because you feel THAT good!

Ah, friends! Isn't it so funny what you do when you haven't been paying attention?????

No problem.. I've GOT this!!! New goals for me this time. Choose yours with care and in easy steps... seeing those first CHECK marks on your reports will bring you strength. When I had reached my goal and 'left' Spark, my goals were so much higher than I started with... actually 5-6 servings of produce? (fruits and veggies) 8-10 oz of water a day? 30 min of activity EVERY day??? Yep..

I'm back now at 3 servings of produce, 3 cups of water, and 10 min of activity. I know I can reach that and feel the success.

It WORKS! Build your success up with something REALISTIC, and only JUST out of your reach when you change them when you want to continue growing. This is YOUR journey! Set yourself up for success!

My Love and very best to you all out there!!!

Willow











Thursday, August 07, 2014
I don't use my muffin tins very much. Apparently, I must have been using them wrong! LOL! I've done one or two of these before, but this is more than I thought of!

Check out this link for some really creative, perfectly portioned ideas!

(copy and paste into your browser)

http://www.womenshealthmag.com/nutrition
/muffin-tin-recipes?utm_source=zergnet
.com&utm_medium=referral&utm_campaign=
zergnet_174694&cid=partner_zergnet









Wednesday, August 06, 2014
I'll leave the first part off, this is me remembering what it felt like :) This is from 2011, and I'm BETTING from 2014!!! I REALLY think this captured my experience and explains why I came back.


Monday, May 30, 2011 - How Things Change


My journey here on Spark has been a particularly cathartic experience for me. Nothing I thought I would ever do, but mostly because it wasn't something I ever thought I COULD do.

Now for the real blog (LOL!)

I thought I would share some of the changes I have experienced with my friends and passers-by in hopes that you can see some of them in yourself. :)

- I will totally stay up until 11:00 at night to make sure I have packed a decent lunch for work.
- I DO consider that yard work IS a work out and I can do it more (my yard looks GREAT for that!)
- I VERY rarely want to eat anywhere other than my own kitchen (turns out I am a fabulous cook!)
- I do some kind of exercise in the morning whether it is 1/2 hearted or not, because it makes me feel good for HOURS!!
- I (mostly....still working on this one) eat breakfast on the weekends because I already know I need the nutrition and I feel MUCH more balanced when I do.
- I am not so shy to be seen in public
- I have realized I am MUCH stronger inside than I thought I was
- I actually love looking at my biceps LMAO! (but I do!)
- I am keeping up MUCH better with not-so-close friends and my family
- I am taking SO MUCH better care of my house
- I am sitting up straighter and breathing more deeply
- I am more curious about life and what I have to offer
- I am taking better care of my personal appearance
- I am accepting help because I realize that I give help all the friggin time, and I DO deserve help in return
- I feel less 'guilty' or 'worthless' (one small change, apparently, effects MANY places inside!!)
- I realize that I have held on to a lot of objects that have absolutely no use to me and I am purging them from my home.
- I have deeper thoughts. I don't exactly know what that means, but I know it is happening (does that make sense? lol!)
- I spend more time thinking positive things
- I want to encourage other peoples dreams more
- I am more daring about facing my inner demons
- I am STARTING (just starting, mind you!) to feel more social
- My dreams have gotten weirder lol! Purging from the inside is weird!
- I have started to find my respect for my Self
- I realize that challenges are more about a challenge to myself than competition with others
- I also find that I rather enjoy challenging myself to do JUST a little extra
- I listen more closely, and with more compassion to other peoples experiences
- I feel more grounded

I don't know why or how all of these changes came/are coming about. I just know that I like them, I feel free to embrace them, and that there are a lot of great things with me now and in front of me to experience.

This journey really isn't about loosing weight. It is simply about finding out who you are, how strong you are, what you REALLY like, and the REAL, HEART-FELT freedom to do it.

Yes, I'm thinner. Yep, I have the (almost) 'right' number on the scale. Yeah, the jeans are an 'acceptable' size. It is SOOOOO not about that, though! The energy I have is WAY good! The silly little confidence I have cracks me up sometimes! The care I take of myself is almost maternal. What I have learned about myself was the journey. IS the journey! Hey, I'm not stopping now! LOL!

I hope that wasn't too scattered, I'm a little overwhelmed from writing it all out. WOW! What a fantastic journey we are all on! (me included!)




1 2 3 4 5 6 7 8 9 Last Page

Get An Email Alert Each Time WILLOWCAT1 Posts