Sunday, January 30, 2011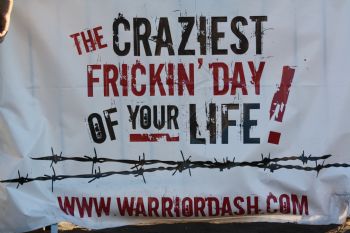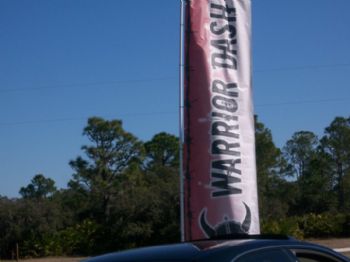 Yesterday I completed my first Warrior Dash! What a blast! I have to admit I was a bit nervous because I had been off the exercise wagon and not in as good of shape as I would like. After a 2 hour drive through small towns and lots of two lane roads Lucy (my GPS) and I finally arrived. I sat in the parking lot watching warriors come and go as I waited for my friend. They were muddy if nothing else!! I talked to two warriors to try to get some info on the obstacles. They told me not to worry, they weren't bad at all and to just have fun! After that I relaxed a little.

I found my friend and her group and we headed in to packet pick-up! The band was playing and so many participants were in costume...it was a great atmosphere!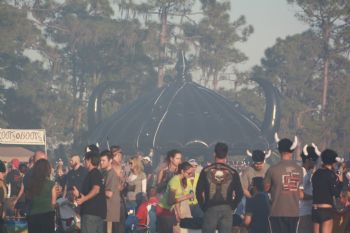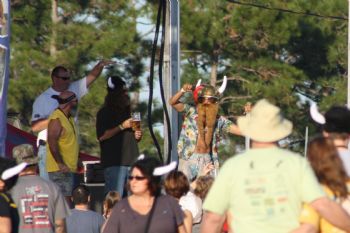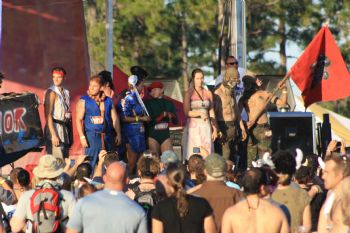 After we set up, got our chips and bibs on, used the port-a-potty, etc it was almost time for our wave to begin so we headed to the start line. On your mark, get set, go! Off we went....my friend who I hadn't seen in a couple of years wanted to stay together (luckily I convinced her NOT to wait for the rest of the group!) so we walked some and jogged some....she's "not a runner!" but she kicked my but over the obstacles! Lots of muddy/mucky water, under barbed wire-over the wall, run through the palmettos, over the cars and through the tires. So far not to bad....wait, what's this? This wasn't on the website....I have to balance across those beams up & down & up & down, please don't let me fall....whew! I did it! Why is everybody stopped up there...it must be hard! OMG! We have to crawl through there? How long is it? But it's dark....ok a little smelly too...but we made it. THAT'S the cargo net? I thought it was just climb up and over...how do we get across that? Not pretty, but another obstacle down! How much longer? IDK, we're past the half-way mark. More obstacles....just more water, we can handle this. We're almost there. OOOOOOO...there's the cargo net we have to go up and over, how the heck do I get up that?? Grab it high, ok, did it...now to get down....O $h!#!! Ya, I missed a rung on the way down and fell, luckily I caught myself before I cracked my head on the wooden bottom! Rope burns on my wrists, a small gash on my leg but nothing serious! Funniest part was watching my friend scream and try to run and catch me!! It's great to have good friends! Almost done..."you know we have to run to the finish, there's people watching!" I hope I don't trip and fall in the fire....really don't want 3rd degree burns! I hear my name....oh, they're taking a picture...jump high!! Last obstacle....let's dive head first! Ewwww....muddy water! Gritty teeth! Hey, my pony is stuck in the barbed wire! We made it! That was awesome!! Let's go get our free beer!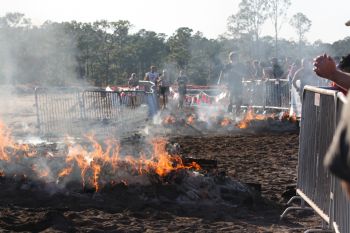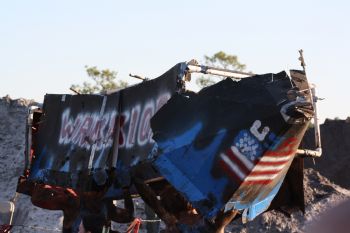 Overall great day, great experience....you'll always have the super competitive people....I guess you have to be to finish in 20 minutes....but mostly people there to have a good time, drink beer and eat turkey legs!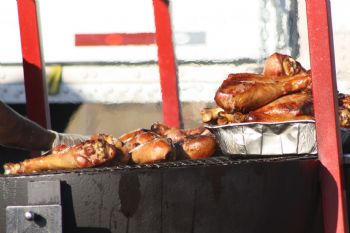 Ohhh.....and a little eye candy!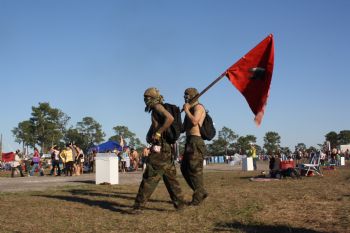 WE ARE WARRIORS!!!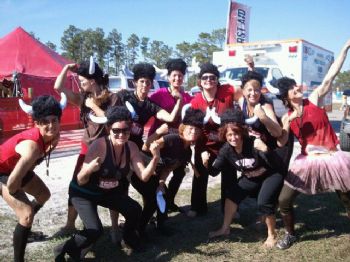 ~MUD~SWEAT~ BEER~