| | |
| --- | --- |
| | WILDKAT781's Recent Blog Entries |


Tuesday, February 04, 2014
Ok, I'm typing this on my tablet so please excuse typos!

I'm sitting in Daddys room at hospital waiting on dr and for them to take him for spine mri

He is not doing well and cannot walk right now. I did manage to get him to eat but I had to spoon feed him. I don't what has happened but something is wrong and hopefully the dr will figure it out.

I got a small very short workout this morning and am walking up and down the halls when Daddy sleeps. I only managed to get in 11 minutes yestrday but that is 10 or more so my streak is intact! (me and that dang streak!) I walked the hall in the ER to get that much.

I want you all to know how truly humbled I am by all the prayers and well wishes. They have meant so much to me during this trying time.
I will update as I find out more

to my teams - please bear with me ...I will be back soon






Saturday, February 01, 2014


Hello all!
This has been a very hectic week. My daddy, Hunter had a brain scan (thankfully came back showing no cancer so his cancer is still in remission as far as we know – more tests later this month) My hubby, James, had a follow up appointment with one of his doctors over his stomach (again – good news – doctor think meds will take care of the problem)

I got very flustered and emotional this week though, and could not keep up with everything that I usually do. Posting on the 6 teams I lead and the BTS (Beyond the Scale) Challenge that I am an assistant on. Participating in the 100 days of Weight loss book discussion group - Keeping up with two other teams that I am a member of, keeping up with earning points on Spark People – I love to do that. Keeping up with the housework, getting supper on the table, taking care of Daddy when he needs me, running errands, taking Daddy and James to doctors appointments. AND keeping up with my eating plan and workouts.

Very early in the week, I was trying to get everything done and realized I hadn't tracked any of my food and had forgotten to workout!!!!! I stopped what I was doing and immediately did my workout. Since that happened, I took a step back from everything. Of all my tasks and "duties" I had to make sure I have my priorities straight. As selfish as it may sound, I have to make sure that I come first! Because if I don't take care of myself then NOTHING else will get done. Now I am back to working out the first thing when I get up, Daddy and James are asleep at that time and Spark People can wait. Now don't get me wrong…I LOVE Spark People, I love helping people, especially new comers…the highlights of my week this week were three emails I got from people saying I inspired them! It really humbles me when someone tells me that and makes me feel SO good! I am NOT going anywhere. I am going to continue to lead the teams I do for now and I am always available by Spark mail.

But, sometimes, I may not post every single day…sometimes – I may not keep up with everything. I will always update my food tracker – that is an integral part of me now, and my fitness tracker. I will continue to workout every day and I will continue to post a blog once a week…even if it is just to say hi! I have learned that the world will not come to an end if I miss a day on posting to teams. If I am busy with family then I will just be doing the minimum on Spark - I have already reached level 20 on the points anyway – everything else is icing on the cake so to speak.

I want others to know – that whatever they are responsible for in their lives, that they have to put themselves first. Even before your families, because you can't care for them if you don't care for yourself first. Too often I think we get caught up in what others expect of us. We all have to learn our limits. I believe I have reached mine. Again…I'm not going anywhere – and I'm not leaving the teams I lead right now (I may have to drop some in the future – that is yet to be seen) I hope home life will settle down so that I can get back to "normal" but in the meantime, I will do what I can and not sweat the rest. One person can only do so much. You have to find out what is most important in your daily tasks and take care of those first. For me that is my workouts. For you it may be something different. But make sure you make time for you!


edited on Feb 18th, 2014 - Daddy is now in rehab and I am spending most of my days with him. for the whole story see my other blogs. I have let one of my teams that I lead go and gotten help on another. I also let one of the teams that do not lead but post to go. I am slowly getting everything back under control - thank you all for your time and good wishes!






Monday, January 20, 2014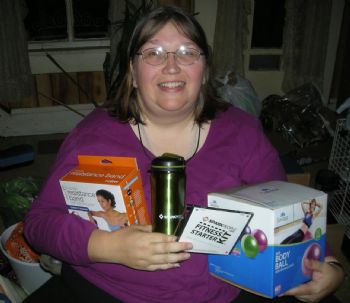 check out all the bags of crochet yarn behind me!!!! LOL

I won a New Year's Resolution Survival Kit. I found out about winning it a couple of weeks ago and I just got it today brought by UPS!

I love winning things and was very surprised when I won this and got the email telling me I had won.

It has a resistance band, a workout DVD, a stainless steel water bottle AND a stability ball!!!! I've always wanted one! It says the weight limit is 300 pounds and right now I weigh 332 so I will have to wait a few months to use it, but it won't be long and now I don't have to buy one!!!!

This is just awesome...I love exercise equipment and here I am winning some more to help me on my way!

This was from a Spark People Activity Tracker contest in December.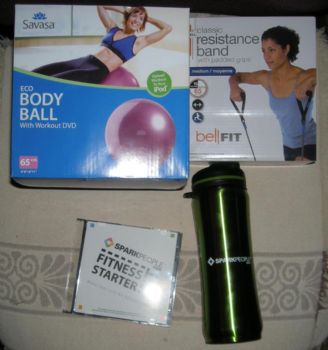 Thursday, January 16, 2014
I am 8 pounds away from 100 pounds lost! 8 pounds!!!! Some of you know how this feels…others can imagine it…for those that have never been that much over weight…well, they can somewhat relate because all weight loss is important and emotional. I never really thought I'd be able to lose this much. My doctor never thought I'd be able to either…he is so proud of me, it so awesome to see him now. I'm losing steady again and am hoping I don't hit a silly plateau before I hit 100 lost.
Now I'm not close to my final goal…I will still have over 100 pounds more to lose…after all I started at 426 pounds. But now I know that I can do it…it is just a matter of time.

I also have some new exercise equipment….I had to buy another pedal exerciser because I broke my previous one! I keep breaking shafts…trying a different brand this time…Gold's Gym folding pedal exerciser. And I bought a two year warranty to go with it! I also bought an aerobic step platform and have started to do step aerobics in addition to my seated aerobics and pedal exercise. I can't do step for very long but at least I am doing it and everybody has to start somewhere! I also do strength and resistance exercises. I found some "new" weights at the flea market the other day. 5 pounders…I just bought some 3 pound weights at Walmart and am using those now but eventually I plan to move up to the 5 pound ones, so now I have them at a fraction of the price of new ones and you can't tell these are used ones. I also now have some leg weights. These are great for strength training my legs.

This is such a change for me. Enjoying buying exercise equipment…I have a nice little collection now, even a whole set of resistance bands. When I bought the weights at the flea market I asked my husband if he minded me spending money on ones I couldn't use yet, and he told me I could spend whatever I wanted - especially on equipment to make me healthier. He told me it makes him happy to see me so excited about exercising! I do love my workouts…every now and then I would like to take a day off, but I've got a 30 week streak of working out every single day and I'm not quite ready to give up that streak – technically my official SP streak is for only 5 days a week…it is a goal off of one of my teams….but I know that it has been 7 days a week…I even exercised when I was in the hospital for three days – I walked up and down the hall for 10 minutes each day…wasn't much but it kept my streak going. I know that we shouldn't strive for perfection in our health goals, but I made myself a promise, that I would exercise at least 10 minutes every day whether I felt like it or not. Most of the time it is far more than 10 minutes, but I give myself the leeway that if I don't enjoy it by the time 10 minutes is up I can quit. Even on those days I make sure I get a walk in to get to my 5000 steps a day…I've reached that goal every day since I got my Spark People tracker – many days over 10000 steps, but always over 5000.

For those that saw my posts about my husband having an EGD test (camera down into the stomach) at the hospital today- the results were great!!!!! No problems were found; just a little irritation of the lining of the stomach…Doctor gave him some pills to take care of that! I'm so relieved….this has been an ongoing problem for a while now and it's great to know that there is nothing serious wrong!

Now for those that have followed my story about my Daddy…he is doing great! He even took himself out about town today. I fear the cancer will come back one day, but I'm so glad he is starting to feel better for now. It is such a wonderful feeling to see him full of life!

Well, that's all for now…I hope each and every one you reading this is having an awesome day and has an even better tomorrow!

Hugs







Sunday, January 05, 2014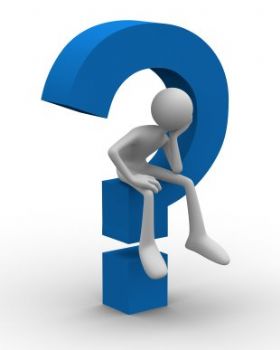 A friend and I were discussing about whether or not we all have a purpose in life. She has survived cancer and I have survived not one but TWO blood clots in my lung. That's just not supposed to happen. Now I don't profess to be very religious…but I do believe in God. (I have my reasons…I was an atheist most of my life but things sometimes change.) Whether or not someone's purpose is ordained by God or has some other explanation, well, that's not what I am debating here. That's an individual right to believe how you want to believe. I do believe everyone has a purpose though…I just don't think we all figure out what it is. I think for some it is bringing another life into this world. For others it is to be the "rock" for someone else that otherwise couldn't make it. For others, it may be simply to be a part of this great fabric of life. There are many, many things it could be. And I believe that each person could have multiple purposes in life. I've never really figured out what mine is until recently…and I think that just maybe I actually HAVE figured it out. Sometimes I wonder if it is to spread the word about getting healthy. Let me tell you about what happened recently. I went to Walmart the other day to pick up my new aerobic stepper that I had ordered online and the first clerk couldn't get on the register and had to go get another clerk. In the mean time before she could come back a different clerk walked up and said she would help. We got to talking about the exercise equipment I was buying and I told her I had lost 87 pounds. She was amazed and of course we talked about how I did it and how Spark People helped. I gave her one of my Spark People cards (you can print them on here to give out to people – I've went through three batches so far) and as I left she told me that when she had walked through the doors of work that morning that she had asked God to either be able to make a difference in someone's life that day or for someone to make a difference in hers. She then told me I was the answer to her prayer and that I had made a huge difference in her life that day! It made me feel absolutely awesome. This kind of encounter is happening to me more and more often. So maybe that is my purpose...to show others that it really can be done!


I hope you find your purpose.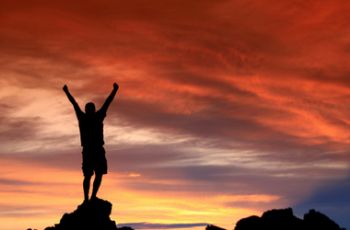 First Page
1
2
3 4 5 6 7 8 9 10 11 12 13 14 Last Page

Get An Email Alert Each Time WILDKAT781 Posts