WHOLMES74's Recent Blog Entries




Sunday, August 26, 2012
Second week down. I have lost another 6 lbs (for a total of 12 lbs). I have lost 1" off of my stomach. Not only have I stayed away from soda, and have stayed within my daily caloric limits, but I have also managed to stay away from sweets a lot more. I am not depriving myself completely, every one in a while I am eating an ice cream sandwich as my after supper snack. However, I didn't eat anything sweet 3 days this week. This is a huge change given that I was eating desserts after both lunch and supper until I started Fit by 40. My wife prepackaged lunches for me all week, which really helped in meeting proper serving sizes. I am also eating both fruits and vegetables at just about every meal. I am drinking water almost exclusively (8 + glasses a day), although I have been drinking V8 Fruit Fusion to help get in fruit and vegetable servings, and chocolate milk post hikes in order to help rebuild muscle.

I hiked twice again this week. We were planning a family outing yesterday that would have had us walking, doing stairs, etc, but it was rained out. Instead we went out to the mall and to Sam's, so I still got some walking in. For the hikes, my buddy and I hiked 3.45 miles (90 minutes) each time. The first hike, on Wednesday, was mostly down hill, with a few heavy inclines. The hike on Friday was the same path, but backwards. This made about 2/3rds of the hike a constant incline.

A few weeks ago we were sucking wind after small inclines on shorter trails. On Friday, besides one decently steep incline, we were able to maintain our breathing, and still had high energy levels at the end of the hike. This week I am going to include that hike at least once.

I am looking forward to my continued weight loss. It appears that I have lost a little weight in my face, and once again 1" across my stomach. I am really excited about getting back to my clothes fitting correctly again. and then moving to the point of them being loose.

I think I am going to go from an original plan of posting pictures once a week to posting once a month. I think it will help highlight weight changes better than posting weekly. I'll check back in next Sunday to post my results from week 3.




Sunday, August 19, 2012
The first week was a pretty big success as far as I am concerned. I completely eliminated sodas from my diet, hiked two times and stayed within daily caloric intakes (although I did not officially track calories the last 2 days, I have kept up with them) As a result of my work I lost 6 lbs this week! I understand that you tend to loose more at first, and was counting on that at first in case weight loss slows as I become nearer to me goal. I am refraining from posting a picture this week only because of the fact that my measurements are all still the same. Effectively I would be posting the same picture as last week if I did.

Changes this week haven't been exactly easy, but it hasn't been as hard as I expected. Despite the fact that I still crave sodas and sweets, I have been doing a good job. My wife has been my biggest supporter, has been making lower calories suppers, has cooked and proportioned meals for my lunch, and has helped make sure that I am abiding by proper portion control on snacks and other meals. That is a big deal given that I looooove food. I find myself looking forward to my next meal. I just love the taste of food. I am no foodie by any means, but find that, prior to this diet, that I will eat past the point of being full just because I enjoy the taste of something. I could have been full on supper, and still eaten a large bowl of ice cream simply because that it what I was in the mood for. Snacking has also ben a problem for me in the past. I would often grab something to eat simply out of boredom instead of any real hunger. So healthier and properly portioned out snacks throughout the day have at least helped in that manner.

My goals are the same for this week as they were last. Hike for 2-3 hours, abide by suggested caloric intake, and stay away from sodas and sweets (within reason). I'll check back next week to see if any measurement changes have occurred, and will post pics and updates if it has.

As it stands, I am 6 lbs lighter (334 lbs), with a goal of 188 lbs. 146 lbs left to lose!




Sunday, August 12, 2012
So today I officially start my Fit by 40 challenge. In the days leading up to today I have splurged a little to get it out of my system. Yesterday was my first full day to track calories. It was also my first full day without sodas. Based on any given day I have saved myself somewhere between 600 and 1000 calories just there.

I am incredibly embarrassed at how big I have become. I am 10 lbs heavier than the last time I chose to lose weight. I feel like this time, if I keep a blog, and post my pictures on Spark People and Facebook that I am more likely to keep myself accountable to my goals.

I posted my first pictures on to Facebook this morning. I cringe looking at them! I realize that I have spent far too long looking past my weight issues, and using clothing to try to cover up just how heavy I have become.

Today's measurements were as follows:

Weight - 340 lbs
Stomach - 54.5 inches
Waist - 50.5 inches
Thigh - 31 inches
Arm - 18 inches
Neck - 18 inches

Fitness measurements were as follows:
Push ups - 12
Crunches - 15

Where I am at now:

At this time, most of my clothes are tight. My dress shirts pull at the stomach, so much so that I often pop a button out of place when sitting. I am unable to button the neck on most of my dress shirts, and the sleeves have started riding up from pulling in the shoulders. My pants pockets flair out, and belts that used to fit now squeeze uncomfortably when worn. My ties are tied in a single knot, and still often do not reach the bottom of my stomach.

T shirts, undershirts and polos that once draped well, now draw up so that I have to pull them down regularly to keep my lower stomach from being exposed at times. On long drives, my belt buckle digs so deeply into my stomach that it can become quite painful.

I can hike 2-3 miles, and be okay, but find that walking up a few flights of stairs leaves me far more winded than I should be. My weight has caused my snoring to be quite pronounced. I am borderline hypertensive with my blood pressure. My energy level is generally low at the end of the day, and I have taken to falling asleep as soon as 9 to 9:30 on particularly stressful days.

From this point on, I will continue to post weekly updates to both my pictures, measurements and blogs.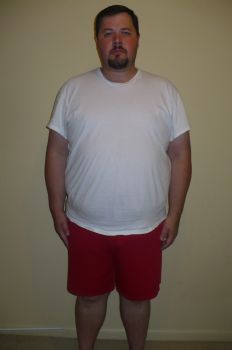 First Page
1
2
3 4 Last Page

Get An Email Alert Each Time WHOLMES74 Posts