| | |
| --- | --- |
| | WHITNEYLD's Recent Blog Entries |


Wednesday, October 05, 2011
Hi, friends. I'm back! I was on a blogging hiatus, as well as a diet and exercise hiatus. Such is life. I gained back the weight I lost, plus a few. I changed my goals today, and yesterday went off without a hitch! So here's to starting over!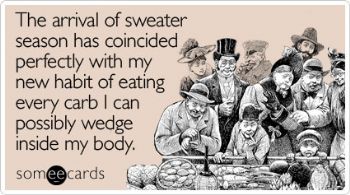 Wednesday, September 07, 2011
I am on a reverse-diet bender. Namely, I am munching down everything in sight. The holiday weekend didn't go well, and it continued into this week. I have been eating whatever, not exercising, and feeling horrible about myself.

In other news, I might be pregnant, so I am pretty sure the anxiety from that is making me feel like eating. That, or I am PMS-ing. I'm late...period, where are you?! I have only been married a three weeks, and I don't want to be that girl who gets pregnant a week from the wedding night. I don't want any "shotgun" references.




Saturday, September 03, 2011
Well, the holiday weekend has come. My hub got off work early and we had a healthy dinner, and then went out for drinks with his dad- 3 drinks later, we go to the store and buy a bunch more stuff and I drink 1.5 more drinks. Those were cranberry lemonade light mikes hards, but still. Over 2,000 calories due to the drinks plus the food that followed.






Friday, September 02, 2011
I awoke with a start this morning, writhing in agony over my angry stomach. It cried, "Why would you stuff me to maximum capacity and then go to sleep?" I was feeling downright sick this morning, probably due to the fact that I ate almost 40 grams of fat and a bit under 700 calories immediately before bed last night! I deprived myself of fat inadvertantly yesterday, which led to me feeling deprived. I describe it as, "I feel like eating!" Not hungry exactly but something is off. After a few hours of discomfort, I am now feeling great!

Why? Well, I just faced the dreaded

The verdict: since my weigh-in yesterday, I am down 1.5 lb.

How can that be?! Well, I have been working out consistently and I know I drank plently of water yesterday, so it isn't likely to be water weight (I hope). I am keeping my fingers crossed that I won't be up 2 lb. tomorrow. I know, I know, water weight and what not. I still like seeing the number go DOWN.



I am excited to announce my weight today: 130.5 lb. I am down 3.5 lb. after my first week! I hope I can maintain this loss and continue my progress. I really need to cut down on the calories I am munching down at night; I have only stayed in my calorie range 2 of the 7 days. I only went over ridiculous one day (over 3.700- dang Mickey D's) which is completely horrible and I gained 1.5 lb. from, and the rest were not quite as bad (2,223 was the highest, the others range from 16-1900). The highlight is I still lost 3.5 lb. and [I have exercised every day].

Yay, me! I hope everyone's September has started off well!






Thursday, September 01, 2011
Day 1 of the September challenge:

morning weight: 132 lb.
cals: 2,223 (oops, I planned on being done after a package of brussel sprouts, but I went to bed and got back up and ate 1.5 servings of leftover Shepard's pie)
water: 8 +
exercise: 20 min/1.4 miles + 30 min/ 1.56 mi = 50 min/ 2.96 mi
motivation: to lose 17 lb. by October 27th
delight: working out 6 days in a row for the first time in...well, practically ever!

[EDIT] Last night, I planned on going to sleep after eating around 1,580 calories or so. I'd went slightly over due to eating a package of brussel sprouts in low-fat butter sauce, but I ate 36 grams of fiber at that point, and very low fat for the day (33 grams). I think that was my downfall. I must need a bit more fat in my diet, because when I consume less than 20-25% of my calories from fat, I feel ravenous! I was going to just add this mini-binge on to today and eat less, but it left me with half a day's calories, and I just don't hate myself that much!

THE FIX: I will be sure to incorporate healthy fats into my diet regularly, instead of trying to limit them (to save calories) and then bingeing on them later.


First Page
1
2
3
4
5
6
7
8
9
10
11
12
13
14
15
16
17
18
19
20
21
22
23
24
25
26
27
28
29
30
31
32
33
34
35
36
37
38
39
40
41
42
43
44
45
46
47
48
49
50
51
52
53
54
55
56
57
58 59 60 61 Last Page

Get An Email Alert Each Time WHITNEYLD Posts