| | |
| --- | --- |
| | WHITNEYLD's Recent Blog Entries |


Sunday, August 28, 2011
I worked so hard today to stay on track. I succeeded- until, that is, I came home from the grocery store around 8 P.M. and whipped up our late dinner. In that one meal, I consumed a bit under 900 calories, 28 grams of fat, and 81 grams of protein! Wow. In my defense, though, I am going to have to fast until 4 P.M. tomorrow due to a physical (for insurance purposes). I guess that is why I went for the gusto. The meal wasn't too bad, really, with whole wheat linguine, 2.5 cups of broccoli, shrimp, and only a tiny cream cheese, milk, and a pat of butter along with many yummy spices. I find measuring dry pasta difficult, so I tend to overestimate to compensate for human error.

What is strange is that I am not beating myself up for it. I ate like a starving person, but I'd had a small portion of cottage cheese right before cooking this meal (since I hadn't eaten for hours) to tame the wild beast. I actually gave my husband about 1/5 of what I had to eat, as I was too full. I feel comfortable now, and completely satisfied! I know I will be O.K. calorically, as I won't be able to eat for the next 18 hours. Geez, that sounds unpleasant. I love to munch constantly.

Calories consumed- 1,900-ish
Fat grams consumed- 70 (!)
Protein consumed- >150 grams

I hope my fat consumption today doesn't increase my cholesterol reading for tomorrow's physical! Anyway, I am glad that I exercised today! My "Spark Streak" for exercising is now 2 days. I plan to make tomorrow day 3!

Goodnight, Sparkers.






Sunday, August 28, 2011
I hope today goes as well as yesterday. I am going to try planning my meals for the day out in advance, like I did yesterday. Stick with what works, right? My question is- I am assuming my 3.5 lb. weight loss is due to water loss from all the exercise, but I drank more water than I normally do. Could some of it result from finally having 1 day of reprieve from stuffing my face with bacon, perogies (I'm talking at least 8 at a time- complete with butter and salt), cheese, and potato chips? That has literally been my diet for the practically the last 2 weeks up until yesterday!

Pounds of bacon consumed- 3.5 (This is NO JOKE!)
Perogies eaten- 70 (at least, this is a conservative estimate)

I am disgusted to admit to this, but I am hoping I can move on. I mean, who really eats 3.5 lb. of bacon in two weeks? But oh, do I love bacon.

So, down 3.5 lb. from yeserday, and I am suspicious; however, I met all of my goals for nutrients as well as calories, and usurped my goals for exercise yesterday. My husband and I went to the State Park and took a trail that was 2.3 miles and full of horrible hills of death, the memory of which I have already started to repress!

Calories consumed- 1,385 [35 grams of fat, 93 grams of protein] yesterday
Miles Walked- 4.9 Minutes Spend Exercising- 120

I am pretty impressed with myself. The only thing that happened that I did not plan is that after we did our walk, I came back home and had a string cheese and fat-free yogurt, and we left again until after 7 P.M. I was so hungry when I got back home at that point. I made and consumed my planned dinner, consisting of a pork chop, around 1-1.5 cups of steamed broccoli, cauliflower, and carrots, and a small baked potato with spray butter. It was so good! I ate it so fast that I felt like a vaccume afterward and felt compelled to consume MORE. More, more, more. My usual M.O. is to scarf down all the carbs in sight (especially starchy ones). Instead, I ate the lions share of a can of no-sugar-added pears. An extra 120 calories I had not intended on, but at least I got 3 grams of fiber and a fix for my starch-tooth (sweet tasting things are a quick remedy and are often scarfed on the way to the starchy carbs).

Good luck today, Sparkers!





Saturday, August 27, 2011
I was reading over the entries in my blog from the last time I attempted to diet and whatnot using the Spark! community, and to my surprise, they were all so negative! I can't believe any of you actually read them. It was so nice to see how supportive you all were during that time, though. Today I feel like I really can do it! I am in a wonderful mood today! I started my day with a breakfast consisting of a slice of whole-wheat toast with 1/2 tbsp. almond butter, 3 slices of 97% fat-free canadian bacon, and 2 egg whites. I enjoyed a cup of "Caramel Truffle" coffee with 1 tsp. powdered creamer and some sweet and low.

Since my last post, I have married the man I referred to in my "info" section, and I can't be happier with him! We got married August 15th.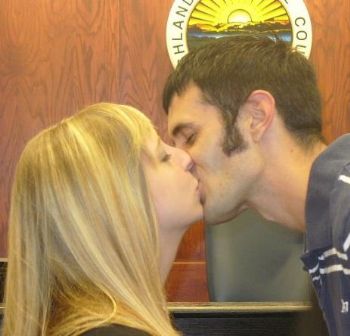 Yesterday, I made a plan-of-action to conquer the 17 lb. I have put on since high school. It is a lofty goal- 17 pounds in 2 months. I am so inspired by my fellow Sparkers that I really feel like I can do it! Having a concrete goal in mind makes me much more likely to follow through with things. I officially started my new, goal-oriented plan today.

No more Mrs. Negativity! I am embracing change, and taking advantage of the time I have right now to work toward my goal. I hope you will all come on my journey with me. My new attitude:






Wednesday, June 29, 2011
Well, I've gained about 5 pounds in six days. Yes, people, it's possible! It's okay though. I've realized that I can't keep making these fatty meals for my skinny boyfriend, who now actually weighs the exact same as me. 134 or so at 6'2. A lot of my insecurities comes from this fact, as I can't find myself attractive since we weigh the same; he's a FOOT taller than I am, and how can I not crush him? Why would he find me attractive?

I've come to the conclusion that he must not expect anyone to be as thin as he is, really, since if I was as thin as he was to scale, I'd be underweight and look like "Skeletor." He never has made me feel like I'm large; in fact, he tells me I'm perfect and don't need to lose weight. However, this is slightly counter-productive, as he makes it hard to diet. He is at work for most of the day, and I need to control myself while he is gone and if I can stick to making healthier recipes, like those from Spark, I can stay on track and he'll never know the difference. :)

I'm going to the grocery store today. Also, update: I DID the bookshelf!





Monday, June 27, 2011
Well, I've had four days of munching away. Perogies eaten: 48. Yeah.

Today I'm drinking wheatgrass and trying to motivate myself to clean the house and organize my bookshelf. I have all this time in between quitting my last job and starting my new job July 6th, I don't know why I can't seem to motivate myself to exercise and eat healthy and DO stuff I didn't have time to do when I was working.



First Page
1
2
3
4
5
6
7
8
9
10
11
12
13
14
15
16
17
18
19
20
21
22
23
24
25
26
27
28
29
30
31
32
33
34
35
36
37
38
39
40
41
42
43
44
45
46
47
48
49
50
51
52
53
54
55
56
57
58
59 60 Last Page

Get An Email Alert Each Time WHITNEYLD Posts