| | |
| --- | --- |
| | WEYRCAT's Recent Blog Entries |


Friday, December 06, 2013
PHEW! I was missing for three days the board has EXPLODED with awesome goals and faithful updates!

Hi WellRedHead! I plan to master in Environmental Science! :) I'm graduating with a bachelors of science in Biology Education and Environmental Science. It's basically perfect for me, since I want to study ALL THE SCIENCE! :P

Hi DameSharkington! Others have recommended that people edit their posts instead of reply anew, and it would make for a cleaner board, I even see that most people here are doing it! However, I think for those who don't edit their posts, it would be beneficial to have people only post the days they have completed (like Gabrielle42!). I'm seeing a LOT of empty month strings, and it just takes up a lot of room. I'll make a note above for the TLDRers!




My month is at 46,220 out of 250,000! 18%! I'm averaging 7700 a day, and if I keep up that average I'll be almost 10,000 short on my goal! I need to make sure I make time for my goals! An hour walking is three miles for me, and I need roughly 4 miles a day. Surely I can make that happen! I WILL MAKE THAT HAPPEN! (Ode to Scubadiva50 and her "try? I WILL!" WOOT!

Now! I MUST abed! Tomorrow is the last day to study for my German 2 final, and I want all my wits about me!

STAY MOTIVATED!




Saturday, November 30, 2013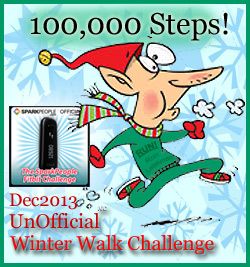 Hey FitBit Users (and other Pedometer Users)!
*TLDR? Offsite Blog/Badge link is here: http://weyrcat.blogspot.com/2013/11/unoffi
cial-sparkpeople-winter-walk.html

Now that we, in the Northern Hemisphere, are getting a little squishy with warm comfort food and hiding from cooler temperatures, I think some of us are finding it harder and harder to get out the door for that walk. Well guess what? I will if you will!

For the month of December I'm challenging you to 100,000 STEPS!
Sometimes I'm lucky if I get 2,000 steps a day, and all of those are between classes! It's going to take a little work to get to 100,000 steps, but think of all the eggnog that burns off! (wink)










For those of you who already knock out 100,000 a month, I challenge you to set a numeric goal just a little bit farther out. Walk 100,000? Set a goal for 125,000 or 150,000! Don't think you could fit in 100,000 steps? Choose something lower and see how fast you fly past it! Post your goals in the thread (if you like), and then check back with us every so often and let us know how you are doing!

For instance.
http://www.sparkpeople.com/myspark/myrep
ort_specialgoals.asp?gr=3
If I have my FitBit synced to my SparkPeople, I can go to my SP Step tracking page (at the link above). It shows me By Day as the default option. Select "Month" and see the column for December (when you have taken at least one step in that month). Each time I check in I'm going to report my goal as x /100,000.
So, by November 15, I should have around 50,345 /100,000 Steps!

You can also report your steps as a percentage! 50.3%! (It's just how many steps you've taken, divided by how many steps to meet your goal, times "100". Don't forget the percent sign!)









Everyone who completes 100,000 Steps gets to post the nifty Badge on their SparkPage, personal blog, download it to your scrapbook, or anything you like! As an incentive for those Many-Stepping folks; I have badges with step counts above 100,000 in increments of 50,000! Meaning if someone decides to make a goal for 400,000 and accomplishes it, you get a 400,000 step badge!

I'm so sure that everyone here can complete this challenge. I'm extra sure that it's going to be so very fun getting to see you all achieve your goals!

SO Here's Mine!

I, WeyrCat, will walk 250,000 Steps for the SparkPeople Unofficial Winter Walk Challenge!! If I accomplish my goal, I will add another 50,000 on EACH TIME and then strive to accomplish that too!

The Page with the Badge, since I cannot host pictures here! At the end, you can download it, or MSG me your email address and I will email it to you!

http://weyrcat.blogspot.com/2013/11/unof
ficial-sparkpeople-winter-walk.html





Wednesday, November 27, 2013
WOW! You guys are blowing me away! I've had to add new badges up to 1,000,000 on the blog! (Nutron3, DLDMIL, I'm looking at you!!)

http://weyrcat.blogspot.com/2013/10/unof
ficial-sparkpeople-trick-track.html








Welcome to some of the new people, Brontosaurus, congratulations on the FitBit! I'm glad you decided to jump in! YOU CAN DO IT!!




I LOVE seeing you guys meet your goals, power past them, even struggle and KEEP GOING! Wow!

I've been a little bit less active than that, heh. I was actually sick over the weekend, and then had the first round of finals this week. I didn't really meet my minimum goal each day, but I'm still not doing too bad. I'm making it a habit to squeeze in walking when I can, and that's what counts! I didn't get to run much this week either. My knee was really aggravated when I tried to get back into it, after the accidental back-to-back 5ks, but it's really not having it. I know it's partly weight and partly lack of stretching, and partly all the sitting I'm doing! Yeesh. I'll get there.

Today, a mere 5300, but my monthly total is now 212,653! I broke 200,000! YIPPEE! I wonder if I can manage the 250,000 before the end of the month! (It is my goal, of course).

A few people have PMed me and asked me if I'm going to do one for December too. I'd love to! But what can I do to keep it fresh for you guys? There would be a badge, of course, but someone mentioned editable comments to keep the thread smaller. Hmm. Would that be feasible? Do you prefer the long scroll?





Send me your thoughts!
And STAY MOTIVATED!!

For those who celebrate it, Happy Thanksgiving tomorrow. For those who already celebrated their Solstice Harvest in September, Happy Belated Equinox to you! To everyone starting Hanukkah today, Hanukkah Sameach! To everyone else I've forgotten, Happy Harvest!




Tuesday, November 19, 2013
PHEW busy tired long day. Breakfast with the volunteer coordinator (and I only ate one of the mini chocolates she gave us; I gave the rest away, WEE), then a composition exam in German (which I think I passed well enough!), then reviewing and updating a high school biology exam (hmm, no mutation questions, did I cover enough to assess them on it?), then initiation ceremony for Omicron Delta Kappa Leadership Society (where I didn't eat the icky chicken, I am not a garbage can, and split the cake with another girl, then gave my number to the waiter for the supervisor so we can see about donating leftover food from the many meetings they cater... because I found out all the extra gets thrown n the garbage, WHAT??)

And somehow, in all that, I made 12068 steps (FIVE MILES), several floors (well, at least two), and ending the day at 157,405 for the month. Adding 50,000 on, aaaaaaand I'm tired. LOL!

ZZZZZZZZZZZZZZZZZZZzzzzzzzzzzzz!


OH And weighed in today, second day of being on regular weigh-in schedule again, and down 1.5 pounds (probably water weight, but it's nice to see something changed right away. Motivated carrot!)

Thanks to those stopping by to say Hello! Hugs!







Monday, November 18, 2013
I just can't believe how motivating these folks are! I did NOT expect people to jump on as they did, and some are over 500,000 and others are walking though they're sick or lost their FitBit and it's just... wow. Just wow.

KelliBean! You did a Triathlon! WHEW! If you worry about losing the steps, can you guestimate them? Were they for the run portion (measured) or through some time later? I'm SO IMPRESSED that you kept working to you 10k goal, even though I'm sure you already made it! AMAZING!

DLDMIL You are rocking my socks. I'd only made badges through 550,000, but I obviously need to make some more! Motivated! Dedicated!

I LOVE seeing you guys pass your goals! Olivianight! Awesome! Nutron3, ALSO making me make new badges! I LOVE IT! MyseterRose74, blowing past your goal too! MsLizzy!

ScubaDiva50 you are doing awesome! I hope you feel better soon, and that it's just a day in the dumps! STAY MOTIVATED!

And everyone else diligently plugging along towards your goals, getting close, walking even though you're tired and it's hard, YOU AMAZE ME! YOU MOTIVATE ME! WOOOOOO!!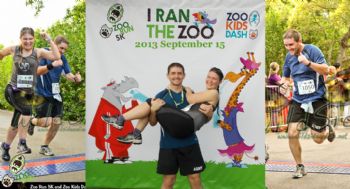 1 2 3 4 5 6 7 8 9 10 11 Last Page

Get An Email Alert Each Time WEYRCAT Posts