| | |
| --- | --- |
| | WAYFARER22's Recent Blog Entries |


Monday, February 16, 2009
I spend a great deal of time on my computer. Finding a way to reduce eye strain is important to me. My solution? Eye Relax. themech.net/eyesrelax/

Eye Relax is a free, nifty little program that sits quietly in your system tray. You can set your preferences to flash a message or an image. In my case, I make the screen go blank --with a Cancel button, if needed. You can set the time between breaks and your length of break. It forces me to get away from the computer screen.

I use my breaks to walk around, maybe pick up around the house a bit. My eyes feel better for the break. I feel better for being a bit more active than I may usually be during one of my lengthy computer sessions. It never fails to surprise me too, how quickly a half hour, my set work session, goes by.

For parents, there's also a password protected screen, so Johnny has to get away from the computer and perhaps eat dinner before getting the password to get back to gaming.

Being active is so important to a healthy lifestyle even if it has to be scheduled. If a reminder to get you moving helps, if you're feeling the strain of too much computer time, Eye Relax can help.


Thursday, February 12, 2009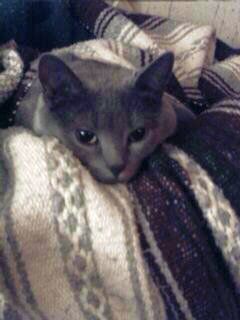 It took my cat, Sophie, to get me on the road to recovering from my bout with the flu. You heard it here first. Cats know best.

During my illness, I tried to rest, but every now and then got bored. You can only watch so much TV. I'd leave the couch and try to do some computer work. No sooner would I be away, then Sophie would be crying at me to return with her to the couch. Reluctantly, I did. What the heck, I thought. There's a good movie on TCM.

This went on for a couple days. I'd get up. Sophie would lay down the law. Leave it to a cat to help me get well.


Wednesday, August 01, 2007
Since I've last written about it, my husband and I have caught the geo-bug major. In fact, I started a separate geocaching blog. We've been out the last few weekends tallying up several finds. Even though we're staying local,we have found some very interesting places, new hikes, and new challenges. Normally on a weekend day I might get in 12,000+ steps. Not bad. A good cardio workout. These past geocaching days I have been logging 20,000+ steps a day. Needless to say I'm sleeping great at night and oh, yeah, my legs ache.

It's been such a fun adventure for us. I'm getting my husband out exercising with me. I certainly want to keep us both healthy and fit. The walking has been good. We're walking off trail oftentimes, climbing, doing inclines. All good for those glutes and quads! I've found too that I'm fearless once I'm on the hunt. I have been hesitant in the past about hiking off trail, but when my husband says that the cache is probably down that slope and bushwhacking is inevitable, I just go and don't hesitate. Of course, that will be a different story once the ticks are back again next spring.

So, it's been great. My renewed interest in staying fit has taken flight and I have no problem reaching my cardio goals these days.


Tuesday, July 03, 2007
First there was vacation. This was my first opportunity to see my sisters in six months, some over a year. Of course, being as it was vacation and all, I fell off the food wagon, but I did stay active, logging upwards of 15,000+ steps a day with bike riding not included. I did well there and the damage was minimal.

Then there were the house guests. I guess I'm a little weird in that I have my set schedule and I want to stick too it. Hard to do with guests with their own agendas and kids to boot. Oh, well.

I'm hoping that after the holiday I can bet back on track. I so don't want to lose the nice muscle definition I've gained. I do know that I have work to do, lots of cardio to record. No excuses. I have a club membership if the weather gets too hot. There are free weights and an exercise ball at home.

Those of you who are boaters may relate. Once that boat gets on the water, all you want to do is go out, enjoy the water. There's swimming now that it's warmer, but there are also margaritas and dining out. Challenges, to be sure! Here's where I have to rein things in and use that strong will power of mine. Wish me luck.


Sunday, May 13, 2007
What a great run I had today! I'm at the fifth week of the Couch to 5k Running plan. After warming up, I ran five minutes, walked three minutes, ran eight minutes, walked three minutes, and then ran five minutes. Eight minutes straight is the longest stretch I've run. I felt great! I even felt like I could keep running.

I did a few things different. I ran just a tad slower. I walked a tad slower too. I think that I was pushing it a bit. I'll at least have one hopeful two more runs to get in before the big day on Saturday. The extended weather forecast is looking good. Should be about the perfect temperature. We both excited about doing this. What a wonderful thing it is to challenge oneself and succeed! Next thing I need to do is translate this into other areas of my life.

How's this for optimism? I've already found our next run.
1 2 3 4 Last Page

Get An Email Alert Each Time WAYFARER22 Posts