| | |
| --- | --- |
| | WATERMELLEN's Recent Blog Entries |


Sunday, December 02, 2012
. . . I listened to the rain on the roof all night: semi-solid! But the rain didn't evolve into the white fluffy stuff, so it's not looking skiable today.

OK, then. Plan B? I got in a great workout at the gym yesterday . . . 30 minutes on the elliptical plus upper body free weights.

If it actually stopped raining . . . a hike with Charlie? Pretty muddy!!

Our Christmas plans are very low key this year. We're all sad DS isn't coming home and nobody's telling Charlie! We'll Skype. Things change, feelings don't, and we'll adapt. Have to admit, less planning/organization is likely to happen since DS is our only family member who really *likes* Christmas. DD is vegan, very anti-materialistic etc. So we'll keep it simple. And . . . yup, that does mean less work for me in particular. I can live with that!

Busy work week upcoming, With nothing pressing here, it may be that this is a day to just soak in a hot bath, then hunker down with a good book . . . maybe with a fresh pot of soup simmering. Spicy peanut chicken appeals.

Rainy dark days: cozy, comfortable, love the sound of rain on the roof.





Thursday, November 29, 2012
I was anticipating DOMS (delayed onset muscle soreness) after my first XC ski of the season Sunday. It was a tough slog in the slush.

But: the rowing machine and the elliptical and the strength training seem to have done their job. (Or maybe it was the evening grosbeak euphoria, who knows).

Not a twinge!

Supposed to rain this weekend, sob sob.

Who would have ever thought I'd look forward to winter so much??





Sunday, November 25, 2012
After a very warm week, with temperatures of 14C Thursday (DH actually played golf, and claimed to have enjoyed it!), snow has been falling here since late Friday. And today I got out for my first cross country ski.

The snow was wet and slushy, caking under the skis every couple of strides . . . but I still loved it.

Slogging up the hill towards my car, I saw on the horizon a flock of fifty or sixty chunky looking "starlings" wheeling in the sky, then settling into a leafless maple not far away. It's too late in the year for starlings, and I stopped to listen. Yes! The distinctive "windchime" voices of evening grosbeaks! Like small crystal bells ringing, so convivial!

I truly love these colourful yellow, black and white birds with their thick strong beaks. They're almost as big as a robin, but with colouring more like a goldfinch and a similar undulating flight. A single grosbeak can crack open and eat about 100 sunflower seeds in a matter of minutes . . . so you can guess what a flock can do to a bird feeder in a half hour or so!

It's probably been a decade since I last saw a flock -- generally in early or late winter, since they always seem to be "passing through" rather than consistent winter inhabitants in my part of the world.

Of course I didnt' have a camera with me . . . and these aren't my pictures or sound recordings. But I've put in a couple links below in case you'd like to see or hear a flock of grosbeaks.

And after our ski, soaking wet with our efforts, we headed to a cross country ski shop to pick up some special klister wax just in case it's slushy for the next ski. DH has already stripped down and cleaned the skis . . .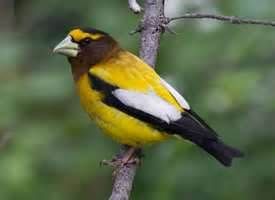 www.allaboutbirds.org/guide/Evening_
Grosbeak/sounds


www.youtube.com/watch?v=k_Q12hCrb70





Friday, November 23, 2012
A really short article in my Globe and Mail newspaper today points to recent research indicating that food tastes better if you know you shouldn't eat it, try to resist it and then ultimately give in. The longer you resist, the greater that ultimate flavour payoff.

Really?

I find this very hard to believe, based upon my own experience.

Way more often, the food I'd expected to taste so delicious turns out to be just not worth it. On occasion, having succumbed and started chewing, I've even spat it out. Rinsed my mouth out. And thrown out the rest of whatever it was.

What about you? Does an attempt to resist temptation, followed by caving in, heighten the flavour? Do the potato chips (this would be my absolute worst temptation!! but substitute your own) really taste better with a side of guilt?

Nooooooo. Tell me it's not so!!






Saturday, November 17, 2012
Weight loss" just isn't a good concept for people who want to stop yo-yo dieting and sustain a healthy weight because . . . weight loss is all about "loss". Yeah. Duh!

If I had it to do all over again -- losing 90 pounds that is (and I'm determined NEVER to have it do all over again) -- I'm thinking now it would be better to start by looking in the mirror and asking myself, "How many of these pounds do I want to maintain?"

And (related question) how many calories can I eat to maintain just those pounds I want to maintain? When I weighed 230 pounds, I'm pretty sure I was eating 2,300 calories a day: 10 calories a pound. And more, because my weight was still going up. That 100 extra calories a day was resulting in an additional 10 pounds a year. That's all it took.

Now that I weigh in the 140 range, I know I can eat about 1400 calories a day: the magic number is still 10 calories a pound. So "maintaining" myself down to 140 pounds really meant eating within my maintenance range of 1,400 calories a day. From the start. Then keeping it up. Maintaining it.

So: (related question), from the start I also needed to be asking myself, "How can I rearrange those pounds for optimum strength and fitness?" That's the exercise bit. It doesn't seem to have much to do with weight loss, at least for me: more to do with cardio, strength training, flexibility, balance. And mood: optimism, determination, focus.

So: (further related question), it would have helped to ask myself, "What's the optimum nutrition plan to keep each one of those carefully selected pounds I'm gonna maintain as healthy as possible?" Because if I'm starting out with my maintenance range-for-life, each calorie I eat has to be nutritionally packed. Otherwise there won't be enough calories to deliver the complex carbs, protein, healthy fats, and all the micronutrients (vitamins, minerals etc.) that those selected-to-be-sustained pounds need. Every day.

Yeah. Like that.

The longer I'm in maintenance, the more I realize that thinking about "weight loss" is counter-productive. Because a focus on "weight loss" means thinking about LOSS. Lots of losses.

Giving up . . . random mindless eating whatever I want whenever I want.

Giving up . . . sitting around most of the time (except when not just sitting but fully horizontal).

Giving up . . . socializing with the kind of persons who eat all the time and sit around all the time.

No kidding, those extra pounds I didn't want to maintain constituted a highly contagious condition, judging by the general shape and size and fitness level of a lot of people I hung out with at 230! And with whom I justified chocolate croissants. Giant muffins. Elaborate coffee drinks with whipped cream, etc. While wearing size 18 elastic waist pants. And sitting around talking about (gloom) how unfair life is. Sometimes about how much discrimination we felt because of being overweight . . .

Gotta admit, I've lost most of those former friends with the pounds. Not my choice, either. Theirs. Their unwillingness to tolerate and accept my new priorities. Sure, the loss of some of those friends is something I do regret. Just not enough to expose myself to the infection again!

Focusing on loss, on what it's necessary to give up, is something deeply unattractive to human beings. Researchers in economics tell us we attach a huge surplus value to what we already have and do. That we feel entitled to hold onto what we already have and do. (You know the studies: for example, if you pay $5 for an ordinary coffee mug that you use every day, you tend to become attached to it and don't want to sell it for less than $10. It's "special". It's "mine": one of the first things two-year-olds learn to say!!) These feelings of resentment over loss of something "taken away" are much stronger than regret about not achieving something we don't have yet. (Such as health. Such as a more attractive body.)

So: all of this tells me it really doesn't help to focus on loss. Including weight loss. Thinking about weight loss triggers an initial enthusiasm and then creeping resurgence of entitlement. Rebellion. And then failure: which in this context means temporary weight loss, giving up and rapid regain. Never having achieved the feeling of health and fitness.

That's why we've gotta lose the "weight loss" concept. We've gotta think about gain, not loss. And that means we've gotta think about maintenance. Right from the beginning.

Not, "i'm on a weight loss program." Rather, "I'm on a weight maintenance program". Meaning, privately, "I'm eating just enough to maintain those pounds I intend to keep!!" (And sure, saying I was on a weight maintenance program would have resulted in some raised eyebrows when I was 230!! I'd have enjoyed that, actually.)

Not, "I'm on an exercise program to lose weight." Rather, "I'm on an exercise program to gain health. To gain energy. To gain strength, flexibility and balance. And to have more fun!! With new friends who share those values with me!"

Enough of responding to the nosy questions anyhow. How about just leaving it at that last part. "I'm having more fun!"

There is nothing lost that's worth grieving over at all. Not at all.

Because we do have more fun when we're healthy. When we feel good. When we're eating what's good for us and hanging out with people who are good for us. Who are active, happy and optimistic. Way better than that $5 coffee mug, or the chocolate croissant!

It shouldn't be about weight loss. It's really about all there is so to gain. And to maintain. That slim strong active healthy body, having fun.

Once you have it, you feel so entitled to it. So committed to maintaining it. No matter what it takes.



First Page
1
2
3
4
5
6
7
8
9
10
11
12
13
14
15
16
17
18
19
20
21
22
23
24
25
26
27
28
29
30
31
32
33
34
35
36
37
38
39
40
41
42
43
44
45
46
47
48
49
50
51
52
53
54
55
56
57
58
59
60
61
62
63
64
65
66
67
68
69
70
71
72
73
74
75
76
77
78
79
80
81
82
83
84
85
86
87
88
89
90
91
92
93
94
95
96
97
98
99
100 101 102 103 104 105 106 107 108 109 110 111 112 113 114 115 116 117 118 119 120 121 122 123 124 125 126 127 128 129 130 131 132 133 134 135 136 137 138 139 140 141 142 143 144 145 146 147 148 149 150 151 152 153 154 155 156 157 158 159 160 161 162 163 164 165 166 167 168 169 170 171 172 173 174 175 176 177 178 179 180 Last Page

Get An Email Alert Each Time WATERMELLEN Posts