| | |
| --- | --- |
| | WATERMELLEN's Recent Blog Entries |


Monday, September 10, 2012
www.theglobeandmail.com/life/why-the
-tyranny-of-everything-in-moderation-s
ets-us-up-to-fail/article4527973/

Moderation sets us up for failure, says an article in today's Toronto Globe and Mail..

Why? Because moderation requires us to make too many choices. If I tell myself that I can eat potato chips moderately, then I have to ask myself: how many is a moderate amount? And how many times a week is a moderate recurrence? If I don't eat potato chips at all . . . if I have a "no potato chips" policy for me . . . then I don't have to exhaust my decision-making power.

So: moderation becomes a form of tyranny.

In that sense, an inflexible rule is less tyrannical!

What do you think? Does moderation work for you?





Sunday, September 09, 2012
Feeling a little blue about nothing in particular today so . . . Charlie and I went to the swampy woods which reliably has gentians at this time of the year.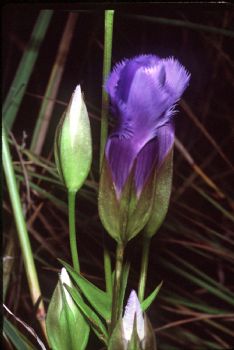 Not my own picture . . . because I'm not a skilled photographer at all . . . but this image captures perfectly the unique blue that I look for every year at this time.

Charlie had a wonderful run along the trails, ears flopping and tail wagging and yipping occasionally with sheer exuberance. He races ahead, turns around to make sure I'm still with him, runs back just to smile joyously, and then takes off again.

The yellow goldenrod and wild asters (every shade from palest mauve to deep deep purple) were also in bloom. There were just a very few bright red maple leaves. And the "BEARS HAVE BEEN SIGHTED IN THIS AREA: Keep your dog on the leash" sign had been posted: didn't see that one until Charlie and I were getting back into my car! I don't know how brave Charlie and I would have been if we had known!

If definitely feels like fall. Last weekend was sleeveless top and shorts: this weekend jeans and long sleeved Tshirt and jacket, with warm socks and duckboots. I made a huge pot of French Canadian pea soup, and some apple crisp with new season Paula Reds.

And: definitely left my blues in the gentian patch!!








Sunday, September 02, 2012
www.theglobeandmail.com/life/parenti
ng/back-to-school/why-kids-need-to-fai
l-to-succeed-in-school/article4513436/?page=5

This is the time of year when there are lots of "back to school" articles aimed at parents who want to motivate their children to be successful. Intelligence isn't the most important factor in academic success.

Margaret Wente at the Toronto Globe and Mail has written a terrific article interviewing writer Paul Tough (good name!) and summarizing the recent research on "productive failure". Heaping "self esteem" on kids doesn't work very well in motivating them to succeed. Character, Tough says (and Wente agrees), is actually built through failure. That's how we learn persistence, curiosity, optimism and grit. We have to let our kids fail. Because that's how they build character. Especially grit.

But: it's not just kids who need to learn. All of us are learning and relearning all the time, our whole lives long. And particularly in the weight loss context, we know that motivation is key. To learn to sustain the motivation essential to maintenance, we have to let ourselves fail too. Maintenance, I'm thinking, is another process of productive failure.

We lose all the weight. Then we learn how to maintain the weight loss.

And we learn, inevitably, by failing: by putting some weight back on.

And then taking it off again. Immediately. This time, not giving up. This time, keeping the fluctuation within a range.

We learn to be persistent: we keep on tracking.

We learn to be curious: we explore what works.

We learn to be optimistic that this time we will succeed. This time, we will not give up. Ever.

And that requires above all, that we learn grit. Grit in the weight maintenance context means:

willingness to tolerate some hunger;

willingness to tolerate some social inconvenience (when everyone else is eating and we can't); and

willingness to tolerate the day-in, day-out every-dayness of exercise and calorie control necessary for life-long weight loss maintenance.

The initial weight loss process was somewhat glamorous. People noticed. People offered congratulations. There was lots of praise, and the ol' self-esteem rose pretty rapidly. But self-esteem isn't a solid foundation to maintain weight loss. We need something more. Grit.

Grit, for me, means accepting the unpleasant reality of weight loss maintenance. Learning to accept the discipline that it takes. Maybe even, eventually and at least some days, to like it. But to stick with the program even on those days when we don't much like it. To say "oh well". And stop eating. And start moving.

It's those failures we've had in the past -- the yo yo losses and regains --- which eventually produce this change in attitude. That build character in us, just as productive failure builds character in our kids.

We make our failures productive failures when we don't give up! When we learn, instead, the persistence, curiosity, optimism: and above all, the grit which are necessary to sustained success.

Try the grit test!! Pretty interesting!

(I did and . . . was pleasantly surprised by the result).


www.theglobeandmail.com/life/parenti
ng/back-to-school/grit-test-do-you-hav
e-what-it-takes-complete-the-test-to-f
ind-out/article4512454/





Friday, August 31, 2012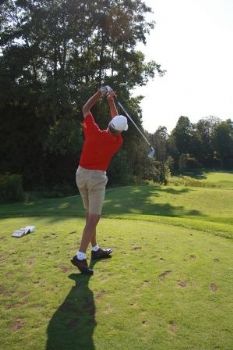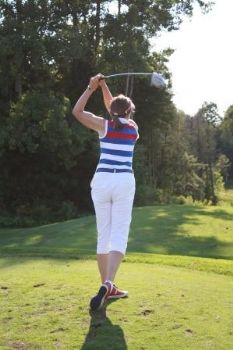 My DH surprised me by contacting organizers for last week's golf tournament and getting the pictures.

You can see he's successfully reduced by 20 pounds since his pre-season weight: looking pretty trim!

And there I am too in my vanity moment.

Did I mention how challenging white pants are?

And how challenging horizontal stripes are? Not to mention sleeveless??

OK, still feeling pretty good about it!!





Sunday, August 26, 2012
DH and I are just back from three days in Ottawa -- or more precisely, a day and a bit, with most of the other time spent driving up and driving back!

I wanted to see the Van Gogh exhibition at the National Gallery before it closed September 3. Some of you may have seen it earlier this year in Philadelphia . . . it's a "joint" US /Canadian project which focuses on work from the last four years of Van Gogh's life, with lots of "close up" details from nature and lots of landscape vistas too . . . . There were early photographs and Japanese prints also exhibited, to show a couple of the influence on this period of his work. I had not realized that the texturing effect of his brush strokes evokes the wrinkled paper of the Japanese print "crepon" technique. The gallery (one of Moshe Safdie's best architectural works) was crowded, even with our reserved tickets. But the crowds did not prevent me from seeing and absorbing images that were new to me and which will stay in my mind: a field of wheat, a field of lavender, a vase of poppies, a branch of almond blossom against an intensely blue background, a couple walking through dense undergrowth in a light dappled forest.

We also attended an open air theatre production under a starry sky in a park adjacent to the Rideau River . . . a glorious Marivaux 18th century French farce, comedia del arte style with highly expressive masks, Offenbach music. It was superbly performed, very silly and light-hearted: perfect for a summer night.

Other than that: walking, talking, reading, paying our respects at some dear friends' burial places in Beechwood Cemetery, a drive into the Gatineaus, some nice meals, a few glasses of wine, a very comfortable hotel: good times. Ottawa is a beautiful, human-scaled city where English and French are spoken everywhere, decked out for the summer with provincial floral banners and imaginatively planted flower beds in all the parks. It's our capital city, with its Gothic Parliament buildings and Art Deco Supreme Court, and it always makes me proud to be Canadian!

We shared the drive back, taking turns so each of us could snooze a little . . . I've filled the fridge again, caught up with the laundry, and feel ready to face the week!



First Page
1
2
3
4
5
6
7
8
9
10
11
12
13
14
15
16
17
18
19
20
21
22
23
24
25
26
27
28
29
30
31
32
33
34
35
36
37
38
39
40
41
42
43
44
45
46
47
48
49
50
51
52
53
54
55
56
57
58
59
60
61
62
63
64
65
66
67
68
69
70
71
72
73
74
75
76
77
78
79
80
81
82
83
84
85
86
87
88
89
90
91
92
93
94
95
96
97
98
99
100
101
102
103
104
105
106 107 108 109 110 111 112 113 114 115 116 117 118 119 120 121 122 123 124 125 126 127 128 129 130 131 132 133 134 135 136 137 138 139 140 141 142 143 144 145 146 147 148 149 150 151 152 153 154 155 156 157 158 159 160 161 162 163 164 165 166 167 168 169 170 171 172 173 174 175 176 177 178 179 180 Last Page

Get An Email Alert Each Time WATERMELLEN Posts