| | |
| --- | --- |
| | WANDAH3's Recent Blog Entries |


Sunday, September 12, 2010

***WARNING**** MAY BE BORING! LOL

Okay, I was almost finished doing this blog yesterday, when everything froze on the computer and I ended up losing it all. So today, I will try again.
We had a challenge last week to record and share either a typical day or a special event . So here is my typical day, well at least a portion of it, as once I'm at work...it's just repetion, and then I forgot got to record the rest of my day when I got home...but it's just basically the same as the first part. Log on the computer at home, catch up with my team, my friends, my other obligations. Make supper, talk to Garry on the phone and find out that he is working late (yet again), possibly watch a bit of the news, until the negativity begins to get to me, spend some time in mediation to restore myself, grab a book and head for bed. My life in a nutshell! lol

Okay a typical day for me: Really it does start at 4:30 am and by the time I head downstairs, it really is this time!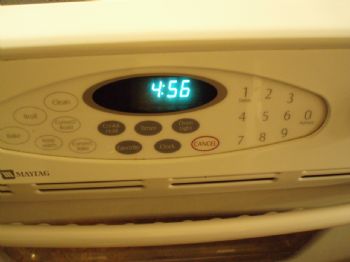 Next, while making myself some nutritous breakfast, I'm logging on to visit with you guys!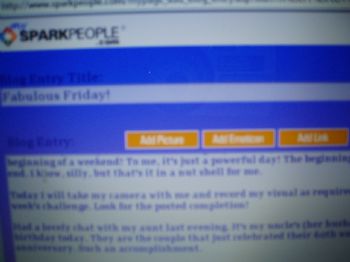 Now that my morning duties are taken care of, it's time to head out the door for work. Yep...it really is this dark when I go to work. This is my driveway looking out onto the street.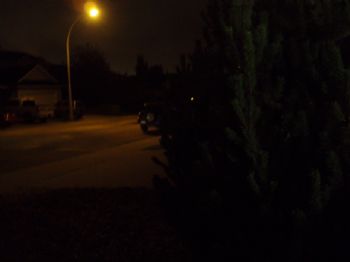 I pretty much have the road to myself as I'm driving to work!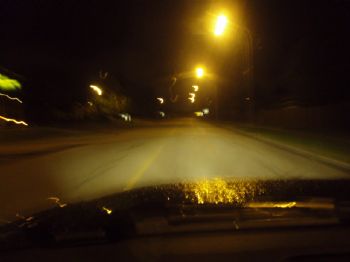 I also pretty much have my choice of parking stalls at work!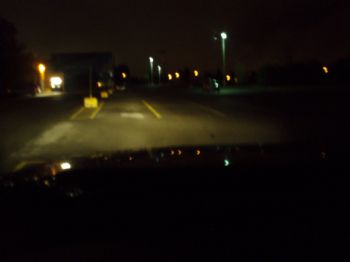 Yes, this really is my desk...yes those are 2 monitors and I'm pushing for 3!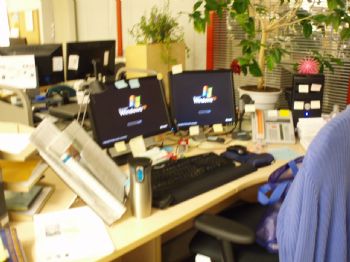 On of my favorite people in the world...Geff, my other early mornng co-worker. This man is one of the best.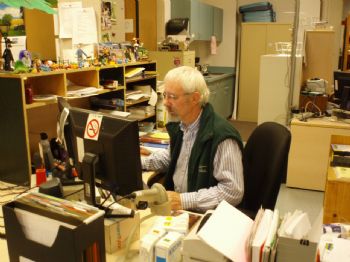 This is Andrea's area...she usually comes in about 6am, but as you can see she isn't here yet.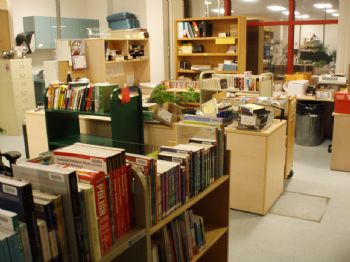 Here is Gail, who basically has the desk next to mine and is a great cohert in shanigans.



Dawnelle is a member of our bookmobile staff and there isn't a word in the universe that you can say that she doesn't instantly have a song for! She is our lifeline to sanity. Dawnelle is modeling our new hardhats that we will be required to wear for the first couple of weeks in our new building as we move things over.



So these are just some of the people that make up my typical day. Let's put it this way...without these key people, my day is no where near as much fun!
From here on in, my day is typical of any other office worker...okay, maybe not...we do have a lots of spontaneous singing, laughter and fun. But we also have lots of work, meetings and general exhaustion.

My positives:

the great people that I work with.
be blessed with a job that greatly enjoy.
I'm a morning person, so my hours suit me just fine.
although chaos reigns around us all right now at work, our new digs will be awesome.
the sun is shining this morning! woo hoo!
email from a special person that just made my day.
I'm only as tired as I think I am....positive affirmations.
Garry and I are going to the garden center today...YAY!

Have a wonderful Serenity Sunday, may your blessings be many.

Hugs
Wanda




Saturday, September 11, 2010
Today will always be a day of significance for me. Not only is it a day of Remembrance for 9/11 but it is also a day that I remember my Mom...today is her birthday. Although she is no longer with me...I still celebrate her day.

I just shake my head at all the controversy that is going on right now. When is enough enough? When will we stop creating yet more strife? When will common sense prevail? I understand the deep feelings, the anger, the hurt, the frustration. 9/11 affected all of us, not just Americans. But there comes a time when we need to move beyond that in order to heal. Blaming a whole religion for the actions of some fanatics is wrong on our part, the same as all Americans being blamed for the actions and words of one radical preacher. I agree that the building of an Islamic church at ground zero is very insensitive given what happened, and there needs to be dialog and understanding taking place, not radicalism. Do I have the answers...NO. But I do know that laying the ground for more violence is not the answer. My prayers are for God's people to stop, take a deep breath, and then calmly and rationally begin a dialog inviting God/Allah to be present. We are our own worst enemies. We are the creators, each of us individually, of our lives...so lets create the world of peace that we all want. Let our thoughts and actions be positive. Let's be the change that we want to see in the world. It all starts with each of us making the decision that wars, lack of understanding, hate, negativity is NOT working for us. Let's stop the blame game and start the change towards a better tomorrow. Thank you allowing me to voice my opinion. I know that many will not agree with me and that is their right.


Positive Quote of the Day:

Getting over a painful experience is much like crossing monkey bars. You have to let go at some point in order to move forward.
-- Author Unknown



My thoughts and prayers are with you all today as we remember together one of North America's greatest tragedies.

Hugs,|
Wanda







Friday, September 10, 2010
I love Fridays! They are such an exciting day. The end of a work week, the beginning of a weekend! To me, it's just a powerful day! The beginning and the end. I know, silly, but that's it in a nut shell for me.

Today I will take my camera with me and record my visual as required in this week's challenge. Look for the posted completion!

Had a lovely chat with my aunt last evening. It's my uncle's (her husband) birthday today. They are the couple that just celebrated their 60th wedding anniversary. Such an accomplishment.

My positives:
Enjoying reading the book "The Power" by Rhonda Byrne...she is the author of the book "The Secret". So far, I'm finding that the book is basically saying the same thing as her first book, only using a few different words thrown in. But it's a good read, mainly because it is a great reminder of how our thoughts manifest the life we are living.
Making progress on the filing cabinets and cupboards at work. We are beginning the process of packing up things that we won't be needing for the next few weeks in preparation for moving them to the new building.
Yay, no frost this morning! We are supposed to keep having this damp cold weather over the weekend, but I'm praying for some sunshine yet.
My hours will change for the last couple of weeks in October. I won't need to go into work until 7am....woo hoo! Although it will be strange to not have to get up at 4:30 am!
It's a new day, a new opportunity to make wise choices and be happy.

Have a great day, enjoy, celebrate and be happy.

Hugs,
Wanda





Thursday, September 09, 2010
I finally had to break down and turn the furnace back on yesterday when I got home from work! The temperature in the house was only 16. Even the poor cat was cold. She was all curled up tight in a ball and stuffed amongst the cushions on the sofa.
A miserable day weather wise. Cold and raining, yet again! On the other hand...it was rain and not snow! So there is something to be grateful for. Apparently the next 10 days are supposed to be more of the same...my poor tomato plants...siggghhhh!
I ended up not going to Farmers Market yesterday as it was raining and I was cold. I just didn't feel up to braving walking around in the wind and rain.
Plus side...I was home to receive a call from our son. Woo Hoo. They have been having very cold weather and lots of rain too! But he says the fishing has still been good.

My positives:
A lovely phone call from Quin.
A catch up phone call with Kaeli and hearing all the news about her trip.
I get my hair cut today...no more shaggy dog look!
I'm alive and have another opportunity to be all that I can be!
I'm keeping a positive attitude.
I'm feeling great!
I am blessed.

Have a wonderful day, thanks for stopping by for a visit.

Hugs,
Wanda





Wednesday, September 08, 2010
It's a bit on the cool side in the house this morning...only registers 17. If the weather doesn't start warming up a bit during the day time, we are going to have to turn the furnace back on. It's too early! Although, I do recall that we did have to turn it on in JUNE for a couple of days.
Time to phone our friend and have him come out and inspect the furnace and see that it is already for the winter. It's much too early in my books, but obviously, Mother Nature and I have different versions of the book! lol.

My positives:

Doesn't appear to have been any frost last night...woo hoo, one more day that my tomatoes are growing.
Made a start on cleaning out filing cabinets etc at work yesterday. No sense moving stuff that doesn't have to be moved.
A good sleep once again last night...yay!
Knowing that I have a warm bed to crawl into each night.
A lovely salad to take for work today.
Some fresh fruit to grab also.
Farmers Market tonight....might have to break down and buy some tomatoes! lol
Going to check to see if there are some nice turnips too. Found a great recipe for "Curry and paprika pickled turnips" that I want to try.
Feeling upbeat and happy.

Life is good, let's celebrate!

Have a wonderful day, keep on enjoying each moment.

Hugs,
Wanda





First Page
1
2
3
4
5
6
7
8
9
10
11
12
13
14
15
16
17
18
19
20
21
22
23
24
25
26
27
28
29
30
31
32
33
34
35
36
37
38
39
40
41
42
43
44
45
46
47
48
49
50
51
52
53
54
55
56
57
58
59
60
61
62
63
64
65
66
67
68
69
70
71
72
73
74
75
76
77
78
79
80
81
82
83
84
85
86
87
88
89
90
91
92
93
94
95
96
97
98
99
100
101
102
103
104
105
106
107
108
109
110
111
112
113
114
115
116
117
118
119
120
121
122
123
124
125
126
127
128
129
130
131
132
133
134
135
136
137
138
139
140
141
142
143
144
145
146
147
148
149
150
151
152
153
154
155
156
157
158
159
160
161
162
163
164
165
166
167
168
169
170
171
172
173
174
175
176
177
178
179
180
181
182
183
184
185
186
187
188
189
190
191
192
193
194
195
196
197
198
199
200
201
202
203
204
205
206
207
208
209
210
211
212
213
214
215
216
217
218
219
220
221
222
223
224
225
226
227
228
229
230 231 232 233 234 235 236 237 238 239 240 241 242 243 244 245 246 247 248 249 250 251 252 253 254 255 256 257 258 259 260 261 262 263 264 265 266 267 268 269 270 271 272 273 274 275 276 277 278 279 280 281 282 283 284 285 286 287 288 289 290 291 292 293 294 295 296 297 298 299 300 301 302 303 304 305 306 307 308 309 310 311 312 313 314 315 316 317 318 319 320 321 322 323 324 325 326 327 328 329 330 331 332 333 334 335 336 337 338 339 340 341 342 343 344 345 346 347 348 349 350 351 352 353 354 355 356 357 358 359 360 361 362 363 364 365 366 367 368 369 370 371 372 373 374 375 376 377 378 379 380 Last Page

Get An Email Alert Each Time WANDAH3 Posts