Wednesday, July 13, 2011
This event started in Rock Island, Il. We crossed the Mississippi into Davenport, IA. The other bridge that we were intending to cross back on was closed. So we didn't make it into the other two cities. Here is the bridge we crossed. It was the first 4 lane bridge built over the Mississippi and it opened in 1940 as a toll bridge. Most have cost a fortune to build because it didn't become a "free" bridge until 2006!!!



Passing the downtown we saw these statues. I didn't know the "Blues Brothers" were from Rock Island, IL.




Not to be outdone, Davenport has the bust of a 1920s Jazz Musician named Bix Biederbecke. Not being into Jazz I didn't recognize the name.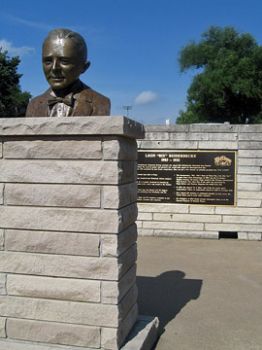 They have a Skybridge that goes out to a floating Riverboat Casino. This is me and my DH on the Skybridge with the other bridge in the background.