Sunday, May 01, 2011
In my quest to walk all the counties of Texas we went north to St. Joe to collect Montaque County. It is just a little town, so little that when we finished we went to the next town to eat lunch. All they have is a Dairy Queen. Not that there is anything wrong with Dairy Queen, but we wanted a "real" restaurant. More on that later.

St. Joe is home to Howell Sickles who is famous for her
Cowgirl artwork. This is her studio.



St. Joe was on the famous Chisholm Trail. This is the Phillips Ranch House. This ranch has been owned by the same family for over 100 years. There was a saloom in town where the trail drovers whooped it up, but it was being remodeled and there were construction workers everywhere so I didn't take a picture of it.




The city park had a big slide so we gave it a try. Unfortunately we needed some wax paper. We just stuck to the slide!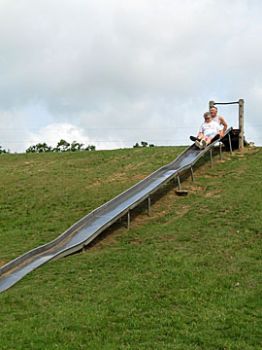 When we finished the walk we went to Muenster to eat lunch. We stopped at a German restaurant and had Brats, sauerkraut and fried potatoes!