| | |
| --- | --- |
| | VHALKYRIE's Recent Blog Entries |


Wednesday, February 09, 2011
Past couple of days has been difficult. I somehow injured my leg. I don't know what caused it, but I woke up on Monday morning with a tight, sore muscle in my thigh. I'm not even sure which muscle it is. It goes along the outer thigh. I don't know why, there wasn't a specific incident. I didn't feel anything overextend during exercise. It's a mystery.

Regardless, I've been taking it easy, which is a bummer. Yesterday, the muscle was still tight, but I decided to do a very light cardio workout and see how I felt. If it got worse, I would stop.

I took it very gently on the elliptical, working out at half the intensity as normal. Surprisingly, this seemed to be the right thing to do. As my muscle warmed up, it felt less tight, and then disappeared. Still, no need to press my luck. I continued to workout at half intensity.

I did the same this morning. Seems to be ok. I'm not burning as many calories as I'd like, but a major injury isn't worth the risk.

Obviously, I am getting old and my warranty is running out. I've already got a couple of cats. I just need a lawn, a cane, some pesky neighbor kids to run on it, and I'm all set.





Continuing my "Vegetarian til 6" diet. Past couple of days I've not been able to keep on that either. I really liked the results from last week, so I am continuing. I recognize that a 100% perfection rate isn't going to be realistic for me. I will be happy if I can hit 4 times a week. I think it will save me some money in the long term. I find that it balances out my calories and carb/fat/protein ratios perfectly, if I eat meat only in the evenings.

Breakfast: The usual suspects: greek yogurt, blueberries, cereal and coffee.
Lunch: Rice and cheese casserole
Dinner: Pork tenderloin with mango chutney, roast potatoes, onions, bell peppers, and leafy green salad.
Snacks: Apple with almond butter, banana, and oranges.

Prep for tomorrow: soak black beans for lunch.




Tuesday, February 08, 2011
...shall never cease to be amused!

This is one of my favorite 'anonymous' sayings, and it so sums me up! Believe me...I am always laughing.





My latest laugh a minute was an attempt to make brownies from scratch. I was flipping through one of my cooking magazines and I found a recipe for banana brownies. I thought, hey, I have bananas and all the ingredients!

The recipe made 18 servings, though. If you know me, you know I hate tons of leftovers. And I definitely did not want 18 brownies around for munching in the house. So I converted the recipe from 'by measurement' to 'by weight' so I could use my kitchen scale and make the perfect four serving brownie version.

Except I made a mistake in my conversion. Somehow, I converted a tablespoon of sugar into 1 ounce of sugar. It was suppose to be 1/2 ounce sugar. I put in DOUBLE the amount of sugar that I should have.

I thought it was strange that I was adding so much sugar. I tasted the mix, and it was good, so I shrugged and moved on. Bad idea.

Next bad idea. I made a banana compote for crepes the other day. Little did I know that the syrup in the compote would alter the chemistry of the brownie mix.

So I mix everything together, put it in my single serve baking pots and put them in the oven. Since I altered the recipe, I decided to check at 10 minute intervals to see if it was done.

At the first 10 minute mark, I notice something strange. The mixture is bubbling. I don't recall brownies bubbling before. But I left it, thinking it would settle down.

Next 10 minutes, something is definitely wrong. It is REALLY bubbling. I pull it out, and it is super thick and syrupy. I put a spoon in it to taste it. It streams off the spoon like caramel. I taste it. It is good! It isn't a brownie, but it is a chocolate-caramel-banana toffee!

I pull out a baking sheet, and pour the toffee onto it to harden.

My fiance had the idea to add toasted almonds to it. When it solidified, I added the toasted almonds to the middle, rolled it up like a loaf, then cut into pinwheels.

This was the result.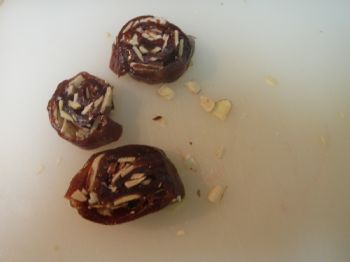 So umm...no...not a brownie. But delicious! And there was much amusement.

Next day, I fixed the error scaling the sugar, and skipped adding the bananas. Have to know how to make a basic brownie before I can make fancy variations.

Here is attempt #2. It is a brownie! Yay! It was super delicious. Moist and chewy on the inside, and a little crispy on the top. Very fudgy, and way better than the brownie box mixes. But not 'foodie magazine' picturesque quality. That's the next thing for me to work on.




So if you make a flub, laugh at yourself. It's more fun than crying. Then try, try again. Making mistakes is the best way to learn. I especially like delicious mistakes. If I should ever be held hostage by communists who will only let me go if I make them toffee, then I know a great chocolate-caramel-banana toffee recipe for freedom.





Sunday, February 06, 2011
Yesterday, I carried bags of groceries up 3 flights of stairs to my apartment, two trips. Each bag weighed about 15lbs each. I felt like an 'iron woman' because little ole me was hauling big bags of groceries up 3 flights of stairs without getting winded.

I was reminded that this once was difficult for me. I dreaded grocery shopping because I dreaded the stairs. For some reason, an old memory hit me. I was carried back in time to 10 years ago. I imagined a conversation with myself, the new me versus the old me.

(I'm transported to the 3rd floor of my apartment from 10 years ago. I see my 26 year old self come up the stairs. She is obese at 160 lbs, and struggling. Her knees are aching under the stress. She stops at each floor to catch her breath. She is thinking they should move to an apartment without so many stairs.)

Me @ 36: "Hi there. Do you need some help with that?"
Me @ 26: (Out of breath) "No...I got it...thanks..." (She is embarrassed that I asked. Embarrassed she is breathing like she just ran a marathon. She drops the bags of groceries, and tries to recover her breath. She gives me a strange look. I look familiar.) "Do I know you?"
Me @ 36: "Yes. I am you 10 years from now."
Me @ 26: (She laughs.) "Oooook..."
Me @ 26: (I tell her a secret only we would know. She looks shocked, but she nods.) "Ok. So...why are you here?"
Me @ 36: "I'm here to tell you to take better care of yourself."
Me @ 26: (She gets defensive.) "I don't need a lecture. I know I need to lose weight. It's just so hard. You wouldn't understand."
Me @ 36: (I am blunt. There no way around it.) "Are you kidding me? I spent the last 7 years of our lives undoing what you've done to our body right now."
Me @ 26: "I diet. They just don't work. My metabolism is slowing down."
Me @ 36: (I laugh.) "I am 10 years older than you, and I've lost 30 of the 40 pounds you've gained. There is nothing wrong with your metabolism. There is something wrong with what you eat."
Me @ 26: (Stubborn) "Look, I eat right. The weight doesn't come off."
Me @ 36: (Looks through the grocery bags.) "Here's your problem. You have Slim Fasts and Balance bars in here because you think you are following "The Zone Diet". You eat double quarter pounders for lunch every day because you think you are doing "Atkins". You drink 36oz of fully leaded Coke everyday. The Zone diet doesn't say to eat double quarter pounders. Do you know how many calories are in one of those? Learn to cook."
Me @ 26: "I'm not going to eat carrot sticks for lunch everyday. I'd starve. And I'm too busy, I don't have time to cook."
Me @ 36: "Oh...you are so going to literally eat those words one day!"

"Look, you don't have to give up your favorite foods. A carrot does not a diet make. It's better to take your own lunch, but if you had a McDonald's regular hamburger and a Diet Coke, it would be fine. Skip the supersized fries. Share a dessert with your boyfriend instead of eating a whole one. I'm still trying to burn off that Cheesecake Factory dessert you had last night."

"Oh, by the way, ditch the boyfriend. He's going to screw you over big time."
Me @ 26: "But I love him!"
Me @ 36: (I want to shake her silly! Get out! Get out now! Go downstairs, get in the car and drive off, right now! I just sigh. It will do no good.) "Get some exercise. Sitting at the desk all day is no good for you. You live in beautiful Colorado. Learn to ski - you'll love it, trust me. Get a mountain bike - you'll love that too."
Me @ 26: "I can't ski. It would hurt my knees."
Me @ 36: "It hurts your knees because you're carrying around 40 more pounds than you should."
Me @ 26: "I hate you."
Me @ 36: (I sigh. I shake my head sadly.) "See you in 10 years."





Saturday, February 05, 2011
Week 1 of my personal challenge for February to eat "Vegetarian until 6" and increase fitness minutes to 300 per week is down.

I normally eat mostly vegetarian meals for my breakfast and lunch, but I just wanted a more focused goal to do it this month and see what happens. So far, I'm loving the results. A conscious effort to eat meatless breakfast and lunch is helping to keep my calorie totals on track. I tend to eat a large dinner with my fiance, and that often throws my calorie totals outside the range. This week with a focused effort to eat meatless breakfast and lunch has kept things perfectly in line. Meat is very dense in calories, so this makes perfect sense.

If you eat vegetarian meals, it's still important to balance your meals. Many friends I know think vegetarian is just eat a lettuce salad for lunch. They'll be starving within an hour. This week, I ate quinoa, beans, and eggs, along with a healthy vegetable salad. 3PM snacks of apples with almond butter. I never felt starving or ravenous. It kept me plenty full until dinner time.

I wasn't able to hit my fitness goals completely. I wanted to exercise 60 minutes 5x per week, but most I was able to do was about 45 minutes per day. Today I'm taking a break because that's what my body is telling me. My buns, thighs, and abs are burning, and I feel general fatigue. That means I've been working hard, and I need to give my body some time to repair. It's more important to listen to how my body feels, then try to force some arbitrary numbers. Performance and endurance will improve with time.

My goals are something to aim for. If I was able to plow through them completely the first time I tried, then that would means they aren't challenging enough. So the fact that I came close, but not quite, means I set the bar just right.

Not being able to meet your goals doesn't mean failure. It means you still have room to improve. Once you can hit the target every time, then it's time to move the bar higher. If you completely miss the bar, you set it too high. If you can *almost* reach it, then you know it's obtainable, and it's time to get to work.

I did see results. 2 lbs down this week. 2 lbs of stored Thanksgiving turkey burned off. 6 more to go until I get rid of all my holiday fat.

Breakfast: Scrambled egg and steak crepe. Need to use leftover steak, so not a vegetarian breakfast this morning.
Lunch: Quinoa with corn, peas and salsa.
Dinner: It's a cold day, so sausage, chicken and dumpling soup sounds nice. I'll put the ingredients in a crockpot this morning and let it simmer all day.





Friday, February 04, 2011
Today is my day off. It should be the perfect time for me to get 60 minutes of exercise, and have breakfast at an less rushed pace than a work day.

Except I'd rather just surf the net, watch tv, or play games.

Last night, I learned to make crepes. In the January/February 2011 issue of "Food Everyday" there's a recipe for crepe batter. Last night I gave it a try.

Crepes are really versatile, like tortillas. They can be sweet, or savory. I made chocolate banana crepes for dessert last night. I took pictures so I can add them to my ShortcutMenus.com blog later.

The first time I make a recipe from a cookbook, I make it exactly as written so I know that I've got it right. Then I'll tweak it. I followed the recipe, but it makes way more batter than I want. I converted the recipe ingredients into ounce and gram equivalents so next time I can make scalable quantities. I find it much easier to cook when using a kitchen scale and a bowl, rather than a bunch of measuring cups and spoons.

Today, I will fry up the rest of the batter, and store in the fridge to use over the next few days. I'll make breakfast for one this morning, dessert for two tonight, and Saturday breakfast for two tomorrow. That should use the remaining crepe batter.

I've been on Spark a long time, and last night I was checking through my reports. I go through spurts of activity on Spark, then take a break for weeks or months at a time. I've been a member since June 2007, so I have a lot of historical data available.

I was not surprised to see a trend emerge. Take a look.

Here is my weight over time. I didn't Spark much in 2008, so ignore that for a moment. However, you can see I tend to gain weight after September, lose after January, hold steady in the summer, then the cycle repeats in September.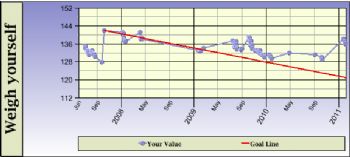 Here is my calorie intake. I start consuming more calories right around September. Ignore the spots on the graph where it says less than 1000 calories. I *never* eat that little. Those were just months where I didn't completely track my meals. The values are off, but the trend is still correct.




This isn't 'slow metabolism' (my former favorite excuse). It's pretty clear. I eat more in the winter, exercise less, stop tracking in Spark, and I gain weight. I start losing weight after I eat less, exercise more, and track my food in Spark.

I read an article from Dr. Oz who says this is how Americans typically become overweight and obese. They gain an average of 6-8 lbs over the holidays, and they don't take it back off. It becomes year after year of buildup. You're still hauling around that extra serving of turkey and pie from 10 years ago, and every year after. If you gained an average of 8lbs over 10 years, and you're 80lbs overweight, that's probably where most of it come from.

This really rings home for me after looking at my charts. I've been doing it 3 years - gaining 8-10lbs at the holidays. I'm fortunate that I am taking it off starting January, or I'd have gained back all 30lbs of the weight I lost. 3 years, 10lbs per year - I'd be right back where I started. 160lbs. I'd probably be writing a different blog right now - "How did this happen?"

While September is a long way off, my longer term goal for this year is to break this cycle. I don't want to gain in winter, lose in spring anymore. While people always say to enjoy the holidays and don't worry about it, I always feel terrible afterwards. So when the fall comes around, colder weather sets in, I'm going to make a game plan.

That's off in the future. Today is today.

Breakfast (veg): Crepes with banana compote and nutella.
Lunch (veg): Udon noodle bowl with peas, celery, carrots, and poached egg.
Dinner (flex): It's date night! We will have a bite to eat on the town and a martini.
Snack (veg): Oranges

Exercise: Despite my desire for laziness, I'm going to get in my workout clothes. Elliptical for 30 minutes, and pilates DVD for 30 minutes.



First Page
1
2
3
4
5
6
7
8
9
10
11
12
13
14
15
16
17
18
19
20
21
22
23
24
25
26
27
28
29
30
31
32
33
34
35
36
37
38
39
40
41
42
43
44
45
46
47
48
49
50
51
52
53
54
55
56
57
58
59
60
61
62
63
64
65
66
67
68 69 70 71 72 73 74 75 76 77 78 79 80 81 82 83 84 85 86 87 88 89 90 91 92 93 Last Page

Get An Email Alert Each Time VHALKYRIE Posts