| | |
| --- | --- |
| | UNIDENT's Recent Blog Entries |




Friday, September 12, 2008
Except I went and did Very Bad instead. :(

I was out and about in the afternoon and unable to get to my crackers and cheese I usually have. So I went to the supermarket and ended up getting a bag of sweets and a cookie. Not good.

The cookie was nice. But the sweets were very unfulfilling.

Later, there was an after-work 'do'. I had declined to attend, as my new resolve on work functions is that since I can't seem to just not have bad foods there, I'll just not go.

But I decided I felt strong. I decided I would attend, and not eat anything, and show myself how I could do it.

And I did, too.

For at least an hour.

But time wore on, and I could see that there was plenty of 'meal' type food there as well, so I invited hubby to come on down too and we'd have that for dinner instead of preparing something at home.

Of course, I couldn't be satisfied with just one 'meal type' food and leave it at that, could I? As per usual - once I start...

I had the meal type food, and the snack type food. I had sweets. I had croissants. I had chips. All healthy resolve went out the window pretty much the moment DH said he was coming down.

And this instead of exercising, too.

Sigh.

Carrying on with the original plan then - simply do not attend these things. There are two farewells next week. I like both the staff leaving. I will drop by in the day or two before they go and wish them well and leave it at that. I will not be attending their farewells.

I have just read through all of my blogs and found it very inspirational. I have also decided I need to do this more often again. So here I am. :) Here is how today went. I will let you know about tomorrow, tomorrow.





Tuesday, June 10, 2008
On 6/6 I posted I needed a kicked bottom, and some new goals and things. Not doing well...

It's five days later. My no-junk-food streak has got to 1 day, twice. Three days I've had to reset it back to zero. I even have a great new reward for this, if I can make it to 7 days. I have a voucher for a half hour massage. I'm not redeeming it until this streak lasts 7 days. It doesn't seem to be motivating me though.

On the plus side, training for the 10k is going well. I went out to an 11k+ track near home this weekend to see how far I could go, and completed it. The 10k is not flat, however, where this track mostly is, so it could be quite a bit more difficult if there are hilly bits. But at least I know that, basically, I can run for 10k.

Just gotta work on that junk food thing. I splurged today. I tried the following to talk myself out of it:

"If you eat crap you'll feel good while you eat it, but then as soon as it's gone you feel rubbish again, and you've got guilt. If you exercise, you'll feel good while you're doing it, feel good after, and no guilt! And you can even have the junk food if you still crave it after the exercise."

But it didn't work. I splurged big time. Nothing seems to talk me out of it when I want something I know that I don't really need to have. "Want" is extremely powerful. It is The Force, and The Force is strong in this one.





Thursday, June 05, 2008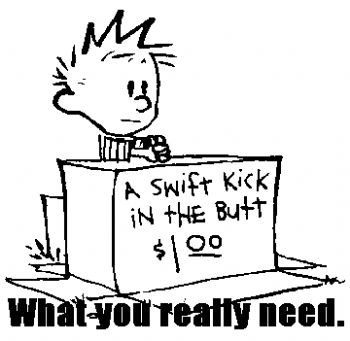 Okay, so I gained 2kg from the birthday blowout (half of it went off, but then I put it back on again with bad choices on Thursday). I have been struggling a lot lately with Diet Coke. I also don't have any real goals, as I do tend to prefer the "be healthy let the weight take care of itself" thing to focusing on a number on a scale.

Time to make some changes.

Step One. Diet Coke is fine. Forget about it. Yes, I overindulge in it. I have too many other bad habits still to worry about this, though. No more stress about the DC is allowed.

Step Two. Physical training. I have agreed to enter a 10k on July 6. I must train for this. If I don't, I'll fail to achieve it.

Training plan:
Mondays: PT session
Wednesdays: 30-45m run.
Fridays: 30-45m run.
Weekend: Run as far as possible, for as long as possible.
Plus one cross training day of boxing, elliptical, or biking for at least 30 minutes.

Step Three: Junk Streak. I eat too much junk food. Defining "junk" might not be incredibly easy for here, but I have in my head what's junk and what's not. I'm starting a junk food streak and posting the days on my wall at work. Yes, it's fine to have junk ocasionally and a healthy diet includes some chocolate - but for me, right now, I feel the need to reduce the frequency of this. Given that moderation is the key, if the streak never hits more than 10 I'll be okay with that, provided it's not 1, 1, 2, 1, 1, 2, 1, etc.

Step Four: Tangible Goals - Tangible Rewards.
Goal 1 - complete the 10k on July 6 - running all the way.
Reward: Running tights - around $100-$150.
Goal 2 - Make it to 7 days on the Junk Food Streak.
Reward: Up to 3 things from the $2 shop every time achieved.
Goal 3 - Under 71kg
Reward: Full body massage, booked when 71.00 or lower is recorded for three days running.

Okay, now off to print out these things and put them on my wall where I can see them.



First Page
1
2
3
4
5
6
7
8
9
10
11
12
13 14 15 16 17 18 19 20 21 22 23 24 25 26 27 28 29 30 31 32 33 34 35 36 37 38 39 40 41 42 43 44 Last Page

Get An Email Alert Each Time UNIDENT Posts