| | |
| --- | --- |
| | TYKXBOY's Recent Blog Entries |


Monday, May 14, 2012
This past Saturday we ran in the Sin City Devil Dash (a.k.a. Las Vegas). It was a 5k adventure run/mud run. A couple months ago, a friend of ours decided she wanted to do this race and got my wife super excited about it and that got me roped into doing it, too. When my wife decides she wants to do something, "she" usually means "we". That's not necessarily a bad thing.

I had never done an adventure run like this, so I wasn't exactly sure what to expect. Sure, I read all the articles and watched the videos on their website, but that's just a poor substitute for experience.

To be honest, it made me a little nervous. I've run a few half marathons and the 5k run part didn't faze me. What made me nervous was the obstacles and the weather. Within the last two weeks we realized it was going to be hot for race day. Like 98 degrees (without Nick Lachey). I wasn't looking forward to running through mud and then running the rest of a race while soaked in water (or other liquids) or caked in mud. And then the idea of having to navigate various obstacles of varying levels danger and the possibility of slipping off of something while wet or muddy... well, yeah, needless to say I was a bit apprehensive. But, I still went in expecting fun to be had.

So, we brought everything the race website suggested. A garbage bag, a towel, a change of clothes, our ID's, sunscreen, water, money for beer, etc. You know the important stuff.

There were two parking lots: one next to the course, and a second off-site lot that they recommended for those arriving after 10:30am. Our friend had decided we should all sign up for the 1:30pm wave (which meant we would run at the hottest part of the day, whee!), so we dutifully parked in the offsite parking and took the shuttle. Of course, when the shuttle dropped us off, we could see there were plenty of spots in the lot next to the course. Oh, well. Didn't make a difference, really, and we were able to put on our sunscreen inside the shuttle.

The course was just up-slope from the edge of Boulder City. It was all dusty and rocky. The main area was set up in a flood catch-basin and the course ran through the hills around it. There was no shade other than a couple large "Chill" tents that were packed with people and the registration and gear-check tents.

It was a good thing we had at least some forethought to drink water on the way because they had no water available. The only water on-site was at the 3 or 4 food trucks smashed between the beer tent and gear-check. Even the hand washing stations outside the port-o-potties were out of water (Nasty).

We had each brought an emergency bottle of water in our gear-check bags, but didn't want to use them already, so we stood in line for 15 minutes at one of the food trucks and each both a bottle of gatorade. At least the water was only $2/bottle and the gatorade $3 for a 24oz bottle. Still, on a 100 degree day with no shade and just pure dust and 2% humidity, you would think they would have some sort of water station available.

After that we all made sure we had taken all the pictures we wanted and had all our gear on before finally dropping off our gear at gear-check and then heading in the direction of the port-o-potties and the starting chute.

Everything else was pretty organized, tho, from packet pickup to the safety pin tables to the gear check-in. And they had plenty of port-o-potties. They just didn't have any water to go with the soap in the hand-washing stations.

Their loudspeaker by the starting line was drowned out by the band playing on stage next to the beer tent, but we were close enough to hear them tell the 1:30 runners to go to the staging area and that we would start in 15 minutes. We laughed and chatted and soon enough it was time to run.

The race started and off we went. The trails were all rocky with a mix of packed and loose sand. Footing was a little scary, but I never saw anyone fall or slip, so it wasn't too bad.

The course was anything but flat. It was all ups and downs through the rocky hills.

The first big obstacle I remember is going down a steep dirt hill while holding onto ropes. Then there was the 4 foot pit we had to jump into and then back out of. No mud, just dirt and rocks.

The rest of the obstacles are mostly a blur for me, mostly because nearly all of them were anything but memorable. A few of them were just little trenches or hills that I wouldn't even have known were obstacles if they hadn't posted signs next to them. "Hell of Wheels" was a series of maybe 8 steep 3-foot tall mountain bike jumps. Might have been scary on a bike, but they were anything but scary while running. They were actually kind of fun to run on because your downward momentum would carry you up to the top of the next one.

The hardest/scariest obstacle was "Satan's Temple" which was a two-sided pyramid where you had to climb up one side which as widely spaced 2x4 ladder-type structure that flexed kinda scarily with all the people climbing up it. Once you reached the peak, you had to use a rope to rappel down the other side which had boards stand on that were at least 2-3 feet apart. My wife froze coming down the ropes because of the steep drop and lack of footing. I tried to yell up encouragement and directions, and just as I was about to climb back up to help her down, a guy next to her was able to talk her through it and she made it down.

The rest of the course was mainly hills, rocks, and dust. There were 3 aid stations. The first handed out cups of water. The other 2 (which was actually the same station we passed two times in different directions) had warm/hot bottles of water which wasn't all the pleasant.

We all planned to run together for the whole race. I was the fastest of the three of us, but it didn't matter since we stuck together. The combination of heat, dust, hills, and my wife's asthma really got to her and we ended up walking a fair portion of the course. But, we all still ran when we could and chatted and still had plenty of fun. Tho, at one point they seemed to get too comfortable walking and chatting like we were out for an afternoon hike, and I had to chide them into running again.

The obstacles didn't really seem to resemble the map on the event website that well. A few had their order switched and a few seemed swapped for something else or were re-named.

The last 4 obstacles were back-to-back-to-back-to-back, right in front of the finish line.

First, we had to pick our way through a pyramid that had a web of ropes.

Right after that was the army crawl under barbwire through "mud" (more like thin muddy water) where the worst part was the gravel on the bottom at the end.

Immediately after that was the "Blood bath" which was just cold, red-colored water. This was actually the best part of the whole race because we were hot and the water was "cold" (more like cool, but hey, it felt great!).

Finally, they had 3 circles of flames. The 3 of us held hands and ran through them and then crossed the finish line.

After the finish line they handed us each a bottle of water and our race medal and then a beer ticket (which we got after we gave them back their timing chip).

The bottle of water was nice. The line for the beer tent looked like the worst obstacle of all, but it turned out to be mostly just misc groups of people just standing around chatting and the line itself was really short. The first beer was cold (and included in our race price!) and refreshing. None of use had any beer other than the one beer, but boy was it good!

We then picked up our gear and headed over to the showers. The showers were all outside, so it was hard to shower off and then change clothes. But, since there really wasn't any "mud" on the course, we weren't really all that dirty. You could leave your shoes and all the shoes would be donated to the Salvation Army who was there with trash bags and a truck. Our shoes weren't muddy at all, tho. Just wet. We stuck with our plan and left them, anyway, tho.

I then went to one of the port-o-potties and changed my clothes while the girls changed behind a dumpster and got scolded for it.

Then we took some more pictures and then got back on the shuttle and went home.

We had a lot of fun. The event was fairly well organized, tho it seemed like they expected everyone to drink beer instead of water or bring your own water or buy it from their small number of vendors. Beer is fine for after the race, but i wasn't going to drink beer to hydrate myself before the race. The map and the obstacles didn't seem to match up. And most of the obstacles were pretty wimpy - if you could even call some of them obstacles. We all wore gardening gloves to use on the obstacles with ropes and there were two or three obstacles that we needed them for and they came in VERY handy for those obstacles and we were glad we wore them.

If I had done this by myself, I could've finished faster, but since I stuck with the girls - and my wife had heat/dust issues and needed to walk - I never really felt that challenged (there were a couple of nasty hills, tho). But the course was definitely hilly and dusty and it would have been very challenging for me to keep up anything close to my usual running pace on such a course. As it turned out, with all the people waiting in line at the obstacles - despite the wave start - the obstacles actually gave us all a chance to rest and recover from the running we did in between them. In the end, I didn't find the race that challenging, but I think if I had tried to run my own pace, I probably would be telling you otherwise. And, it was definitely hot.

The course went through an established mountain biking course and near a zip-line operator, so it had some random facilities that we passed by. Towards the middle-end of the course, there was a bathroom that we passed by and lots of people were stopping to use it, or the drinking fountain, or the sit in the shade. There was one girl lying in the shade behind the bathroom looking miserable, so I asked her if she was okay. She said she was just waiting for her friend. A couple second later her friend came out of the bathroom and walked toward her and said dramatically "Are you okay? I better call you a nurse! Oh, wait, I AM a nurse!" and we all laughed at her.

Anyway, here are the pictures to prove we did it AND that we had lots of fun, too!

Before:



Finished!: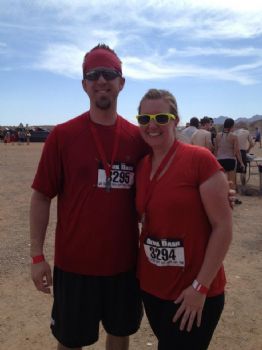 Finished 2 (w/beer):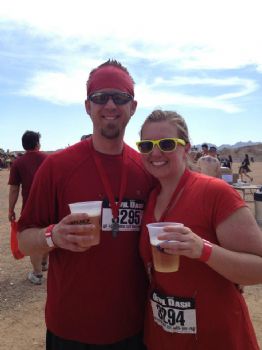 Finished 3: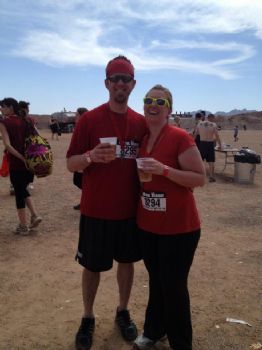 Finished 4: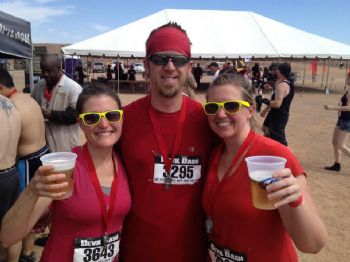 Post-Race w/clean clothes: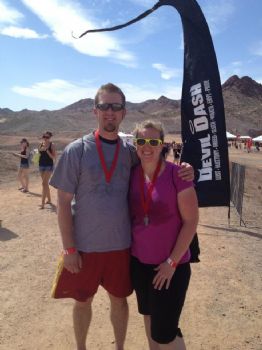 Medal: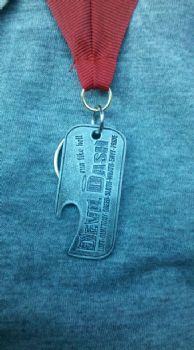 Tuesday, May 08, 2012
Philip James of the London School of Hygiene and Tropical Medicine and president of the London-based International Association for the Study of Obesity says telling people to eat healthier doesn't work if it's cheaper to eat nutrition-poor ultraprocessed foods than to eat unprocessed healthy foods. Also, the food industry isn't going to police itself because they won't make more money by asking people to less food.

news.yahoo.com/fight-obesity-economi
cs-not-health-campaigns-experts-133051
888.html





Monday, May 07, 2012
After taking a week and a half off from training, it's time to get back into the groove. Today was the real catalyst.

Two weeks ago, I ran on the Wed and Thurs after my races. Being out of town, I skipped my weekend runs, and then proceeded to take the next week off since I felt exhausted and run down. Not surprising, really.

If you go back to my end of March review blog, you would see that I had our annual wildland firefighting pack test scheduled for the Wed after my races. It wouldn't have been a huge deal - tho I definitely would have been sore. However, there were too many people signed up for that test (around 30+) and they asked if some people could switch and instead take it on May 7 (today) which only had one person signed up.

So, given the chance, I decided I would probably be better off switching my test date and helping us both out.

Well, that meant today was the day for my test which also meant an end to my week and a half self-imposed rest period. But, it was time to get back in gear, anyway, because...

This weekend is the Devil Dash. It's a mud run-style 5k down in Boulder City. The obstacles are themed after the 7 deadly sins.

So, that means I can't rest on my laurels for too much longer. This week I needed to get back to running, and hopefully restart some kind of strength training plan, too.

So, the pack test is simple. While wearing a 45 pound weight vest (or backpack), we have to finish a flat 3 mile course in 45 minutes or less while walking. Running is not allowed. There are no benefits to finishing fast. The only thing that matters is that you finish in under 45 minutes. (44:59 is just as good as any other time). It's supposed to simulate a forced quick march to the fire line while wearing full firefighting gear.

This is my fourth official time taking it - once, every year for four years (I've taken it two other times, once for training, and one other time to support a friend).

The first two times I took it, I had the intent of finishing fast to impress people. Last year I decided I would take it easy and just be sure to finish under the time limit, and I decided to try that again this year... And just like last year, I started out slow, but couldn't take the slow pace and sped up. At a slower pace, I walk upright with stiff legs and it really hurts my shins. When walking faster I use a looser more squat posture that's easier on my shins.

So, this year, instead of finishing at a nice "leisurely" 44 minute pace, I ended up finishing in 33:09. That's the fastest time of any of the 6 times I've finished the test. Also, since the course is just 6 circuits around a park, I also ended up lapping all 6 other fellow test takers.

Of, course, I don't get any brownie points for my time or for lapping anyone. Everyone just gets a circle around the "yes" listed after the question "Did he/she pass the test?" on their individual forms.

But, I did pass. And, this should be the kick-start back into training for this weekend and for my race at the end of next month.





Friday, May 04, 2012
I don't know why, but I've been tired and dragging all week.

Last week I took Tuesday off after my races and then began to ease myself back into my running schedule with a 2 mile run on Wednesday and a 3 mile run on Thursday.

I brought running clothes with me when we visited my parents for the weekend, but I could not sleep very well on an air mattress and we were really busy, so I skipped the short 3 mile run I had planned for Sunday morning. No big deal, tho, because I would just get back into running during this week, right?

Tuesday morning I was exhausted and had a headache, so I did what I rarely ever do, which is to reset my alarm clock and go back to bed.

Tuesday night I was up late doing work, so I skipped my run on Wednesday morning. Wednesday night I got to bed a little earlier, but decided again not to run because we had a busy morning this morning. It turned out that I was absolutely exhausted this morning and could barely get myself out of bed, so it turned out to be a good thing I gave myself that extra hour of sleep.

So, here we are and my running clothes that I set out on Monday night are still sitting untouched on top of my dresser waiting to be worn.

So, at least Saturday I'll get some exercise in with 1 mile Susan G Komen charity walk, and then hopefully I can pull myself out the door for a short run on Sunday morning and then get back in gear next week.

I promised my wife's personal trainer that I would join his Tough Mudder team in October, so it looks like I better get my b-u-t-t back in gear and not only get running again, but also start doing that strength training I've been putting off.

Oh, and I need to hurry up and get my money deposited so I can sign up for the Running With the Devil half marathon that's coming up the end of June. And I'll need to make sure I get plenty of warm weather running in for that so I'll be sufficiently acclimated to the heat come race day.

So, I can drag myself around for one more day, but then it's time to find that well of energy I seem to have lost. Where oh where did I put it?





Friday, April 27, 2012
Date: 4/22/12
Location: Lovell Canyon - Spring Mountains National Recreation Area, NV
Race Coordinator: Calico Racing
Event: Labor of Love 100M, 50M, 50K, Marathon, 1/2, & 10K
Start Time: 7:30am
My Distance: Half Marathon
Weather: 60-90°F; very dry (below 10% RH)

So, with one race under my belt, it was time to finish the second and final race. As I have recently learned, I was really running a "Double", not back-to-back races. Ah, semantics and technicalities...

Anyway, I was worried about Sunday's race, yet was at the same time less concerned or worried than I was on Saturday. After all, this was the last of the two races, so I could do whatever it took to finish without regard to the consequences. I could give everything I had, even if it meant walking or crawling to the finish. All I had to do was cross that finish line and I was done. That was the sole achievable goal that determined whether or not I was successful. I didn't care how I finished, as long as I finished. But, of course, I hoped that finish would at leave be under 2:30... My wife told me to make sure I at least broke 3 hours. I was sure that would easily happen, yet something in the back of my brain said "yeah, but what if..." She also told me to push myself and maybe I could run faster than the day before. I wasn't sure if I felt good enough to do that, but I decided to hold of on that decision until the race started. My final goal for the race was the run the entire hill (of doom). There was no reason to hold back, today.

So, anyway, after suffering from some poor pre-race decision-making on Saturday, I decided to make a few small changes on Sunday, primarily the amount of water I would drink. Saturday I had restricted my pre-race drinking and decided to rely mostly on my Camelbak during the race to ensure I wouldn't have to take a nature stop during the race. Considering that has never been a problem in any of my races - and I was sure that fatigue due to dehydration was an issue on Saturday - I decided to go back to my usual hydration plan and drink at least a liter of water before the race.

I was up at the same time and left at about the same time and got to the race course at about the same time. However, today was supposed to be 4-5 degrees warmer and that forecast looked to be pretty accurate.

I also ate the same food (banana, thin bagel, granola bar), however my stomach was not really liking me this morning and my mouth felt dry. I didn't really feel hungry and had to force myself to eat because I knew I would need the energy. That and the dry mouth felt like an early warning sign and helped keep me drinking through the morning.

A minute or two after the shuttle dropped me off at the race site, I used a port-a-pottie and then got out and put my Camelbak on. To my dismay, when I went to clip the chest strap, I found that the left half of it was missing. It had fallen off, somewhere! This was not good. Without the chest strap, it would be bouncing around all over the place during the race. This would not be good. I checked the ground, the port-a-pottie, and then the shuttle when it came back, but it was nowhere to be found. I finally had to improvise and use extra slack of cord hanging from the shoulder straps and tie them in a knot across my belly. It seemed to do the trick and actually may have felt a little better than the original chest strap, however, tt was very tight and seemed to restrict my breathing a little, but I knew that once I got going and drank a bit, the bladder would begin to empty and the strap would was loosen up. I also hoped that the knot wouldn't come undone during the race from only the jostling around. This could be bad...

I carried a bag of Peanut Butter M&M's in my Camelbak for the first race, but never took it out, partially because it's a pain to get to the pocket on the back of my Camelbak and I probably wouldn't ever stop to get it out unless it was a real emergency. Sunday, I got it out before the race and ate about half the bag and stuck the rest in my shorts pocket, and then I hoped it would bounce around too much during the race.

As usual, I hit the port-a-potties early and often. At least there were 10 right next to the start line and there were considerably fewer runners which meant no lines and I could go in and out as I pleased (which I did a few times as a nervous habit).

Finally, it was time to start. I didn't know at the time how many people were running, but when we lined up and the race photographer asked everyone to squish together for a pre-race photo, no one wanted to go to the front, so I ended up toeing the start line next to the eventual race winner.

When the race started, the guy next to me was off line a shot. I briefly entertained my pre-races thoughts of going all out and pushing myself hard to beat Saturday's time, but after less than a tenth of a mile (the length of the initial downhill before the 4.5 miles of uphill began) I decided that was just not going to happen and I slowed way down.

I wanted to run a slow, but comfortable pace that I could hold for most of the race. I figured I could run about an 11 min/mile pace and still beat 2:30. Also, this this was the final race, I was going to try to run the entire thing, regardless of hour tired I was, how slow I was, and how many people passed me. I then resigned myself to the fact that I was going to get passed by a lot of runners.

There ended up only being 36 runners in this race and a lot of them were also either slow, or tired from running the previous day. Some had run the half. Others, like the 60 year-old man I met in the shuttle, had run the marathon. I kept waiting for the mobs of runners to pass me after I slowed down, but after a quarter mile, it just wasn't happening and I was beginning to wonder if I was the only other person running or if I had started too early, or if they had called the other runners back.

Finally, after what seemed like an eternity (at least a half mile, or around 5 minutes), I started to get passed, but really slowly. Just one girl passed me. Then another. Then the man I met on the shuttle caught up to me and paced me. We chatted for the next mile about the location and the weather and about the possibilities for other races until we hit the aid station at mile 1.5. At this point I realized I hadn't hit my watch for the 1 mile split and realized that I had been so engrossed in conversation that we had completed passed the first mile marker without even noticing. Time sure goes by faster when you have someone to run with! At the 1.5 mile aid station he stopped to grab two cups of water (one for his mouth, one for his head). Then he caught up to me again, but ran on the other side of the road in his own zone and I in mine and we ran in silence. He stopped again at the aid station at mile 3 and fell back. Since he was an ultra runner and I only ran halves, I figured I would tire and he would eventually catch me. By this time, a few other runners had passed me, but not very many, and no one really seemed to be running that fast (except for the first guy).

Amazingly, at my slower pace, I actually felt better than I had the previous day. I wonder if the cold bath helped (despite not being an ice bath) and if my better hydration plan was also helping.

When I got to the water station at mile 4.5, I stopped to a walk for about 5 steps after I grabbed a cup of water and drank it. For whatever reason, my Powerade/water mix in my Camelbak seemed to be making my mouth feel dryer than usual (tho, it had been dry all morning). Maybe I should have only done my usual 1/3 Powerade-2/3 water instead of the 1/2 Powerade that I used. Anyway, I felt I needed some straight water and it seemed to help.

I had grabbed my bag of Peanut M&M's and ate a handful of them at the 3 mile mark. Going down the hill (of doom) I grabbed and ate another handful. I figured I would need the energy for the uphill to the turnaround point and then the return trip back up the hill (of doom). After I hate that handful, I hit the 5 mile mark and took a drink from my Camelbak. I then burped up some air and tasted a little bit of M&M's and stomach acid and decided my stomach was telling me again that it was extra sensitive today. That was the last I would eat of the M&M's for the rest of the day.

Once I passed the turnaround point, my sole focus was the hill (of doom). I was determined to conquer it, today. I knew that I had nearly done it the day before, but backed off to save myself for today. Now, I had nothing else to save myself for, so I planned to give it my all and make it up the hill. And then I knew once I was over the hill, there was 4.5 miles of nearly all downhill to the finish. So, this would be the last obstacle other than myself.

One slow step at a time, I climbed the hill. I passed the spot where I stopped to walk the day before and knew I wasn't too far from the summit. Up, up, up I climbed. Short quick steps the whole way. Finally, I hit the last straight-away where ascent eased and I knew I had done it. I hit the 4.5 mile aid station and just like that, I had crested the hill and was heading down the other side. The volunteer girl at the 4.5 mile aid station asked if I wanted anything and I motioned no, then she asked if I wanted Heed and crossed the road to hand me a cup, so I decided to go ahead and take it, even tho I didn't feel like I really I needed or wanted it. I made sure to thank her, anyway. I still took a few sips and then threw it away (yes, they provided strategically placed trash cans so we wouldn't throw our cups into the desert).

Heed tastes horrible, by the way. I had a half a cup before the race on Saturday and before the ET half marathon last August. I couldn't finish the cup either time. However, with 4.5 mile left, it didn't taste quite as bad. That probably meant I needed it.

A guy had passed me at the 7 mile mark, but then stopped for a break at the next aid station. He passed me again at about the 4 mile mark. I was definitely not going to keep up with him, but I did see another girl up ahead of him that I could possibly catch. I focused on her for the rest of the race.

I made sure that I didn't overdo it on the initial downhill, this time. It felt like I got overzealous on Saturday and took off with 4 miles to go only to run out of gas at mile 3. This race I tried to measure out my speed increases over the last 4 miles. I let gravity to the work for the first two mile and only then did I try to speed up some more with two miles to go to finally catch and pass the girl that was ahead of me.

I felt SO much better than I did on Saturday. I wasn't dying over the last 3 miles. I was in my right mind and able to remember to hit the split button on my watch at the proper time. I was taking drinks every half mile instead of every mile, but never got any side cramps.

With a mile left I slowly began to speed up until it hit the 13 mile mark just at the bottom of the ravine before the final little uphill to the finish. Then I turned on the jets.

I sprinted so fast up the last hill and over the finish line that I even surprised myself. I knew I had some energy for my final kick (I kick no matter how much energy I have), but being the end of my second race, I didn't know I had this much in me.

Apparently, no one else expected it, either. My wife was there cheering and taking pictures, but what was really cool was that I also got a lot of loud cheers from the *other* spectators as I sprinted up to the line. That was *really* cool. Still makes me smile just thinking about it. :)

The girls at the finish line clipped off my timing chip and gave me two medals: one for finishing this race (which was different from the one the day before, which was awesome), and second different one for having finished a race on both days (which was really awesome). So, I ended the weekend with three brand new finishing medals for my bulletin board at home.

I had done it! Two races in two days! And not only that, I had run the whole thing except for about 5 steps at the 4.5 mile aid station on the way out. I also conquered the hill (of doom). And I didn't feel all that horrible! Tired, yes, but I felt better than I had after Saturday's race. I guess that's what slower running and better hydration will do for you.

My wife gave me a big hug and a kiss (well, as big a hug as you can expect someone to give you when you're covered in sweat). What better way to finish a race than to hugs and kisses from your wife. :)

I drank a couple cups of chocolate milk and ate a brownie and a banana while walking around for a couple minutes. The race director kept telling everyone both before and after the races to stick around if they thought they might have won an award because they were really hard to mail (they were potted cacti with the award painted on the pot). I knew I wasn't the first guy to finish and there had been a few ahead of me who all looked my age, so since I knew I hadn't won any awards despite the small race size (only 36 runners) and we left.

Here are the splits for my race that I timed on my watch. There's no mile 1 split since I was distracted and forgot to hit my watch. It's definitely slower than the day before. Mile 8 includes the bottom of the hill (of doom) and the 9 mile split includes the steepest section of the hill (of doom) and the beginning of the final downhill. They are slower than the day before (except for the last mile!), even tho I walked on Saturday, but not at all on Sunday.

2 21:37 - 21:37.68
3 11:34 - 33:12.55
4 11:54 - 45:07.25
5 10:41 - 55:49.21
6 10:09 - 1:05:58
7 11:19 - 1:17:18
8 11:54 - 1:29:12
9 12:58 - 1:42:11
10 10:16 - 1:52.28
11 10:18 - 2:02:46
12 9:50 - 2:12:37
13 9:45 - 2:22:23
13.1 00:41 - 2:23:04

I forgot to stop my watch which I crossed the finish line on both days, so I had to estimate my finishing times until the official results came out. I estimated based on my 13 mile split and a photo that my wife took that my finishing time for the second day was somewhere between 2:23 and 2:24. I had easily beaten my goal time of 2:30 and was never in any danger of finishing over 3 hours. And on top of that, I felt great! I almost felt like I could run again on Monday! Okay, maybe not, but I felt like I could do anything. What's next? A full marathon? A 50 miler? Bring it on!

Much to my surprise, on Tuesday when the results were posted, they showed my time as 2:21:00. That made no sense at all as my 13 mile split that I took on my watch showed as 2:22:23.

Usually I would just sit on this information and let it be. However, I decided to e-mail the race director to see if this was final results, or if they were still under review and present my stats. From the 3 Calico Racing events I had done, Joyce, the race director, seemed like a nice lady who was passionate about her job and very fun and approachable and as these weren't massive events, I felt like it was reasonable to e-mail her just to ask. I let her know how much I enjoyed the events and that I knew timing issues do happen and then laid out my evidence. I just hoped she wouldn't be annoyed that some runner was nitpicking and complaining about the timing being off.

Again, to my surprise, she replied within a couple of hours with a very nice reply about how they knew there was an issue with the timing and that they had somehow lost 2 minutes and 3 seconds somewhere after the first few finishers, but that they weren't able to pinpoint it. But, with my evidence, they were able to figure out where the time was lost and update our times and actually thanked me for sending my e-mail and being honest about my time being slower.

She then also let me know that I had won my age group!

Whaaa??!!

Well, technically, I was second place in my age group. However, when they give out the age group awards, anybody who is in the top three overall finishers is not eligible for an age group award. So, since the guy who finished first in our age group was also the 2nd male finisher, that bumped me up from 2nd in our age group to 1st!

Wooo!!! I won an award! That is a first.

Now I'm a little bummed that we left so quickly and didn't stick around to hear them call my name and accept the award. That doesn't happen very often. But, I'm not really bummed because I won my age group. :)

So here are the official final results:
I finished just under my goal time with an official time of 2:23:04.
I finished 12 out 36 runners.
I finished 1 out of 3 runners in my age group (M30-39)! (technically 2 out of 4, but these are the official results.) :)

Yesterday, I signed up for Half Fanatics. I am now a level 4 (Jupiter) Half Fanatic #2269!

What's next? the Devil Dash and Running with the Devil Half Marathon, that's what! Woo!

My missing chest strap solution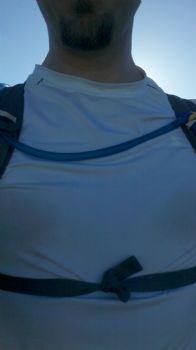 2 minutes to go time - and the hardest working race director in Las Vegas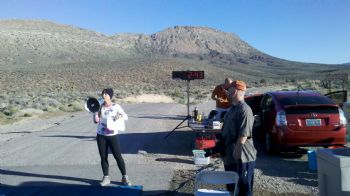 Finish, leave nothing!



Finished!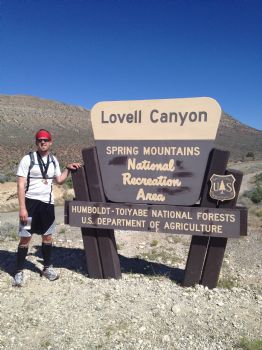 Race medals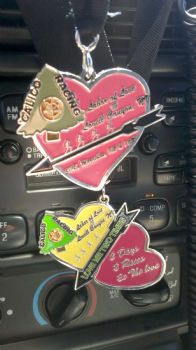 First Page
1
2
3
4
5
6
7
8 9 10 11 12 13 14 15 16 17 18 19 20 21 22 23 24 25 26 27 28 29 30 31 32 33 34 35 36 37 38 39 40 41 42 43 44 Last Page

Get An Email Alert Each Time TYKXBOY Posts