| | |
| --- | --- |
| | TYKXBOY's Recent Blog Entries |




Friday, January 13, 2012
Wow. I just watched this video on Yahoo! and was blown away. An inspiration of what we can do if we put our time to better use and learn to take care of our health. Some things she said that we all are also trying to learn and master:

- She learned it was important to her family that she take time to take care of herself so she could better take care of her family.

- She had tried to diet before, but had to learn how to make a lifestyle change.

- Do something you love. Figuring skating is fun to her, so it doesn't even seem like it's exercise.

Link to the video:
news.yahoo.com/video/secondact-20246
210/losing-100-pounds-becoming-a-figur
e-skater-27846137.html

It's never too late for a second chance. You can make a change for the better.





Thursday, January 05, 2012
Here are some additional notes on the environmental factors that can affect the accuracy of any GPS readings. (For my previous blog on why you should trust your race director's measurement of your race course more than your Garmin, click the following link):
www.sparkpeople.com/mypage_public_jo
urnal_individual.asp?blog_id=4657789

This is a little more technical. Stick with me.

The current GPS system involves 31 GPS satellites orbiting the Earth. Your position is calculated by your GPS receiver (aka Garmin) by communicating with however many satellites are currently visible in the sky at your location. A minimum of 4 satellites is required in order to calculate a position. The more satellites you can connect to, the more accurate your position can be calculated. Generally, you can't connect to more than 10 satellites at any one time due to the curvature of the earth and the orbits of the various satellites.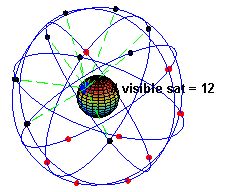 en.wikipedia.org/wiki/File:Constella
tionGPS.gif

The problem with the signal between your receiver and the satellites is that the signal needs to be very precisely timed, so it works differently than a radio signal. Line of sight between you and the GPS satellites is very important. In general, your receiver can only communicate with the satellites it can see. Because of this, you generally cannot receive a GPS signal when inside of a building (unless you are near a window).

What this means is that when you are outside with your GPS receiver, the number of satellites and the accuracy of your position will vary based on anything that can obscure your receiver's view of the satellites. This could be surrounding topography (mountains, hills, cliffs, ravines, canyons), buildings, trees, canopies, vehicles, clouds, your clothing, and your own body. Any of these can block your receiver's view of one or more satellites and reduce the accuracy of your GPS. Many researchers doing GPS work will wear a backpack with an antennae attached to their receiver that allows them

Also, since your GPS signal is electromagnetic, variations in magnetic fields can have an affect on your GPS signal as well. Various types of electrical interference can occur both inside the city (power lines, buildings, etc) and out (certain rock types and formations have also been known to cause noticeable decreases in GPS accuracy when nearby).

The best place to use your GPS is where you have as close to an unobstructed view of clear sky as you can, free of trees or mountains or clouds or buildings. Even then, tho, you are still at the mercy of the orbital frequency of the satellites. So, you can affect the quality of your location, but only up to a point.

----

"Without geometry, life is pointless."






Wednesday, January 04, 2012
...and why you should stop complaining that you ran further than the real race distance.

I've heard this one many times. And if I had a dollar for every time, I'd have a couple of bills paid off, next month.

Being a GIS and GPS professional, I work with GPS technology on a daily or weekly basis. So, here's a big tip for you for the next race - or training run - you do that seems to be longer than you expected.

Since most of your friends probably don't know this, either, you probably won't embarrass yourself that much next time you run a half marathon and come back complaining that your Garmin says that you ran 13.9 instead of 13.1 miles. This is very common, and like I said at the top, I've heard it many times. However, if you try to bring this complaint to any top race official, they will laugh at you (tho probably not in your face, but I won't promise that) as they have heard this complaint many times before.

How do I know they've heard this complaint before? Easy. It's on the Rock N Roll Marathon Series FAQ list. If you didn't already know, FAQ stands for "frequently asked questions."

runrocknroll.competitor.com/contact/
faq

Their answer, and I quote, is:

"What if my Garmin is slightly more than the official race distance?

"On race day, if the distance shown on your Forerunner is slightly more than the official race distance, it just means you weren't cutting corners—quite literally. According to the IAAF (International Association of Athletics Federation) course measurement guidelines (pg. 20), a road race course is defined by the shortest possible route a runner could take without being disqualified.

"For most races, a certified measurer rides the course on a bike, staying near the curb and taking every available tangent. This ensures that all runners will run at least the declared race distance. After the race, if Forerunner shows that you ran a little farther, this just accounts for extra steps you took to run around others participants, hit a water stop or stay to the middle or outside lane."

Their answer is pretty good to satisfy most people and gives you a good starting point, but it stops short of discussing the usage and quality of GPS technology - which is what I'm interested in.

Pretty much all major races have their distances measured/surveyed and certified. Not all smaller races do, but most that are run with any regularity usually are. That could lead us on a tangent, but I'll try to stick to my main point, here.

There are currently 3 different quality levels of GPS devices. These are usually referred to as Recreational Grade GPS, Mapping Grade GPS, and Survey Grade GPS.

Generally, all 3 GPS Grade devices provide the user with locations that are very precise, often showing your latitude/longitude coordinates with 8 or 10 or more decimal points (i.e. down to an inch or less). However, not all of them achieve the same level of accuracy. Let's compare them:

Survey Grade GPS -
This is the highest accuracy GPS available. This is what you will see surveyors using to measure pipelines, property boundaries, etc. When you absolutely HAVE to know where something is - and be able to find that exact location again, later - this is what you would use. Survey Grade GPS is accurate to below a centimeter (0.4 inches). If you come across an expensive diamond and bury it in your backyard for safe keeping, this is what you would use if you wanted to be able to find it, again. If you think your neighbor's fence is sticking 3 inches across your property line, this is what you would want the surveyor you hire to use to verify the accuracy of your property boundary. If a surveyor is going to put a property marker in the ground with his/her professional seal on it, this is what he/she is going to use. This is also the GPS that would be used by a surveyor to map out the shortest distance on your favorite race course.

Mapping Grade GPS -
This is what most GPS professionals use out in the field when hiking or mapping areas that they need a fairly high degree of accuracy, but when a couple of feet or inches don't matter. Like when mapping a road or a trail or a fence line or a general boundary location that won't be used for legal purposes. Mapping Grade GPS has the accuracy of approximately 1-5 meters, often achieving sub-meter accuracy with software post-processing (depending on conditions which I don't need to explain, here - see the link at the end of this blog).

However, users of Mapping Grade GPS should expect their coordinates to average out around 1-5 meter accuracy. So, if you take the location of a single small object, like a coke can, and then try to go back out and find it using your saved coordinates, your search area could be as large as a 25 square meter area (225 square feet). That's a 15' x 15' box. That size of an ordinary residential Living Room. So, like I said, this is good for mapping roads and still - usually - being able to tell which side of the street you are on... unless you're trying to map out the lane lines - then you would use Survey Grade.

Recreational Grade GPS -
This is the grade of GPS that is used in your Garmin, Tom Tom, iPhone, Android smartphone, other consumer device. This is the lowest accuracy GPS device available. The accuracy of these devices is 20 feet OR WORSE. That's an accuracy approaching no better than 7 meters, usually averaging around 50 feet (10-20 meters). At this accuracy level, you can tell which road you are running on, but not necessarily which side of the road you are on. It can tell you if you are heading North, as opposed to NW or NE or W or E. If you stood in the middle of a football field and used your GPS to mark your position, it would most likely show you being at least *somewhere* in bounds, but it still could very possibly show your location as being very close to either one of the sidelines. That is how inaccurate a recreational Grade GPS receiver is. However, if you were to walk in any direction on that football field, it would definitely know which direction you were walking in.

A fun way to test this at home is to go stand in the middle of your yard or a park and collect multiple points while standing in the spot. Even tho you never move, the points you collect will cover a wide area all around you, sometimes close by, but often many feet away from where you are actually standing.

When you are mapping your run with your Garmin, this is what you are using. Approximately every 30 to 50 feet, your Garmin will attempt to locate your position. Each attempt will be accurate to approximately 50 feet. And each position has the same variable accuracy. Add this all together and you get the potential for a large discrepancy in your distance calculations.

If you have ever downloaded your run from your Garmin or smartphone and looked at it on Google Maps (or mapmyrun.com, or RunTracker, or any other run tracking site) you would recognize this fact. When you are zoomed out, it looks like it mapped your run, perfectly. However, it tells a different story when you zoom in. Whenever I track my runs on MapMyRun.com, it looks like I was a staggering, drunken trespasser trying to outrun the Physics Police. My line crosses from one side of the street to the other, crossing over and through yards, walls, fences, and houses of people I have never met in my life. If I had actually run this line, I would be battered and bloodied and bruised - and most likely dead, unconscious, or arrested.

I'll summarize the differences into one cute statement. If you want to know what road you are on, use Recreation Grade GPS. If you want to know what side of the road you are on, use Mapping Grade GPS. If you want to be able to accurately recreate each lane line on the road you are on, use Survey Grade GPS.

So, you've just run the 2012 Crowded Big City Rocking Over-sized Half Marathon while wearing your Garmin. Not only did you not run the absolute shortest route possible in this race (which nobody could do, except maybe an elite athlete-savant), your Garmin also calculated the distance of this weaving, zig-zagging line. At worst, you may have run 13.2 miles instead of 13.1. However, your Garmin may tell you that you've just run 13.3, 13.5, 13.8 or maybe even 14.1. Don't be fooled, your Garmin is not that accurate. Your race director's pre-race measurements are.

So, Congratulation on getting past "Being a GIS and GPS professional" and thank you for still reading up to this point! Or, if you skipped ahead, at least you can still read the conclusion paragraph to get the gist of this and pretend you learned something.

Don't be fooled by your Garmin and a misplaced sense of technological precision. This is a GPS accuracy issue with your GPS device, NOT a problem that requires e-mailing your race director. So, save yourself the trouble and delete that strongly worded e-mail and just chalk it up to the joys and pitfalls of technology. And remember, the distance on your Garmin may not be that accurate, but the time is. So, you may not have run 13.8 miles in 2 hours and 15 minutes, but you still ran 13.1 miles in 2 hours and 15 minutes. Time to celebrate!

---
fyi, this can also go both ways and sometimes your GPS cuts corners or loses it's signal and can actually have a shorter distance. It's variable. But it's more common to err on the longer side than the shorter side.

For a slightly more technical description of some of the factors that can affect the quality and accuracy of your GPS, visit my follow-up blog addendum:
www.sparkpeople.com/mypage_public_jo
urnal_individual.asp?blog_id=4659461



First Page
1
2
3
4
5
6
7
8
9
10
11
12
13
14
15
16
17 18 19 20 21 22 23 24 25 26 27 28 29 30 31 32 33 34 35 36 37 38 39 40 41 42 43 44 Last Page

Get An Email Alert Each Time TYKXBOY Posts