| | |
| --- | --- |
| | TYKXBOY's Recent Blog Entries |




Wednesday, September 04, 2013
Ok, so here's a warning. This blog may contain semi-graphic descriptions and images. If you are squeamish over the slightest sight of blood, or have a sensitive gag reflex, leave this blog, now. Not that it's really that horrible. Just want to keep my readers safe.

Okay, so you still with me?

Okay, here goes.

So, two Sundays ago I ended my 6 mile run and my nipples hurt.

Two years ago, during training for my first half marathon my shirts rubbed and when I hit 9 and 10 miles I started to get bloody nipples and had to resort to band-aids and vasoline.

They still hurt during my runs, last week, (5 miles, 3 miles, 5 miles) but they never did anything but hurt.

I ran 6 miles for the second time this past Sunday and they hurt again, but still that was it.

Well, on Tuesday (yesterday), they began to hurt again during the second half of my 5 mile run. When I turned the corner and headed towards the final tenth of a mile of my run, I looked down and saw this: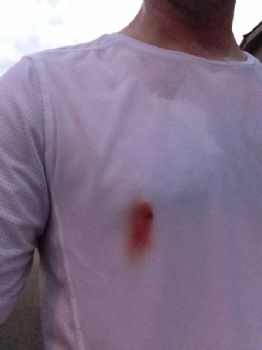 Ouch!

And on my white shirt!

And right after I ran by at least 4 people who live in my neighborhood. How embarrassing!

Fortunately, Oxyclean stain remover did the trick.

Well, last time, the vasoline left nasty stains on my shirts and I didn't want ruin more shirt. And I didn't have time to run to the store for something non-petroleum based.

So, I found a good solution to the problem.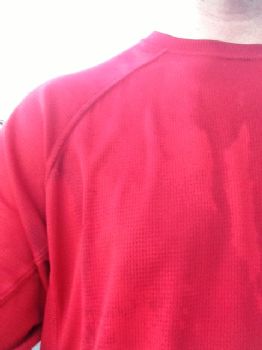 A red shirt!

Well, I also borrowed some of my daughter's Elmo band-aids, too. I'm happy to say that Cookie Monster and Big Bird did a great job of protecting my nip nips, this morning.

But, if they hadn't, at least I was wearing a red shirt.





Thursday, August 22, 2013
So, MapMyFitness was running a promotion where you could sign up for a month of VIP membership for free. I signed up two days after it ended. But I still got it for free because they sent me an e-mail saying, "Last chance to get a free month of VIP!" so I took the bait.

One of the features it added (I think) was the ability to use coaching on the MapMyRun mobile app. I decided to try it out on Tuesday for my 5 mile run. I ran that same route just two days earlier on Sunday as my long slow run. I was tired and sore and ended up running it very painfully slow (for me) at 11:12min/mile pace.

So, I decided that since Tuesday was not supposed to be a slow run day, I would try out the coaching feature and have it help me run a faster pace. I decided to be conservative and have it help me run a 10:30min/mile pace - because I'm not really back to running below 10min/mile for my longer runs, yet.

So, what it does is, you set a time interval (in this case I set it to 2 minutes), and then it yells out your pace at that interval. So, every two minutes my phone would announce to me what my pace was. This way I could adjust my pace every fraction of a mile to keep myself at my desired pace, even if it meant exerting myself a little more than what I felt was comfortable - which was kind of the point.

So, off I went and after 2 minutes my phone tells me I'm running at 10:38 pace. Not bad, but I want to be under 10:30, so I picked it up a bit.

After 2 more minutes it tells me I'm running 10:28 pace. Cool. Right on pace.

2 minutes later it tells me I'm running 10:22 pace. Sweet. I feel like I'm running faster than that, but hey, I just ran a sluggish 11:12 pace on Sunday, so who am I to judge. Most likely I'm still feeling sluggish, just this time I'm pushing myself harder.

2 more minutes later and my phone tells me I'm running 10:08 pace. Hmm, I don't remember speeding up that much. As far as I can tell, I'm still running the same pace that I was.

I hit the 2 mile mark at an intersection and 4 cars pass me so I don't hear what my 1 mile split is. At the end I do hear my phone tell me "Good job!" so that must mean I'm at least close to running a 10:30 pace.

2 minutes later my phone tells me I'm running 9:38 pace. What the heck? I know I haven't sped up THAT much.

2 minutes later and my phone tells me I've back off to 10:28 pace. Ok, so now my mind starts spinning with my knowledge of how GPS's work, and frankly, I'm not really surprised that my pace is wavering.

My pace evens out for the next reading at 10:23, but I can't hear the next two because I'm now running on a busy street. I forgot to mention that I'm not wearing headphones and my phone is clipped to my waistband which makes it hard to hear when cars are driving anywhere within 500 feet of me at 45mph.

So, I pass 2.5 miles and that's when all hell breaks loose. It tells me that I'm running at 9:08 pace and that I am way under my pace and should slow down. However, I know that I haven't sped up much, if at all. Yes, I am running on an ever-so-slight downhill, now, instead of the ever-so-slight uphill i was running on, but nothing THAT drastic.

I hit 3 miles and it tells me I'm running at "29 minutes-" but I don't hear the rest because of road noise. So much for all those 10:28 and 10:22 minute pace read-outs.

After that I don't change my pace at all and my phone then tells me I'm running 8:05 pace and two minutes later that I'm running 11:15 pace. Holy hand grenade!

I run most of the next 1.5 miles on a busy street and I mostly hear "Pace-....-8 good job!" with everything in the middle drowned out.

The last half mile I get two readings before I hit the 5 mile mark and both times I am told I am running way under pace.

So, finally, I finish. My phone tells me I ran 5.11 miles. I've plotted the course on-line and I know it is only 5.02 miles. So, right there my phone's GPS is telling me I ran nearly a 10th of a mile further than I really did.

My final overall time came out to 49:43 for the supposed 5.11 miles. My splits were 9:58, 9:59, 9:39, 9:50, 9:24, and 45 seconds. Most of those extra 45 seconds should be tacked on somewhere else.

So, how did the coaching feature fare?

Well... not good.

For the first mile it kept telling me I was running at 10 min mile pace when in the end I ran it in 9:59 pace. Of course, if the pace was wrong, and my total mileage was wrong, could it also be possible that it located the mile markers wrong, too? Very possible.

And during my second and fourth miles, I got wild pace swings even tho I was not changing my pace at all. From 9:38 to 10:28 during the second mile and 8:05 to 11:15 during the fourth mile.

So, did the coaching feature help me run faster than I did on Sunday? Absolutely. It kept me on my toes and constantly thinking about my pacing and making sure I didn't slow down.

Did the coaching feature help me run the correct pace? No way. After the first 2 miles I quit trusting it, completely. If I sped up every time it said I was slow and slowed down every time I was fast, I would've ended up doing an interval workout.

Knowing the inaccuracy of recreational grade GPS, I will likely never use the coaching feature, again, and will likely also never buy any type of Garmin or other brand GPS watch. I know I just can't trust it to accurately gauge my pace or even the total distance.

I will continue using the GPS on my phone, however, because it at least gives me a close estimation of my splits (despite the slight inaccuracy) and accurate total time, since I broke the band on my running watch in July and don't have the money to replace it, yet.

At the end of it all, tho, I had an awesome workout where I pushed myself a little and ended up running my fastest long run of my current training season. So, maybe I should try it again next time I need a mental boost...





Friday, August 16, 2013
So, it's been a while.

Again.

At least my training is much more regular than my blogging! (although, looking back at my calendar, that could be debatable...)

So, I got my training runs back up to 2.5 miles a week before the 4th of July when my daughter got sick and I got sick and I had an ear infection and my eardrum ruptured. Then I took an extended weekend to work as a driver on a local fire after the 4th of July.

Finally, after nearly 3 weeks off, I was able to get some sleep and get back into my training.

And the best part? I was able to jump back in to running 2.5 miles with no problem.

Flash forward to this Sunday which was the first 5 mile run of my training program. Today was my second 5 mile run. I'm nowhere near the speed I had in my past half marathons, but that's to be expected when I take a year off to focus on other things.

My last half was the end of June of 2013. It was the Running With the Devil at Lake Mead (50k, marathon, half, 10k, 5k). If you follow my blog (which I totally understand if you don't), you might remember that my back went out 2 weeks before that race and I ended up still managing to complete it as a run-walk.

Well, this year's version I was not in shape for and didn't sign up for, but it ended up being the weekend where we had 2 weeks of record heat here in Las Vegas and even though the race is designed for extreme heat, the NPS got nervous with the forecasts and pulled the permits for the race and they were unable to hold the event at all. With all the difficulties they've had this year and past year, the race organizers decided they would reschedule this year's race to the end of the summer and run one final version and call it "Sympathy for the Devil" and likely stop holding it at all in the future.

I wasn't going to be ready for a half in September, but it was great timing for a 10k, so I signed up to do the "Sympathy for the Devil" 10k.

I'm not enjoying being out of shape and essentially having to start my half marathon training program from scratch. I definitely am not in the shape I had been for my past races. But, I'm looking at this as a building block to future goals and milestones. My wife is encouraging me to finally train to do a full marathon sometime next year. And then after that, it's time to start figuring out how get started with training for an Ironman. And with all my excitement over watching ON2VICTORY's awesome 70.3, I'm even more inspired than ever!

That's all exciting and all well and good, but I can't get too far ahead of myself. Right now it's time to train for this half.

August is the month that I really got rededicated to training. My wife and I joined a DietBet started by our friend and trainer and manager of our local gym. We have from Aug 1 to 31 to lose 4% of our body weight. All this half marathon training is really doing the trick and it's also got me back to using the SparkTracker to get my nutrition back in order. Yesterday, I hit 182 pounds for the first time since the first of September of last year! I can't believe I haven't been under 182 for almost 12 months! Once the DietBet is over I'll be back to a normal BMI and back in maintenance mode which is where I need to be for optimal half marathon training.

The only possible hitch I can see, right now, is that when I drove on the fire, the very beginning of the second day, as I went to get into the giant flat bed truck I was driving, I whacked my right knee on the handle by the side of the door. I can still feel soreness and tenderness in my knee despite the passage of almost a month and a half. That plus running on some newly paved and slightly banked streets and gutters and sidewalks around my neighborhood have made my right leg and knee sore and tight. Time to get out the foam roller a get those kinks worked out. I've been doing to religious icing of my knee for the past few days and I thinks it's helping, but I really need the foam roller to get the rest of my leg loosened back up. As long as I can manage that, and get some semi-regular strength training in to keep my back in check, Lord willing, I should be able to get through my training and have a great race and be ready to move on from there.

And that's where I stand, today.

Thank you, Robert, for your inspiration! I haven't been this energized in over a year! You are a stud.


1 2 3 4 5 6 7 8 9 10 11 12 13 14 15 16 17 18 19 20 21 22 23 24 25 26 27 28 29 30 31 32 33 34 35 36 37 38 39 40 41 42 43 44 Last Page

Get An Email Alert Each Time TYKXBOY Posts