| | |
| --- | --- |
| | TXHRT4U's Recent Blog Entries |


Saturday, May 25, 2013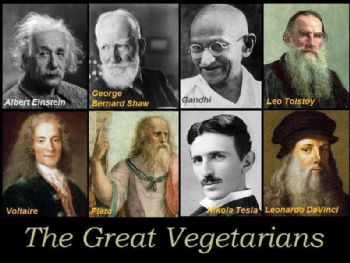 These great vegetarians, such as Pythagoras, Plato, Leo Tolstoy, Mahatma Gandhi, Albert Einstein, George Bernard Shaw, Nikola Tesla, Shopenhauer, Thoreau, Leonardo Da Vinci, Voltaire etc. knew there could be no spiritual advancement while attaining ones nourishment from cruelty and the exploitation of others.

Albert Einstein:
"Nothing will benefit human health and increase the chances for survi
val of life on Earth as much as the evolution to a vegetarian diet."


Leonardo DaVinci
"I have from an early age abjured the use of meat, and the time will come when men such as I will look upon the murder of animals as they now look upon the murder of men." DaVinci claimed that flesh eaters were using their bodies as "grave yards."

Charles Darwin:
"The love for all living creatures is the most noble attribute of man."

Thomas Edison:
"Non-violence leads to the highest ethics, which is the goal of all evolution. Until we stop harming all other living beings, we are still savages."

George Bernard Shaw:
"We pray on Sundays that we may have light to guide our footsteps on the path we tread; We are sick of war we don't want to fight. And yet we gorge ourselves upon the dead."

Percy Bysshe Shelley:
"Let the advocate of animal food force himself to a decisive experiment on its fitness, and as Plutarch recommends, tear a living lamb with his teeth and, plunging his head into its vitals slake his thirst with the steaming blood."

Henry David Thoreau (1817-62), U.S. philosopher, author, naturalist. Walden, "Economy" (1854):
One farmer says to me, "You cannot live on vegetable food solely, for it furnishes nothing to make bones with"; and so he religiously devotes a part of his day to supplying his system with the raw material of bones; walking all the while he talks behind his oxen, which, with vegetable-made bones, jerk him and his lumbering plow along in spite of every obstacle.

Henry David Thoreau:
I have no doubt that it is a part of the destiny of the human race, in its gradual improvement, to leave off eating animals, as surely as the savage tribes have left off eating each other when they came in contact with the more civilized.

Mark Twain:
It is just like man's vanity and impertinence to call an animal dumb because it is dumb to his dull perceptions.

Benjamin Franklin:
Flesh eating is "unprovoked murder." On the subject of vegetarianism, Franklin noted that one will achieve "greater progress, from the greater clearness of head and quicker comprehension."

Thomas A Edison, 1847-1931:
"The Doctor of the future will give no medicine, but will interest his patient in the care of the human frame, in diet, and in the cause and prevention of disease."

Francis of Assisi:
"Not to hurt our humble brethren is our first duty to them, but to stop there is not enough. We have a higher mission-to be of service to them wherever they require it."

Mohandas (Mahatma) Gandhi:
"To my mind the life of a lamb is no less precious than that of a human being. I hold that, the more helpless a creature, the more entitled it is to protection by man from the cruelty of man."

Abraham Lincoln:
"I am in favor of animal rights as well as human rights. That is the way of a whole human being."

Thomas Paine:
"Everything of persecution and revenge between man and man, and everything of cruelty to animals, is a violation of moral duty."

Henry Salt:
"The emancipation of men from cruelty and injustice will bring with it in due course the emancipation of animals also. The two reforms are inseparably connected, and neither can be fully realized alone."

Albert Schweitzer:
"…the time is coming when people will be amazed that the human race existed so long before it recognized that thoughtless injury to life is incompatible with real ethics. Ethics is in its unqualified form extended responsibility to everything that has life."

George Bernard Shaw:
"Vivisection is a social evil because if it advances human knowledge, it does so at the expense of human character."

Leo Tolstoy:
"If a man aspires towards a righteous life, his first act of abstinence is from injury to animals."

Alice Walker:
"The animals of the world exist for their own reasons. They were not made for humans any more than black people were made for whites, or women created for men."

President Abraham Lincoln:
I care not for a man's religion whose dog and cat are not the better for it.

Pythagoras:
Animals share with us the privilege of having a soul.

Pythagoras:
The earth affords a lavish supply of richess of innocent foods, and offers you banquets that involve no bloodshed or slaughter; only beasts satisfy their hunger with flesh, and not even all of those, because horses, cattle, and sheep live on grass.

George Bernard Shaw:
A man of my spiritual intensity does not eat corpses.

George Bernard Shaw:
All great truths begin as blasphemies.

George Bernard Shaw:
Animals are my friends; I don't eat my friends.

John Robbins (p. 49 Diet for a New America):
Our understanding of what constitutes intelligence is utterly relative. If an aborigine drafted an I.Q. test, for example, all of Western civilization would probably flunk. We have a very convenient and self-serving way of defining intelligence. If an animal does something, we call it instinct. If we do the same thing for the same reason, we call it intelligence.

"I was a cannibal for twenty-five years. For the rest I have been a vegetarian." ~ George Bernard Shaw

In addition to his writings on non-violence, Leo Tolstoy's advocacy of vegetarianism led to his friendship with Mohandas Gandhi. He wrote several essays about vegetarianism, but perhaps never more compellingly than when he said:
"flesh eating is simply immoral, as it involves the performance of an act, which is contrary to moral feeling: killing."

Nikola Tesla was a humanitarian who loved animals. He argued that animal slaughter was "wanton and cruel" and eventually became a vegetarian.

Voltaire was an advocate of civil rights and freedom. He also believed in the virtues of vegetarianism. He once wrote that "men fed upon carnage, and drinking strong drinks, have all an impoisoned and arid blood which drives them mad in a hundred different ways." This sounds like an early precursor of the phrase "you are what you eat."







Friday, May 24, 2013
Dairy Dose

Dairy provides high doses of calcium, often in a low-fat or non-fat source that also includes lean proteins. While often thought of as a bone strengthener, calcium also plays a role in many other physiological activities that include nerve conduction, muscle contraction, regulation of enzyme activity and cell membrane function. Many of these physiological activities are essential to maintaining a high metabolism. Fat oxidation can actually be depressed in the presence of inadequate calcium. Dairy, not fortified calcium foods or vitamins, is the best way to get optimum absorption of your daily calcium dose. Even if you're lactose intolerant or sensitive to milk products, yogurt contains many of the enzymes that help your body digest dairy. But use caution - most of the yogurt in the grocery store aisle is modified iced cream. Your best bet is use plain, fat-free yogurt then add your own blueberries, rasp-berries or nuts. Turnip and mustard greens are also excellent sources
of calcium.

Have a great weekend!




source: Ben Greenfield





Wednesday, May 22, 2013
A recent study from Penn State reported that people are more likely to have feelings of excitement and enthusiasm on days when they are more physically active. This is because physical activity results in a release of eurotransmitters such as dopamine and chemicals like endorphins that make you feel very good. But can you have too much of a good thing?

Yes! It is possible to become so addicted to the good feeling that you actually begin to exercise too much. Here are a few ways to know if you're overdoing it:

1) You're always sore or get injured frequently

2) You have trouble sleeping or are constantly fatigued

3) Your morning resting heart rate begins to get consistently higher

4) You sacrifice family, work, or personal obligations to exercise instead

Just like everything else in life, don't go to extreme's.





source: Ben Greenfield






Monday, May 20, 2013
My first back to back Saturday 5k's. Not sure how I was going to do on this one considering I recovering from being sick the previous Saturday 5k. I did feel better when I woke up Saturday morning. I did manage to get at least 5 hrs of sleep vs. 2 hrs the previous Saturday. I felt like my body was finally over the sickness. I was excited race to race this one since it was a Christian run and events all day at the park. So that made me happy for my family. They would have something to do besides just showing up and cheering daddy on :) (which I love & I am very grateful for).

This was the 2nd Annual No Hungry Children event and 1st 5k run they have organized. It was really surprising to just turn around and be able to see ALL the runners. I think we might have had 50 if that many. It was the smallest race I have ever competed in.

I was excited after seeing my race time. It didn't feel like my run was that faster than previous race (previous 5k = 25:12) Then it was show time for my little runner. She ran her 50 yard dash. She loves those. We are all so proud of her! We also had a friend of ours from church that ran and completed her first 5k. It was very exciting. We had a great family day!

Next race is June 15th on my dad's birthday in Dallas "Dad's Fest 5k" It will be mine and Jayleigh's race together for 3.1 miles. This will be total opposite of what we just did Saturday. This will be our biggest race either one of us have been too. We are excited. We will be running it for my dad and her "PoP" for his 69th Birthday!

Now on to the pictures :)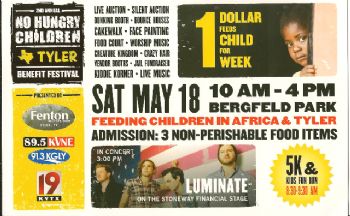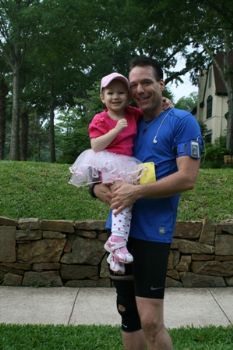 our pre-race picture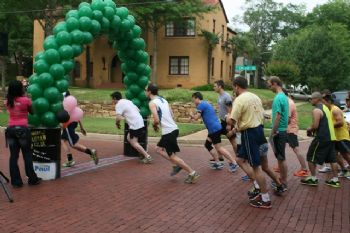 and we are off, brb in 24:27 minutes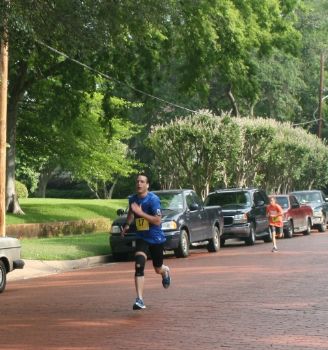 i can see the finish line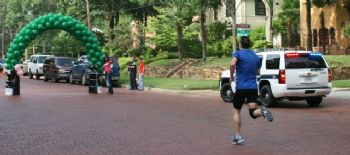 sprint mode "DIG DEEPER"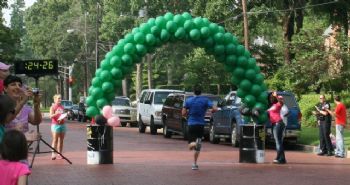 new 5k PR 24:27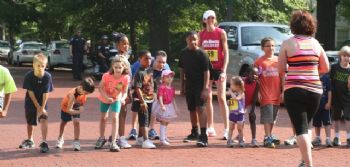 it's Jayleigh's turn




Daddy is catching it "live"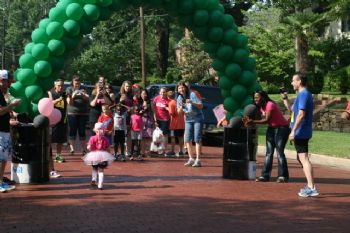 all the camera's capture the moment of Tyler's Tutu Girl finishing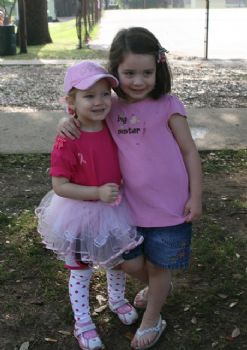 Jayleigh's friend (Maddison) from church. Her mother was the one that completed her first 5k.

Thank you baby and sissy for your support and for the

picture's!
We

you bunches! GO TEAM SHADDEN!!!


Time to continue on with my Insanity: Asylum Vol. 1








Tuesday, May 14, 2013
Peel A Banana

As you probably know, bananas are an excellent source of potassium.
It is not true, however, that bananas are the "fat-fruit" unless you eat
a few dozen a week! What you may not know though is that potas-sium is essential for your body to be optimally hydrated. A lack of
proper hydration is one of the top ways to depress your metabolism
since every single energy process in your cells relies on a molecule of
water at some point in time!

Potassium also aids in proper muscle contraction. It is important
for chemical reactions within the cells, stabilization of blood pres-sure and transmission of electrochemical impulses. Thermo gen-esis, which is crucial to a high metabolism, is strongly related to the transport of potassium ions across the cell membrane. A depressed sodium potassium pump will lead to a depressed basal metabolic rate!

In case you just can't stand the flavor or the yellow mush of bananas,
other great sources of potassium include milk and oranges. LeanFactor
includes a particularly beneficial source of potassium aspartate
which vastly improves energy levels. EnerPrime contains potassium
citrate, which is under consumed by Americans and often depleted
due to overuse of sodium and caffeine. The combination of the potassium aspartate in LeanFactor and the potassium citrate in EnerPrime
makes them ideal supplements to your diet!

source: Ben Greenfield






First Page
1
2
3
4
5
6
7
8
9
10
11
12
13
14
15
16
17
18
19
20
21
22
23
24
25
26
27
28
29
30
31
32
33
34
35
36
37
38
39
40 41 42 43 44 45 46 47 48 49 50 51 52 53 54 55 56 57 58 59 60 61 62 63 64 65 66 67 68 69 70 71 72 73 74 75 76 77 78 79 80 81 82 83 84 85 86 87 88 89 90 91 92 93 94 95 96 97 98 99 100 101 102 103 104 105 106 107 108 109 110 111 112 113 114 115 116 117 118 119 120 121 122 123 124 125 126 127 128 129 130 131 132 133 134 135 136 137 Last Page

Get An Email Alert Each Time TXHRT4U Posts