| | |
| --- | --- |
| | TXHRT4U's Recent Blog Entries |


Friday, March 29, 2013
INJEST INOSITOL

Inositol is a sugar-based compound that is closely related to the B
vitamins and choline which are some of the most important
components of energy and metabolism. In addition to helping maintain
cell membrane integrity, inositol assists with proper nerve transmission
and fat transport throughout the body. Like most important
compounds, your body can make it's own inositol but other great
sources include wheat germ, Brewer's yeast, veal, pork, liver, brown
rice, wheat bran, oat flakes, nuts, vegetables, cantaloupe, raisins and
bananas. Because the effectiveness of inositol is enhanced in the
presence of folic acid, linoleic acid and vitamins B, C and E, it is often
included as part of a complete multivitamin supplement. Just
be careful that such a "metabolism-enhancing" supplement does not
have high amounts of central nervous system stimulants, like
caffeine or ephedra. High and frequent doses of such supplements over
a long period of time can over-exhaust your adrenal glands leading
to an eventual slowing of the metabolism. You'd be better off with
regular consumption of wheat, meat or produce.








Wednesday, March 27, 2013
BUY A BOTTLE

Your body's fat-burning process relies on water as a primary ingredient. Regular consumption of this refreshing, calorie-free beverage will also boost your metabolism burning a few extra calories an hour, which quickly adds up through the course of a day. In working with clients to achieve leaner bodies, I've found that for many, staying adequately hydrated is similar to eating small meals throughout the day. Knowing what to do is one thing, actually having the means or control to do it is quite another. Just like one of the best investments you can make for snacking is a travel cooler, one of the best
investments you can make for hydration is carrying a simple water
bottle with you at all times. This inexpensive investment will keep
you sipping all day long. In contrast, out of sight is out of mind. You're
unlikely to stop what you're doing to go find the nearest watering
hole so keep your water bottle easily accessible.

Follow this rule: never let your water bottle go empty during the
course of the day. You'll find you'll eat less, burn more calories and
feel fantastic.








Tuesday, March 26, 2013
TWO MINUTE TANGO

As you probably know, metabolism stays elevated for a significant
amount of time after exercise. Unfortunately though, by the time we
actually get around to exercising again, our metabolism can be back
to a slower pace and getting "back into the groove" for the next day's
bike ride, run or aerobic session can be difficult. Wheezing, gasping
for breath, coughing, stumbling, feeling sleepy, lethargic or fatigued
are sometimes associated with starting back into exercise after that
24 hour hiatus. This is because our body must be warm, our lungs
must be stretched, and our blood must be actively flowing before our
body begins efficiently utilizing oxygen. For most individuals, it takes
about two minutes for this process to begin to occur, after which you
actually start feeling good. Rather than struggling through these first
two minutes at a snail's pace, your post-exercise metabolic rate will
be higher if you simply jump into the cardio at a moderate pace and
hang on for the first 120 seconds. In addition, you'll not only warm-up
faster but the rest of your exercise routine will burn more calories.
Just keep telling yourself, "I just need to get through these first two
minutes!"









Monday, March 25, 2013
Time to do another 10k, WOOHOO! I am really not used to running for an hr yet. With my knee issues and all, I have been protecting them a lot this year by purchasing new running shoes, no hard jumping up and down, and most definitely no sideways movement. During my Insanity workouts, I have had to modify or not do the exercise at all. There hasn't been that much though. Starting off the new year with Ultimate Reset and the following that up with Insanity, both have helped a lot. I did get a couple practice runs in before race day and that really helps. Of course my goal was to place in the top 3 of my age group. Unfortunately, I placed 11th which is good. Besides trying to finish in the top 3, my next goal was to learn how to pace myself where I am not exhausted at the end. It makes feel a lot better when I have enough energy right at the end to sprint the last 100 yards. I was able to meet that goal. That made me feel good.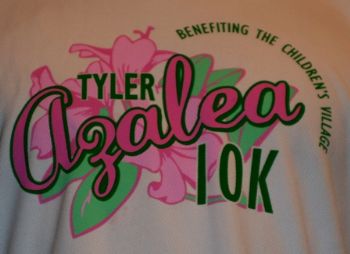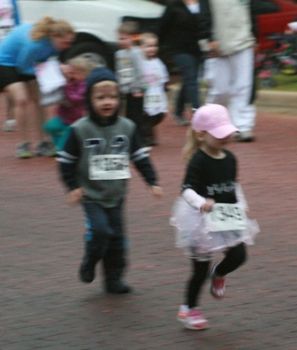 (above) This was Jayleigh's 2nd race, 50 yd dash. She did GREAT!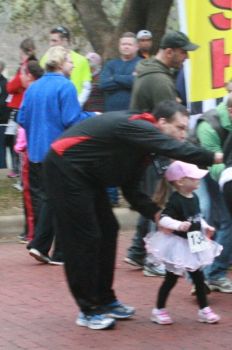 (above) Time to pick up her medal :) Daddy is very proud!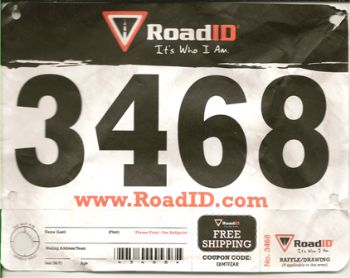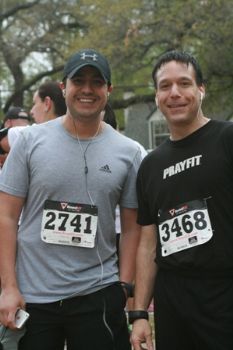 (above) Picture moment with one of the pastor's from church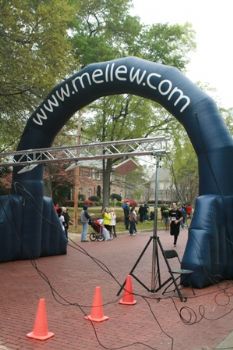 (above) finishing time of 54:27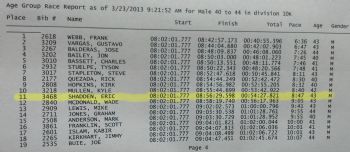 (above) race results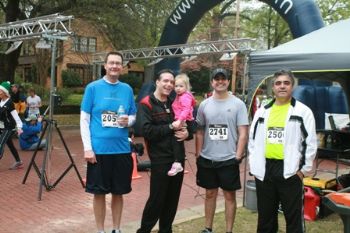 (above) we have 5 people from church running now. we started out with 3 last year.

A huge thank you goes to my wife and family for supporting me and for taking great pictures and video's. Time to get ready for the next race April 13th!








Monday, March 25, 2013
COMMON MUSCULAR WEAKNESSES (6 of 6)

Vastus Medialis Weakness

Increased risk of knee injury (chondramalicia) during knee extension activities. The patella becomes laterally displaced with the pull of the vastus lateralis. This patella tracking problem can produce wear on the inferior petellar surface. Greater pain is usually experienced during leg extension activities in which the knee is a greater than a 20 to 30 degree angle.

• Examples of affected exercises:
o Leg Press
o Squat
o Leg Extension

• Example preventative / corrective exercises:
o Single Leg Extensions (last 20 degrees of extension)
o Leg Press (last 20 degrees of extension)







First Page
1
2
3
4
5
6
7
8
9
10
11
12
13
14
15
16
17
18
19
20
21
22
23
24
25
26
27
28
29
30
31
32
33
34
35
36
37
38
39
40
41
42
43
44
45
46
47
48 49 50 51 52 53 54 55 56 57 58 59 60 61 62 63 64 65 66 67 68 69 70 71 72 73 74 75 76 77 78 79 80 81 82 83 84 85 86 87 88 89 90 91 92 93 94 95 96 97 98 99 100 101 102 103 104 105 106 107 108 109 110 111 112 113 114 115 116 117 118 119 120 121 122 123 124 125 126 127 128 129 130 131 132 133 134 135 136 137 138 Last Page

Get An Email Alert Each Time TXHRT4U Posts