| | |
| --- | --- |
| | TXHRT4U's Recent Blog Entries |




Monday, February 04, 2013
4 Foods Accelerate AGING (3 of 4)

Food #3 that ages you faster: Sugar, sugary foods, certain starchy foods

Sugar is an obvious one to avoid. You've heard how bad it is for you 1000 times before for many other reasons, including your waistline and developing type 2 diabetes. But now you also understand the aging effect of sugar.

Instead of sugar, consider using a natural non-caloric sweetener like Stevia in your daily coffee, tea, in baking, or other sweetening needs. This dramatically helps you control your blood sugar response and thereby help slow aging.
So this also means to think twice about sugary desserts, sugary cereals, candy, and other sweets that are contributing to aging you faster.

Try having 1-2 squares of dark chocolate after dinner instead of a normal full dessert that most people choose. You only get about 2 grams of sugar in 1-2 squares of dark chocolate as opposed to 40-80 grams of age-accelerating sugar in a typical cake, ice cream, or brownie type of dessert.

Keep in mind that some starchy foods like white rice, oatmeal, and white potatoes can also have significant impacts on your blood sugar and thereby can increase formation of AGEs in your body. These foods are best kept in smaller portions if you decide to eat them, and balanced with healthy fats and protein to slow the blood sugar response.









Friday, February 01, 2013
4 Foods Accelerate AGING (2 of 4)

Food #2 that ages you faster: Corn-based foods -- corn syrup, corn cereal, corn chips, corn oil


This is quite a variety of stuff that you might eat every day... we're talking corn chips, corn cereals, corn oil, and also the biggest health-damaging villain that gets most of the media attention, high-fructose corn syrup (HFCS).

Well, corn-based starchy foods such as corn cereals, corn chips, etc also have a big impact on blood sugar levels and therefore can increase AGEs in your body and accelerate aging.

But here's another nail in the coffin for corn... it turns out that scientists have found out that the fructose in HFCS causes 10x more formation of AGEs in your body than glucose! Yes, that's right... that means the HFCS you consume daily in sweetened drinks, and most other processed foods (yes, even salad dressings and ketchup) contribute to faster aging in your body... as if you needed yet another reason to avoid or minimize HFCS!

Another major issue with corn-based foods and corn oils is that these foods contribute excessive amounts of omega-6 fatty acids to your diet, which causes an imbalance in your omega-3 to omega-6 ratio and leads to inflammation and oxidation within your body.

Once again... another example of corn-based foods aging you FASTER.
Avoid or reduce corn-based foods like corn chips and corn cereal as much as possible. These aren't as bad as wheat in relation to blood sugar, and they don't contain gut-damaging gluten like wheat does, but they are still bad for you. When it comes to corn syrup or corn oil, avoid as much as you can if you want to stay lean and young looking.


Have a GREAT weekend!







Thursday, January 31, 2013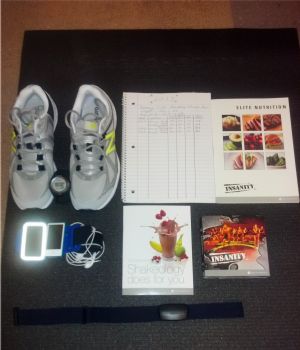 First of all, my primary arsenal to reach my goals is God's guidance, strength, and wisdom. Second important part of my success is staying track on my nutrition and not falling for temptation. Then we go to the things in the picture to finish it up.

From left to right:

1) New Balance MX887 cross training shoes to help protect my knees. I did consider doing Insanity barefooted like GWBACH



2) Garmin 410 GPS Watch & HR will help track my workouts.

3) My fitness log file that has been going since 2009. This helps track my HR and calories burned. When I see my HR & calories burned go down on the same exercises, that means my fitness level is increasing.

4) Insanity nutrition guide. I am not following the guide for the program. I will use it to introduce new recipe's into my plan.

5) Ipod Nano Generation 7 also tracks my workouts. I mostly use this for my running though. I have a couple races planned in March. Along with my Insanity workouts, I will be doing 30 min to 45 runs during my lunch hr.

6) Shakeology, I am going to try all different flavors. This is full of NATURAL daily vitamins and minerals. I also take Dr Schulze's Superfoods Plus to help with energy, vitamins, and minerals.

7) Shaun T's Insanity 60 Day workout program.

8) Last but not least, workout mat that came with Insanity to also help with my knees. Concrete in my living room is too deadly for my knees. No matter how good my shoes are.


Game plan is to drop my body fat % from 16.39% to 13% by end of March.

TIME TO DIG DEEPER!!!





First Page
1
2
3
4
5
6
7
8
9
10
11
12
13
14
15
16
17
18
19
20
21
22
23
24
25
26
27
28
29
30
31
32
33
34
35
36
37
38
39
40
41
42
43
44
45
46
47
48
49
50
51
52
53
54
55 56 57 58 59 60 61 62 63 64 65 66 67 68 69 70 71 72 73 74 75 76 77 78 79 80 81 82 83 84 85 86 87 88 89 90 91 92 93 94 95 96 97 98 99 100 101 102 103 104 105 106 107 108 109 110 111 112 113 114 115 116 117 118 119 120 121 122 123 124 125 126 127 128 129 130 131 132 133 134 135 136 137 Last Page

Get An Email Alert Each Time TXHRT4U Posts