Saturday, June 02, 2012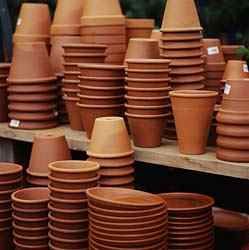 This past week my partner and I and other friends were all helping a woman pack up her worldly goods to travel to another state for a new job and a new beginning. Her partner died a few years ago and they had years of accumulated goods, knick knacks, little treasures, buckets/baskets/containers of shells, rocks, and agates, beautiful clothes, lots of sterling silver, and...terra cotta pots. Lots and lots of terra cotta pots. Leslie did so love to garden. We are going to have a "garage sale" of the goods and then pass on the proceeds.

I must say that this experience has reinforced in me that I want to focus on clearing out my own accumulated stuff. I want to start paring away all the non-essentials and get to the place where only useful, meaningful, and/or pleasurble things, activities, experiences, and people remain. I want to continue on this journey with a lighter, more purposeful step. Minimize to maximize.