| | |
| --- | --- |
| | TRAVELNISTA's Recent Blog Entries |



Thursday, March 11, 2010
I waited a day before posting this blog for those that had the Biggest Loser taped to watch the next day. I made a big mistake by discussing this show in our Daily Chat thread in my Team last week as the show played on TV. I spoiled the plot line for those in later time zones. I learned my lesson, that will never happen again.

Do not get me wrong, I love the Biggest Loser. You will find me parked in front of the TV every Tuesday night. There is always something on there that is always inspirational to me or a new idea that I can use to help me on my journey. There however is one huge, unrealistic concept the entire show is based on. They compete to obviously as the show is entitled to see who the biggest loser is. The way they accomplish this is most unrealistic.

Tuesday night' show made them face the real world. I loved the fact that they made them work an 8 hour day. That is the only thing I don't like about the Biggest Loser, it sends the wrong message, and not everyone can stay home and not work to exercise 24/7. Reality hit them smack in the face and some of the contestants did not like nor were happy about it. It threw them for a loop. Most of us work a job and have a family and household to take care of. We don't get months off our "life" and have someone else take over those duties. We don't receive paychecks for appearing on a Reality TV show so that we can pay our bills as we show the world how we are trying to lose weight. We work a job and fit in our exercise plan into our daily lives. We have the stresses of the everyday world to deal with. The contestants on Biggest Loser, not so much, they are living in a sequestered "world for the time they are on the show where their focus is to do what it takes to lose the most amount of weight. Their biggest stress they face inside that world is who gets along with who and how it effects their time in the Biggest Loser campus.

I constantly see people here on Spark People thinking the weight will fall off overnight. It will not if you are leading a normal life. You have to balance your work time with exercise time and with personal time. It is about time Biggest Loser dealt with that issue. It is not normal to be exercising 24/7 or even 3 hours a day. It is not sustainable. In my personal opinion is that more than 2 hours a day is too much. If I am not mistaken I don't think Spark People even awards points for exercising over 120 minutes. There is a reason for that, Spark People is all about endorsing good health and exercise habits that become part of your daily routine.

Fellow Sparkers including many of my teammates get upset if they do not lose the weight as fast as they do on the Biggest Loser. They expect to see the huge numbers the contestants show when they weigh weekly. They forget that it took years for them to do this to their bodies and yet poof they expect it to magically come off overnight. I am sorry it takes time and hard work. Rome was not built in a day and your new healthier and slimmer body will not do it either.

They forget that it has been proven time and time again that the safe way to lose weight is no more than 2 pounds a week. It has been proven time and time again that a majority of those who lose quickly and in huge amounts will gain it back. The whole idea is lose weight safely and for good. The whole idea is to learn how to live a healthy lifestyle. You need to make healthy changes and turn them into habits so that it is not a diet but a new way of life.












Wednesday, March 10, 2010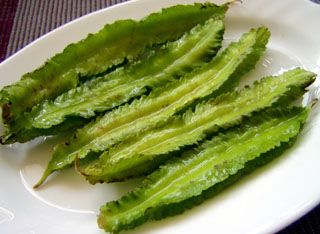 I bet most of you never heard of this bean because I sure haven't. I know I only just learned of its existence on Tuesday night when I wrote this blog while watching the Biggest Loser. I do know I have not seen them here in the stores where I live so the next time I travel to Whole Foods or Wegman's I will be on the lookout. I definitely will be scoping them out in the Asian Food stores when I visit my Mom in Virginia.

The winged bean is one of the newest Asian vegetables coming to market these days, and its appearance is long overdue. Known for centuries in tropical Asia, this attractive climbing perennial is more or less your total meal: all parts of the plant are edible — the pods, the beans inside, the shoots, the flowers and even the tuber. They are also known as Goa Beans.

This bean has been called the "one species supermarket" because practically all of the plant is edible. The beans are used as a vegetable, but the other parts (leaves, flowers, and tuberous roots) are also edible. The tender pods, which are the most widely eaten part of the plant (and best eaten when under 1" in length), can be harvested within two to three months of planting. The flowers are often used to color rice and pastries. The flavor of the beans has a similarity to asparagus. The young leaves can be picked and prepared as a leaf vegetable, similar to spinach. The roots can be used as a root vegetable, similar to the potato, and have a nutty flavor; they are also much more rich in protein than potatoes. The dried seeds can be useful as a flour and also to make a coffee-like drink. Each of these parts of the winged bean provide a source of vitamin A, vitamin C, calcium, iron, and other vitamins [1]. The seeds contain 35% of protein and 18% of oil.

Health Benefits Of Consuming Winged Bean

Winged beans have the highest calcium content among all legumes and as such, are very beneficial for the human skeletal system. The calcium present in these beans helps in the production and maintenance of the bones and provides strength to overcome diseases and weaknesses.

Winged beans are also a good source of natural minerals, vitamins (especially A and C), iron and enzymes.

As a legume, wing bean scores high on protein content. In other words, it proves to be a good source of protein for humans as well as animals.

The seeds and tubers have been getting a lot of attention in the scientific press because of their high protein content, which can be up to 20 percent — way ahead of potatoes and yams. But it's the pods we generally see in Asian markets these days: long, flat and covered with frilly "wings" along four edges. Best of all, winged beans are fairly easy to grow and make a flavorful addition to stir-fries and grills. The taste of the pods is something between a snow pea and asparagus; they are terrific when grilled and served with dipping sauce.

Winged beans are so versatile. These beans and/or parts can be boiled, steamed, baked, fried, roasted and even made into chips. The immature pod, the plant's most popular part, can be eaten raw, pickled or cooked in water, coconut milk or oil.

lifestyle.iloveindia.com/lounge/bene
fits-of-winged-bean-7579.html

www.motherearthnews.com/Real-Food/2
007-06-01/Hunan-Winged-Bean.aspx

en.wikipedia.org/wiki/Winged_bean

I have not tried any of these recipes as I have never even heard about the been before yesterday. I will probably try a few before I can even find the bean and just substitute something else, it may even be asparagus since it has an asparagus like taste. I see most of the recipes call for coconut milk so of course I will be using the light versions. I actually love curries so this bean and these recipes are right up my alley. Plus, I love experimenting with new recipes.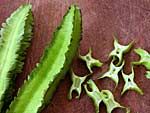 Grilled Winged Beans With Miso Dipping Sauce

This recipe has been adapted by Corinne Trang for Mother Earth News based on a recipe in her recent book, The Asian Grill (Chronicle Books, 2006).

Miso Dipping Sauce:
1/4 cup shiro-miso (white miso)
1/4 cup mirin (sweet sake)
1/4 cup rice vinegar
2 tsp dark sesame oil
2 tbsp vegetable oil
1 tbsp finely grated ginger
1 scallion, trimmed and minced

Winged Bean Preparation:
1 tbsp vegetable oil
1 tsp dark sesame oil
1 pound winged beans
Salt
Freshly ground black pepper

In a bowl, whisk together the shiro-miso (usually found in refrigerated cases at natural food stores), mirin and rice vinegar until smooth. Add the sesame and vegetable oils, ginger and scallion; stir until well combined. Set aside.
In a separate bowl, combine the vegetable and sesame oil. Lightly brush the winged beans with the mixed oils. Sprinkle to taste with salt and pepper. Prepare a medium-hot fire in a charcoal grill, or preheat a gas grill to 400 degrees (medium high). Place the vegetables crosswise directly on the grill grate. Grill, turning frequently until just crisp, about 3 minutes. Serve the grilled winged beans with the miso dipping sauce on the side. Serves 4.




Mixed curry (Pods)

Ingredients:
winged bean pods, sliced
1 potato diced
1 tomato
1 tbsp. chopped onion
2 tsps chili powder
1 tsp. curry powder
¼ tsp. turmeric powder
½ tsp. mustard, ground
curry leaves, rumpe*
1" piece cinnamon stick
½ cup thin coconut milk
½ cup thick coconut milk
salt

Method:
1. Mix all ingredients except thick coconut milk.
2. Cook in a covered pan till winged bean and potatoes are cooked.
3. Add thick milk, simmer for 5 minutes.

http://www.echotech.org/network/modules.
php?name=News&file=article&sid=559




Winged Bean Leaf Curry

Ingredients :
1 handful of tender leaves
2 tablespoons thick coconut milk
2 green chilies sliced
6 red onions sliced
pinch of turmeric
salt to taste

Method:
Cut the leaves, mix with all the ingredients and cook for 5 minutes.

http://www.echotech.org/network/modules.
php?name=News&file=article&sid=559




Cutlets

Ingredients:
1 cup soaked & boiled seeds (dehulled)
1 potato
2 tbsp. onion
6 green chilies chopped
½ tsp. pepper
juice of 1 lime
curry leaves chopped
1" piece ginger chopped
2 tbsp. flour
1/3 cup cold water
2 tbsp. bread crumbs
oil for frying

Method:
1. Fry & crush the seeds
2. Mash the boiled potato and mix the two together
3. Add salt, pepper & lime juice
4. Heat 1 tbsp. oil & sauté curry leaves onion ginger & green chili
5. Add winged bean potato mixture & cook for 2 minutes form into any shape.
6. Make a batter with flour & water.
7. Dip cutlets in batter coat with bread crumbs.
8. Deep fry and serve.

http://www.echotech.org/network/modules.
php?name=News&file=article&sid=559




Yam Thua Phu - Spicy Winged Bean Salad
courtesy of: YumYum.Com - The Recipe Website For Everyday Cooks!

1/2 lb Winged beans
1/2 c Steamed pork sliced into small pieces
1/4 c Coconut milk
2 tb Fried sliced shallot
2 tb Coarsely ground roasted peanuts
2 tb Fish sauce
1 1/2 tb Sugar
2 tb Lime juice
1 sm Pan-roasted dried chilli
2 sm Roasted shallots
1 sm Roasted garlic bulb


Preparation: Immerse the winged beans in boiling water for 3 minutes and then cut into small pieces.
Bring the coconut milk to a boil and then remove from heat.
Pound the chilli, the roasted shallots, and the garlic well in a mortar; then add the sugar, fish sauce, and lime juice, mix thoroughly and transfer to a bowl.
Add the winged beans, pork, boiled coconut milk, fried shallot, and peanut, toss to mix well, and then place on a serving- platter.



I think until I find these winged beans I will try the Winged Bean Leaf Curry and use either spinach or kale. I think it will probably be kale and it will be a new way for me to cook kale. I am definately going to make the Winged Bean Salad and substitute asparagus till I locate the bean. Asparagus is starting to come down in price as it always does this time of year. I love fresh asparagus, the canned stuffed, well all I can say is YUCK!

So go out there and try something new. It is fun and you might find you like it and that is the point of all of these type blogs I write.











Tuesday, March 09, 2010



Time to some is precious. The time you set aside is not to be wasted, not to be given away. The question is do you set some aside just for you? Why not, you are worth it? The time you set aside allows you to invest in you. Again aren't you worth it? There are so many gadgets out there to organize your time such as calendars, date books, things to do lists, sticky notes, those erasable boards people have on their refrigerators, and even palm pilots. I know you use at least one of these to try to manage your busy schedules. Do you pencil in some personal time? Do you block out some "Me" space? We need to start making the most of today because tomorrow is never a guarantee. What if it is too late for you to make some "Me" time?

How valuable is your time? Time properly invested in You is priceless. Time wasted can be devastating on a journey to a new you. I often shake my head in disbelief how many of the ladies who come to the pool in the morning really just hang out in a corner of the pool having a coffee clutch. We have glass walls separating the main gym floor from the pool. I often see the same thing out on the floor. Yes, there may be one person on the treadmill but then she is surrounded by a friend or two just standing they're gabbing away. The person on the treadmill is not paying attention to her workout. She is holding onto the rails instead of pumping her arms to get a better heart rate going. The ladies on the floor could just as easily jumped on the treadmill next to them and start their workout.

There are a couple of things you really need to think about. The first one being Determination. Are you determined? Are you on a mission to get healthy or fit? Or sadly, do you always put yourself on the back burner?

The second thing would be Direction. Do you have a goal plan? You need to develop one if you do not already have one in place. Your goals are your roadmap to getting healthy. If you already have a goal plan please tell me you are using it to your advantage?

The third thing is Ambition. It is different that Determination. Do you love yourself enough to put your game plan into action? Or do you continually say "I'll start tomorrow, One more day won't make a difference, or the ever famous I'll start my diet on Monday (for me it was always Sunday)."

The fourth thing is Faith. Do you have Faith in yourself that you can do this? Do you believe in you? Don't let your past efforts hold you back. Don't let past failures set the tone for you. Today is a new day and you have to look at it that way. You know the saying, Today is the 1st day of the rest of your life. Believe it! Embrace it! Put your entire heart and soul into it! Your heart may just depend on it, which brings us to the last thing to think about.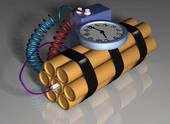 The fifth thing is Desperation. I don't want you to get to this level. I don't want you to wait till you are forced to finally do something. Don't wait till catastrophe hits. It can be in the form of a heart attack, high blood pressure off the charts, blood sugar off the charts, gall stones, fatty livers, Lymphedema, immobility, etc. I am sorry I don't mean to paint such a dismal picture but don't kid, yourself keep procrastinating and this can happen to you. Stop thinking "Oh it won't happen to me." I'll do something before I get to that level. Sorry, our bodies work on a timetable of their own. Our bodies decide when enough is enough. Life is too short to make excuses. Set your goals and pursue them.





Is the picture above drastic? Yes! Is the picture above you? I hope not! Are you headed there? Again, I hope not but if so, let's do something about that now!




Time is the coin of your life. It is the only coin you have, and only you can determine how it will be spent. Be careful lest you let other people spend it for you.
Carl Sandburg (1878 - 1967)

Time is what we want most, but what we use worst.
William Penn

Don't be fooled by the calendar. There are only as many days in the year as you make use of. One man gets only a week's value out of a year while another man gets a full year's value out of a week.
Charles Richards

Never let yesterday use up today.
Richard H. Nelson

I don't think of the past. The only thing that matters is the everlasting present.
W. Somerset Maugham

It's how we spend our time here and now, that really matters. If you are fed up with the way you have come to interact with time, change it.
Marcia Wieder

Realize that now, in this moment of time, you are creating. You are creating your next moment. That is what's real.
Sara Paddison

The time for action is now. It's never too late to do something.
Carl Sandburg







Monday, March 08, 2010
Can you set aside a bit of time just for you ? Women on the whole usually do not do this and it is really important that we learn to make ourselves a priority. It is important for our journey here on Spark People so that we can be successful. It is important for your families and loved ones because if you don't take care of yourself who will take care of you? Yes, we women are caregivers but we need to start including our selves into that care giving.



MAYA ANGELOU'S'
BEST POEM EVER!!!!!






WOMAN SHOULD HAVE ...

enough money within her control to move out
and rent a place of her own,
even if she never wants to or needs to...
something perfect to wear if the employer,
or date of her dreams wants to see her in an hour....



A WOMAN SHOULD HAVE ...

a youth she's content to leave behind....
a past juicy enough that she's looking forward to
retelling it in her old age....
a set of screwdrivers, a cordless drill, and a black lace bra...
one friend who always makes her laugh... and one who lets her cry...



A WOMAN SHOULD HAVE ...

a good piece of furniture not previously owned by anyone else in her family....
eight matching plates, wine glasses with stems,
and a recipe for a meal,
that will make her guests feel honored...



A WOMAN SHOULD HAVE ...

a feeling of control over her destiny...
how to fall in love without losing herself...



EVERY WOMAN SHOULD KNOW...

how to quit a job,
break up with a lover,
and confront a friend without
ruining the friendship....


EVERY WOMAN SHOULD KNOW......

when to try harder... and WHEN TO WALK AWAY...



EVERY WOMAN SHOULD KNOW...

that she can't change the length of her calves,
the width of her hips, or the nature of her parents..
that her childhood may not have been perfect...but it's over....



EVERY WOMAN SHOULD KNOW...

what she would and wouldn't do for love or more....
how to live alone... even if she doesn't like it...



EVERY WOMAN SHOULD KNOW.. .

whom she can trust,
whom she can't,
and why she shouldn't take it personally...



EVERY WOMAN SHOULD KNOW...

where to go...
be it to her best friend's kitchen table...
or a charming Inn in the woods...
when her soul needs soothing...



EVERY WOMAN SHOULD KNOW...

What she can and can't accomplish in a day...
a month...and a year...













Sunday, March 07, 2010
I still feel under the weather and am beginning to think this may be something more than a stomach virus. I always have articles/emails that I have saved for such occasions when I don't feel well enough to write or think for that matter. This email I received from Dennis Waitely was too good not to share. It most definitely impacts out journey here on Spark People.

I did go to Church last night as I always do so I can sleep in, rather than go to Church on Sunday morning. It was not the smartest thing to do. I did not sit near anyone to pass on my germs, I did not shake hands when we came to the part of the Mass where we offer each other signs of peace be with you, and I sat for most of the mass as I had no energy and felt like passing out, The Church kept going from hot to cold or should I say that is what I was doing. I broke out in a sweat one moment and then chilled the next. I should have just stayed home in bed.



Making the Most of Today by Denis Waitley
(Excerpted from The Psychology of Motivation)


What each of us is doing this minute is the most important event in history for us. We have decided to invest our resources in THIS opportunity rather than in any other.

"There are two days in every week about which we should not worry, two days which should be kept free from fear and apprehension.
"One of these days is YESTERDAY, with its mistakes and cares, its faults and blunders, its aches and pains. Yesterday has passed forever beyond our control. All the money in the world cannot bring back yesterday. We cannot undo a single act we performed or erase a single word we said. Yesterday is gone.
"The other day we should not worry about is TOMORROW, with its possible adversities, its burdens, its large promise, and its poor performance. Tomorrow is also beyond our immediate control.
"This leaves only one day, TODAY. Anyone can fight the battles of just one day. It is only when you and I add the burdens of those two awful eternities - Yesterday and Tomorrow - that we break down.

"It is not the experience of Today that drives us mad, it is remorse and bitterness for something which happened yesterday and the dread of what tomorrow may bring. Let us therefore… Live this one full TODAY."


source: pp1033.blogspot.com/2010/02/making-m
ost-of-today-by-denis-waitley.html

Please apply what he is saying and how it applys to your journey here on Spark People. I would love to hear how you can apply it to You.



First Page
1
2
3
4
5
6
7
8
9
10
11
12
13
14
15
16
17
18
19
20
21
22
23
24
25
26
27
28
29
30
31
32
33
34
35
36
37
38
39
40
41
42
43
44
45
46
47
48
49
50
51
52
53
54
55
56
57
58
59
60
61
62
63
64
65
66
67
68
69
70
71
72
73
74
75
76
77
78
79
80
81
82
83
84
85
86
87
88
89
90
91
92
93
94
95
96
97
98
99
100
101
102
103
104
105
106
107
108
109
110
111
112
113
114
115
116
117
118
119
120
121
122
123
124
125
126
127
128
129
130
131
132
133
134
135
136
137
138
139
140
141
142
143
144
145
146
147
148
149
150
151
152
153
154
155
156
157
158 159 160 161 162 163 164 165 166 167 168 169 170 171 172 173 174 175 176 177 178 179 180 181 182 183 184 185 186 187 188 189 190 191 192 193 194 195 196 197 198 199 200 201 202 203 204 205 206 207 Last Page

Get An Email Alert Each Time TRAVELNISTA Posts