| | |
| --- | --- |
| | TRAVELGRRL's Recent Blog Entries |



Friday, December 13, 2013
TC and I are leaving tomorrow for a European River cruise!

The draw of the cruise is visiting the Christmas Markets of various towns that are located on the Rhine River, although we will obviously be doing much more sightseeing than that. I'm really excited -- we've been to a lot of places but this is our first visit to Europe.

We board the boat/ship (only 140 passengers) in Amsterdam, The Netherlands and make stops in The Netherlands, Germany, and France before debarking in Basel, Switzerland.

We are excited that we fly in and out of Boston, so we will spend a few days with our daughter, SIL and 11-month-old granddaughter. BONUS!

I've been holding onto my low weight fairly well, but of course this trip will make it difficult to count calories and do our normal level of exercise.

My strategy:

* eat normally at the buffet breakfasts: I don't need eggs and bacon, I can eat my usual fruit and yogurt.

* be selective at lunch and dinner. Don't automatically order an appetizer, entree, and dessert. Plan to eat only what I want and need.

* avoid dessert unless there's fruit on offer. If something is irresistible have TC order it and have a bite!

* exercise as much as possible. There is a "fitness room" on board with a treadmill and bike, but if it is like most hotel fitness rooms, the equipment will be barely usable. TC and I will plan to walk as much as possible and will plan to do our planks, pushups, and situps in our room. I will be wearing my Fitbit, of course to track my steps.

I'm not going to obsess about my weight. I'm taking two new pair of jeans that are snug, and they will be my best guide! Even though I don't want to gain weight, I probably will and I'll just take it off when I get back.

We will return on January 2, which seems like a great time to start a diet, right?? Ha!

Wishing all of my Sparkfriends a happy and memorable Christmas Season!!!!

Happiest of Holidays to all!!!!!





Saturday, December 07, 2013
These are blocking our driveway, which is about 1/10 of a mile long. We are going to try to get out today -- but may have to cut trees to do so!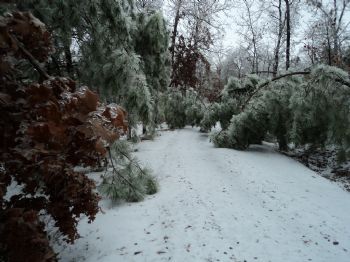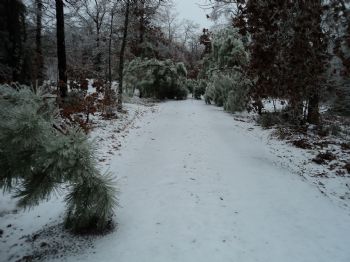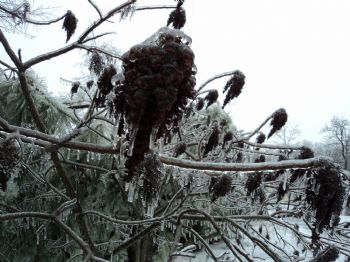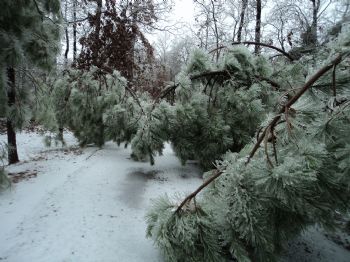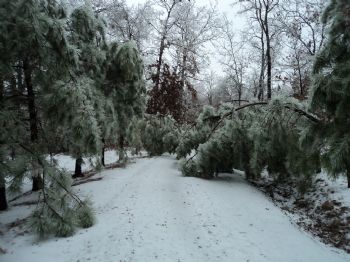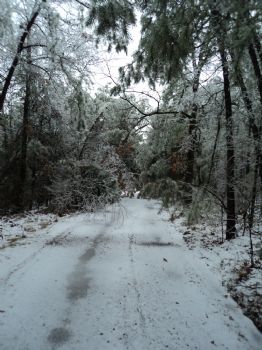 In other news, being stuck in the house for two days has not been good for my diet and I'm up a couple of pounds! Back to business today, though....






Wednesday, November 27, 2013
Hello, everyone!

I am only ONE POUND away from my original goal of 136. This will put me at a healthy BMI for the first time in over a decade!!! I've lost 47 pounds since my high weight in 2011; 25 pounds down since February 2013. Disclosure: This hasn't all been a straight-line downward trend, of course. I've gained and lost, gained and lost!

But now that I am in the 130s (can't get used to hearing that!!!) I want to stop all this yoyoing.

This means I have to have a plan for Thanksgiving.

I've been reading all the blogs, articles, and tips for dealing with Thanksgiving, and they are all great. Really! Drink water! Take a healthy dish to pass! Do your workout before the meal! Etc. Etc. Etc.

But the thing that resonated the most with me was a simple question from the Beck Diet Solution blog:

campaign.r20.constantcontact.com/ren
der?llr=bencpkfab&v=001750MJEUdJzOb-YN
TePdGQ-bgtc7_rGG0ityDgiHvyh-YLIXNOV-qO
Rju8zRUfJkU0pdeWXwW7cG_DDLr95za2LSv6jr
OVBpUm4tNtTo2nIXpvkGZby0lQw%3D%3D

"How do you want to feel when Thanksgiving is over?"

Most of us don't want to feel stuffed, bloated, regretful. Ashamed that we blew it yet again. So we absolutely need to have a plan.

Dr. Beck says: "We remind dieters, that it's not all-or-nothing. It's not as if they can eat every bite of food they want or they can't eat any food that they want; in fact, there is a huge middle ground between these two extremes. While it's true that they may not be able to eat as much of everything they want and still go to bed feeling good that night, it's also true that they can eat reasonable portions, enjoy every bite that they take, and feel really good. "

Another great reminder comes from Amy Layne, who runs DAMY Health Programs:

www.damyhealth.com/2012/10/the-best-
weight-loss-tips-for-the-holiday-season/

After giving excellent practical tips & advice, she goes on to say:

"Free yourself to fully enjoy what Holidays are about. Holidays are for time with loved ones to stop our everyday busy-body lives and enjoy each other. Itís not about stuffing yourself full or binge eating. Itís about great conversation, loving and enjoying the people who matter most to you. When you stop obsessing about food or your relationship with food you have all the time in the world to take in these special/important moments. Think less about food this season and more about enjoying the people around you."

***

This is my goal this Thanksgiving. I want to eat like a thin person, a person who can maintain 137 pounds easily and with grace. I have my plan and I will execute it.

When I think about the past holidays, the Thanksgivings and Christmases Easters and picnics on the 4th of July, I never remember the food. It's the family and the friends and the connections and the children and the love.

It's not about the food. So this year I am going to stick to my true values, the true values of the season, and practice eating well but mindfully. I want to feel proud and good about myself when Thanksgiving is over. That's worth way more than a piece of chocolate pecan pie.

Wishing all of my Sparkfriends a successful, happy Thanksgiving!





Monday, November 11, 2013
Does anyone else feel like we just got through the gauntlet of Halloween eating?

I was going through Sunday's ads today before throwing them in the recycle bin -- and I immediately noticed that the same candy that was endlessly advertised for Halloween is NOW out in Christmas wrappings! Yup, Snickers bars, Hershey's kisses, the whole gang was represented! Not hardly a minute's break before the "you deserve this because it's a special occasion" mentality is foisted upon us again.

Thinking about that led me to muse about the fast food restaurants that issue tons of coupons and advertise irresistible deals this time of year. I get pages of advertisements and coupons for pizza chains, fried chicken deals, hamburger joints, all you can eat buffets, etc. They aren't stupid -- they know we are "busy" and likely to grab a bite out. We deserve it, right? They are happy to oblige with their fat-, sugar-, and salt-laden offerings.

So...all of this pressure is bearing down, in addition to all the sweets and once-a-year specialties on offer in break rooms, office parties, parties with friends, neighborhood parties, potlucks, family gatherings, church events, etc. etc. etc.

It's exhausting, isn't it?

But thinking about this now makes me very aware of it. I HATE being manipulated. I vow NOT to be manipulated by the advertising and get caught up in the "I deserve this because it's a special occasion" trap. It's just food. It holds no special power. It's always, endlessly available in myriad forms and reincarnations. I CAN choose not to have it right now. And that's the choice I'm going to keep on making.

I've worked too hard and am too close to my goal to let any of this nonsense derail me. It's not over UNTIL I WIN!






Sunday, November 10, 2013
I know my friend Nancy- posted a blog today. NO email notification!!! I waited a few hours -- NO email notification!!!!

Checked my Spam folder -- EUREKA! There are ten million Spark notices there, including my recipes of the day, team digests, and blog notifications.

How this happened I do not know, but at least I know AAALL my Sparkfriends haven't unfriended me!!!










Fear not, I will catch up with you all soon.





1 2 3 4 5 6 7 8 9 10 11 12 13 14 15 16 17 18 19 20 21 22 23 24 25 26 27 28 29 30 31 32 33 34 35 36 37 38 39 40 41 42 43 44 45 46 47 48 49 50 51 52 53 54 55 56 57 58 59 60 61 62 63 64 65 66 67 68 69 70 71 72 73 74 75 76 77 78 79 80 81 82 83 84 85 86 87 88 89 90 91 92 93 94 95 96 97 98 99 100 101 102 103 104 105 106 107 108 109 110 111 112 113 114 115 116 117 118 119 120 121 122 123 124 125 126 127 128 129 130 131 132 133 134 135 Last Page

Get An Email Alert Each Time TRAVELGRRL Posts