| | |
| --- | --- |
| | TPROONEY3's Recent Blog Entries |


Sunday, January 05, 2014
I managed 2102 swings in October, 1762 in November, and 1220 in December while logging 187, 174, and 114 minutes of training time. I also did 28 TGUs in October, 22 in November, and 12 in December. I ended the year with 16,284 swings and 126 TGUs.

I am adding goblet squats into the regular mix. I did 70 squats in December, and have already added 40 for January 2014. It would be nice to log 20,000 swings with a 20kg bell and 250 TGUs this year. I am somewhat reluctant to set goals because I tend to overtrain and get injured. So I am going to leave these as wishes--soft goals. My hard goal is to do at least as many swings and TGUs I did in 2013, and to do at least 100 goblet squats per month.




Friday, October 04, 2013
Oh September! You are always my best month for kettle bells. Why is that?

The numbers...I managed 3104 swings in September while logging 262 minutes of training time. I also did 18 TGUs and even a pair of snatches (yes, just two). I have sworn off any snatch work for the year while I work on my shoulder stability and strength so I do not development impingement problems again.

October is off to a good start--438 swings so far. I have some travel at the end of the month, so I do not anticipate a record-breaking month. I do expect to move at a record-breaking pace through the next three weeks, though. Wish me luck and injury-free training.







Saturday, September 14, 2013
The year 2013 is still not great on the kettlebell front. I still have knee pain but it is not getting worse. I have avoided shoulder injuries, as per my goal for the year.

I managed 1510 swings in April, 680 in May, 340 in June, 538 in July, and 1562 in August. With travel, I always have a summer slump (last year I managed about 400 more swings over all of May June July than this year). My kettlebell training time is also down: 117 minutes in April, 79 minutes in May, 36 minutes in June, 61 minutes in July, ad 139 minutes in August.

The good news is things have picked up. Although September is only half over, I already have 1234 swings and 116 training minutes. And I am injury free! Today I did 21 minutes of swings (21 sets of 10, 20 kg, 45 seconds of rest between sets). I also did a good 4 minutes of get-ups with 8 kg bells.

Last year I logged over 15,000 swings. A repeat is not out of the question for this year, but that would be a stretch goal.








Sunday, March 31, 2013
The year 2013 has not been off to a good start. I have had some persistent pain in my left knee. While KBs don't seem to make things worse, they do seem to zap my motivation. As a result, my numbers are slipping.

I put up 1578 swings in January (an average month for me), but only 803 in February and 1085 in March. I've dropped get-up weights (16 to 8 kg) and have gone from full get-ups to 1/4 get-ups. I've also decided not to snatch at all this year. Even high pulls seem to irritate my shoulders, and I am training conservatively to avoid injuries this year.

My kettlebell training time is also down: 133 minutes in January, 61 minutes in Feb, and 85 mins in March. For a benchmark, I was training an average of 195 minutes per month in 2012.


With my training volume and intensity down, it is not surprising that my weight is creeping up a bit. Nothing drastic, but I am up about 5 lbs since the start of 2013. I feel like I am at a tipping point, and that I need to tip in the direction of getting re-motivated.





Tuesday, January 15, 2013
Give me 33 weeks of intense training and I'll give you a one-handed pull-up. Maybe. Maybe it will take a year. Regardless, I have a plan. A serious plan. A do-able plan.

I've been doing pull-ups for a little over two years now. Love 'em! During that time I have gone from being able to do a single very ugly rep to doing uneven pull-ups for multiple reps (one hand on the bar, the other hand on the wrist of the grip hand, and pulling up).

My current plan consists of 110 consecutive workouts, 5 days per week, with a one week rest every 2 weeks. It involves one of those fancy pull-up machines with a bar you can stand on that acts as an adjustable counterweight. You start off doing 6 reps divided among three sets, and add a rep per workout until you hit 15 reps (divided among 5 sets). Then you decrease the counterweight and begin with 6 reps. Repeat until you make it through the lightest counterweight (16 lbs) for 15 reps. At this point, it is time to attempt the one-handed pull-up for a single rep.

I have used this program before to do weighted pull-ups (two handed standard pull-ups, but with a weight belt and extra weight). This program worked really well for me.

This is what my plan looks like. Start where the X is. Today I did a set of 3, a set of 2, and a set of 1 for six reps total for each arm. Just 109 workouts to go. I used 76 lbs of counterweight (the pin goes under plate #14 on the machine). Tomorrow it is 3-2-2 for 7 reps. Work your way down the column until the final workout of 5-5-4-3-2. Whew! Only 100 workouts left! Go to the top of the next column (where the 100 is). Do 3-2-1 with just 70 lbs of counterweight, and work up to 15 reps.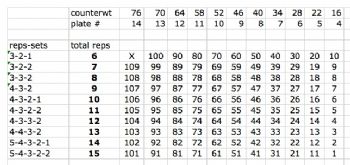 1 2 3 4 5 6 7 8 9 10 11 12 13 14 15 16 Last Page

Get An Email Alert Each Time TPROONEY3 Posts