| | |
| --- | --- |
| | TOURDOCTOR's Recent Blog Entries |




Thursday, January 01, 2009

Happy New Year!

Say goodbye to 2008, say adios to any regrets, and start anew here and now!

You did what was feasible and doable during 2008. Now I need to set some goals and objectives for the new year. I find that if I take the time to identify my goals and objectives . . . remind me of these on a constant basis . . . then I will have a greater likelihood of achieving them. At least I tend to achieve my work goals this way, so I just need to take the time to apply these tactics to my personal life.

Okay, so what do I want to achieve this next year . . . be realistic with these goals and objectives. No pie in the sky type goal setting. Be honest with myself. Some of these were goals in 2008 . . . so it is time to reflect and plan for further success in 2009.

Goals:




Goal 1- Overcome my workaholic behaviors and put my health first! (I do see improvement but I could do better. The key is to prioritize and do the important tasks first. )

Objectives to achieve Goal 1:

A. Return to the use of a daily planner so that I can keep my notes and schedule in one location. Utilize meeting planner pages and project plans to track progress on all the major projects that I am working on this year. Schedule and follow the schedule for my fitness time. Without your health you can not be of any assistance to those that depend on you for work, home, or on SP.

B. Establish an office hour schedule and do not waiver! Stick to the schedule. Block time for lunch and eat it in peace and quiet. No meetings over lunch. Use the timer to ensure that you get up from your desk to go for a 5 minute walk once an hour and drink a full glass of water each hour. Yes, it sounds like I am being very structured but I need to do this for at least a month so it becomes routine. No more sitting at my desk, working via the computer or meeting with students for 8 hours straight.

C. Delegate tasks to the 2 teaching assistants assigned to my classes . . . be specific with their responsibilities, provide deadlines, and empower them to fulfill your expectations to the best of their ability. Meet with them briefly each week via Wimba to ensure that they are on track to fulfill their assigned tasks.

D. Delegate tasks to the graduate research assistants that I fund . . . you pay them to work for you so take full advantage of this valuable resource. Again provide them with assigned tasks, provide deadlines, and then empower them to get the job done. Set up a electronic conference room where we can meet once a week to review progress updates.

E. Say NO to any new requests for classes or work related tasks. Yes, we have had budget cuts and there is an increasing need for extra sections of my popular classes but I am already doing more than other faculty in my department. I must be realistic and learn to say NO NO NO!!!

F. Budget my time on Spark People . . . allow 30 minutes in the morning to Huddle, post messages, and enter my food for breakfast. Set the timer and allow 15 minutes at lunchtime to update with my mid-morning snack and lunch, and 30 minutes after I workout in the evening. Do not sacrifice my own fitness time to manage the SLC Sparkers. Be a great role model as to how one can support others on SP without becoming overwhelmed with the social aspect of SP. Remember SP is a tool to be used to support my journey towards a healthy lifestyle.





Goal 2- Lose sufficient weight to be healthy and avoid organ damage caused by diabetes. (Slowly 1 pound at a time . . . but I am making progress with 30 pounds lost.)

Objectives to achieve Goal 2:

A. Log my food daily - I have become a bit lazy in recording everything I eat. So I need to return to the basics of tracking everything . . . and I mean everything!

B. Drink 10 glasses of water daily. When I fail to drink sufficient water and rely on Diet Coke, I tend to retain fluids and thus gain a pound or two until I return to drinking my quota of water. I need to remember that water flushes the toxins from my body . . . so drink up the elixar of life . . . pure water!

C. Eat 5 Fruits/Veg'ts a Day - This has become easier to accomplish but with the winter weather and our cold climate, it is hard to get fresh fruits and vegetables locally. I so wish I had a greenhouse for fresh vegetables all year long. I need to learn to eat a fruit or vegetable for a snack in the mid-morning and mid-afternoon. Skip the processed 100 calorie packs and rely on Mother Nature in a fruit or vegetable.

D. Sign up and repeat my Biometrics in April to measure the improvement in my health. This will include a visit with the nutritionist to evaluate my diet.





Goal 3-Manage my blood glucose levels within the healthy range on a consistent basis. (I have really improved my readings and have only awakened one day with high glucose levels.)

Objectives to achieve Goal 3:

A. Eat every 4 hours to even out my blood glucose levels. This means that I need to plan 3 meals and 3 snacks each day . . . healthy snacks. This requires that I prepare my food to take to work as there are no healthy alternatives located in our office cafe.

B. Measure and track my blood glucose levels on a regular basis. When I detect an abnormally high level, evaluate my eating habits for the past 24 hours to determine why this occurred.

C. Set alarms on my Body Bugg to alert me to take time to eat. Unfortunately, it has become a long standing habit to skip meals as I work . . . I have ignored my body signals for hunger that I don't even recognize them any more. I just work until I am exhausted. I only tend to notice after I have developed a headache or I am pushed to the edge of screaming then I realize that I have abused my body and it is letting me know. I need to set a time schedule and then do a mental check of my body so I will know what is an early signal of hunger.

D. I need to focus on my eating and taking care to learn to recognize when I am satisfied nutritionally. I have taken my nutrition and my body signals for granted . . . I just need to take a moment before eating to identify how I feel, then again after eating, and to distinquish when I am satisfied versus overly full. Return to the basics of eating for nutrition and good health.

E. Sign up and repeat my Biometrics in April to measure the improvement in my health. This will include a blood glucose and cholesterol test.





Goal 4- Lower my Blood Pressure within a healthy range on a consistent basis.

Objectives to achieve Goal 4:

A. Eliminate stressors in my life . . . manage those I cannot eliminate. I love teaching but I hate the "stuff" that comes with academic life. I need to put these in perspective . . . and focus on the positive! If something stresses me out I need to take time to consider why. Is it really something that I can do anything about? If yes, just take steps to manage it. If no, then just ignore it. Make a mental note of it as an "IMP" issue! IMP stands for It's not My Problem! If I cannot change it then it does not deserve my time or energy. Put it in the IMP file!

B. Clutter is an ongoing problem and stressor in my life. I need to continue to wage a battle with clutter in my life. This will be a forever battle with the paper tiger. I no longer accept paper assignments or assessments in my class and this has gone a long way in eliminating paper. I have eliminated excessive catalogs in the mail. But I need to spend 15 minutes a day to just manage the paper that comes my way. Scan it, file it, and recycle the paper. If I would only take 15 minutes everyday to eliminate paper, it would never pile up around my desk and work area.

C. Eat foods that contribute to a healthy heart and coronary system.

D. Measure my blood pressure once a week to monitor my progress in reducing my blood pressure and managing my stress.

E. Sign up and repeat my Biometrics in April to measure the improvement in my health. This will include measuring my blood pressure and repeating my stress level questionnaire and determine the improvements achieved.





Goal 5- Improve my fitness so I can enjoy an active life.

Objectives to achieve Goal 5:

A. Start each day with 30 minutes on the Wii Fit or Wii Coach.

B. Walk every day to achieve the goal of 10,000 steps a day. If I have not achieved the goal by the time I return home then it is time to get on the treadmill and reach my target. Remember you can walk on the treadmill while you watch television at night!

C. Add in a bit of variety so that you do not get bored! Try a SP video or one of the many fitness DVDs and Videos that I own. Hey, you can even workout with Jillian Michaels Fitness on the Wii. You have invested a fortune in getting fit, now dust them off and use them!





Goal 6-Ability to walk up the mountain from lower campus to my office without becoming out of breath!

Objectives to achieving Goal 6:

A. During the winter, start increasing the incline on the treadmill to challenge your walking on the treadmill similar to climbing the hill from the Marriott Library to HPER North complex. Begin in January with 1 to 2% incline increasing to a 6% incline by March 1st. Start by working at a 50% Target Heart Rate (for me at my age that would be 83 to 95 beats a minute). Then proceed to a heart rate of 140 or an 85% Target Heart Rate.

B. As soon as the snow and ice has disappeared from campus (around March 1st) try walking down to the library and back up the hill at least once a week. Wear my heart rate monitor to measure how challenged I am when I walk it with my young graduate assistants. I need to try and talk as I do it and not stop to catch my breath! If I can do this and stay within my 50 to 85% Target Heart Rate Zone then I have achieved success!

C. By May 1st, I want to be able to walk down and back up the mountain without increasing my heart rate above 124.

D. Sign up and repeat my Biometrics in April to measure the improvement in my health. Include an exercise stress test to determine the health of my heart and measure my risk for coronary arterly disease.





This is my plan for feeling fine in 2009!





Wednesday, December 31, 2008

I started on SP in March 2008 and I have had some success in improving my health. When I first joined SP I must be truthfully I had many more concerns than just being overweight . . . or should I be really honest and state that I am considered to be obese. My health was suffering due to my excessive weight but also because I did not take time for me at all. I am a work alcoholic. . . So how far have I come in the last 9 months?





What is a healthy aspect of your life that you have seen improvements in over the past months, days or year?

*Over the past 9 months I have managed to lose 30 pounds . . . not earth shattering news but I feel very successful in losing 30 pounds over 36 weeks.





Yesterday I pulled on a pair of my good jeans. They almost fell down. If I had wanted to I could have slid them down around my hips like the young teens do these days . . . don't worry, I resisted the urge and changed to a smaller size. Yahoo! A few of the notable accomplishments that have contributed to this sensible weight loss:



I have learned to drink more water . . . at least 10 glasses of water a day on average.



I have decreased my intake of Diet Coke to one 12 ounce can a day at the most. . . Lately, I have discovered that I can drink less than half of the can and toss out the rest. This is a fantastic achievement as I use to think one coke consisted of 48 ounces a day. Thank you SP friends for helping me realize the folly of drinking so much carbonation.











I have rediscovered the joy of eating fruits and vegetables. Previous to SP, my vegetable intake consisted of an occasional salad or a canned vegetable. Now I eat 2 fresh fruits and 3 fresh vegetables a day. It is now winter in my area and fresh produce is a bit more difficult to obtain, but I have been able to achieve my goal of eating 5 fresh fruits and vegetables a day.




I am sleeping better and awake refreshed. I may not sleep through the night due to an aging dog that awakens me for a couple of trips outdoors each night, but a fall to sleep faster and sleep more soundly. I have more energy and seem to handle crisis situations with greater ease since joining SP.

What is an area of your life that you still struggle to improve? What is the barrier to you making significant progress in this area of your life? Why is this important to you to overcome this challenge?






The greatest challenges in my pursuit towards a healthy lifestyle is (1) achieving a work-life balance and (2) getting exercise into my everyday schedule.

*I was making some progress towards achieving a better balance between my job as an university professor, researcher, teacher, mentor, and academic adviser until the state announced a major cut in the higher education budget. Since I have pioneered on-line learning in my department, they have called on me to support additional sections of the on-line courses to help boost the number of students enrolled in my very popular classes. I had been successful in cutting back during the fall semester to just 4 classes. (Most tenure track faculty at my university teaches 1 or 2 courses a semester.) My department is once again asking me to increase my already heavy teaching load. I already teach more classes and students each semester than most tenured faculty teach all year. Even though I taught only 4 classes this fall, I still found myself working 12 to 14 hours a day during the first and last weeks of the semester. This was just to fulfill my responsibilities of grading and advising. I should have delegated more to one of my 2 teaching assistants assigned. One of my teaching assistants works very hard and takes the initiative to manage the class so much so, that I know that the work will be done in a timely manner. The other teaching assistant has other priorities. I found myself grading and responding to issues in her class that should have been done weeks earlier. I must be clear about my expectations and provide a calendar of deadlines that she must follow or at least so I can verify that she is not performing as she should be in the course. I must draw the line in the sand and stand firm . . . it is essential that I carve out time for me each and every day, all year long. I must have the energy to walk and exercise each and every day. I must maintain a sensible balance between fulfilling my work obligations, meeting the needs of my students, and having a healthy personal life. I need to find time for exercise, relaxation, and the pursuit of happiness. I must remember that life is too short to wait for retirement to enjoy life. I need to enjoy life everyday of the year.

What will you strive to incorporate into your daily lifestyle that will help demonstrate progress towards your healthy lifestyle?







I pledge to establish a work-life schedule that incorporates "me" time. First and foremost, I must learn to say NO and repeat NO every time someone makes a special request, particularly to adding new sections of my classes. If someone drops by and needs to chat with me then I need to find a way to ensure that I still fulfill my obligations for improving my health as well as their needs for academic success. Perhaps I should share with my classes that I need their help to ensure that I can better serve them. If I am healthy then I will be able to meet their needs in a timely manner. I need to block time on my calendar for breaks particularly lunch. When it is time to take a lunch break, I need to close the door and relax as I eat my healthy lunch. No more eating my lunch as I meet with students or respond to phone calls and emails. No working when I eat lunch . . . truly take a break. I need to set the alarm on my BodyBugg to alert me to stop working and take a break for lunch.







I pledge to ensure that I take the time to exercise before leaving for work each and every day. I must learn to kick the habit of overworking to the curb. I need to go to bed earlier, arise earlier, and exercise! I need to make time to take short walks throughout the day. Remember, exercise is a great stress reliever. So I will use a small timer at my desk to help me keep my schedule. Once every hour I will get up and take a walk for 5 or 10 minutes. If a student needs to talk to me during a scheduled break, then I will ask them to talk to me as we go for a walk. Since you should be able to walk and talk at the same time, it will be a great way to fit some fitness into my schedule. Maybe I should try starting a walking club among my students . . . "Join Linda for a Chat/Walk!" I love my students and just hate saying that I do not have time so we must find a way to meet their needs as well as mine.







I pledge to be specific regarding the responsibilities of the teaching assistants, and ensure that they complete their assigned duties in a timely manner. I need to prepare a calendar with deadlines and follow-up that they have done the work as scheduled. I need to help them to better understand their role so that they can do their jobs with less stress at the last minute when their own assignments and exams are due. We are an instructional team so we must learn to work as such and share the load.

I pledge to delegate more to the graduate students that I fund through my research and consulting work. I need to define exactly what is expected of them and rely on them to do the job instead of me doing it all. I need to trust in them to do the jobs assigned and focus on the tasks that only I can perform. I must learn to communicate these expectations in advance and provide the knowledge to empower them to do the work assigned.







Wow . . . that felt great taking the time to write out . . . although it was longer than I had anticipated. But it feels good to take a few moments to consider how far I have come . . . but the journey is not over. A healthy lifestyle is not a destination . . . it is ongoing journey. Just like someone hiking in the wilderness needs to take time occasionally to take out their map and compass (or GPS unit) to see where they are and where they are going, taking a moment to reflect does the same thing for us when pioneering a new trail in our life. I am standing on a wonderful peak on this the last day of 2008. I see before me many more mountains to climb. I must continue the journey.





Sunday, November 09, 2008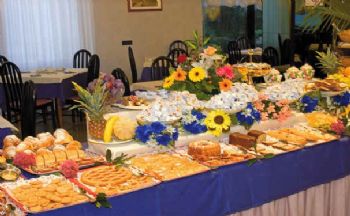 Today we ventured to a local restaurant for breakfast. It features a buffet with everything you could ever think of for breakfast and much more! There is a wonderful selection of fresh fruits and salad, in addition to the typical breakfast foods (cereals, eggs, pancakes, waffles, biscuits, gravy, sausage, and bacon). The tempting options include a variety of pancakes, waffles, sauces, deserts and baked items. So why would we ever venture to a breakfast buffet? Perhaps it is a subconscious desire to be able to dine out like typical people . . . or maybe it is an outward demonstration that I can control what I eat . . . I am in control of my behavior at a buffet! A buffet does not mean I have to over-indulge.

I do have a strategy that I follow in order to overcome the typical temptations and common behaviors seen at a buffet:

Step 1: I walk the length of the buffet as I scan the variety of options before beginning my first visit to the buffet. I identify 2 or 3 items that I would really desire but might not be the healthiest choices and 3 to 4 healthy items that I enjoy.

Step 2: Portion Control is essential. Remember that you do not need to treat this first trip as your one and only trip to the buffet. I tend to avoid the omelet line as the chef tends to make each omelet large enough to feed an entire family. It seems it is understood that people come to a buffet to overeat so provide extra large servings. Does it really need to be an orgy? So often when I see people at buffets, their plates are piled high and food overlaps the edges. They often act like the restaurant limits the number of trips to the buffet line, even if they bring you multiple clean plates. There is no need to try and bring all the food back to the table to dive in and consume in one trip. So I practice portion control. I try to be conservative in the amount I take of each food selected. It is important that I do not place more than one serving on my plate at a time. Yes, only 1 serving at a time even if it is my all time favorite dish. I remind myself that I can go back for a second helping if I am still hungry later. The buffet will not close nor do they run out of food.

Step 3: Maintain a 2 to 1 ratio of healthy choices to less than healthy choices. As I approach the buffet with my plate in hand I start with 2 items that are very healthy choices and add one of the desired but less healthy items. I try to keep a 2 to 1 ratio of healthy foods to unhealthy foods. As I serve the food on my plate I remember portion control. Even with breakfast I try to start with salad, fresh fruit, or simple scrambled eggs, plain mushrooms, onions, and green peppers. It is important to keep healthy items healthy by avoiding heavy sauces.

Step 4: Eat slowly and drink an entire glass of water before returning to the buffet. Pause and chat with others at your table. Don't rush right back to the buffet as soon as you have cleared your plate. Relax and enjoy the occasion. There is no competition about who can get back to the buffet first. Allow some time to pass in order for your stomach to send a signal to your brain that you are feeling full and satisfied. Remember to treat the outing as a relaxing and refreshing experience. Take time to enjoy the moment.

Step 5: It is okay to leave some food on your plate. When I was small my mother always told me to eat all my food . . . There were starving children in China that would appreciate the food I was about to waste. Now as an adult I know this was a ploy to get me to eat my vegetables, but internally I still have a difficult time "wasting" food. But if I pick up something that is not as tasty, too salty, too tough, or just not as satisfying then I do not eat it! It is simple. I do not have to clean my plate. Now I do not intentionally take food that I will not eat, nor do I force myself to eat food that I do not like, want or need . . . particularly after I am full.

This morning I could not help but observe two families with very different approaches to the supervision of their children. The first family split up as they each "attacked the buffet." The children each ventured forth on their own filling their plates high with a variety of items. One young boy of maybe 7 or 8 returned with a plate piled high with donuts, French fries, and tamales. He began devouring the French fries and donuts as his father sat next to him stuffing his mouth with food from his own overflowing plate of unhealthy options. The second family settled at their table with the father supervising the children while the mother picked up a plate and headed to the buffet. The mother first obtained a plate of fruit, eggs, ham, and toast. She returned to the table, where she cut up the items, placed half of the food on a second plate, and then gave the two plates to her children. Only then did the mother return for a plate of food for herself. I marveled at the wisdom of the second mother as she was teaching them to eat healthy and reasonably.

Lesson Learned: We should all remember that we are role models for our children in how we eat at these buffets. We do not need to overeat just because there is an endless supply of food on a buffet. Personally speaking, I feel triumphant in being able to manage my behavior in the presence of a buffet. This is a tremendous step towards building healthy habits and living a healthy lifestyle.





1 2 3 4 5 6 7 8 9 10 11 12 Last Page

Get An Email Alert Each Time TOURDOCTOR Posts