| | |
| --- | --- |
| | TOOTHFUL99's Recent Blog Entries |




Thursday, April 21, 2011
827.6 miles down, 172.4 to go!!

Getting closer!!

Today, was a definite Urban Ride through Chattanooga. We started on the Northshore, crossed the Tennessee River on the Market Street Bridge, circled around through downtown, went through some urban neighborhoods, tested out some new trails and then too the Riverwalk back to downtown. It was a very slow paced ride, but it was so nice to play on our bikes.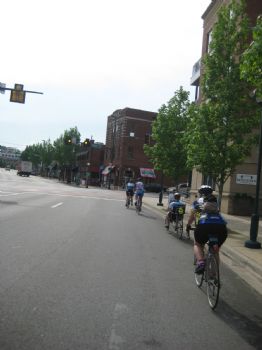 This is the Northshore district in Chattanooga. There are trendy little boutiques and coffee shops located here. A lot of college kids hang out around here.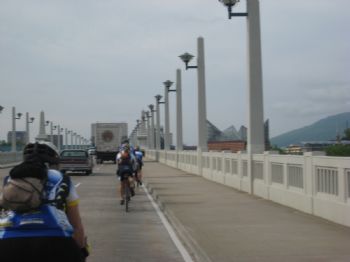 Crossing the Market Street Bridge. The odd shaped building on the right is the Tennessee Aquarium. Lookout Mountain can also be seen in the distance.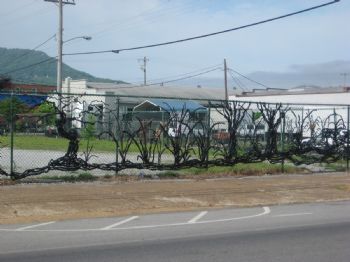 This fence caught my eye. I thought it had some iron work on it, but those tree designs are made with BICYCLE TUBES! How creative!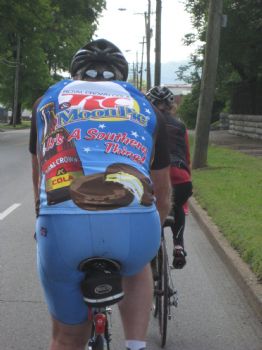 One of my favorite jerseys. I have to find one for myself. "RC Cola and Moon Pies, It's a southern thing!"




We tried out this new section of trail near the South Chickamauga Creek. Very nice, but we had a couple of crashes. One of the elderly gentlemen who rides with us is having difficulty. He crashed into a pole first. Then, he wiped out on some mud. I swear he's made of rubber, though! With all the times he falls, he never breaks anything!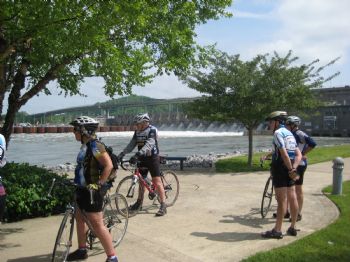 Resting at the Chickamauga Dam on the Tennessee River.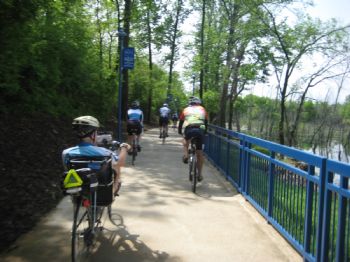 The Riverwalk is a trail that goes 7 miles from the Dam to downtown. One of the flattest rides in Chattanooga!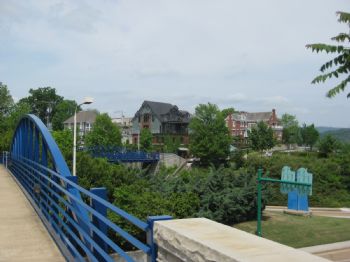 Arriving at the Bluff View Art District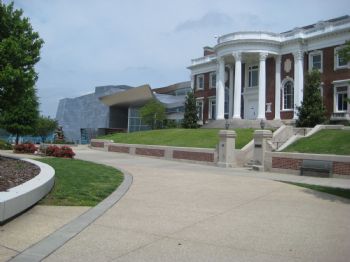 The Hunter Art Museum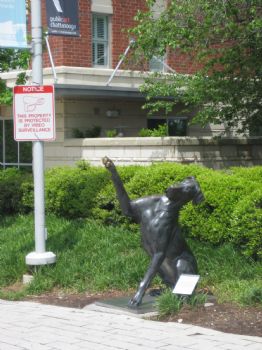 There are a lot of sculptures in this section of town. This is one of my favorites. A dog that doesn't chase!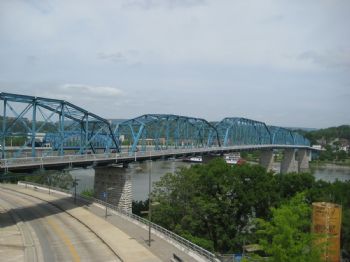 A trip across the Walnut Street (a.k.a. the Pedestrian) Bridge brought us back to our cars.

It was another beautiful day to ride!







Wednesday, April 20, 2011
804 miles down, 196 to go!!

I wasn't sure if I was going to get a ride in today. The weather forecast looked pretty ominous. I woke up to a gully washer of a thunderstorm. It actually did pass and I did get a ride in. Yeah!!!

My husband was given an old bike from a friend about a year ago and still had not tried it out. I think, watching us tour last week, might have sparked something. He got that bike out and wanted to "make sure it was all adjusted." Now, he's a tall guy and the bike could be a little larger, but maybe it will work with a few adjustments.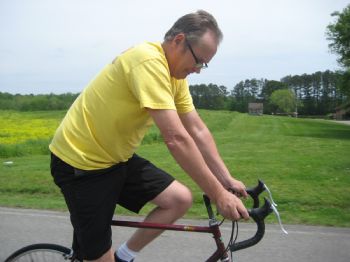 I know, I know...no helmet. One step at a time. At least he's out there!

He rode 6 miles with me around the neighborhood. Then, I dropped him off and kept riding. I made up today's ride as I pedaled along. I climbed a few ridges and tried out a new road to see where it came out. These are my favorite kind of rides.

It was humid after the rain. The best part of the ride was the smell. It was a wet, green smell, along with the lingering scent of flowers in the air and piles of sweet pine needles along the road. The birds were like a symphony. If you've never heard a Mockingbird, you should google the song. They sit high in a tree or on a telephone pole and, in a loud, clear voice sing a continuous string of songs copied from all of the local birds. It's definitely a treat to hear!

Here are some highlight photos: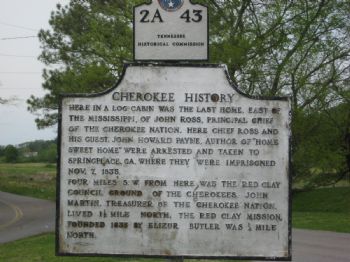 Here is a little Cherokee Indian history from about 1/2 mile from my house.




Things that make you go, "Hmmm..."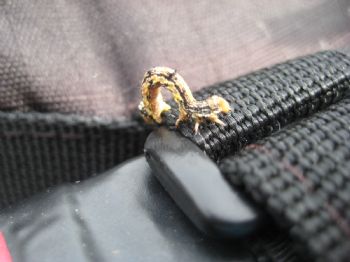 A freeloader on my handlebars.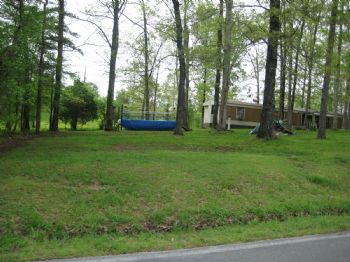 I would love to know the story behind this wrestling ring in their yard.

Every ride is an adventure that leads me closer to my goal. What will tomorrow bring?





Tuesday, April 19, 2011
775.8 miles down, 224.2 to go!!

Tonight, I planned on doing the Tuesday Night Fun Ride a.k.a. the "Windy Dick Ride." I was concerned about not getting enough miles for the day, so I showed up early and rode 9 1/2 miles before everyone got there.

Going out was easy, with a strong tailwind. Coming back was a different story. It has really been a windy spring! Oh, well, it makes me stronger...

We had a group of about 10 people. I was the only female. I thought it was funny when we passed a house with about 8 dogs. I had gotten separated from the group and had to finesse my way past them. Afterward, one of the guys kept apologizing to me for leaving me because I "could have been hurt." Bah! I told him I've done this a long time, I'm not afraid of dogs and I could charm a Rottweiler! I'm not one of those girls who needs protecting!

Here are some highlights: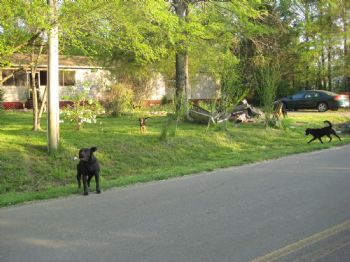 You can only see 4 dogs in this picture. The rest had backed off. The black one in the foreground gave me the most grief.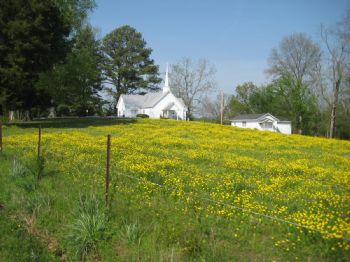 This was just a pretty site.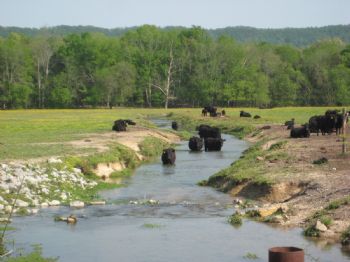 How do you keep your milk cold in the heat? This is how Tennessee cows do it!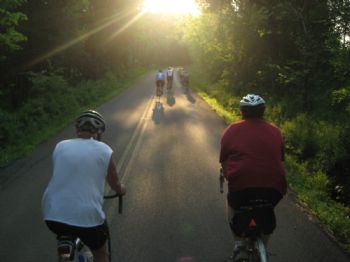 Rolling with the guys

Tomorrow, there are strong storms headed our way. My backyard already looks like a swamp with all the standing water! Getting a ride in might be iffy, but I'll see what I can do. It might just be a short one in between raindrops.

Hope all of you northerners stay warm and all you southerners stay dry!!





First Page
1
2
3
4
5
6
7
8
9
10 11 12 13 14 15 16 17 18 19 Last Page

Get An Email Alert Each Time TOOTHFUL99 Posts