| | |
| --- | --- |
| | TITIUU's Recent Blog Entries |


Sunday, November 11, 2012
It's Father's Day in Finland today, so happy day to all you dads!

I'm a bit sad, or not exactly sad but a bit... I don't know. My husband is too, so we almost argued this morning, wow, way to go me and way to go us. Now I sat down for a while to think about it.

My mom and dad divorced 9 years ago. My dad moved to other town and we haven't seen each other a lot. Actually, I haven't seen him at all this year, and now that I think of it, not last year neither. It's not that we are mad at each other or anything, not at all, it's just... Speaking on phone doesn't feel comfortable and as we live far away from each other, meeting isn't easy either. We are becoming strangers to each other? I haven't even send him a message and it's father's day, I feel a bit ashamed. I think I'll take a photo of our kids and send it to him, like I did last year. He's very artistic and made a drawing of father's day photo last year and send it to us as Christmas present, it's on our dining room wall. Kids are holding a sign "Happy Father's Day Grandpa" and in drawing he changed the text "2011".



So that's my dad-story, that's why I always feel a bit strange when it's Father's Day.. I guess I kind of miss my dad?

And my husband then. His dad passed away 6 years ago, it was really unexpected and very traumatic to my husband. It was close to Father's Day when my father in law died, so this time of year is quite difficult to my husband. He's acting as he's not thinking of it and being strong, but I can tell he's a bit sad today.

But let's think about happier things! We celebrated Father's Day anyway - not because of our own dads, but my husband. He's a dad, yay him, and I made him breakfast with our kids. Kids gave him presents they had made themselves and cards. Our youngest one hade made a BIG card at school, and the present was in small pocket in the card: little note telling what dad will get as present. The note said: "I will go with you to library and we go together by bike". My husband was happy - going to library is a weekly thing he does together with kids, seems that kids like it and think it's a great thing to do!

Soon I'm off to work, evening shift, so one more cup of coffee, hanging with family and then to work!

Happy Father's Day!




Thursday, June 14, 2012
I'm not only back on track with my training but also with Flying with FlyLady. I've started to track my daily chores; 15 minutes decluttering, Swish & Swipe, Mount Washmore and making bed. And: putting on my lace-up shoes!

I love FlyLady-system, I'm not organized person and our house can become so messy I feel I can't cope with all. With FlyLady I get "mental tools" how to cope with all, most importantly doing everything bit by bit, babysteps, not going on / off like hurricane, doing all the house at once and then feeling too overwhelmed to do anything for long time.

Today I took photo of my lace-up shoes, they're red, of course. I love red colour!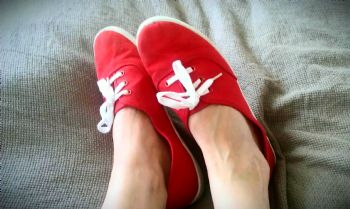 If you don't know FlyLady, visit her page! I'm not paid to advertise it or anything, I just want to share this thing, as it has helped me a lot. Even my husband says FlyLady has done miracles to me, he says our house is like different house when I'm Flying and when I'm not. :-)
www.flylady.net/





Monday, June 11, 2012
Today is really an "up and go" day... I planned to go to bootcamp-training this morning at my gym, at 9.30 am. Well, I did, but not like I planned. I got up and wondered why alarm clock hadn't woken me. Reason: I didn't put it on. Plus: it was already 9.15. am, fifteen minutes to get to my bootcamp-lesson...

I never knew I could be so quick! Jumped off bed, put my training clothes on and took training bag (I always keep it ready packed on entry). Then started my scooter and drove 3 kilometers to gym. I planned to go by bike, but didn't have time for that today. Guess what? I was only 2 minutes late, and others haven't started yet!

So todays exercise was Bootcamp at our gym, it's 45 minutes and really hard! Lots of jumping and running in sprints + strength training with kettlebells. In the end we do jumps that almost got me... From lying down face towards floor we get up in push-up-position, jump into squat, jump high in the air, back to squat, jump to push-up-position, back to lie in ground, back to push-up-position... That is done four sets, 20 reps, then 16 reps, then 12 reps and then 8 reps. I felt so out of breath and tired in the end of each set, but I did it! We were only 3 in class this morning, and trainer was pushing us "you can do it, wow, look at that, you'll make it!" I feel so happy about myself now. Go me!

Then I got back home, kids and I have had a nice day. I am having day off, tomorrow back to work. We did some decluttering in our porch / entry / hallway, mainly concentrating on shoes. There's a total shoe-chaos in our entry, or actually there WAS. Now we put away shoes that are too small or broken and arranged the shoes that were left so that no-one falls over because of shoes lying around. Yay, us! I did find some shoes I don't remember owning, so all this decluttering was really rewarding!

Now it's 3 pm. in the afternoon, boys are doing Fröbelin Palikat -dvd and daughter is at her friends place, they have film club, they write and make their own short movies. Fröbelin Palikat, what's that? Well, that's Finnish band playing music for children, especially songs with coreography that they do and kids (and parents) follow. It's fun to do with kids and if you follow the songs for whole dvds (20-25 songs), it's really an exercise too!




Here's link to one of their older songs, funny one, named "gymnastic song". It's one of our kids (and my) favourites. I dare you to do it, too!

www.youtube.com/watch?v=DaKqFOFzpeY

And you can learn some Finnish with that song:
pää - head
olkapäät - shoulders
peppu - butt
polvet - knees
varpaat - toes

silmät - eyes
korvat - ears
vatsaa taputa - tap your tummy







Sunday, June 10, 2012
Oh my, my last entry is from October 2010.



I am getting back on track and doing quite fine, but there is something that's missing. Maybe it's Sparkpeople.com.

I am exercising again, quite regurarly, but I need this kind of community. I feel more accountable for what I'm doing when I'm in social community where I can write about my succeeding and failures, go for my goals and follow my streaks. I succeeded back in 2009-2010 with SparkPeople, so I will do it so now again!

I have several goals, in nutshell
- 10 kilograms weight loss (about 20 pounds)
- -12,5 centimeters from waist (92,5 cm -> 80 cm)
- training regurarly (June 2012 goal is: 10 minutes every day, gym 2x week)
- eating well, skipping trash food and remembering those veggies and fruit

That's it. I'm going to make it, just watch me do it!







Thursday, October 14, 2010
My exercise yesterday, bootcamp day 2:
SP video for day 2
10 minutes cardio from 10 minute solution: Belly, Butt And Thigh Blaster -dvd
disc golf (walking and throwing frisbee discs) 90 minutes

My exercise today, bootcamp day 3:
SP video for day 32
10 minutes cardio from 10 minute solution: Ultimate Bootcamp -dvd
disc golf (walking and throwing frisbee discs) 60 minutes

Tomorrow I'll do SP video for day 3, cardio from dvd and... sleep. I'm starting night shifts tomorrow, and this time I WILL exercise every day. It's nightshifts when I feel too lazy to do anything, I just eat, sleep and work. But not this time!



1 2 3 4 5 6 7 8 9 10 11 12 13 Last Page

Get An Email Alert Each Time TITIUU Posts