| | |
| --- | --- |
| | TINKERBELL200's Recent Blog Entries |


Tuesday, March 12, 2013
My 1st grandchild Julia was born on March the 5th @ 1:25 pm weighing in @ 8 lbs 13 oz. and 21 inches long. Her and her Mom were in labor for a mere 30 hours so lots of prayer has gone up over this child already. She is such a blessing and wonderful addition to our family. She is such a beauty with her light hair and dark eyes. She looks like her Mommy and Daddy. I have some better pics on my phone but can't figure out how to get them in the computer. When I do I'll post them too! We are so happy she finally arrived happy and healthy! So is her Mom and Dad! Welcome our dear Julia! I'm sure you are going to change our lives in a good way! We love you!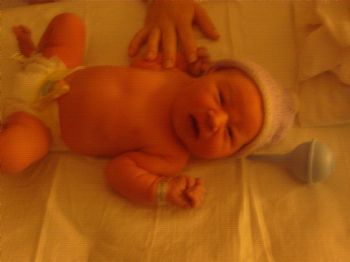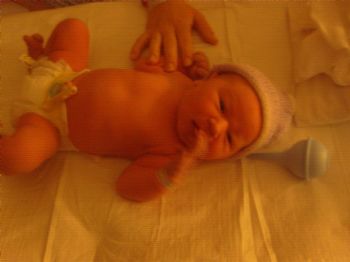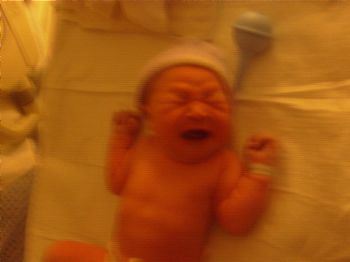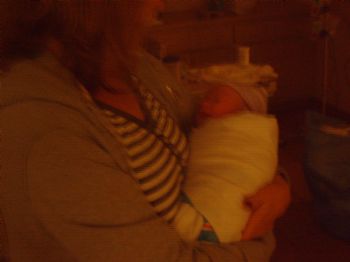 Monday, February 27, 2012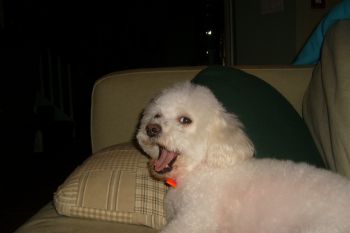 Just wanted to share a few pictures of the new addition to our family Cassie. We have been checking the local shelters in town for another dog as our dog seems so lonely when our son and his wife come for the weekend with their dog and go home, Sidney moaps around for days. He is 12 yrs old. We have had him since he was 2. I must say he is still warming up to Cassie and probably wondering when she is going home!

. Typical reaction for a dog that has been the only one for 10 yrs. He was on his way back to the pound we we took him in. I'm proud of him though as he has been more than a gentleman! The other reason is we just want another dog, because we love the little bundles of fur. We have fostered dogs displaced by hurricanes or moving out of the country before, but they never seemed like they were suppose to stay. We finally gave up and said when the right one comes along we will get her.

Cassie came to us by a divine appointment. I believe we were meant to have this sweet little bundle of joy! She is very loveable, friendly, and loves kids. We were just in the right place at the right time and were blessed by being there with her! She is almost 6 yrs old. I call her a pup, because she acts like one. She has a cute little attitude, and a warm personality.

Cassie has got me back into exercising more regularly as she can't be trusted off the leash in the backyard, because she bolts! Therefore, we took 4 walks yesterday at least! She's good for my program, because I leaning towards being a couch potato again, from it being so busy at work! I thank God for Cassie!

So I just wanted to share a few photo's with my Sparkfriends and introduce Cassie!




Well, time to go walk again! Happy trails and tails to you my friends!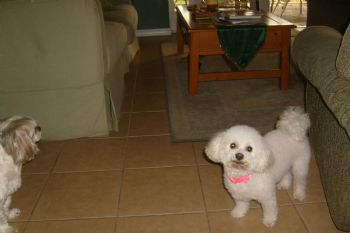 Saturday, October 16, 2010
Well, they didn't win their Homecoming, but my daughter said they had a lot of fun at the game. Being on the swim team they have to work the concession stands for the football games. Therefore they get to go to all the games.

Tonight is the dance and I just wanted to post some of the pics as the kids all met up at our home to take pictures. Here they are.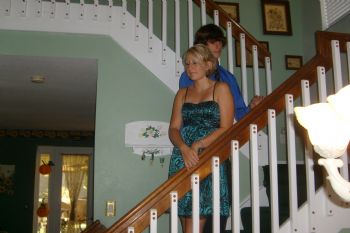 Janelle and Charlie


Charlie, Janelle, Mark, Malorie, Rafa, and Alexis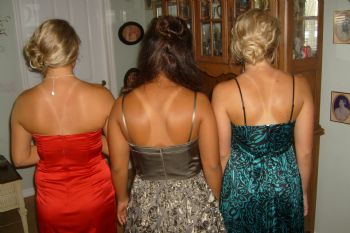 The swimmers back tan on Malorie, Janelle and Alexis! LOL!


Malorie, Mark, Janelle, Charlie, Alexis and Rafa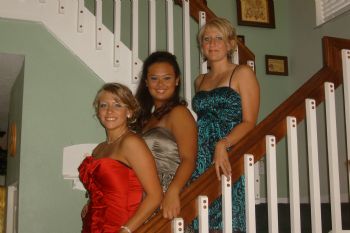 The girls waiting for their dates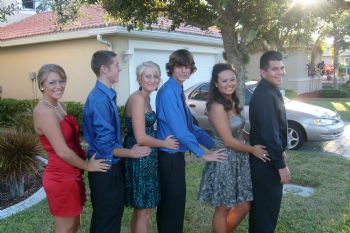 Are you ready for the conga??

This will be a safe a fun time for them all to remember! What joy these kids have brought to our lives! Much love my children.











Saturday, October 16, 2010
Our baby daughter who is 17, and in her last year of High School, belongs to the swim team at Cypress Lake High School. This is also where I went to school, as well as my son Jeff.

She joined the swim team last year, and has so enjoyed it. What a great bunch of friends she has made as well as her current boyfriend. She has trimmed down about 2 sizes, as I believe her last dress she bought was a 5. Swimming is such good exercise. I need to get with the program and get back into it myself. It really tones the whole body.

My daughter is currently going to the state college in town, for her last year of High School, but is still going to the HS for her sports and clubs. She just loves it. They did their last 2 meets, which they won this last week. She is kind of sad. This year has gone by so fast for all of us. They just have Finals and Districts left. Go Cypress Lake!!!!

I'm so happy she joined the team, as it has made her healthier, and caused her to make such good friends. We love them all! They are a great bunch of kids, with goals and dreams in their hearts!

Congrats to the team!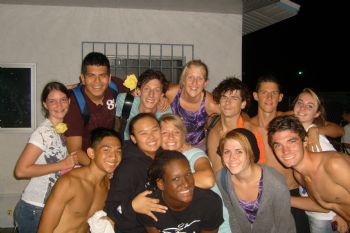 Cypress Lake Swim Team 2010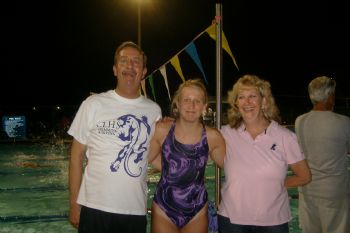 My DH and I with Janelle at her meet.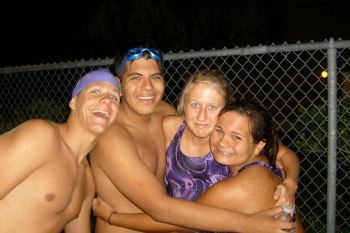 Charlie, Rafa, Janelle and Tori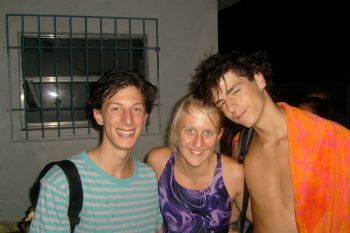 Charlie Janelle and Chet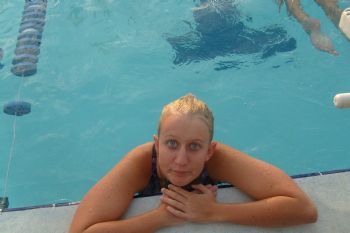 Janelle after her meet





Saturday, October 16, 2010
This is the story of Jeffery Alan Carstens and Katie Jane Taylor. They met about 3 years ago at work, Borders and Books and Katie was Jeff's boss. I remember my son telling me Katie was the sweetest girl he had ever met. I knew then that she was the "ONE"! Although I believe she had to fire him! LOL!

Last October they moved to Columbus Ohio as my son got a job there. This not only broke my heart, but Katie's Mom too. We both have always had them close to us and they were both such a joy in our lives. Katie loves the band U2, so in the midst of moving they stopped in Atlanta, where during the concert, when they were playing the song," I still haven't found what I'm looking for," my son got down on one knee, and proposed, telling Katie, he had found exactly what he was looking for. By the way my son hates U2, but it is Katie's favorite band! She accepted. Such a little romantic, my son is. He had the ring for 7 months and kept it a secret from all of us! So they have been planning the wedding for a year.

Last Saturday they became man and wife. They are so in love. It is awesome, and now we have another wonderful daughter and Mary and Bill have a wonderful new son! They wrote their own vows and got married here where we live on Ft. Myers Beach, Fl. This is not only where I grew up, but them as well. The ceremony was beautiful as well as the reception alot of fun. They then went to San Francisco for their honeymoon, as they know only too well about hurricane season in Florida and the Carribean!

Both families are so happy that our children found each other and meshed into one big happy family!

Congratulations, Jeff and Katie! You both have so enriched our lives! By the way we already have a granddaughter. Her name is Lucy and she is a mini boxer! LOL!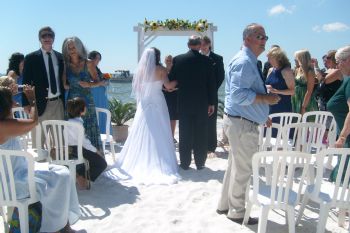 The Wedding on the Beach
.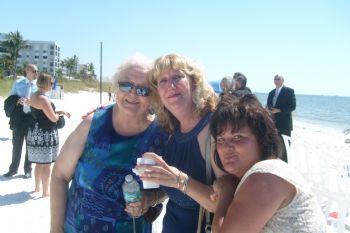 My MIL Dorothy, Me and my SIL Mickie
.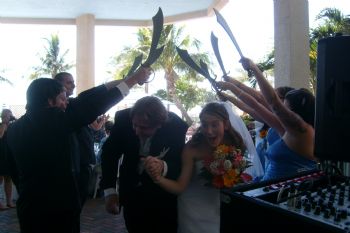 The Wedding Party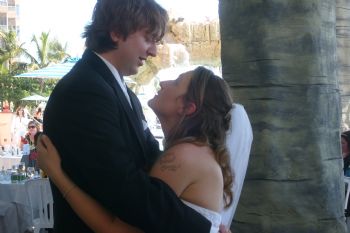 Jeff and Katie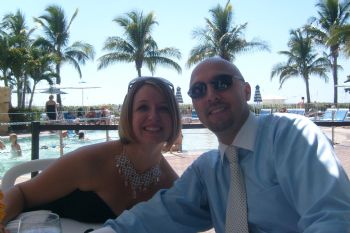 Jessica and Tim our oldest daughter due to be married to Tim April 16, 2011.



The Wedding Party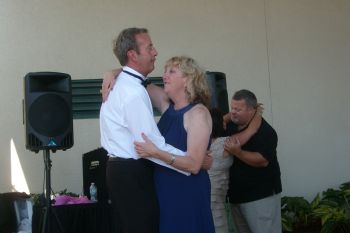 The DH and I dancing. He was their DJ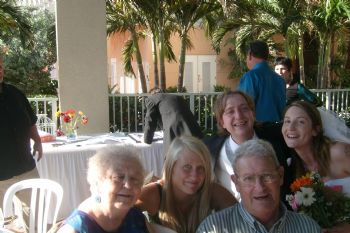 The kids with Grandma and Grandpa

Hope you all enjoyed the pictures, and the blog! We sure enjoyed the wedding!



Lynne



1 2 3 Last Page

Get An Email Alert Each Time TINKERBELL200 Posts