| | |
| --- | --- |
| | TINIERTINA's Recent Blog Entries |


Sunday, June 22, 2014
This entry goes out to an old-school gambling haunt of my late Aunt. And I used to tag along with her on her multi-day, comped jaunts to Atlantic City. Until about 6 years ago. Just before I had gotten my job, which lasted - this, the second go-round with the same company - just under 6 years.

But it is not dedicated to them. I do not hate gambling is that I used to like to play "21" - a lot! - in its mobile game format. No money to buy the game (it was the cartoonish, dumbphone version) and no cash money to play it. [It's no Farmville sort of setup].

I had thought I was going to get the $30 back from my day trip passage cost, and go a-browing and a-eating (at a fancy place) down the Boardwalk, at The Pier Shops.

No such arrangement.

Now, I did the expected thing, and when and only when I was ready (after having a tall cup of Starbucks and a fruit salad that I doctored up with carb-slowing-down ingredients I'd smuggled in such as nuts and seeds and cranberries and less than a small packet of honey--there'd been no tasty protein-rich snacks to be had!)--and then a walk as fast as I could go with a pull-cart in tow (with my diseased feet) ... and I went to work.

I didn't know what I was doing, and I found out later that I forfeited the money I put into the slot machine and walked away from it. I went to security, and in so many words they'd told me I was SOL on that one.

I went outside the casino and FUMED about this for awhile. Got on the cell phone, and was talked down. "We know you're not a gambler. Just walk away from this!"

I said, I gamble every day, living in New York City, trying to live on what I earn; (now newly laid off) and trying to piece together anything resembling a steady wage! I gamble every day!

I was told that what I just described is NOT gambling.

And, being hypereducated in the economic sciences, I know--deep down--that what was just told to me is absolutely true. It is a market -- which could be construed as a gaming system of sorts (but that is a theoretical construct and not the actual practice in brick-and-mortar Main Street not Wall Street - reality...) but NOT THE SAME THING!

I went back into the casino and ranted and raved and nearly threatened to make a scene... to go to Public Relations! Anything!

I am a Type 2 diabetic (though physically I don't look the "stereotype"), and looking back, I guess I'd figured my early-afternoon snack a little wrong ... damn! Doesn't take much to get me on the mild sugar high ...

It turns out that two managers--one by one--helped me out. Restored my coupon (and ensured business elsewhere in the hotel). If I were PRO-gambling (as opposed to non-hating of gambling--and a fan of that "21" video game), I would have written a letter to the head honcho of the casino. I told one of the security managers that.

He said every day, they get one or two newbies. They used to get people who would pocket the money when it had been in cash or converted chips, and not in non-redeemable for cash, voucher. I had been one of them. At the rate I gamble, I would have had to live at that one slot machine for 4 months. with just a $30 stake, that I'd paid for with my passage.

Anyway to this casino - and apologies to any recovering compulsive gamblers out there: "You run a fine establishment."

But you are not getting a letter, review or testimonial from me.




Wednesday, June 11, 2014
I cannot believe I'm reading this. I really heart this. This is this nutritionista's wet dream. This is this so-over-commercialized-holierthanthou-yoga practioner's wet dream - squared! This is this well-managed 59 year old diabetic sufferer (raised in da Bronx, myself) wet dream to the 10th power!!

www.xojane.com/issues/i-am-a-low-car
ber-and-i-will-kill-animals-to-get-thin

I quote here:

"I wished that my metabolism wasn't so anti-veggie. I wanted to be good to animals. But try losing weight in the South Bronx, where "vegan" food like rice and beans give you big butts and no Sir-Mix-A-Lot. Try being good when you fear type-2 diabetes."

My only provisos here, is that you cannot eat a whole truckload of animal protein AT ALL, you cannot eat too many KCal per day AT ALL, and you don't always avoid sugar or sugar products when low-carbing, in my world (I don't do Atkins).

It is only recently, that I started even following the American Diabetic Association guidelines at all. They don't know the half of the supplementation I feel I must take, the only kinds of exercise that (counterintuitively) work for me against this diabetic wasting syndrome I have suffered with for the longest time since diagnosis nearly 17 months ago, nor how frequently I could get away with eating, nor that I recently found out that I have to severely taper off my coffee consumption ...

I'd been chasing the American Association of Endocrinologists' guidelines (putting an Alzheimer-fearing spin on them, personally)

Every case is different.







Monday, May 19, 2014
Yup. I looked at the latest Yoga Journal special Yoga for Weight Loss.

And, even after three years, even after the backlash against commercialized yoga (which I had next to nothing to do with, personally) ... one Dana Edison Santas still maintains that power yoga is not effective for those greater than 20 pounds "overweight" ...

Well, I guess she must then be talking about the yoga teacher. Being around less athletic people who are greater than 20 pounds overweight may make the TEACHER less comfortable. But depending upon temperament and discernment, I should think that a paying student in a power yoga class--which defaults to early-intermediate level at most (the teachers have been instructed to teach to the "high middle" in ability), can have some idea as to how to keep themselves safe and/or that student/paying customer (notice... I did not use the word "aspirant") is not looking for an excuse for a lawsuit nor to walk out of the class past the midpoint and still try to get the class for free ...

Particularly, if they have passed the invisible velvet-rope wherein the studio owner would try to dissuade the student first, from taking the class (without losing their "religion"). Even in a non-power-yoga class ...

It happens.

Thank you Dana, for reminding me why I left power yoga.

If I were half my current age, and the same size I am now ... I might still have ventured into power yoga. And made the teacher very uncomfortable.

Because of temperament.

In a weird way, undiagnosed insulin resistance symptoms had helped me actually enjoy my first (and last) few power yoga sessions that I ever took (live - I certainly enjoyed power yoga to a download, video or CD). I stopped doing the jumpbacks because of wildly bleeding callus (beauty treatment gone wrong) ... Milding it down certainly opened up vistas of great enlightenment feeling for me ...

Yup, then at 40 pounds heavier than now (I'm actually kinda underweight now), they'd tried to dissuade me as well. People who knew me, knew my story, and were not suspicious.

Thank you ... DANA ...

Way to go (NOT) for continuing to reinforce stereotypes, Yoga Journal ...





Sunday, April 13, 2014



I just LOVE Thought Catalog (and its cuter cousin XO Jane Issues and IHTM) ... Could read them all day long.

These are Gen Whiners with enviable, upper middle class family backgrounds, for the most part and/or the (obviously upper working class at best) brats I'd never had.

It is my threat against implementing SparkPeople as well as I could.

All rolled up with the new Page Six (or what society pages used to be) ...

I save on paper this way ...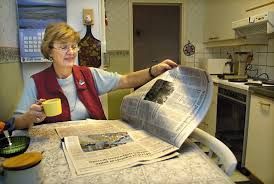 Wednesday, April 09, 2014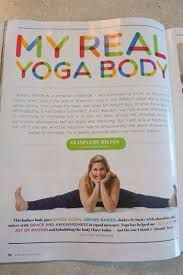 It is EASY to feel that Athleta's clothing is marketed to a
certain class of women. I have practiced yoga regularly for 7
years, am a perennial advanced beginner. AANNDD I am a middle-aged
pushing-60 woman, who has been loving Athleta's perceived-by-me
age-diversity until now ...

Part of being young(er) is knowing you have a wide-open window to
play around inside and outside of ... for just about everything: jobs, hireability, household situations, fashion, exercise, health maintenance ... everything!

Two words: TIMES SQUARE

Did not think I might be in the same position again same time this year ... but I was very recently laid off and the job market is not so good for me ...

I am referring to the Solstice Celebration that takes place June 21, 2014 (this year it's a SATURDAY, not a workday in the kind of jobs I've held, for added irony at its best!) at
the summer Solstice in Times Square, New York City. Yoga classes (no pilates, no bootcamp, no calisthenics/cardio classes despite the commercialized yoga "boom" having finally passed) of 4,000 strong apiece - right in the middle of Times Square, all day from right after dawn and into the darkness of evening ...

I went last year only because, very temporarily, my work hours had
been halved (due to business conditions; and totally decreed by my
then-boss) - just for a two week period... ! I'd had THAT much of a
daily commute to my otherwise full time job for nearly 6 years; and
this solstice celebration takes place on a workday ...

My issue may be Athleta, one of the sponsors ...

Finally seeing the new flagship Athleta store at Flatiron, NYC is
also seeming to be just a slightly friendlier rendition of the Lululemon Athletica just down the street ...

The other Athleta stores in this city are just not like that ... but that is one reason why Lululemon suddenly dropped like a rock from the New York City yoga lexicon (amongst women into yoga
fashion).

I feel the same way about Mantra Yoga + Health Magazine, published by the same people who publish Origin magazine, and readily available at Whole Foods Market, where I'd bought some wonderful dark blonde K cups for my coffee (I open one up and pour out its perfectly pre-measured contents into my Freiling pour-over filter. Magic!) and pitifully few other things ...

I'd just left the magazine on the Whole Foods rack. Kicking myself that I had not seen earlier print-only issues, when they may have been first feeling their way ... and could now offer no fairer assessment.

Mantra magazine is a little too rich for my blood (print version) ... finally had held a copy in my hot little hands ...

It is probably great in a locality that does not have so many freebie LOHAS (lifestyle of health and sustainability) publications ... New York City has green, eco-friendly, alternative, health-conscious, yoga-related FREE and FREQUENT publications and catalogues up the ying-yang!! Even a Queens-only such publication. In addition to having sections in various Brooklyn-only/mostly freebie and widely available print publications ....

It was advertisement after advertisement for commercialized yoga. A case history or two thrown in ...

No hints or suggestions for the primarily home yoga practitioner. All right, no retreat advertisements either. But lack of retreat advertisements still does not make a downmarket mag that the vast majority could relate to, except in their dreams.

Mantra magazine has comments/capsules and website links from yoga "personalities" (i.e., up and coming but mostly established "yoga teachers")

I'm still very much entrenched in commercialized yoga, if I could shell out for J. Brown's video ($25 U.S.D.) the other week ... so you could imagine how that magazine must hit me.

A frequent yoga practitioner just to an expensive video (amongst assorted do-it-yourself sequences as well) is NOT the same as this possible target Market:

This Mantra magazine seems definitely for the upscale/hip, live-class attendee-cum-hipster/musician type ... or someone with a large coffee table (REAL suburbs, not where I live ...)

OMG, did I say hipster twice?

Origin for the win ... this Mantra may not last ... No wonder Yoga
Journal still seems to be going strong. Not the threat to Yoga
Journal that Mantra (and its publisher, Maranda Pleasant) had promised it to be ... at least ORIGIN is a LOT prettier, photographically, and it purports to have some social
consciousness, which appeals to highly educated-if-working-poor me ... in the exact same way that UTNE Reader does.

One of the reasons I conflate both Mantra Magazine AND Athleta, in my mind is that in contrast to both Yoga Journal and Lululemon, they are FEMINIST and much more BODY-DIVERSITY/ETHNIC DIVERSITY-accepting/promoting than what I am comparing them to. That's an incontrovertible fact. Big FAIL for the do-it-yourself yoga practice market. Come ON, I am the creator of my OWN (not yet commercial in this lifetime) yoga system for home practice.

You see, though. Everybody wants to just cater to an economic elite in an eroding market ... That's the Next Big Thing.

I think the love affair is just about over between me and the Athleta store. Or, at least "we" remain "just friends—no benefits" ...


1 2 3 4 5 6 7 8 9 10 11 12 13 14 15 16 17 18 19 20 21 22 23 24 25 26 27 28 29 30 Last Page

Get An Email Alert Each Time TINIERTINA Posts