| | |
| --- | --- |
| | TINAJANE76's Recent Blog Entries |


Wednesday, December 04, 2013
I've had a tough few months--my roughest patch since reaching goal and beginning to navigate maintenance back in March 2012. I hadn't really been feeling like myself for quite a while, but something has definitely changed in the past week or so. I noticed the physical evidence of this change when I took some pictures last weekend in a new dress I bought, but especially in this head shot: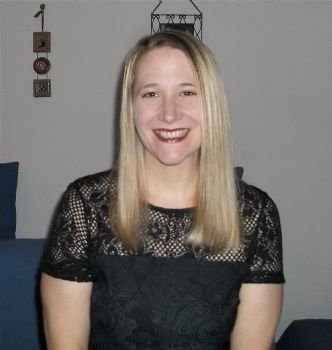 That's the best smile I've flashed in a while and somewhere along the way, I lost this happy girl. I think I've finally reconnected with her and I feel better than I have for months. I'm still not totally sure what to make of this, but I think it marks a turning point for me in this journey. There really is no going back now and I've proven to myself that I can weather the storms that come my way. No need to weatherproof me--nothing's breaking through the chains on my tires!






Sunday, December 01, 2013
I usually do a big Thanksgiving dinner with my expat friends here in Italy at some point between Thanksgiving and Christmas, so I didn't have a big celebration this weekend. I wanted to commemorate the holiday in some way without going overboard, so I decided to make a guinea hen with a lovely red wine sauce, some simple boiled potatoes and Brussels sprouts and a nice, but not too decadent dessert. Since I can't seem to get enough of pumpkin lately, I decided to make this pumpkin roll I found on skinnytaste.com:

www.skinnytaste.com/2011/11/pumpkin-
roll-lightened-up.html

The only change I made to the recipe was to use my own boiled and pureed pumpkin instead of the canned stuff, which is imported and very expensive here. The result was great! The sponge cake was incredibly tasty and moist and the filling was addictive--actually the whole thing was. I'd recommend serving this to a big group or bringing it to someone's house so you're not tempted by the leftovers. At just under 200 calories for a decent-sized slice, I think this is an excellent dessert deal that tastes great and won't send your daily calorie count soaring.

My effort and picture isn't as nice looking as the one on the skinnytaste.com site, but it sure was delicious: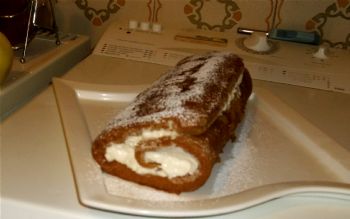 Saturday, November 30, 2013
I'd like to think that the answer to that question is "yes", but anyone who's struggled with emotional eating can attest to the fact that it's a complicated issue to overcome.

For years and years, food was my go-to source of comfort--sometimes in positive ways and sometimes in not-so-positive ways. I fondly remember sampling my mom's homemade Christmas chocolates and cookies, which she spent the entire month of December making. Our house was literally transformed into a bake shop with every kind of sweet confection you can possibly imagine. I've still got my favorites, a few of which I now make for myself on another continent a few thousand miles away from where I grew up. I've also got lovely memories of Sunday dinners and long weekends at my grandparents' house, where I'd be my grandmother's little helper in the kitchen and assist her with her stews, roasts and cakes. Thankfully, my grandfather was the health nut in the family and he instilled a love of fruit, vegetables and whole grains in me at an early age. But in spite of his mostly virtuous eating habits and 6:00 am daily runs, he also had a major sweet tooth, especially for all things chocolate, and we shared many a chocolate bar together. He was my first role model for living a balanced lifestyle and although he passed away just before I turned 13, he left a strong impression on me and I still think of him often.

On the flip side, I also began to turn to food as a source of negative comfort at quite an early age. I suffered from many of the usual childhood traumas, some minor and some not-so-minor, and food was my rock, the thing that always made me feel good no matter what. My mom made a pretty strong effort to feed me a balanced diet, but I often balked at my homemade fare when most of the other kids were buying those awful school lunches. Hanging out at friends' houses with Doritos, sour cream and onion potato chips, french fries and packaged cookies and cakes was like a dream and I quickly found ways to sneak unhealthy food. I also began to develop the early stages of binge eating, where I'd gorge myself on whatever I could find in the house and learned how to cook the unhealthy foods I craved for myself.

As I got older, I refined those negative habits and, not surprisingly, was constantly battling with my weight. From the time I went on my first diet at eight until just a few years ago, my weight soared from one extreme to another. At my lowest, I carried just 108 pounds on my 5'7" frame and was so thin that I stopped getting my period until I gained about 15 pounds back. At my highest, I was over 260 pounds and was a walking health-scare time bomb. Through college and my early working years, I continued to use food as a source of comfort and these were the years when I really ballooned. Although I had often been overweight, I crossed the line into obesity in my early-20s, mostly due to emotional eating as a result of college and work-related stress and relationship woes. Although I managed to take off 115 pounds in my mid-20s, I still had a lot of negative habits to undo and didn't go about losing the weight in an entirely healthy way. I was so accustomed to my binge/restrict cycle that I felt like that was how my life was destined to be. As I now know, most of us can only live with high levels of restriction for so long and we either end up bingeing or throwing in the towel altogether and regaining everything we had worked so hard to lose.

When my weight had climbed back up to about 240 pounds in early 2010, I knew that something had to change. There were tons of diet plans out there that would help me lose weight, but that wasn't my biggest problem. I needed to develop a lifestyle that would not only allow me to shed the pounds, but that also addressed the underlying issues behind my overeating and binge/restrict cycle. For the first time ever, I didn't set out to lose a massive amount of weight in a short period of time. I hoped that by taking things more slowly, I could retrain myself to function in the real world with all of the food-related challenges it presented. I haven't always been perfect in this department and I still find being out of my comfort zone to be a challenge, but I know that I can eat out once or twice a week under normal circumstances and not have to worry about gaining weight.

The harder problem to tackle has been the binge/emotional eating. In part, by being less restrictive over the long haul, I've managed to dramatically reduce my incidences of binge eating. I generally don't feel deprived so there's less of a compulsion to overeat. But then there's the emotional hunger, which I've found actually has very little to do with physical satiety, and can take hold of you like little else. In the past, I didn't even realize that this was the source of much of my overeating, so naturally, I couldn't even begin to try to combat it. Weight management was supposed to be all about calories in vs. calories out and self control, right? To an extent, yes, but try telling that to a person who's on the verge of eating a whole jar of peanut butter when they're not even hungry.

So, how have I been able to tackle the emotional eating? Slowly, and not without my slips. A first important step was learning to distinguish between real, physical hunger and the emotional variety--and here's where being less restrictive has been key. I believe that if you're following a super-low calorie diet, it's almost impossible to tell the difference between physical and emotional hunger. By generally being more satisfied with my meals, I can tell myself that the sensation I'm feeling for more food is not true hunger and I'm often able to ride out my urges. How? Often by distracting myself. I get out of the kitchen and away from the fridge and table. I come on SparkPeople, I chat with friends and family, I watch a movie, I get moving and out of the house--I do something, anything to get my mind off food. And as much as I try not to be overly dependent on exercise to keep my weight in check, it does help. The endorphin release from a good workout and the sense of peace and relaxation I get from a yoga class or stretching session does me a world of good and seems to give me extra motivation to make healthier choices.

Practice, in my case, has also made perfect (well, almost). Instead of throwing up my hands and giving up each time I've slipped--and I've sometimes slipped badly--I've picked up the pieces and moved on. Gradually, over time, my slips have become fewer and farther between and much less intense. I don't expect perfection from myself any more and I know now that we don't have to be perfect to be successful. We just have to be consistent about getting ourselves back on track and back to our usual healthy habits. I was also fortunate enough to have quite a long stretch in my life with relatively low stress where I was able to really focus on developing and ingraining my healthy habits. That way, when difficult times came, and they eventually did, I was in a much better place to stay the course and not relapse into emotional eating.

As some of you may know, I've experienced some personal turmoil the past few months which came immediately after my summer holidays where I had put on a few pounds. I'm convinced that if I had been in that situation just a few years ago, it would have marked the beginning of the end for me and I would have embarked on yet another downward spiral. But something's been different. Not only have I not regained the weight, I've actually lost almost all of my extra summertime pounds. Under more ideal circumstances, I probably would have had them all off by early October, but I consider it a huge triumph that I've fought tooth in nail against a potential backslide. Until yesterday when I took a much-needed break, I had a 92-day streak of logging in here at SparkPeople--my longest ever! Those 92 days included many where the last things I wanted to be doing were worrying about food prep and exercise and healthy living, but I stayed connected and didn't give up even though I was often far from perfect and had many more slips than normal. I had some pretty bad moments during that 92-day stretch and was filled with more self doubt than I had experienced for quite some time. But, as time has gone by, things have slowly started to calm down and I'm finding my healthy habits are easier to stick to again. My urge to overeat at night is slowly dissipating, I'm more consistently making better choices. I'm finding it easier to comply with my goals. My overall resolve is becoming stronger and I'm beginning to feel more confident again. And I've learned that it's okay not to set lofty goals for ourselves during these times. Just staying the course and remaining connected to our support systems is enough. I feel as though I've ridden out the storm and that there will be smooth sailing ahead, at least for a while.

If you're still with me and have actually read all of this, thanks. If you've been riding out the storm with me the past few months, through my ups and downs and mini tantrums, please know that your support has been life saving for me. And if you're currently going through a rough patch and are feeling hopeless, please don't give up. I know it may sound trite, but this journey really isn't about how well we can do under perfect circumstances, but how well we're able to hang on with all our might when times are tough. I'm feeling like a super hero today and not because I reached a weight goal or ran a marathon, but because I know I've got true grit. And that, perhaps more than anything, gives me the confidence to believe that I actually have, however imperfectly, won the battle against emotional eating.






Saturday, November 16, 2013
A good friend of mine, who's an accomplished university professor, was visiting me a few months ago when she told me an unsettling story. She's been teaching at the university level for about ten years and decided she needed a change about two years ago. She went on a series of interviews and had a bunch of funny and interesting stories to tell about them. However, the most shocking was during one where she was told that she would do well there because she was attractive, but not too attractive.

I remember being really taken aback when she told me about this. After all, aren't academics supposed to be focused on intellectual accomplishments and be completely above judging other people based on their looks? Apparently not. It seems like no matter what microcosm of society we're talking about, there's a certain level of judgment that's based on physical appearance in one way or another. In some ways, that's not necessarily a bad thing. But if a person is systemically weeded out of consideration for a job because they're deemed to be "too attractive" or "not attractive enough" I think that's just plain wrong--and probably discrimination.

So why am I sharing this story? I was reminded of it yesterday after receiving some great comments on the blog I wrote, which made me realize that shaming and bullying can cut across all segments of the population and that it's not just the overweight who can be the victims of this type of shaming. It's often said that the worst bullies are those who were once bullied themselves and I think there's a lot of truth in that. And I think that's something those of us who have been picked on or made to feel bad about ourselves by others need to be mindful of.

I'm embarrassed to admit that I was guilty of this variety of shaming at times when I was obese. "Skinny chicks" were fair game in my book and making disparaging remarks about girls who, in my opinion then, looked like "they needed to go to a hamburger party" made me feel better about myself in a certain way--at least that's how I felt at the time. But looking back, I realize that NO ONE, regardless of how they look, deserves to be shamed or made to feel bad about themselves, even if they actually do fit into society's idealized version of beauty. Sure, some skinny chicks may have hurt me back when I was obese, but the truth is that the vast majority didn't, and by making disparaging remarks about them, I was on my way to becoming a bully myself.

This realization makes me feel terrible when I think about the hurt I endured when I was obese. I may have been heavy, but I wasn't blind and I wasn't deaf, and I felt the sting of disgusted stares and comments about how "some people should just learn to put down the potato chips". The very idea that I may have made comments that would have made someone feel as badly as I did then makes me shudder and is something I've become much more mindful of. After all, a person may take a look at me and not realize that I struggle with my weight and hurl a hurtful comment at me. But is it right to make a person feel bad who's worked so very hard to lose and keep off their weight, tackling all of the emotional and behavioral issues that go along with that? No. And that's not because people who've reached their goals are extra special, but because it's not right to do that to anyone. Even in places that we think would be safe, like health and fitness web sites, and sometimes here on SparkPeople, you can see how disagreements about health and fitness goals can turn nasty and confrontational. And some people end up feeling (and often actually being) bullied simply because they don't ascribe to a particular philosophy. So for all our talk about loving ourselves, we need to keep in mind that the way to do that is not by tearing other people down, but by building ourselves up and treating those around us with the same kindness we expect to receive.

Just because some people might display their battle scars more obviously than others, that doesn't mean the "perfect-looking" girl you see at the gym has had a life that's been a walk in the park. So as the saying goes, "Be kind. For everyone you meet is fighting a hard battle."






Friday, November 15, 2013
Like most people here, I receive various emails from SparkPeople with articles and blogs they feel might be especially useful or helpful to a wider audience. While they are often all great, one I read yesterday really struck a chord with me (STEPH-KNEE's "They Finally Stopped Snickering (Or Did They?)" www.sparkpeople.com/mypage_public_jo
urnal_individual.asp?blog_id=5512037 ).

Since reading it, I've been thinking a lot about the subject of compassion. I think that most of us here, whether we're at the beginning of our journeys or have been working towards our goals for a while, have experienced the kind of so-called "fat shaming" that STEPH-KNEE described in her blog. It's bad enough to feel down on yourself when you're disappointed about your weight, but to actually have someone else take the time to give you an extra-special dose of cruelty, is doubly hurtful and just makes you want to withdraw even more. Even though I might look "normal" and healthy on the outside now, the fact is that I've still spent a far greater portion of my life as an overweight or obese person than I have as a person at a healthy weight and I still carry some of the pain from the treatment I received in the past--the snickers, the snide remarks or simply being ignored or treated like someone who doesn't matter simply because of my weight. And I still find it strange sometimes, and even oddly suspicious, when people treat me nicely--why didn't I always receive that nice treatment when I weighed 260 pounds? Wasn't I deserving of common courtesy and a smile then too?

But in a strange (or perhaps not so strange) way, I think those experiences have actually made me a better person. Had I spent my whole life at a healthy weight, I might not have developed the compassion (I think) I have for other people, especially those who are suffering in one way or another--whether it's because of their weight, home lives, work situations or other personal issues. I know how it feels to be down and feeling low, whether it's been a situation of my own doing or the result of someone else's cruelty. I don't wish those feelings on anyone and have a hard time understanding how some people can be so cruel to the weakest and most fragile among us at times. I'm only human and I know that I've hurt people before, perhaps even out of a lack of compassion or understanding, but I really do feel for people who are hurting, particularly those who feel hopeless and alone.

Fortunately, this is a place where we can practice compassion every day in a pretty safe environment. We can encourage each other, learn from each other and motivate each other without fear of judgment or snide remarks. And, hopefully, we can also learn to turn that sense of compassion towards ourselves, because so often, we're often our own worst and harshest critics. And isn't that what compassion is really about? Treating others the way we want to be treated ourselves--and I think that includes by ourselves as well.

So, be kind to someone today--anyone. You never know who's smiling on the outside and suffering in silence on the inside. And maybe make an extra effort to be kind to someone who you know to be having a really hard time. And then be kind to yourself, so you can arm yourself with the confidence and motivation to make the best possible choices you can today.



1 2 3 4 5 6 7 8 9 10 11 12 13 14 15 16 17 18 19 20 21 22 23 24 25 26 27 28 Last Page

Get An Email Alert Each Time TINAJANE76 Posts