| | |
| --- | --- |
| | TINAJANE76's Recent Blog Entries |


Saturday, July 05, 2014
Today's my last day of my monthlong fitness boot camp and also the day that I head off for my mini-vacation to Germany, so I'm just going to give a short summary of my results.

Starting Stats:
Chest: 39"
Waist: 29-1/2"
Hips: 39-1/2"

Ending Stats:
Chest: 38"
Waist: 28"
Hips: 38"

Before Side View: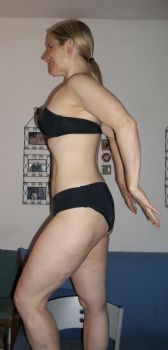 After Side View: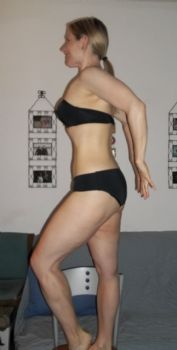 Before Back View: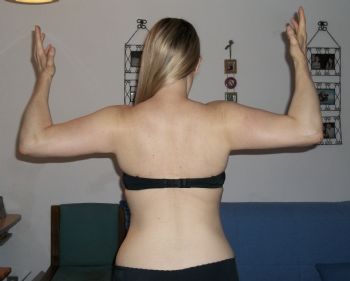 After Back View: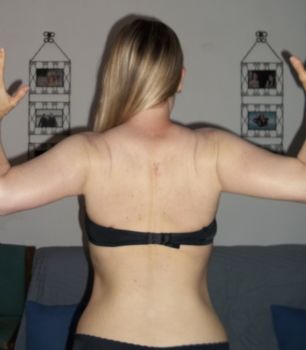 (Don't mind the bruises on my back. Those are from yoga--I bruise easily.)

In addition to the changes in my measurements I noticed the biggest difference in my waist based on how my clothes fit and I think that's reflected in the pictures below. Otherwise, I generally feel leaner and like I've shed my "winter coat". I'm fitting into clothes that were either previously quite snug and a few hand-me-ups I got from my baby sister that I hadn't quite been able to fit into before. I feel great and, even though the workouts were quite intense, like I had quite a balanced and laid back approach to everything--moreso than ever in the past few years that I've been doing these. I dropped a bit of weight too, but I'll keep everyone in suspense on that front since the scale doesn't matter, right?



I'll probably do a more detailed analysis once I get back from Germany, so "Auf Wiedersehen" for now, everyone!





Monday, June 30, 2014
The eats have been good in the Davis household lately, so I thought I'd share one of my recent favorites--this Sweet 'n Spicy Asian Glazed Grilled Chicken Drumsticks:

www.skinnytaste.com/2014/06/sweet-n-
spicy-asian-glazed-grilled.html

As soon as these popped up on the skinnytaste site, I knew I had to try them and, man, was I not disappointed. These are lick-your-plate, off-the-hook amazing--the perfect balance of sweet, spicy and savory in one delicious 255-calorie-for-two-drumstick dish. The recipe includes eight drumsticks. I controlled myself and had two and my husband finished them off and had six--yes, you read that right, SIX! They were that good. City living isn't conducive to barbecuing, so I baked them in the oven at 375º for about 40 minutes (flipping them halfway through) then cranked the heat up to about 450º, put the glaze on and cooked them for another 10 minutes. I also used fresh ginger and garlic in the marinade and just liquefied them along with the other ingredients using my immersion blender.

We had these with the Asian Mango Slaw that's listed in the recipe and I got ambitious and even made some baked spring rolls working off this recipe, which were also delicious:

www.food.com/recipe/vegetarian-sprin
g-rolls-130918

I cut down the oil (I used 1 tablespoon for the whole batch), left out the fresh herbs because I didn't have them on hand, added about 1/2 of chopped mushroom and some Chinese Five Spice powder, put them on parchment paper, lightly spritzed them with olive oil and baked them for about 10 minutes until they were nice and crispy. We dipped them in some of the yummy sweet red chili sauce from the chicken recipe and it was a match made in heaven. With my changes (and following the nutritional count on the package of rice paper I used), five mini spring rolls clocked in at 175 calories, 20 grams carbs, 3 grams fiber, 7 grams fat and 3 grams protein.

Altogether, the whole meal had less than 500 calories, which is much better than how you'd do at a Chinese or Thai restaurant and I think much tastier than most I've had out as well. I made another batch of the chicken and spring rolls today and made a few changes to the spring rolls. I left out the oil completely and just used my olive oil misto to sauté the vegetables and to spritz on top of the rolls before baking them. I also crushed two peanuts up for each spring roll and added them to the vegetable mixture after it was cooked. Here's a picture of today's lunch--two pieces of chicken and six mini spring rolls: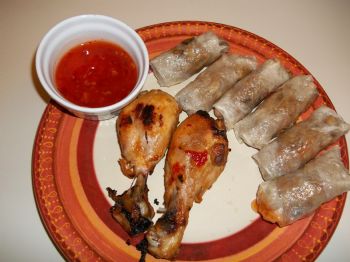 I had already dipped the one on the right into some of the chili sauce, so that's why it looks a bit orange.

Yum!







Wednesday, June 25, 2014
And Germany it is! We'll be heading up to Bavaria in a week and a half to brush the cobwebs off our German, enjoy a few days of R&R and meet up with some friends of ours. We're planning to spend a few days in Augsburg, which is along Germany's Romantic Road, and to also take a trip to Allgäu with our friends and stay in an old monastery that's currently a hotel and brewery:

irsee.com/cms2/braugasthof.php?site_
id=6&cat=1⊂=

This will be a nice release at the end of the school year and a way to recover from the intensity of the fitness boot camp I've been doing this month. The train ride from Venice to Augsburg is none too shabby either, lol! Really looking forward to spending some time in my happy place again!







Monday, June 23, 2014
The past few times I've had bloodwork done, I've had borderline (or very near borderline) high cholesterol. Coming from a family where heart disease and diabetes run rampant, that's a cause for concern. The last time I had bloodwork done in November 2012, my total cholesterol was 206, my triglycerides were 110 and my HDL cholesterol (that's the good one) was 73. Although I had been at a healthy weight for about nine months at the time, my body obviously still had some adjusting to do. I didn't have bloodwork done when I was at my heaviest and shudder to think what my numbers were then.

I was just able to retrieve my results from my test last week and my total cholesterol is now 162, my triglycerides 42 and my HDL 61. I was hoping that my numbers would be better, but I wasn't expecting that much of a change! In addition to that, I have no asterisks, meaning everything else is as it should be.

It's so encouraging to know that, in addition to the physical changes I've made, I'm in overall good health and that I've continued to make improvements as a result of reasonably consistent healthy habits and staying at a healthy weight. Having the hard evidence is further confirmation that I continue to be on the right track--and that's a great feeling!






Saturday, June 21, 2014
Today marks Day 14 of my monthlong boot camp and just wanted to do a quick update on my progress. I'm already starting to feel a noticeable difference all over my body, especially in my waist, arms, shoulders and legs. I'm going to save the measurements and comparison photos until the end, but snapped this picture after I got out of the shower post-workout: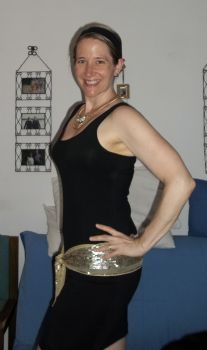 I definitely see a difference in my overall tone and I really think that all the activity and extra attention to healthy eating are doing me a world of good from the inside out. My hair, nails and skin are in great condition and I'm not wearing any makeup in this photo, something I rarely go without at least a bit of.

On to Day 15!



1 2 3 4 5 6 7 8 9 10 11 12 13 14 15 16 17 18 19 20 21 22 23 24 25 26 27 28 29 30 31 32 33 34 35 36 37 38 39 40 41 Last Page

Get An Email Alert Each Time TINAJANE76 Posts