| | |
| --- | --- |
| | TINAFITE's Recent Blog Entries |


Tuesday, June 25, 2013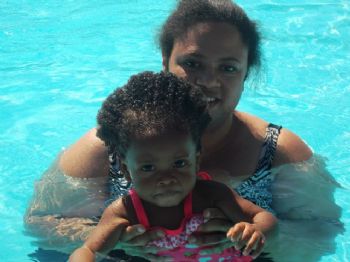 That picture above is me and my daughter Bordeaux swimming in a pool in Malta.

My family and I just came back from a work-week long vacation. During that vacation, I learned there were some things I needed to do for myself. One was talk to someone about my anger issues and another was to make time for myself to do what it is I'd like to do.

It has come to my attention that many of my anger issues stem from not being able to discover myself sooner because I was living a life others had desired for me. So imagine the thought of wanting to raise a child differently and discovering that you want her to start deciding and choosing for herself in life so she can learn about herself better and earlier. That's where the angry thoughts came in and what saddened me most was that they came in on my vacation!! But it was needed as it was the time I had to sit and think and relax.

So if anything, one thing I'd like to take away from my vacation is to have some alone time. Time to myself for the things I solely would like to do. Time where I don't feel like I need my family and that my family will be ok without me. I have to realize because I'm a work in progress, that it may be a little while before I'm able to find that time consistently but I need to be in search of that time. I need to be a little selfish in my life and that starts with me having time for me to do what I like to do.

So over the next few blogs, I'll be focusing on myself and what I'm doing to make me a better me. I've got to do this because it's my life on the line if I don't - literally and figuratively. And I think I'm worth it. Correction: I KNOW I'M WORTH IT!




Monday, February 04, 2013


Unlike the quote, often times in my life, I like to have it all figured out and then I proceed from there. I think knowing what I'm getting myself into is one of the key ways of determining if I truly want to get myself into it or not. Many people are like this often. They want all the information before getting involved because the decision to get involved could be swayed by that which is revealed. However, I must say that by me not knowing some things prior to beginning a healthier lifestyle, I was able to benefit even more from making the change. Therefore, here is a list of the 5 things NO ONE said to me about weight loss.

1. THERE WILL BE PAIN AND OTHER SYMPTOMS THAT MIMICS OTHER, POSSIBLY SERIOUS HEALTH ISSUES. Now, I know about the old adage "no pain, no gain", but there are some pains that begs one to question if what they are doing is truly worth the effort. For instance, when I first started working out, I would have pain in my upper chest (around the collarbone) and in my upper arms and numbness or tingling in my fingers. If anyone googles, searches webmd or even ask a friend, most likely the first thing that would come up isn't exercised-induced issues but rather something dealing with the heart or any other major organ. I remember calling the doctor and scheduling an appointment and praying to be able to make it to the doctor's office. Funny thing is he told me that it was all exercise-induced and to keep working out. Now I say this not to discourage a person from seeing their health provider if there is a problem or to satisfy the mind as to whether or not there is a problem, but rather to say there will be pain and there will be times where the body will mimic symptoms of dis-ease. Keep an eye out on them and visit a health provider if the problem persists longer than the normal healing time.

2. THROUGHOUT THE PROCESS, ONE WILL CHANGE MORE THAN JUST THEIR WEIGHT. This is a big one that I didn't have a clue about until I went to a holistic nutritionist who told me I had to give up some things in life to get what I desired. She told me I had to give up certain traditions (when dealing with food), particular thoughts and my thoughts and views about the stresses in my life. When I asked why and what do they have to do with me losing weight, she said, "because how you deal with your thoughts, stresses and traditions determines what you do on the scale." From that statement, I took it to mean that I'm an emotional eater (so true) and that how I feel and deal with what runs across my mind has a great impact on my weight. So if I felt as if I didn't care about things, I would feed myself foods that corroborated that feeling. If I felt like I wanted to nurture myself, the foods and all actions done would reflect that. Therefore, for me to lose weight, I had to give up many things that wasn't the best for me although I held on tightly to them.

3. THERE WILL BE TIMES I WOULD HAVE TO WALK ALONE...EVEN AT A RESTAURANT. This realization made me sad. Sure I knew I would have to eat differently, even at restaurants, but how it would affect me when I saw others who were at my table, despite their health, choose dishes that weren't the best for them. I thought, "here I am, working hard at being as nutritious as possible and then someone goes and orders my favorite dish from this restaurant. Don't they know my struggle? Don't they care?" It's at this time the saying "I'm doing this for me" comes into play. I had to learn that not everyone is ready to do something about their health issues nor are they ready to genuinely care that I am doing something about my health to the point where they can publicly support me in my efforts. So there have been many times, even now, where I sit across or beside someone who may be eating something not as healthy for them (by their own admission) and have to realize at that moment, possibly for just that moment, I have to walk alone and that I've got to be ok with that.

4. THERE WILL BE ODD MOMENTS OF JOY NOT EVERYONE WILL UNDERSTAND. This one is my favorite because I've had a bunch of laughter realizing this. An example of this is when I lost enough weight to where I could shop in the women's department for workout clothes. Now this in and of itself isn't funny; but if one imagines me saying loudly "I can wear women's clothes now" while men are standing about 10 ft away from the dressing room in which I was trying on clothes and the way their faces held the shocked look, one would determine it was very funny. I've had other odd moments: from the time in someone's office where I switched positions from side to side over and over again simply because my hips didn't touch the sides of a narrow chair to where I'm dancing in a smaller workout outfit in front of my husband telling him to look what I can do all because I can touch parts of my body without lifting, pushing or moving surrounding parts. I learned that weight loss has its moments of sheer fun and enjoyment. Sure it may be hard work to realize it but the those moments are definitely worth it.

Last but not least...

5. THE LOCATION IN WHICH I LOSE THE WEIGHT MAY MAKE ME FEAR LEAVING THE AREA, EVEN FOR A VACATION. As previously mentioned, I'm a military wife. So every 3 - 4 years, we're moving. For us, we know that the first year will be hectic because we're settling in and getting used to things in our new area - virtually trying to learn the culture and assimilate ourselves to the area. The second year will prove to be smoother because we've gotten acclimated to the area and have settled in. In the third year, whether or not we have another year left in the area, we are preparing to leave. For me, it's usually in that second year that I figure out what I need to do where I am to lose weight. While it gives me a year to make it happen, it still leaves me with life and all it's tricks up the sleeve. For example, this is our last year at our current station. I came to this station with the hopes of continuing the weight loss work I was doing at the last station and because of the product availability and freshness, I was more determined than ever to make it happen. I had a routine down and I was set to go...until February 15, 2011 when I discovered I was pregnant. Although we wound up losing that pregnancy, I was back at it again to lose the weight and I was even more determined to make it happen. Until September 7, 2011 when I discovered I was pregnant again with our daughter Bordeaux. Ok, I thought no problem...I'll just work out a little bit. That's until November 13, 2011 when I had a cerclage placed to help hold her in until she got here in May of 2012. One cerclage and 24 weeks of bed rest (yeah, totally NO exercise) later, I had a beautiful baby girl. I had to wait an additional 6 - 12 weeks for clearance to exercise and in that time, my husband had to go away on business. So I'm home with a brand new baby girl and a puppy. Fast forward to November of 2012, we realize we have only a year left at this station and I've done nothing to help myself lose weight. So I started to lose weight again. What does this bring me to now? The year we leave. Yes, we leave our station this year and one of my fears is that I'll revert back to old habits because I've gotten accustomed to things at our current location. While it is a fear, the way I approach it can serve as motivation to search out new places that may have what I'm seeking and to encourage me to keep up what I'm doing. Researching spots that can help me continue as well as asking people I know in the area (if I know someone there or who have been there) for help in finding healthy places is something I can do now to alleviate the fear of the move. Preparation is key to not only moving but to having a successful start after the move.

Those are my five things no one mentioned to me about weight loss. What are some things that no one has mentioned but have been learned along the way? Feel free to post them.

Until next time, remain focused on what is now known and appreciate the fact that they've been revealed and stay motivated! WE CAN DO THIS!!





Thursday, January 24, 2013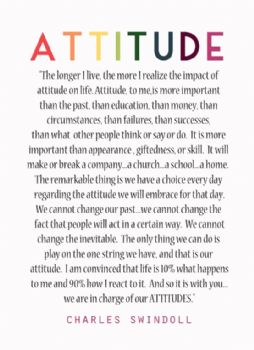 There are few things that irk me when it comes to people's attitude. I, myself, am of the thought "do what you do, but be ready to answer for it" and I apply that to everyone. However, the attitude of not wanting to fix their health for tradition's sake far outweighs the others. What I mean by this is when a person has a known history of health issues (i.e. high blood pressure, high cholesterol, diabetes, fatty liver, impaired kidneys, etc) and will still continue to eat and live in the same manner that gave them the issue in the first place due to traditions of which they do not want to release. I hear it all the time. As a matter of fact, earlier in the week, my own husband alluded to it when I told him that he has to stop eating certain things. His way of holding on to that tradition is by saying: "we all gotta die of something some time." I'm like, seriously?! Really?!

What are we teaching our future generations by having that attitude? What are we telling them by saying out of our lips to pursue your dream and be healthy while doing it although our actions are showing them we don't believe in our own message? Our kids are definitely watching and they are taking names and notes for later usage. That's why we must get our "want to" attitude fixed.

In my mind, we have many attitudes. We have the "can do", the "have to do", the "want to" the "will do" and the "ain't gonna do" just to name a few. I find that for myself, my "can do", "have to do" and the "ain't gonna do" attitudes are able to line themselves up perfectly for whatever it is I desire to do in those areas. For example, I can choose a green smoothie over sausage, egg and cheese sandwich for breakfast; I have to take care of my daughter daily and I ain't gonna do 500 push-ups in an hour. However, my "will do" and "want to" attitudes work a little differently. My "will do" attitude is primarily based on my "want to" attitude although there are times when my "will do" attitude can stand with another attitude like "have to do". An example of this is I will wash a load of clothes because I have to have a certain clothing item. After seeing this, one may suggest that it's not the "want to" attitude that I need to fix, but rather the "will do".

While I understand that point and will take it under advisement, I need to fix the "want to" attitude before I deal with the "will do". Here's why: because technically nothing is wrong with the "will do" attitude. The "will do" attitude is all about what I'm willing to do and the lengths I'll go to see it completed. There is nothing wrong with that and as a matter of fact we all have it. The problem with the "want to" attitude is that it's conditional. Meaning excuses. Meaning loophole. Meaning a way NOT to do something that honestly should be done. By fixing my "want to" attitude, I start looking in for a way to not look for a way to get out of it. In fixing it, I also start to understand things about this journey that I wouldn't originally understand. Things like how much work it actually takes may be recognized but neither fully understood or appreciated. I may recognize that push-ups and sit-ups along with other full body engaging exercises are going to get the job done on the weight loss but until I get my "want to" fixed, that's all I'm going to do. I'm just going to recognize it.

When I get my "want to" fixed, I no longer just recognize it, I go out of my way to make it happen by any means necessary. For example, for nutrition, I realized that I wasn't getting enough vegetables in my diet. So I corrected it by juicing. Scale moved. Another example is the kind of exercises I do. I thought I was doing enough but apparently I was wrong. It wasn't until I fixed the "want to" attitude, I was able to get more out of my workouts and watch the scale move.

All I'm saying is that when shift our attitudes from "want to" to "let's do" by fixing the very thing that keeps it locked in the "want to" position, positive things happen. We can accomplish what we've started and we can set ourselves up for future endeavors we desire to do. Truly, when we push the "want to" attitude out of the way, the universe becomes our limitless destination.

Until next time, stay motivated! WE CAN DO THIS...soooooo, LET'S DO THIS!






Sunday, January 20, 2013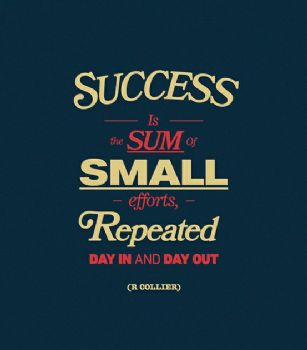 Every morning I get up, take care of my needs, my daughter's needs and then the needs of our dog. Usually by this time, my husband's gone for work and if not, he's still in the bed. Every morning I do this without a second thought and it has been this way for months, nearly a year now. In that time, my daughter has nearly tripled her birth weight and has gained about 12 inches more in height from her birth weight. Also, our dog, who was a mere puppy when our daughter came into the world, has doubled her body weight and height at the same time. How did they do this? Not to toot my own horn but it was the little things that I consistently did that helped them to grow healthy and strong.

So when I approached my weight loss, I had to take the same approach. I had to take small actions to gain the amount of success I have achieved. For instance, I'm usually an extremist when it comes to food. Why? Because if I have it, I will eat it. If it is around me and is up for grabs, I will grab it. So I do the extreme thing, I will remove by any means necessary (i.e. eat what's there/give it away/make hubby eat it/throw it away...etc) foods that will not help my endeavors. This time though, I took the small action of buying a Nutribullet and using it to get the nutrients my body needs since I wouldn't have to cook anything.

Another small action I took was to use already purchased dvds, workout programs that come across hulu and the internet and take any challenge such as the Black Women Losing Weight challenge of squats and do them. It was simple and free and I could do them on my time while saving the expense of gas and gym fees. I didn't have to worry about what my kid was doing because she was either sleep or sitting there watching me look crazy as I did my squats or lifted my dumbbells.

Another small action I took was to inform my husband about my endeavors and get him involved instead of expecting him to just be the cheerleader or, in his words, "the sacrificial lamb when it comes to all great tasting things". This has truly helped me the most in that he had to view me for more than whether or not he could see success. In being involved, he saw my preparation, my sacrifice, my ups, my downs, where I could improve and where I could help him improve. That's right! I could help him improve because he sees the struggle and yes, as we all know, it is real. If he had viewed me as just a result, he might have just blown off what I consider success because he couldn't see it

These three small actions led me to some big results! After one month of consistent exercising and watching what I eat, I've lost 7 lbs and 10.5 inches off of my body!! I'm so amazed but I also know that this is only the beginning. The more I am consistent with these small actions, my results can't help but to get larger and larger. While I look forward to the larger results, I'm still grateful for my current results. It reminds me to keep going and serves as motivation because obviously I'm doing something right.

Remember, small actions can equal large results if there is consistency. Be consistent and the results will come. Until next time, stay motivated! WE CAN DO THIS!!!!





Saturday, January 12, 2013



This morning I was able to run/walk a 6 mile event for the first time in my life! If one had told me when I was 338 lbs that I'd be able to do that in a couple of years, I would have said the following: "who? me?", "big girls don't run", "it's against my religion", "I barely can breathe now so why kill me with a run", "I'm not made to run. I have hips, ya know" and several other excuses and phrases that I thought was cute at the time. If one had told me that I would not only run/walk the entire way but would do it in under an hour and 50 minutes, I would probably yell out, "You lyin'!" If one had told me that I could do it while my husband and kid was beside me and other friends around me cheering me on, I would have believed you...but only on the husband part. The rest would have been too far fetched.

In many ways, I'm super glad I felt that way. Why? Because it makes today sweeter. It makes today that much more meaningful to me. It made the last run, the I've-got-no-more-to-give last push that much more beautiful. It also puts another nail in the coffin of the 338 lbs version of me. The one who thought either an appearance on the Biggest Loser or a trip to the surgeon for gastric bypass was the answer despite doctors over the years telling me that I had to exercise. The one who thought she couldn't have a kid, lose weight on her own or like healthy food (hot wings with ranch is still my favorite; I just refuse to eat them) enough to prepare them on a daily basis. Ms. 338 lbs was all about getting from point A to point B as quickly as I can so I would be able to sit down and enjoy. Now I'm realizing that getting from point A to point B isn't quick at all. 18 years just flew by me and in that time, I went from being just the awkwardly big kid in school to the enormous wife of a military man. It took 18 years for me to reach 338 lbs and although I'm no longer 338 lbs and still have a ways to go before reaching my goal weight, I'm now realizing that it's going to take even more time for me to lose it.

I know I can... be what I want to be which is a healthy, agile, leaner, tougher and stronger woman for my family, friends and future clients. Question is...will I? The irony of it all is only time will tell. All I can do is realize that I don't have to go back to that weight and size and do the work to make going forward that much sweeter than staying where I am. Work never promised to be easy, kind or gentle. It never promised to be smooth or sweet or fun. Work just promised that at the end of it, one can be left with two feelings: pure satisfaction or a desire to do more. How one approaches work can be the difference one feels at its end.

That's why I say at the end of my posts "stay motivated". While I'm encouraging others with that phrase, I'm talking with myself, telling myself to not give up. I'm telling myself that the road is long on purpose. 18 years isn't just a walk in the park. 18 years is 6,577.5 days of accepting myself as an unhealthy, large, never-will-be-a-normal-dainty person. I'm trying to undo 18 years worth of acceptance only in 3 years which included 2 pregnancies. Speaking of pregnancy, every woman who has had a child know that pregnancy, especially complicated and/or needing bed rest kinds of pregnancies, throws a wrench in a woman's desire to feel and look her best, let alone possibly do something to change what has been done to it. Here is where the 338 lbs version of me desires to raise her head and hand to say, "that's a valid point. You did have a child and your body's metabolism is slower because of PCOS too. Soooooooooo, your weight isn't anything to do with your health. It has everything to do with what has happened to you." If I accept this, then I'm just picking out the nails I've already nailed in the coffin of the 338 lbs version of myself and letting her live. I can't do that and expect to be what I want to be in my life.

So onward I go. With that being said, stay motivated! We CAN DO THIS!!!



1 2 3 4 5 6 7 8 9 10 11 12 Last Page

Get An Email Alert Each Time TINAFITE Posts