Sunday, October 28, 2012
Wow! You look at the national news and one would think that we were facing the end of life as we know it. It's a storm! And we have several days' notice. The concerned looks. The clipped tones. The "meteorologists" at the beach: "It's windy here on Cape Hatteras and the rain is coming down hard and wind whipped. It's like little needles hitting you." Then go inside dummy.

youtu.be/tVEPvXBEOSE

It's a big story, but it's not the only story. How's the weather in the rest of the country? I am pretty sure they are having weather in Chicago, St Louis, Detroit, Phoenix, Los Angeles, MIssoula. My niece told me it was snowing in Minneapolis. I would never know from the Weather Channel.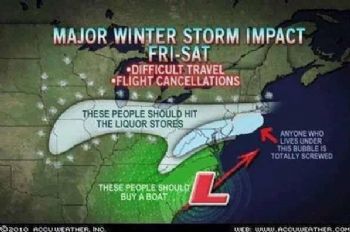 My son in LA thinks he ought to come home to be with us in this "emergency situation." Mike! It's going to rain a lot. It will be windy. We may lose power for several hours or several days. Or not at all. "It's going to last 5 Days!" From North Carolina to Maine, but in any given location, less than 36 hours.

A big snow storm is much worse because you can never tell until it's over and the disruption is more long term. A tornado is much worse because there is no warning and the destruction is locally more devastating.

All that said, I am bagging it for going to DC to follow the Marine Corps Marathon. Rain is supposed to start in late morning and if I'm not running, I'd just as soon not get wet and miserable.

Call me lazy.


Friday, October 26, 2012
Plans were for me to go to DC for the Marine Corps Marathon as a spectator on Sunday. But with the approaching storm, it looks like Sunday may be a washout. Oh the race will go off. But why would I wan to walk around Arlington and DC in the rain.

At least I have the option of bagging it. It's not like I put down $90 to get registered. On the other hand, a jacket and a poncho would get me through. Plastic bag for my camera and I would be all set.

I should have a better idea by this time tomorrow night.
First Page
1
2
3
4
5
6
7
8
9
10
11
12
13
14
15
16
17
18
19
20
21
22
23
24
25
26
27
28
29
30
31
32
33
34
35
36
37
38
39
40
41
42
43
44
45
46
47
48
49
50
51
52
53
54
55
56
57
58
59
60
61
62
63
64
65
66
67
68
69
70
71
72
73
74
75
76
77
78 79 80 81 82 83 84 85 86 87 88 89 90 91 92 93 94 95 96 97 98 99 100 101 102 103 104 105 106 107 108 109 110 111 112 113 114 115 116 117 118 119 120 121 122 123 124 125 126 127 128 129 130 131 132 133 134 135 136 137 138 139 140 141 142 143 144 145 146 147 148 149 150 151 152 153 154 155 156 157 158 159 160 161 162 163 164 165 166 167 168 169 170 171 172 173 174 175 Last Page