| | |
| --- | --- |
| | TIMOTHYNOHE's Recent Blog Entries |


Friday, October 26, 2012
My favorite quote. Actually, it has become my motto ...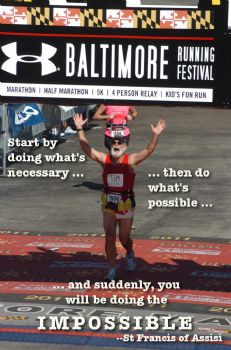 Wednesday, October 24, 2012
I was unable to register for the Marine Corps Marathon and really and truly I am happy that I did not. I don't really want to run another marathon ... at least not until I decide to be totally foolish again.

What I do plan on is going to Washington ... well Arlington to be accurate ... and participating as a spectator. I will take my camera and chase the race and take pictures. My hope it that I can be at the finish line when the last runner crosses.

We'll see.

Our son David has invited us to a performance of Rocky Horror Picture Show. She(WMBO) has accepted the invitation. She has seen the movie on DVD and finds it funny. What she doesn't realize it that the RHPS is an event replete with fanatics who dress up, recite lines, trow rice, and in general act out the scenes.

It's all a lot of fun.

But She(WMBO) is not fun.

So we may be out until late on the night before I want to get up early and go to the race.

I hope I can weasel out.

Also today, I registered my hotels for Rock 'n' Roll San Antonio (11/11) and Williams Route 66 (11/18). San Antonio is a Half Marathon and a visit with our daughter DrDani from Corpus Christi. Route 66 is in Tulsa OK. There I will run a 5k on Saturday 11/17 and a Half Marathon on Sunday 11/18.

My flight back is to Corpus where I will rejoin the family for Thanksgiving. And for that I will be running a 4 miler. The annual Turkey Trot.

November is a busy month for me.


Tuesday, October 23, 2012
A bike kit is that uniform that bike teams wear. You can buy them even if you don't belong to the team. I bet you can get US Postal Service or Discovery Channel kits for really cheap right now. (Hint: think Lance Armstrong).

A mangina is ... well, you just have to look at the pictures to know.

At one time I had a biker's body: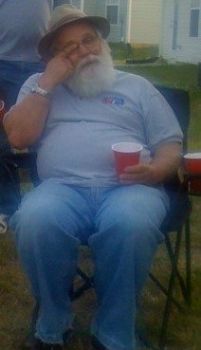 I now have a cyclist's physique:



I was looking today on line for bike jerseys, particularly Superman, Batman, the Orioles. I didn't find any MLB. What I did find was this blog:

The Good, the Bad, & the Ugly. Bike Clothing: Part One: The Ugly.
tubulocity.com/?p=50

And here are the pictures and captions: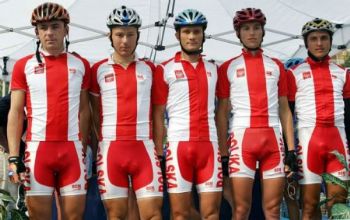 The above kit probably seemed like a good idea at the time. I'm sure many people were involved in the design and review. Intelligent design? These are all physically fit good-looking guys. On regular people this kit would appear much uglier. The crotch area is in the shape of a toilet seat. From their expressions, I'd say the guys realize how hideous they look.


(Tim sez: Ok This is just wrong in so many ways.)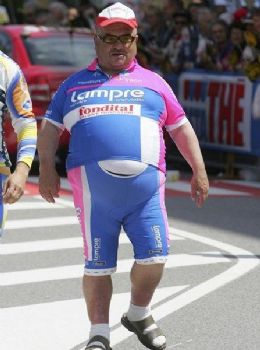 As someone who is neither tall nor svelt, I am not in the habit of making fun of fat people. Unless forced by their mothers to wear something "nice", most adults make fairly responsible decisions about what to wear. Cycling clothing (known as "kits") may be dangerous in the wrong hands.




BelgianSwiftTeam I think this is an example of what's known as a "faux-kini". Rick Pepper designer of ELEVENGEAR says, "Cycling clothing when it's bad is either too noisy, shows too much stuff, or makes normal women look fat..."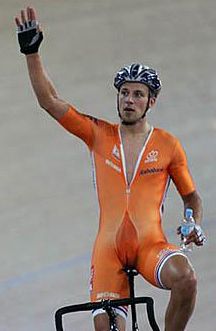 I'm guessing the kit development team at Rabobank convinced themselves the crotch area was in the shape of a "flame". I say "vagina". A friend says the correct term is "mangina", as in "he has a cute mangina".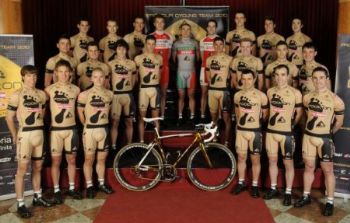 This is a just-released photo of the Footon-Servetto-Fuji 2010 pro team kit. They claim the color is gold. Some people think it's an example of team kit design gone very wrong. I'm not sure. What do you think?


(Tim sez: I think this looks pretty good. I kind of wish I could pull this look off.


If you're actually a superhero like legendary cyclist Mario Cippolini (a.k.a. Super Mario), you can get away with anything.




Monday, October 22, 2012
Over the last three days I did a lot of griping about bad runs, bad luck, bad timing causing me to miss out on my workouts.

This morning, well, last night I decided I had to get going again. I set my clock to 0500. Ugh! Even in August it was dark a 0500. There's a reason we call it oh-dark-hundred. Why so early? I meet Dave, my brother-in-law/trainer, on Monday and Wednesday. I wanted to get 30 minutes in the pool as my 10 minutes of warm up. And I was lazy so I really did not get out the door until almost 0600. But I ate and shaved and grabbed my bag.

When I was done I had 20 minutes in the pool. Then I met Dave for my hour. And a good hour it was. WHen the laundry was done, around 2:30, I pulled on my running gear and hit the street for a full hour and when I was done I felt Like I could do another half hour if I didn't have to get started on supper, and straighten up from the weekend before She(WMBO) got home from work.

All in all a satisfying day.

Thank goodness the Giants are spanking the Cardinals. I would say the same if the Cards were Spanking the Giants. No late night baseball tonight. I know it's baseball and it ain't over until it's over, but I feel pretty good for the Giants chances tonight.


Sunday, October 21, 2012
After Mass this morning I tried to stop at the YMCA for a swim. But there was only disappointment.

What I used to do was this: She(WMBO) likes the quiet Mass, so she went to the 7:00 Mass. I agree with St Augustine, for whom our parish is named, who said, "He who sings, prays twice." So I went to the 9:15 Mass. We would meet at the motorcycle bar near church for Sunday breakfast. They have a really good breakfast and an open air bar. I know right?

https://www.facebook.com/danielsopen
air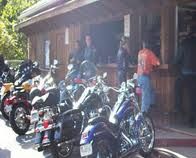 After Mass, about 10:15, I would go to the Y to swim. They would have four lap lanes and two rec lanes. That's enough on a Sunday morning.

This summer, they changed the Mass schedule without asking me. They moved the 7:00 mass to 7:30 which leave me little time to have breakfast and get to the 9:15. So I must wait for the 10:45. Full choir so the music is better. It's just that now, when I got to the Y, around 12:00, they have only two lap lanes, two lesson lanes, and two rec lanes.

So no swim today because the lap lanes were full (three per lane) with people waiting.

Too bad. I will figure it out over the winter. At least today was nice enough to take my bike out for another confidence building ride today.
First Page
1
2
3
4
5
6
7
8
9
10
11
12
13
14
15
16
17
18
19
20
21
22
23
24
25
26
27
28
29
30
31
32
33
34
35
36
37
38
39
40
41
42
43
44
45
46
47
48
49
50
51
52
53
54
55
56
57
58
59
60
61
62
63
64
65
66
67
68
69
70
71
72
73
74
75
76
77
78
79 80 81 82 83 84 85 86 87 88 89 90 91 92 93 94 95 96 97 98 99 100 101 102 103 104 105 106 107 108 109 110 111 112 113 114 115 116 117 118 119 120 121 122 123 124 125 126 127 128 129 130 131 132 133 134 135 136 137 138 139 140 141 142 143 144 145 146 147 148 149 150 151 152 153 154 155 156 157 158 159 160 161 162 163 164 165 166 167 168 169 170 171 172 173 174 175 Last Page

Get An Email Alert Each Time TIMOTHYNOHE Posts