Saturday, October 13, 2012
I read PASTAFARIAN's report of the Baltimore Half from last year and I wondered why his varied so much from my own experience so much. He reported what I would call attention to details that may have been simply volunteers not doing it right. I disagree that the race should be held responsible for those things, unless they were systemic. He also complained about some of the course being through some run down parts of Baltimore and the finish line being a mess. His views were divergent from my perceived experience. I will get to my own discussion of this year later.

But first a call from Mike. He called to tell me that his new job at a first class Haunted House (Hollywood style), an opportunity to get noticed by a horror movie director, was making him sore. He called me. "I am exactly the wrong person you want to call about being sore. I just ran two half marathons in six days and I am 40 years your senior. Go pedal your pity party elsewhere, kid." Sounds harsh, but when he first started, he was ready to blow off working tonight because of soreness and twenty minutes later when I was done with him, he was raring to go.

But don't even call me and tell me that your 19 year old body is sore. Do some stretching, take some ibuprofen am get back out there.

OK, back to the race. I was going to take the bus in because Russell Street was such a mess last year, but She(WMBO) offered to drive me as far as she was allowed, which was about 5 blocks from the start of the Marathon at Orioles Park at Camden Yards. That was 8:00.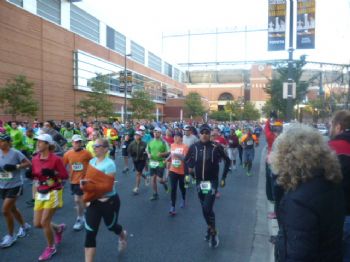 No race day packet pick-up but that is not nusual for an event of this size. What was unusual was the small expo and the purposeful "shepherding" of the runners to get us past the exhibitors aat the expo. Read my earlier post about that.

I then had to find my way first to bag check then to Harborplace. That is about 3/4 mile from M&T Bank (Ravens) Stadium. This was something that Pastfarian mentioned in connection with riding the Light Rail in. Corrigan Sports Enterprises (CSE) didn't warn out-of-towners about the walk, and I can see if you think the Camden Yards Stop is the end, and extra walk might be an unfair surprise. What Ifound bad last year was Russell Street and a lack of signage to Stadium Parking. Hence my desire to take the bus in. A good call by the way because Pratt Street was clear and green all the way to the Greene Street roadblock.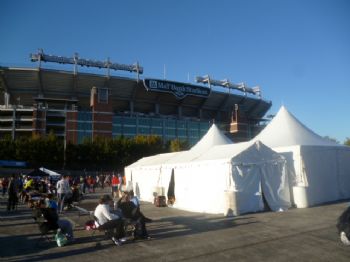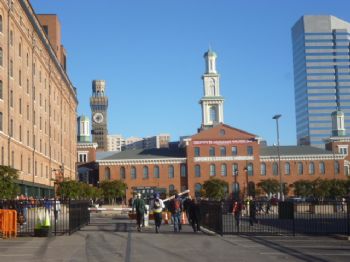 It's a nice walk on a nice day. And since the Half start was at 9:45 ... wow that's late! ... it was not a rush. Pastafarian did not mention this, but I will. I didn't use the toilet at M&T Bank Stadium because I figured I would use them at Harborplace. But my observation was that there were no portapotties at Light & Conway Sts where most people would look for them. You had to walk nearly another half mile to Light St & Key Hwy, near the Science Center to find any potties. And no signage to get you there. And then the number of units were more geared to being on the course of the Marathon and did not account for the fact that fully two-thirds of the 27000 runners (18000 for the arithmetically impaired) were running the Half Marathon. There should have been lots and lots of portapotties on Light Street near Harborplace.

After I went to the pottie, I was able to catch the elite runners fly by at about 9:10 or so.




Finally around 9:50 it was my corral's turn to start.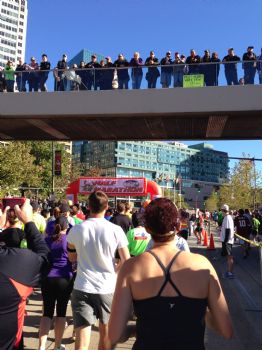 The course was challenging without being torture. There seemed to be a whole lot more uphill than downhill, though I know that is impossible. Pastafarian mentioned the bad neighborhoods we ran through. I thought he was exaggerating. A few house maybe, but... But going up Washington Street, I noticed what I didn't remember from last year, this was indeed a boarded up bombed out neighborhood. Block after block. It was not nice to look at and Baltimore does have many other really nice parts. We need a new mayor, not that that will actually help.

Around mile 7, I made a stunning realization: I had walked out the door without having eaten so much as a banana. I never even looked at my oatmeal. Oh my. I was suddenly hungry. But there was the guy handing out Lara Bars. No, they weren't open and it was before the water. So that was corrected apparently from last year. And while I did have a Clif Bar, I decided to try a Lara. I guess I must have inhaled when I meant to swallow. Oh what a mess. I grabbed a peanut butter and honey packet instead. No crumbs. And I stopped to consume it. My bad. The I had the Clif Bar and the edge was taken off.

As we were leaving Lake Montabello and turning on to 33rd Street (Much nicer neighborhoods from here on out) there was a young women standing there with a sign:

"Free Sex and Beer at the Finish Line."

I laughed so hard I had to stop running for a few seconds. Water break!

The rest of the race was nice. 33rd Street is mostly flat after the Memorial Stadium site (now a YMCA) and from there (left on Guilford, right on 29th, left on Howard, slight left on Eutaw then into Camden Yards past the Warehouse to the M&T Bank Stadium finish line) except for the Howard Street Bridge over I-83 it was all downhill.

I then ran into a problem that Pastafarian described, but didn't affect me last year. Last year I ran the marathon in 5:33 (1:33PM finish) so pretty much the crowds had thinned. This year I ran a 2:15 half (12:00 noon finish). What a mad crazy difference.

You cross the mats then they have you make a right turn which causes a major traffic jam to collect medals for the full, half, and relay. Also people handing out space blankets. The jam up was almost back to the finish line. And they have little kids, grade school age, handing them out. Bad planning. I am used to coming in and walking to the medal "hander-outer" then walking some more to get back into a proper rhythm.

This time I went from running to dead stop. Not to mention I had not eaten properly (oops) then ran for 135 minutes. I got tunnel vision and dizzy and a little scared. I turned to another runner and asked him to help me to the ground. If I was going to collapse, I wanted it to be controlled. I sat or squatted for a minute and an EMT came over and offered help. I started to wave her off and then I thought, "Don't be stupid." She helped me over to a wheelchair and took my BP, checked my color, asked if I was feeling any better (yes). I sat for a few more seconds (minutes?) until I felt all better, thanked her very much and went on my way.

This is where Pastafarian nailed it for the early- to middle-of-the-pack-finishers (as I said I was a late-finisher last year). The runners' area was too small. The food tables were undermanned and the lines for the food entirely too long.The oranges weren't cut, but it was not a big deal for me. I should have told the EMT about my skipping breakfast (oops) they could have gotten me a bagel and banana. At the food line, bagels, banana, oranges, chips & pretzels. But I also did not see anything to put on the bagel, no PB or cream cheese. No cookies. Was this a logistics decision by CSE? Such a tiny detail for an already crowded situation.

Fed, walked-out, cooled-down, and stretched, I started to roam around. Remember the sign at Lake Montabello? (Free sex and beer) Well, I saw this flag: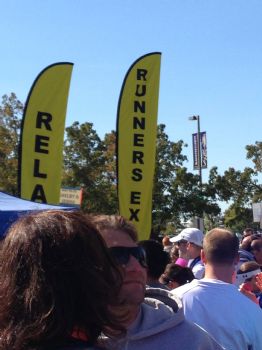 Deee-ammm. She wasn't kidding was she?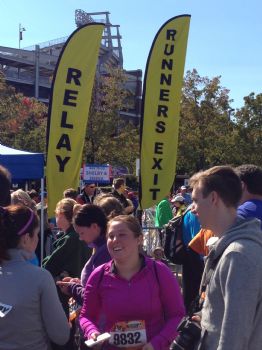 Oh, I guess she was kidding.

So, it was not the disaster that Pastafarian described, but considering that this is the 12th year for this race, one would think the finish would be better organized. and more potties. Even RAM Racing got that right on the (Not actually in) DC Hot Chocolate (not quite) 15k. And a route that doesn't give us a tour of Baltimore's best "urban homesteading" opportunities could be devised. The full marathon goes down Key Highway to a turnaround at the Under Armour World HQ ... UA being the major sponsor of the race. Surely we could have run that or to Fort McHenry. Maybe CSE *ought* to sell this race to Competitor Group. If you're going to have a Corporate Race, maybe it ought to be a Corporation that does a better job.(It's too big to Charm City Run.)

I may do this one again next year. But if I find a different opportunity on or about the same weekend, I will consider the Baltimore race no longer on my "must-do" list.


Friday, October 12, 2012
Ah. For once, I have a race tomorrow and I get to sleep in a little.

I know. Right? What's up with that?

The Baltimore Running Festival has a 9:45 start time for the Half Marathon. Goodness! The Marathon takes off at 7:30, so by that timing, the Half takes off as the full is being won ... by an Kenyan or an Ethiopian, no doubt. If I get over the Harborplace at the Inner Harbor early enough, I'll get to see the lead marathoners go by.

The weather promises to be cold at sunrise ... in the thirties the first time this season. It won't get above 60 all day. And clear. And still. And dry.

Sounds like good running weather to me.

My PR was set in May at 2:06:38 on a cool, damp, almost raw day. I consider my benchmark time as 2:21, since that was my first half time. But since May I have turned in 2:38 (hot), 2:36 (hot), 2:33 (hot), 2:19 (nice day, a little warm), and 2:26 (purposely slow, cool and damp).

We shall see. I just ran a half on Sunday. And I rested the rest of the week. I think I am ready.

Now if the Nats would just put the Cards away ...


Thursday, October 11, 2012
Around noon I was finished my chores for today. The sun was shining. There was not much of a breeze. The temperature was about 57şF. I was a perfect day for a run.

Today was also the Expo for the Baltimore Running Festival Expo. Last year it was at the Baltimore Convention Center. This year it was about a quarter mile away at the M&T Bank (Ravens) Stadium. That is about 7 miles from my house and all downhill.

Lovely weather. Only 7 miles. All downhill. I could run that. Except it would mean taking the bus home around peak hour or running uphill all the way. And it would mean running through some questionable neighborhoods.

Yeah I talked myself out of that foolishness. I drove.

The pick up was a little screwy. First you went in the stadium at what I would call the front door and they confirm that you are registered and they give you a goody bag. Then oyu had to go up the ramp to club level and inside. Turn left and walk through half the vendors just to get your bib. But to get your shirt you had to go ALL. THE. WAY. through all the vendors to get your shirt.

The Official Running Festival gear did not have last year's (Orioles) Oranges half marathon shirts in medium. Rats. I also like to get hats from my races if they are available. Last year lots of choices. This year, an baby blue and a tĦttĦe pink visor. And those *were* the men's hats. I should have gotten the women's hat in black since it is just a collectible. But gee whiz. What's up with that?

And no one had the Brooks Pure Connect shoes in (Orioles) Orange. And there were way fewer vendors than last year. That would be a good thing since that meant I didn't have to go through as many to get my bib and my shirt.

For an event that would like to be a major league marathon/half marathon, they sure cut back a lot.

We will see Saturday if the run is still as good as it was last year.
First Page
1
2
3
4
5
6
7
8
9
10
11
12
13
14
15
16
17
18
19
20
21
22
23
24
25
26
27
28
29
30
31
32
33
34
35
36
37
38
39
40
41
42
43
44
45
46
47
48
49
50
51
52
53
54
55
56
57
58
59
60
61
62
63
64
65
66
67
68
69
70
71
72
73
74
75
76
77
78
79
80
81 82 83 84 85 86 87 88 89 90 91 92 93 94 95 96 97 98 99 100 101 102 103 104 105 106 107 108 109 110 111 112 113 114 115 116 117 118 119 120 121 122 123 124 125 126 127 128 129 130 131 132 133 134 135 136 137 138 139 140 141 142 143 144 145 146 147 148 149 150 151 152 153 154 155 156 157 158 159 160 161 162 163 164 165 166 167 168 169 170 171 172 173 174 175 Last Page