| | |
| --- | --- |
| | TIMOTHYNOHE's Recent Blog Entries |


Wednesday, October 10, 2012
Poor Mike. The son in LA.

He lives in Culver City. Not far from Crenshaw ... gangland. He tells me he is having trouble sleeping. All his friend have suggested he see a doctor and get his medical marijuana card. Really??? Yep, it's that easy. But he declined because he told me that the only time he's tried it, it made it *hard* for him to sleep. I know what he means. Me too.

So he walks. But not in Culver City. He drives three or four miles to Beverly Hills. Last night a cop stopped him. But Mike was polite and respectful. The officer told him they were having trouble with car burglaries. Mike showed his ID. Explained why he was there. The officer said "Well, I'm not profiling, but ..." Mike responded with something I always told him: "Sure you are profiling. I'm a 19 year old Black man walking around Beverly Hills. If your weren't profiling you wouldn't be doing your job." The cop laughed. Thanked him for understanding. Told him not to "let him down." Told him there were eight different cops on that beat ... expect to be asked eight times for his ID.

No harm no foul.

Today Mike was sent to a middle school to give a speech by his acting coach to get some public speaking experience. He worked himself up so much into a lather that he walked out on stage and fainted! Passed Out!

I told him to imagine ... "Yeah, Dad, imagine everyone in the audience naked."

"No! Imagine they're all dressed but you are the only one with the courage to be naked."

"Wellllll, it is Middle schoolers, so I don't think that would be appropriate."




Tuesday, October 09, 2012
There is actually a Spark lesson at the end of the post.

I think.

My oldest son Dave called me about 5:00 last night. He had two tickets for the playoff game last night.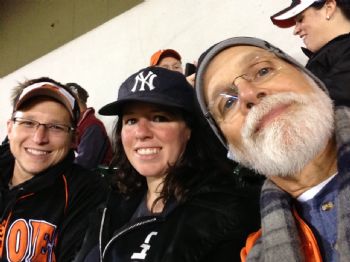 Yes my daughter in law is a New York Stinkees fan but I love her any way. It is a mixed marriage and it just shows you that if an Orioles fan and a Yankees fan can find true love, there is hope in this world. I wonder what my grandbaby will be. Male? Female? Orioles Fans? Scum of the Earth Yankees Fans?

The Orioles have been so stinky over the last 14 years then all of a sudden, they are playing winning baseball. That they won 82 games was enough for me. That they were entertaining was enough.

But they did even better. They got to the playoffs. Against the Yankees. At Camden Yards.




In recent years ... recent being over the last 10 years ... Camden Yards was more like Yankee Stadium South. And Fenway Park South when the Boston Red Sox were here. It was so irritating to listen to a game in Baltimore on the radio and not know who the home team was. The visitors would hit a home run and there was celebration.

Then Sunday night, the Yankees and Orioles went into the ninth inning tied at 2-2. If they could just hold on, the Orioles would have a chance in extra innings to win. They brought in their best reliever, the closer Jim Johnson, but he fell apart, allowing the Yankees to score 5 runs and win the game. It was very heartening to hear the crowd fall silent, sad. Good. The Yankees' fans were gone.

Last night the game was delayed by rain. In the first inning, the Yankees scored a run on a controversial play (I still say Ichiro was out). But the Orioles did not give up. They played hard and well. The Orioles scored three runs. Late in the game they allowed another run to the Yankees, but they held on. In the ninth inning, the Orioles brought Jim Johnson into the game. He blew up the game Sunday night, but the nature of a relief pitcher and especially a closer is that what happened last night happened last night. Tonight is a whole other game. A save is when a reliever comes in with a lead of three runs or less and holds on for the win. Johnson had 51 saves this season, more than anyone else in baseball. And after the disaster Sunday night, almost anyone might have come in with some doubts. But he got Derek Jeter and Ichiro Suzuki out. Up to bat came Alex Rodriquez, A-Rod. A-Rod is one of the most feared (and disliked) players in the game today. And Johnson only struck him out.

Here's the thing. For the last 14 years, the Orioles have been a losing team. An attitude of "How will we lose today?" seemed to permeate the team and it's entire organization. They would lose close games. Extra inning games. Carrying a lead into late innings, they would find a way to lose those games, too.

But early this season, the Orioles started to win. We fans have seen that before and said wait until June. But they kept pace. So, wait until August. But they kept pace. In September they were tied for first place several times. At the end of the season they were in the playoffs. They were finding ways to win when losing looked inevitable. In the second to last game of the season, they only got two hits and were struck out 15 times (that's a lot).. But one of those two hits was a home run. They won the game 1-0.

Over the season, they won 29 out of 38 games that were decided by one run. That 29-9 record was the best ever. They won 16 straight extra inning games in a row, second best streak ever. Having lost the first two extra inning games (to the Yankees) the 16-2 was the best in baseball this year. They won 75 games where they were in the lead after the 7th inning and lost none. 75-0 was the best in baseball. No one else was undefeated in that situation.

This Orioles team is not even close to one of the best teams in baseball. In April, I looked at them and confidently predicted that they would lose 100 games. In fact, as the season progressed, they are a middle of the pack team in most categories. In some, near the bottom of the pile. In some, like their relief pitching, they excelled. But overall they are a mediocre team.

So how did it happen that they now have a shot at all the marbles? Belief in themselves, that they don't have to lose. A realization that they can win and winning feels good. It remains to be seen if they continue on to greater things this month.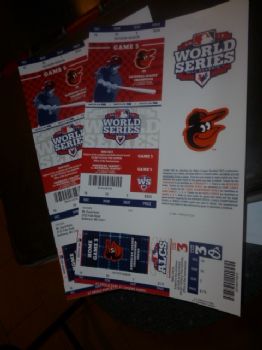 Yes Dave has World Series tickets if it comes to that.

And we need to wait until next year to see if this season was a fluke.

But it has been a fun ride and I am glad I came along.


Tuesday, October 09, 2012
Earlier this year my brother Dave, who is a math and science teacher at the New Mexico School for the Blind and Visually Impaired called me and asked me to consider running the Woodrow Wilson Bridge Half Marathon.

"They need sighted runners who would be willing to help out as guides."
"But I am already registered for the Baltimore Running Festival Half Marathon just six days later."
"So why can't you do both?"
"Their too close together."
"How often do you run a long run?"
"Every week."
"And how far?"
"14 miles."
"So it's settled you will do it. You're out of excuses."

Something like that. Mom taught the guilt trip well. So I signed up and I ran. That's how it came about.


Sunday, October 07, 2012
One of the two clocks went off at 4:00. Lucky for me I set two because the second was set at 4:00 PM. I got dressed and out the door at 4:40. A non-eventful drive to Alexandria on the Baltimore Washington Parkway across the Wilson Bridge and I was there in less than an hour.

I was tasked with rounding up the National Institute of the Blind (NIB) runners and their guides and helping them to find their way to the buses. Unfortunately, the DASH buses were not parked near the Hotel, but nearly a half mile away. It's dark, it's cold, it's drizzling and I am leading twenty blind runners across a half mile of unfamiliar city streets. Fortunately, it was uneventful except for the guy who didn't seem to know his left from his right when I told him there was a fire hydrant ahead on his left and he, of course steered right into it. (No pity. He hit it with his cane and kept walking. And he was an unpleasant person that even the other vision impaired runners didn't like much.)

I was pressed into service to hold up the Flag with a former Marine for the National Anthem because I am a veteran.

I had no specific runner to guide on the race, but I was asked to run behind the last NIB runner. They took off before the National Anthem so as soon as that was over, I hit the road. But, the timers told me that they had reset the mats after the NIBs left and wouldn't use them again until the Elites took off. "Just keep your time on your watch and tell the timer at the finish." Good enough.

So off I ran. About one minute down the road, I heard the horn behind me and suddenly a pack of people running at 5:30/mi blew past little old me at 9:00/mi. I felt their breeze, saw their dust. I tried to see if I could keep up, but that was just sad, even comical.

As it happened, we had more behind runners start with the regular runners and they were pretty fast. Knowing that my time was not important, I slowed to a 10:30. It was funny because as a guide I was wearing a shirt that read "Visually Impaired Runner" in large letters on the back. Many people would run past me and ask if I was OK. "I'm Just Bringing up the rear."

I finally slowed enough to be passed by the runners I expected to be the last: the guide had joked to me last night at the dinner that she was a "fat slow runner" and her husband, whom she was guiding, would just have to adapt. "Tim! You can follow us."

And that's what I did until about mile 9 when she told me that it would be fine with them if I ran ahead. So that I did for the last 4 miles at a 9 minute pace. I was able to finish in a nice neat 2:24:30 or just over 11:00/mi.

The weather was cold and wet. The race was well organized, especially for only it's third year. The start was at Mount Vernon, though, frankly, in the dark it was hard to see the mansion ... or maybe I did, but I was too busy to be impressed by it; the building I did see wasn't very big. I ran up along the George Washing Parkway, a divided highway with at grade crossing along the Potomac River. In better weather and light, I am sure it's quite scenic. But today, not so much. We turned onto the bridge which has a bicycle/walking path along the North Span. It's relatively flat, though of course it is an arch. There is a twisty ramp wup to a bridge across I95/495 then another such ramp on the other side. We ran through the artificial town of National Harbor (don't let the name fool you, it's a glorified Big Box Mall with a Marina and some hotels and condos) then across an ugly gravel lot ... the only part of the route I hated ... along a promenade around to the finish line.

I feel like If I had run *my* race. I would have had a PR. Not complaining. Absolutely NOT complaining. Just saying how good a run it was. I was happy and honored to run with these differently-abled athletes.

I have another shot at a PR on Saturday much closer to home in the Baltimore Running Festival Half Marathon. One can only hope the weather is as favorably cool.

As special guests, the NIB runners and their guides were treated to a post race brunch. When it was time to go home, once again we had to walk more than a half mile to the buses. This time, we had full light and we were able to stop traffic. After all, drivers must stop for pedestrians with a blind cane and we took full advantage.


Saturday, October 06, 2012
I need to be in Alexandria, VA at 5:30 AM for the Woodrow Wilson Bridge Half Marathon.

Holy crap!

It's a 50 minute drive from Catonsville, MD.

I said I would help out with the blind runners. I said I would and I will. But I better be out the door by 4:45 AM. Up by 4:00.

I can do this. I mean look, I can run around in my skivvies for more than two hours for 13 miles, surely I can crawl out of bed at 4:00 to do it and to help some blind runners do it.

But four oh clo-ha-ha-ha-ock in the morning. Only thing I want to do at that hour is go pee and go back to bed.
First Page
1
2
3
4
5
6
7
8
9
10
11
12
13
14
15
16
17
18
19
20
21
22
23
24
25
26
27
28
29
30
31
32
33
34
35
36
37
38
39
40
41
42
43
44
45
46
47
48
49
50
51
52
53
54
55
56
57
58
59
60
61
62
63
64
65
66
67
68
69
70
71
72
73
74
75
76
77
78
79
80
81
82 83 84 85 86 87 88 89 90 91 92 93 94 95 96 97 98 99 100 101 102 103 104 105 106 107 108 109 110 111 112 113 114 115 116 117 118 119 120 121 122 123 124 125 126 127 128 129 130 131 132 133 134 135 136 137 138 139 140 141 142 143 144 145 146 147 148 149 150 151 152 153 154 155 156 157 158 159 160 161 162 163 164 165 166 167 168 169 170 171 172 173 174 175 Last Page

Get An Email Alert Each Time TIMOTHYNOHE Posts