| | |
| --- | --- |
| | TIMOTHYNOHE's Recent Blog Entries |


Sunday, September 30, 2012
In June 1010, She(WMBO) and I went to Ireland. We went with a close friend who had recently been widowed and her brother, Clare and Tom. Their parents had been born in Ireland, emigrated to the US for a time and repatriated to Ireland before their death. Clare's husband, Len was a very dear friend to us and our first trip to Ireland was with him and Clare.

By the time we got there this time, there was one thing I wanted to do, take the Pilgrimage up Croagh Padraig, near Westport, County Mayo. So Tom and I did just that. I took many pictures on the way up and back down. We had a brilliantly beautiful day, almost a little warm and we worked up quite a sweat on our four hour journey. The ladies stayed below and had tea.

Today I came across this quote from Henry David Thoreau and this picture just jumped to my mind.

"All endeavor calls for the ability to tramp the last mile, shape the last plan, endure the last hours toil. The fight to the finish spirit is the one... characteristic we must posses if we are to face the future as finishers."

Henry David Thoreau
(American Essayist, Poet and Philosopher, 1817-1862)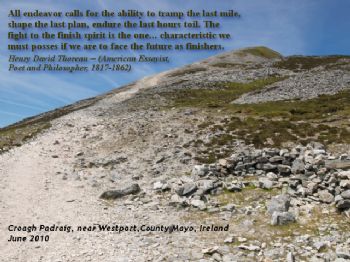 Sunday, September 30, 2012
Yesterday's post:

www.sparkpeople.com/mypage_public_jo
urnal_individual.asp?blog_id=5080069

For those who missed my point in yesterday's post, I was employing satire. If I offended you, I apologize; that was never my intent. In the world of the Internet, there is a principle called Poe's Law. It states: "Without a clear indication of the author's intent, it is difficult or impossible to tell the difference between sincere extremism and an exaggerated parody of extremism." Hence Smiley faces, emoticons, and things like LOL.

I am absolutely *not* advocating that the government put graphic warning labels on either tobacco products or fast food or snack food.


Sunday, September 30, 2012
A friend of mine who is a smoker and a Libertarian was griping about proposed changes to cigarette packaging by the FDA. It seems to come up every year and it seems to get shot down every year and this year was no exception. Apparently some of the proposals would have rather graphic picture of what smoking can do.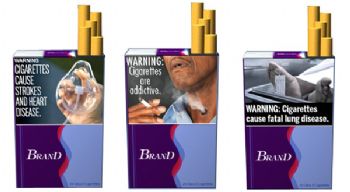 As a non-smoker who has always felt put out to be around smoke, I really don't care. (When I was in USAF basic training they would make us walk around the training area picking up cigarette butts. I was always last place in my Flight with zero butts. Candy wrappers and other trash I had, but no butts.)

His gripe was that obesity kills more people through heart disease and other diseases every year than smoking so why not have that kind of labeling on fast food? And snack foods too? How would you like that, Tim? Hmm?

Actually, I think that if they ever do get around to serious warnings on cigarette packs, maybe McDonalds *should* be on the lookout.

I was going to make some of my own, but Google images sure had a lot of ready-made pictures:



Warning: Eating fast food more than once a week can be a major contributing factor in childhood obesity. You are the parent; teach you children about restraint.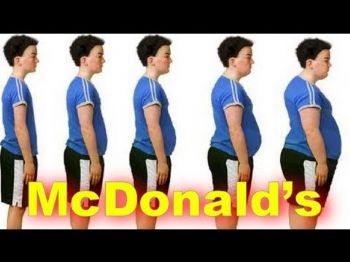 Warning: Obesity does not happen all at once. It sneaks up on you.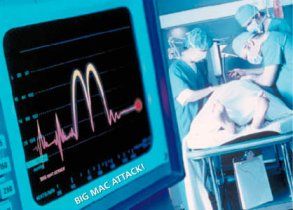 Warning: Eating fast food more than once a week can be a major contributing factor in cardiovascular disease, type 2 diabetes, and a host of other disorders and diseases.



Warning: Fast food can be addictive. And come on, really, do you ever want to look like this * (guy)?

If you have ever read Kurt Vonnegut, Jr. you know what I mean by the *.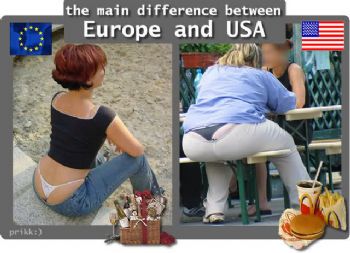 Warning: Those pants are not what makes your butt look fat.
Warning: Eating too much fast food really kills the sexy.

And a few other pictures on the subject I liked: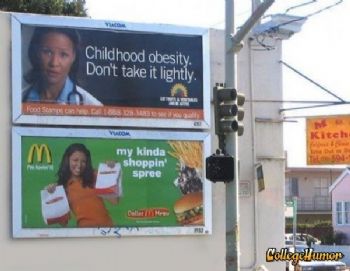 Besides, we all know that Mrs Obama prefers Five Guys. (or as I called them even before I decided to get healthy "Heart-Attack-in-a-Sack")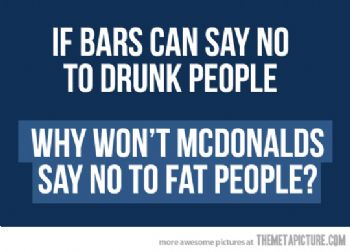 Yeah, why not?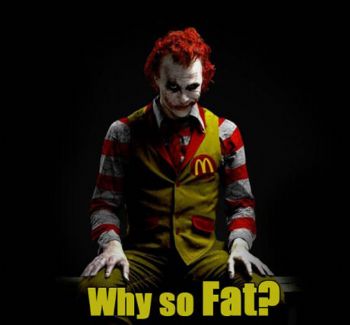 And of course, the clown!


Friday, September 28, 2012
Rock 'n' Roll Marathon Series has announced their 2013 Tour Pass. It allows the runner to select any or all of the 27 North American races for the low, low price of $399. That includes the one in Montreal, Quebec.

Considering that I have run (or will run) in 5 races in 2012 at an average price of $85 per race, that alone would be a savings of $25. In theory, and it's only a theory mind you, if one were to run all 27 North American races each one would be less than $15. That includes Las Vegas which costs about $120.

I need to work it out with She(WMBO) for Christmas.


Thursday, September 27, 2012
About two weeks ago, I posted a blog about an article I read all about poop. Not my poop, but poop in general. ( I love that word because "they" won't let me say sh¡t, unless I use special characters.)

Here is the blog:
"Finally, some information I can use! An article about Poop!"
www.sparkpeople.com/mypage_public_jo
urnal_individual.asp?blog_id=5076489

The article itself from The Greatist and several of its references were quite informative and interesting.

Today I got an email from someone I don't recall signing up to, Women's Health from EverydayHealth.com. They have some interesting information day in and day out. It didn't hurt that the first time it arrived in my email box they had an extensive article on the ins and outs of oral sex. (No pun intended.)

Today the featured article was:
"Are You Pooping Wrong?
"By worldwide standards, Americans are in the toilet on elimination practices."

"Our ancestors did it. People in Asia, Africa, and some parts of Europe still do it. So how did we Westerners end up deviating from the best way to go No. 2?

"Blame it on toilets as we know them. Thrones, they have been called. Turns out we should squat, not sit."

www.everydayhealth.com/digestive-hea
lth/are-you-pooping-wrong.aspx?xid=nl_
EverydayHealthWomensHealth_20120927

Dude! They have a video and everything!

The main thrust of the article is that many of our bowel issues stem from the fact that we sit to poop. They even claim that appendicitis is associated with not squatting. Because of the way we evolved, our rectum work significantly better if we squat to poop. Every see a toddler stop to relieve himself? Yeah, something like that.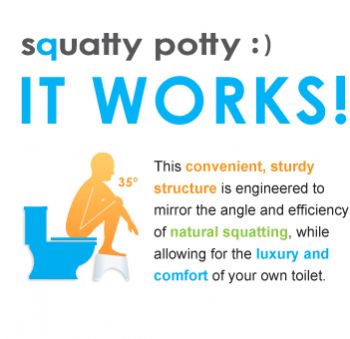 Of course, they have a little foot stool they want to sell you so that you can assume a more natural position when you use the toilet.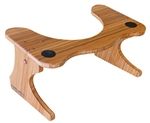 Hey, look, I am not writing those articles, I'm just reading them and reporting back.
First Page
1
2
3
4
5
6
7
8
9
10
11
12
13
14
15
16
17
18
19
20
21
22
23
24
25
26
27
28
29
30
31
32
33
34
35
36
37
38
39
40
41
42
43
44
45
46
47
48
49
50
51
52
53
54
55
56
57
58
59
60
61
62
63
64
65
66
67
68
69
70
71
72
73
74
75
76
77
78
79
80
81
82
83
84 85 86 87 88 89 90 91 92 93 94 95 96 97 98 99 100 101 102 103 104 105 106 107 108 109 110 111 112 113 114 115 116 117 118 119 120 121 122 123 124 125 126 127 128 129 130 131 132 133 134 135 136 137 138 139 140 141 142 143 144 145 146 147 148 149 150 151 152 153 154 155 156 157 158 159 160 161 162 163 164 165 166 167 168 169 170 171 172 173 174 175 Last Page

Get An Email Alert Each Time TIMOTHYNOHE Posts