| | |
| --- | --- |
| | TIMOTHYNOHE's Recent Blog Entries |


Sunday, September 16, 2012
As usual, Competitor Group put on a very good race. And mother nature co-operated big time. The temps at the start were in the high 50s and by the time I was done, they were in the middle 70s ... a little warm, but tolerable. I finished in 2:19:39 which is not a PR (2:06:38) but it is acceptable.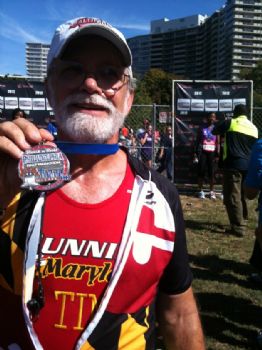 (I mean a 3:30 would have to be acceptable because that would be the time I scored, right?)

I was a very flat course starting on the Benjamin Franklin Parkway near Logan Circle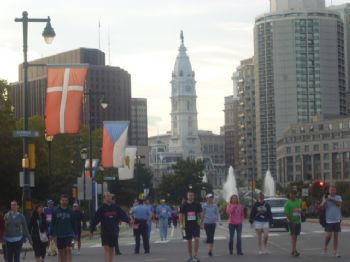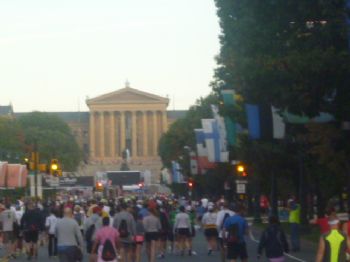 and finishing right next to the Rocky sculpture at the Art Museum. I think it's the law in Philadelphia that you must get your picture taken at the Rocky sculpture: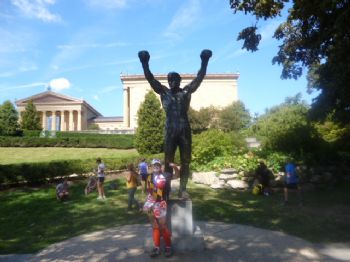 And here are a few other pictures from the raceday: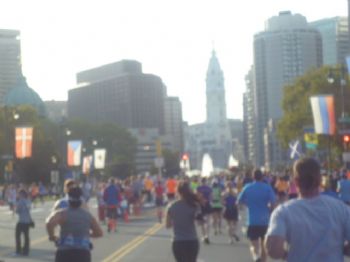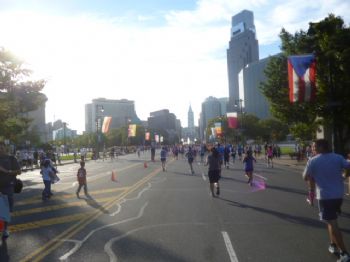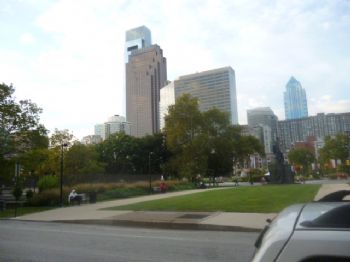 -------
A couple of random thoughts:

I can dig McDonalds trying to rehabilitate its reputation by being major sponsors to healthy activities like the Rock 'n' Roll Marathon series. But if you want to tout your new health conscious menu, wouldn't you want to have someone upfront who kind of looks like he is, Oh, I don't know, NOT 400 POUNDS. I could hear that stool screaming all the way across the Pennsylvania Convention Center.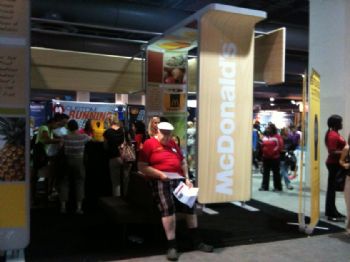 A cover I saw at the supermarket: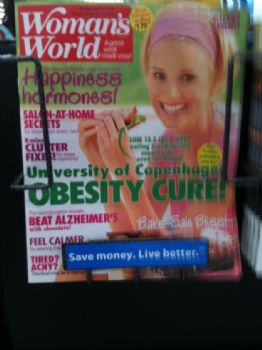 I thought there was already a cure .... get up off the couch and stop stuffing your face!








Saturday, September 15, 2012
You can feel fall in the air. Just a few more days and it will be here. But there was a brightness to the sky that said AUTUMN in spite of the trees still being in full leaf.

I tried to leave home this morning after the Weight Watchers meeting and as I was pointing my care toward I-95, I was doing a quick check inventory: Shoes, check. Knee wraps, check. Garmin watch, check. Heart rate monitor strap, check. Earbuds, check. Shorts? Singlet? Socks? Darn It! So I turned the car into the street before the exit for the Beltway and headed for the house. If I had forgotten that stuff, I would have had to buy new at the Expo, but I didn't want to spend that kind of money.

They tell me that there are two things that really go south as we get old, but I forgot what they were.

On the way to Philly, I stopped at Mom's. My sister met me at the door. Apparently my fortuitous arrival had solved a logistical problem. They need to remove Mom to our other sister's house while the house was being bombed for fleas. And since one of my brothers dropped the ball ... But is was an opportunity to see how alert she was. She is there, it seems, she just has trouble showing it. And she still wants to move more than she is able to. We almost have to hold her back a little.

Tomorrow it is supposed to be in the middle 50's when the horn goes off and we start the Rock 'n' Roll Half Marathon. It will be soooo nice to run when I don't feel like giving up for a change. Maybe I can shave a few seconds off my Maryland Half Marathon time. That would be nice.




Friday, September 14, 2012
You know that I like to read the Greatist. It has some good stuff. Today they ran this article:

Poop Health: Everything You Want to Know But Haven't Asked
greatist.com/health/poop-health-emba
rrassing-questions/

Click on some of the references. It is all fascinating reading. One of the references discusses floaters vs sinkers, even.

About the only question they failed to answer was "When I was eating unhealthily, my poop stank really bad. And I was going two or three times a day. Now it doesn't smell nearly as awful and I may even skip a day. Is this a case of sh¡t, sh¡t out?"

The last question ask and answers:

"Why are we embarrassed to poop, and to talk about poop, in the first place?

"Suppressing the need to go can create bowel issues, particularly in women. Yet some of us would still rather hold it in than talk about it.

"Some researchers take an existential approach to this phenomenon. It's called Terror Management Theory and the idea is that natural bodily functions remind us of our "creatureliness," and therefore our mortality. But scary as it might be to contemplate life's fragility, it's important to come to terms with it so that we notice our bodies' signals — both on and off the marble throne."


Friday, September 14, 2012
I already had two out of state races in November -- San Antonio and Tulsa. I was going to stay at Dr Dani's in Corpus Christi and maybe drive to Tulsa then go home with the rest of the family after Thanksgiving.

The She(WMBO) informed me tha thse has a business trip to Phoenix the first week of November; would I like to go then we can jump to Los Angeles to visit our son Mike over hte weekend.

So here's what I face for November:
10/31 (Flight 1) Baltimore (BWI) to Phoenix (PHX)
stay in Phoenix for a few days
11/4 (Flight 2) PHX to LAX
Visit LA until Tuesday
11/7 (Flight 3) LAX to BWI
Do laundry, clean house then
11/9 (Flight 4) BWI to Corpus Christi (CRP)
Stay with our Daughter Dr Dani. On Saturday,
11/10 drive up to San Antonio and spend one night
11/11 Rock 'n' Roll San Antonio Half Marathon
Drive back to Corpus. Hang out and try to stay out of the way until
11/16 (Flight 5) CRP to Tulsa (TUL)
11/17 run the Williams Route 66 5k and visit the Expo
11/18 run the Williams Route 66 Half Marathon
I was going to do the Marathon, but let's keep it fun.
Stay in Tulsa until Tuesday and we have timed things so that my flight
11/20 (Flight 6) TUL to CRP
Should arrive about the same time as She(WMBO) and son Patrick arrive BWI to CRP
On Thanksgiving I am pretty sure there is a Turkey Trot so I will run that ... why not?
11/24 (Flight 7) CRP to BWI

Home again, home again jiggety jog.

Seven flights. Yikes!! And I just HATES airport!

It is going to be a challenge to eat right while I am out of town for 3 1/2 week (save two days) but I have two months (or so) to get myself in the right mental frame of mind.

Ommmmmm


Wednesday, September 12, 2012
With the weather cooling, I have been running farther because I have been running faster. Monday I ran around town in a sub-10:00 for about an hour. Today a little slower, but nothing at all like what I was doing during the summer.

The other side of things is that it is still not quite light out. I run to the YMCA, about 15 minutes, work out with my trainer ... and he is kicking my butt ... then I run home. The long way. So I am out for about two and a half hours but it's a good two and a half.

I have a half marathon on Sunday in Philadelphia. And they are calling for a high of 75. Temps at the horn may be in the high 50s. That is going to be so sweet.

I am looking forward to this like I haven't been able to all summer.
First Page
1
2
3
4
5
6
7
8
9
10
11
12
13
14
15
16
17
18
19
20
21
22
23
24
25
26
27
28
29
30
31
32
33
34
35
36
37
38
39
40
41
42
43
44
45
46
47
48
49
50
51
52
53
54
55
56
57
58
59
60
61
62
63
64
65
66
67
68
69
70
71
72
73
74
75
76
77
78
79
80
81
82
83
84
85
86
87 88 89 90 91 92 93 94 95 96 97 98 99 100 101 102 103 104 105 106 107 108 109 110 111 112 113 114 115 116 117 118 119 120 121 122 123 124 125 126 127 128 129 130 131 132 133 134 135 136 137 138 139 140 141 142 143 144 145 146 147 148 149 150 151 152 153 154 155 156 157 158 159 160 161 162 163 164 165 166 167 168 169 170 171 172 173 174 175 Last Page

Get An Email Alert Each Time TIMOTHYNOHE Posts