| | |
| --- | --- |
| | TIMOTHYNOHE's Recent Blog Entries |


Wednesday, August 08, 2012
Kristen Kinnear-Ohlmann,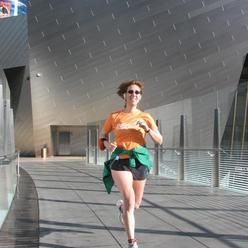 known to us SparkPeople as KKINNEA
www.sparkpeople.com/mypage.asp?id=KK
INNEA
made a video for Chocolate Milk and she needs our vote. This is one of our own. Let's get behind her. (Actually I was behind her a lot in Chicago, but that's a whole other story.)





Here is what she said in her blog:

"While I was in Chicago for the Rock and Roll Half Marathon, I made a video for Team Refuel about how I use chocolate milk to recover post-run.

"I've been chosen as a finalist!

"Would you be so kind as to vote for my video? You can vote once a day!

"Let's make Summer of Run into Team Refuel!!

gotchocolatemilk.com/applicant/krist
en-kinnear-ohlmann "


Tuesday, August 07, 2012
She(WMBO) went out for the day with her sister, Jim's She(WMBO), and bought more stuff that has to be dusted ... she calls them antiques.

While she was out, I basically hung around the house and chilled and waited fort he rain to break ... it had been off and on since the morning. Finally it looked good, so I grabbed my camera and went for a purposeful walk. I knew where there some old tobacco sheds I wanted to shoot and they were within about two miles.

I got no more than a half mile out and the sky opened up. Fortunately, there was a house nearby with a porch and I availed myself of their Southern hospitality. It was over in a couple of minutes, but then it spittered and spattered for the rest of my walk. When I got home, the clouds parted and it was a lovely afternoon.

I did not go out again. Fool me once ...

She(WMBO) texted me that Patrick had finally gotten his GED results. He has been waiting 7 1/2 weeks. He had to take the GED because he home schooled. I was his teacher and mentor.

Of course, he called his mother.

Like those football players on TV: Dad taught them football but it's "Hi, Mom" when they get on camera.


Monday, August 06, 2012
Yesterday, Sunday, after I ran Riley's Rumble, I got in my car and drove for nearly an hour to get home. As I drove, I could feel my legs cramping up. Getting out of the car was a bit tricky, but once I did, I walked for a while to stretch things out.

A good thing too because as soon as I showered and ate, we were getting into the car and heading seven and a half hours (breaks included) to Newport NC. That is near Atlantic Beach.

I was able to sleep until 9:00 this morning. They say you cannot make up fr lost sleep. But after getting up at 4:00 and running 13 miles, I did my best. At least I hit the reset button. Then sitting at the beach was decadently restful.

We go home on Thursday and I get the pleasure of running another Half on Saturday in Annapolis.

Maybe it will be cool.

Nah!


Sunday, August 05, 2012
Incredible! I just discovered/realized that I did not post a blog entry yesterday. I was so intent on getting to bed and asleep so I could get up early, I flat forgot.

That is the first time in 347 days.

Today I start a new Spark Streak.
------Today was the Riley's Rumble Half Marathon. It's my seventh of the year and the first of two this week.

The wanted us there by about 6:00 for a 7:00 horn. This race had no advance packet pick up, no shirt, and no medal. This was to be done for the pure love of the game. My distance from Boyds, MD required me to be out the door NLT 0510. I set my alarm for 0400.

But Mother Nature has her own alarm clock and called me at 0330. There would be no going back to sleep for me.

When I stepped outside, the fat last quarter moon and Venus were both bright in the sky whit not a hint of sunrise on the horizon. And it was already warm. About 78º warm. Ugh!

I drove to Boyds and was there in time, got my packet, hit the John, enjoyed another cup of coffee as the sun finished rising.

When the horn went off it was 80º.

Ugh!

But I muddle through and I finished maybe the prettiest run I have done on this side of the Atlantic (Ireland was better). My time was not really great, but considering the brutal hills, the humidity at 80%, the temperature by the finish at 88º, just doing it was victory enough.

I clocked in at 2:38:08. Slowest road half yet.

Pictures! A few Pictures.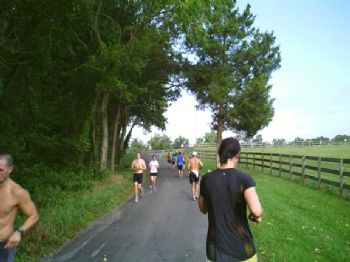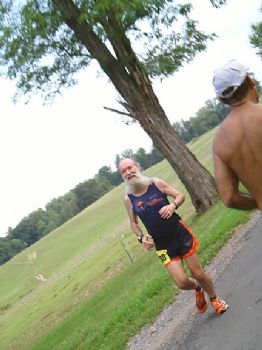 This guy's beard is longer than mine ever was ... and mine reached just about my nipples.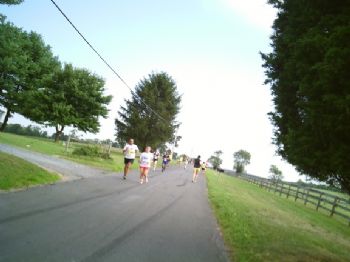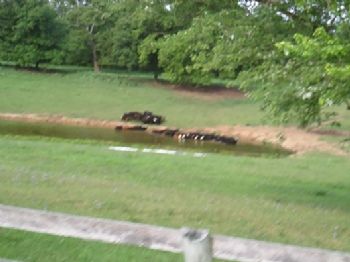 These cows had the right idea.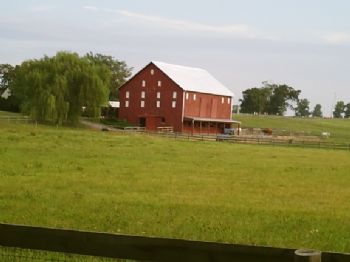 There were lots of barns to be seen.


Friday, August 03, 2012
The latest motivational poster from RW Daily had a couple of links that proved useful and a bit amusing:




Here is the post from RW Daily: rwdaily.runnersworld.com/2012/07/mot
ivational-poster-31.html

If you choose not to read the article (what you don't have 3 minutes?) it links to an article from Lifehacker tinyurl.com/chbar5v about getting 30 minutes in 10 minute chunks. (another 3 minutes) The Lifehacker post is itself quite reasonable. But do read the comments. Every excuse in the book. I dig it that there are some special circumstances that would prevent someone getting in 30 minutes a day:

"It doesn't sound like either one of you have ever had to work 3 jobs. Lucky you."

Alright, I get your special case, but the vast majority of people who "can't" find 30 minutes a day seem to be able to find an average of 2.8 hours a day to watch tv, right? www.bls.gov/news.release/atus.nr0.ht
m/

" --Watching TV was the leisure activity that occupied the most time
(2.8 hours per day), accounting for about half of leisure time, on
average, for those age 15 and over. Socializing, such as visiting with
friends or attending or hosting social events, was the next most
common leisure activity, accounting for nearly three-quarters of an
hour per day. (See table 1.)"

Remember, activity enregizes. So if you "can't" do 30 minutes after work because you feel so drained by your workday, you may be surprised at how it wakes you up. Or, set that alarm 30 minutes earlier and do some videos.

Thirty minutes. Come on, let's play.
First Page
1
2
3
4
5
6
7
8
9
10
11
12
13
14
15
16
17
18
19
20
21
22
23
24
25
26
27
28
29
30
31
32
33
34
35
36
37
38
39
40
41
42
43
44
45
46
47
48
49
50
51
52
53
54
55
56
57
58
59
60
61
62
63
64
65
66
67
68
69
70
71
72
73
74
75
76
77
78
79
80
81
82
83
84
85
86
87
88
89
90
91
92
93
94
95 96 97 98 99 100 101 102 103 104 105 106 107 108 109 110 111 112 113 114 115 116 117 118 119 120 121 122 123 124 125 126 127 128 129 130 131 132 133 134 135 136 137 138 139 140 141 142 143 144 145 146 147 148 149 150 151 152 153 154 155 156 157 158 159 160 161 162 163 164 165 166 167 168 169 170 171 172 173 174 175 Last Page

Get An Email Alert Each Time TIMOTHYNOHE Posts