| | |
| --- | --- |
| | TIMOTHYNOHE's Recent Blog Entries |


Tuesday, July 24, 2012
... And neither are you:

I saw this in Chicago and I actually ran after the guy because it soooo makes my case: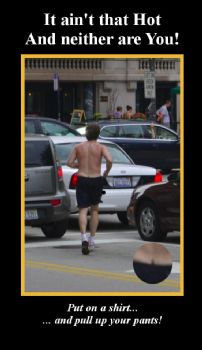 If you don't get it at first, look at the inset at the lower right.



Monday, July 23, 2012
After three nights in a hotel in a strange city (Chicago) it was very nice to sleep in my own bed last night. And yet when the alarm went off this morning I was in a state of confusion. I could not figure out why my hotel room was so different.

That's correct, I woke thinking I was in the hotel still. It's usually the other way around.

And the confusion continued. I could not find my keys. Someone had picked up my car from Pep Boys while I was gone and did not put my keys where they belonged. As a consequence I was late to the Y to meet my trainer and only got a 45 minute session. But I did get a session in.

Tomorrow will be better I am sure.

Oh and my twisted ankle feel some better ... not all better yet.


Monday, July 23, 2012
I have been regaling you with stories of my visit to Chicago. Walking, running, dancing like a damned fool.

So Saturday morning I was waiting on the elevator on the tenth floor of my cut-rate hotel. This elevator must have been squirrel powered because it was so slow. After several minutes it arrived full. I had no patience to wait for the next car, so I took the stairs down.

No problem right?

I reached the bottom step, the last one after 10 storeys, and I rolled my ankle! After all that I had been doing, I rolled my ankle on the steps.

I did the RICE deal ... well kind of. I walked carefully, but Rested it when I got back to my room, Iced it, Compression wrapped it with KT Tape, and Elevated it.

As is normal, the night before, I could not sleep well. I was still awake at 1:00AM this morning. And the Alarm went off at 4:45. I got up. I got ready: running togs, shoes, Heart Rate Monitor belt, foot pod and timing chip strip on my shoes, hydration belt, phone, wireless earphones. I even wanted to try my hat camera. (I still have no idea how well it worked because I haven;t downloaded anything yet.)

Out the door at 5:20. I hit Dunkin Donuts for coffee and a second banana and I was still at the fountain to meet up with my 50 State Club friends by 5:35.

At 6:30, the temps were already in the middle 70s and very humid. So I had to have a race strategy. Sore ankle: baby it at least until I knew how it would hold up. There would be no PR today. I did not want a DNF and I damned sure didn't want a DNS (Did Not Survive). So --

Heat: that was a whole other kettle of fish. I usually run out the first 5k, then do a run/walk of 1 mile/1 minute.

That was not going to work today. After the 5k, I could already feel the blood pumping in my temples. I looked at my watch: 158 BPM. So I stayed slowed until I was at 120 BPM. And that was my plan from there out. No higher than 155 BPM, walk until 120 BPM.

By the time we were down to the last 5k, they were handing out wet sponges and hansful of ice. I was shoving them down my pants. I was taking two waters: on e to drink and one to pour on my torso or down my pants. And it was working to keep me cool. And keeping cool was keeping my heart rate lower longer.

Lucky for me I wasn't looking for a PR because my time was 2:36:xx. That's about 30 minutes slower than my PR.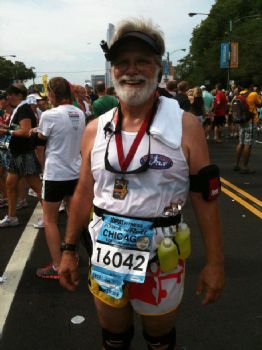 But I finished even with a tender ankle.

And I survived in some of the worst heat and humidity I have run in yet.

And I had fun. And isn't that what it's all about?


Saturday, July 21, 2012
My alarm rang for me at 5:00 AM. What? Remember those television schedule reminders? "See and all new Gunsmoke next week at 8, 7 central." Yeah, it was something like that. My clock was set for Eastern time. So a six o'clock ringy-dingy was actually five o'clock.

It was still dark out.

But I tried to go back to sleep, but the bed wasn't that comfortable, nature was calling, and I knew I had a run to do. I dragged my butt out the bed, pulled on my running togs, tied on my shoes, took another look at me butt-ugly face in the mirror and decided I'd rather wear a hat than brush my hair. I shoved a banana into my mouth and I heaved a heavy sigh and headed for the lobby. God, I did not want to run in that muggy air. But I had made me a promise. So I pushed my morning ugly butt out the hotel door onto Harrison Street, sans coffee I might add ... have you ever drunk that coffee service stuff in the rooms at even the nicer hotels? And this is a cut-rate hotel. QUick find me a starbucks or Dunkin Donuts ... and brace myself for a most unpleas ....

.... wait a minute. It was in the sixties and a stiff breeze was coming off the Lake and the sky was a deep blue. There was not evidence of a rainstorm and yet that's what it looked like.

I felt immediately better and I took off running. I ran through the park and after I ran through the park, I ran through town. Drivers don't much like it when you run against the lights. They blow their horns and say the most rude things! I didn't expect that since everyone in Chicago has been so nice. Stopping at intersections to wait for the lights gave me lots of rest. My one hour run only covered 5 miles.

I showered and dressed and set out in search of COFFEE! At the same time I had new intel on where to find the Route 66 sign. And there was a Starbucks on that very corner.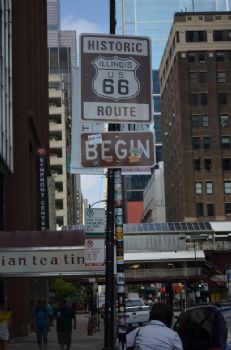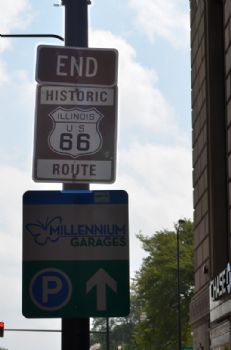 These were at the intersections of E Adams St and E Jackson Blvd (respectively) & S Michigan Avenue. No wonder I could not find them Thursday night.

By now, it was getting onto about 10:00 so I decided I would walk the more than 2 miles to the convention center where Rock 'n' Roll was holding the Expo. Along the way I met up with the runner's bestest friend in the whole wide world on raceday: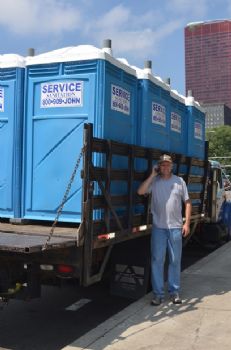 Yep, the guy setting up the port-a-johns.

I needed to find a place so that the 50 States Half Marathon Club could meet-up and I did at this big ass fountain.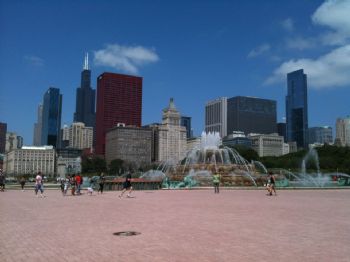 This is Buckingham Fountain. It had become such a lovely day that I spent at least 30 minutes just enjoying watching the geeky people riding around on the Segways. Look, I am a geek, but not so much that you could ever get me tyo lower myself to get on one of those.

Finally I stirred myself long enough to get all the way to the Museum Campus. The plaza in front of Field Museum offers a great view of the city.



That was another long spell of ahnging around for about 30 minutes.

Getting back on the trail, I passed Soldier Field. A little something about stadiums. When most cities replace stadiums and they want to retain the appeal of the original, they usually do one of two things. In the case of Yankee Stadium in 1974-75, the Yankees vacated to Shea Stadium while Yankee Stadium was updated. Then in 2007 they started building a new Yankee Stadium across the street from the old one and moved in 2009, tearing down the original. The White Sox did the second thing in 1989 - 1991 when they built new Comiskey Park and tore down the old one. Now it's US Celluar Field. So much for charm.

The Bears home for football has always been Soldiers' Field. They didn't do either of the two above options. They built a brand new modern stadium RIGHT INSIDE THE OLD ONE!!


Maybe it's just me, but I think that's kind of kooky, nutty, crazy even.

I got to the Expo. Picked up my stuff then hit the floor in search of show bargains. One of the sponsors if XSports Fitness and they were having a demonstration. A girl was dancing on the stage. I started to move with the music and before I knew it I was being encourage to dance ... like nobody was watching ... and yet everyone was watching. At one point I stepped on my shoe lace and fell down. Now that could have been embarrassing, but I bounced right back up and kept at it for another several minutes. I was definitely getting a workout.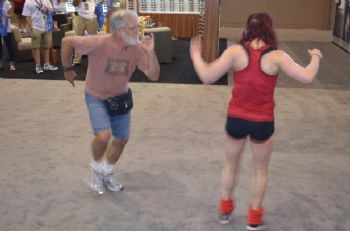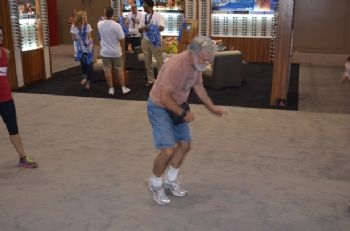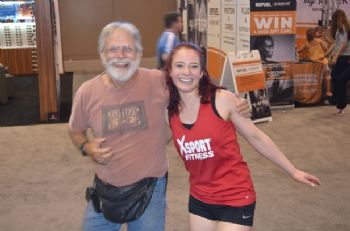 When I was finally done with the Expo, I still opted to walk all the way back to the hotel. More than two miles.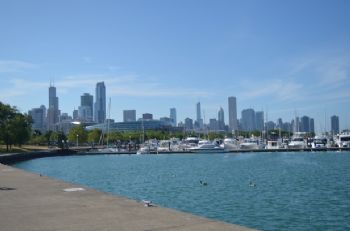 There is not much to report about my Saturday. I went out for coffee. I took the train up to ... I don't know the name of the neighborhood ... to go to Fleet Feet to get something I didn't find at the show. There in that neighborhood, I found the Apple Store. Did I mention I AM a geek? Yeah, well, I found the Apple Store. And I found the Fleet Feet and son of a gun the Fleet Feet is right next door to Second City Comedy Club. I did not bring clothes as nice as what I saw people wearing to go in or I would have bought me some tickets.

Earlier in the day I went to Field Museum and saw the Genghis Khan exhibit. Very nice. If it comes to your town, do go see it.

Oh! I did go back down to the show where I met KKINEA and ROOT4HOME. ROOT4HOME had another Sparker with her, but my hearing aids did not catch her name. (That's a problem with hearing aids; in a noisy environment they do not discriminate between what you want to hear and everything else.) For that I apologize. They also told me their real names, but I only caught Kristen's (KKINEA). It's not rudeness or laziness, it's just gittin' old.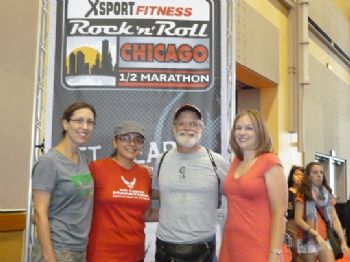 KKINEA, ROOT4HOME, TIMOTHYNOHE, and (I'm sorry I didn't catch your handle though you told me more than once, but I am partially deaf.)

I also saw the Bean today.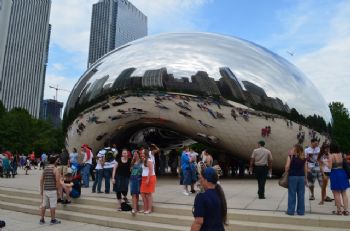 And of course the obligatory self portraits and the stranger-will-you-take-my-picture picture: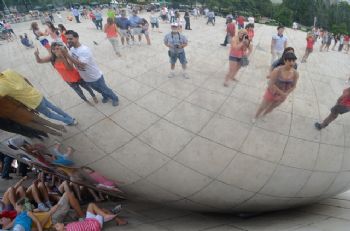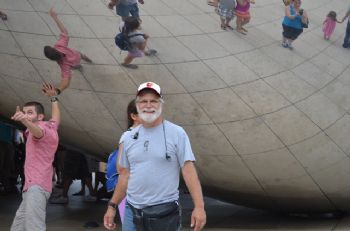 I got some more good stuff, like the shirtless runner guy who make my case, some interesting signs of days gone by and of course tomorrow's Half Marathon.


Saturday, July 21, 2012

Once you start a blog, I don't think you can change it to a video blog. So I here separately post a short video of the people dancing. It was fun. I surprised a lot of young people with some of my moves, I daresay.
First Page
1
2
3
4
5
6
7
8
9
10
11
12
13
14
15
16
17
18
19
20
21
22
23
24
25
26
27
28
29
30
31
32
33
34
35
36
37
38
39
40
41
42
43
44
45
46
47
48
49
50
51
52
53
54
55
56
57
58
59
60
61
62
63
64
65
66
67
68
69
70
71
72
73
74
75
76
77
78
79
80
81
82
83
84
85
86
87
88
89
90
91
92
93
94
95
96
97
98 99 100 101 102 103 104 105 106 107 108 109 110 111 112 113 114 115 116 117 118 119 120 121 122 123 124 125 126 127 128 129 130 131 132 133 134 135 136 137 138 139 140 141 142 143 144 145 146 147 148 149 150 151 152 153 154 155 156 157 158 159 160 161 162 163 164 165 166 167 168 169 170 171 172 173 174 175 Last Page

Get An Email Alert Each Time TIMOTHYNOHE Posts