Saturday, July 21, 2012
I arrived Thursday morning at Chicago's Midway Airport after having gotten up at an Early hour in Baltimore. It was most strange for me to be dropped off at the airport for a solo trip. It's usually the other way around.



My morning arrival at Midway seemed to give me plenty of time to get my bags to the hotel and me on my way to the baseball game. I was very happy to be told by the extremely helpful CTA people at the MDW subway station about the three day pass for only $14. After a short ride and a longer than I liked walk from the Public Library,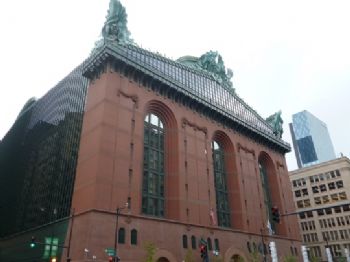 (is that not one of the most hideous buildings you have ever seen?) I arrived at my hotel, the Travel Lodge Chicago.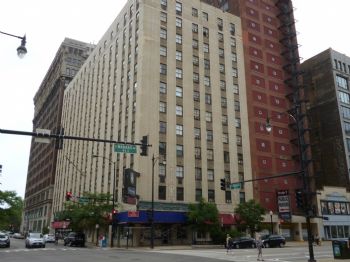 At $100 a night in mid-town, it qualifies as a cut rate hotel. No fridge, no microwave, one double bed in about a 10x12 room plus small bath with a view of the alley. And a window AC. But I am only sleeping there. The surprise was that I got a room at 11:00 AM. Check in is supposed to be at 3:00. Lucky me.

I entered Wrigley Field into Google Maps on my phone and it directed me to the nearest Red Line, much closer than the library and I wasn't dragging luggage. When I got on the train, It was not full, but comfortable. But as we drew closer to Wrigley it grew more and more packed until we were all very familiar with one another ... and it was a hot humid day.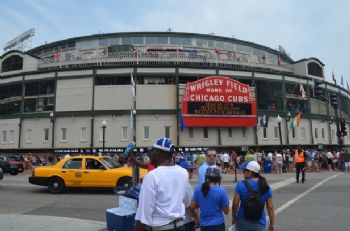 The classic ballpark at 1060 W Addison. This is where God and Abner Doubleday intended baseball to be played.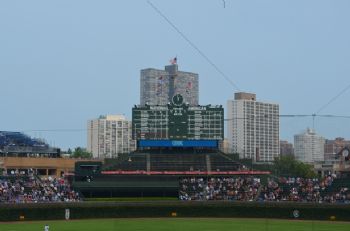 The score board has no Jumbotron and doesn't even show the inning by inning of this game nor the line score. It's as if they expect you to be keeping score on a score card yourself ... and many around me were. I have done that and it is an enjoyable way oto be a part of the game.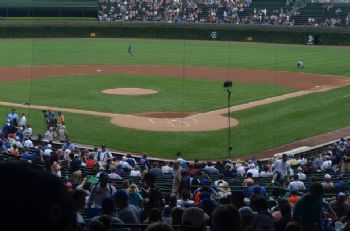 Ernie Banks used to refer to the "Friendly confines of Wrigley Field." And he was right. My seat felt like I was right on the field. It was great.

But I am not one of those people who travels well. I stayed long enough for the Seventh Inning Stretch and the traditional singing of Take Me Out to the Ballgame, this time led by Gary Sinise, and I headed back to my hotel. I did not feel like being in that crushed train car.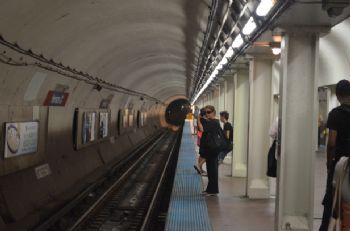 I cleaned up and I found a supermarket on the Red Line where I picked up some fruit, oatmeal, and some powdered milk. Must continue to eat healthy, right? I went out to supper at a place about 10 minutes away by train where I had a wonderful asian noodle soup.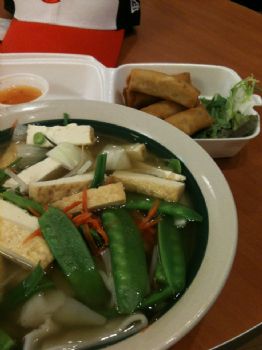 After supper, I walked back through Grant Park. The sky was lowering as if a storm was coming in and the Sears (Willis) Tower had her head in the clouds.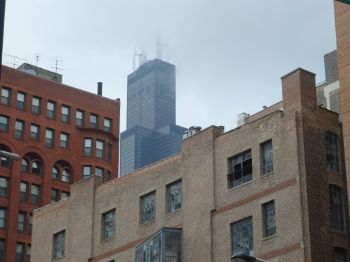 So the day was cooling off. I passed the arrival of the truck carrying my reason for being here in Chicago: Rock 'n' Roll Marathon Series!!!



My real mission was to find the eastern terminus of the Mother Road, Route 66. I will be running the Williams Route 66 Marathon in Tulsa OK come November and just for fun I looked up the terminus of Route 66. The site I went to said there was a sign at the intersection of Lake Shore Drive and Jackson Blvd.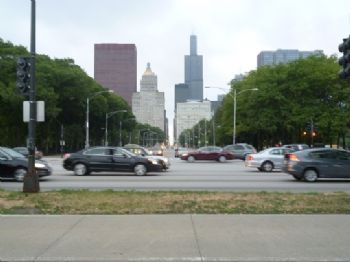 I don't see no sign there, do you?

Tired and a little disappointed I headed back toward the hotel. Then I came upon a bandstand in the park.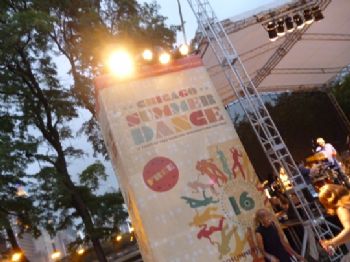 And a band in the bandstand.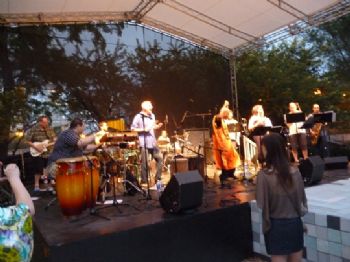 And a wooden floor and lots of people dancing.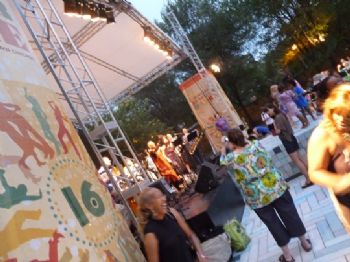 And I danced, too, for about 40 minutes. I had been tired, but I danced until about 9:00.

But I had a run planned for Friday morning and I was tired from a long day. And so to bed.


Saturday, July 21, 2012
I had a very clever photo filled blogg and it didn't send!

I don't want to break my blog streak so tonight you get this junk blog post and tomorrow I will try to be clever again.

Here is a picture.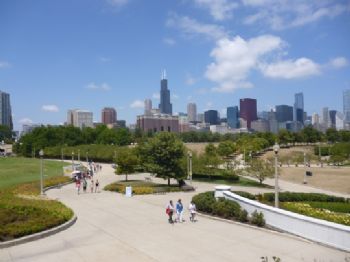 And I was so very clever before.


Thursday, July 19, 2012
I arrived this morning about 10:30 local time. The L has a three day pass for 14. Not too shabby. I rode to the hotel and got my room early, dropped my bags and took the next train up to Wrigley Field for a Cubs game (Cubbies won.). Everybody sings along with the National anthem.

Having gottenup at 5:00, I was a little tired and I didn't feel like a crowded train so I left in the seventh inning. After dinner (pho) I went to walk thorugh Grant park and the Rock 'n' Roll people were thee setting up already. Coooool.

AS I was finishing up about 40 minutes of walking, I came upon a band playing and hundreds of people dancing like no one was looking. I joined in. Why not. So 40 minutes of dancing. I am whipped.

I have pictures but I am not dealing with them tonight.\
Tomorrow I run. A little. And then I don't know, walk to some museums? MAybe?

We will see. But one thing for sure, with no car I am walking a lot.




Wednesday, July 18, 2012
... we got a full tank of gas, half a pack of cigarettes, it's dark... and we're wearing sunglasses.

Hit it!

Tomorrow morning I am going to Chicago to run in the Rock 'n' Roll Chicago Half Marathon. This will be my third Rock 'n' Roll in 2012, fourth over all. It will be my sixth half in 2012.

Here's the game plan ... survive the heat. FInish alive.

Good plan.

And tomorrow afternoon I am seeing a baseball game as God and Abner Doubleday intended ... outside in the sunshine. At Wrigley Field.

Does life get any better?

"Our Lady of Blessed Acceleration, don't fail me now. "

"We're on a mission from God. "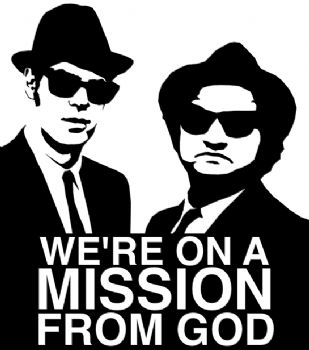 Tuesday, July 17, 2012


I found a website called Jockular.com. Actually my brother showed it to me through a post about demotivational marathon signs (Worst Parade Ever).

Then I found this:

"More of the most absurd things ever seen at the gym aside from you." www.jockular.com/14165/most-absurd-t
hings-seen-at-gym-aside-from-you

Really, go see this site, it's funny. Some of the jokes are a little smutty, PG-13-ish. Worth a visit. That video and the following photos are all from it.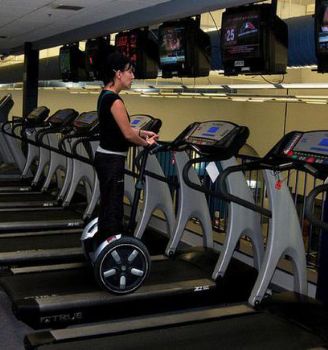 "No pain, no gain." This lady gets it.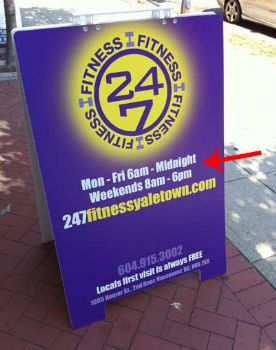 It's in Canada so maybe they measure their days in metric?



Look, no one can be expected to walk up twelve steps AND work out in the same day.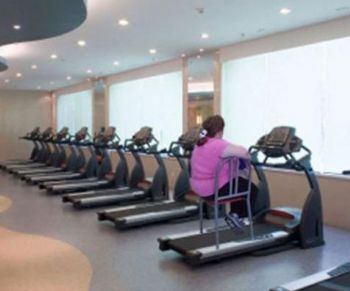 In fairness, carrying the chair to the treadmill counts as exercise.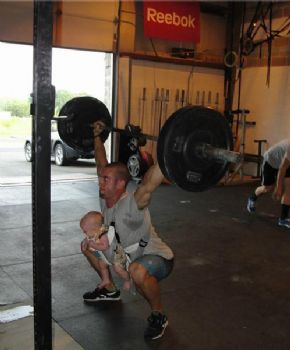 Dropping 150 lbs. on a baby would be forgiven in time, but the jorts? Sorry dude.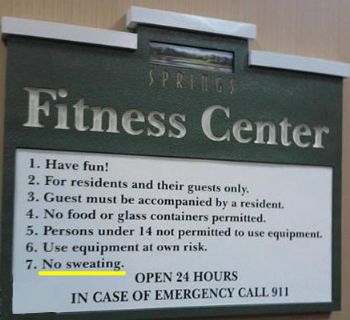 Finally, a set of gym rules that appeals to our laziness.



Growing cyber crops never takes a vacation.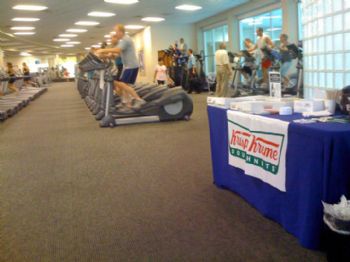 Welcome to Sisyphean Health & Fitness.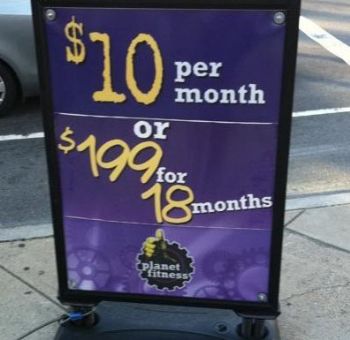 This is a GREAT deal if you happen to own a share in this gym's profits.

Now here are a few others I found today.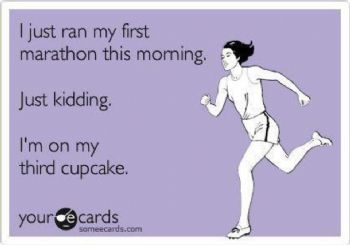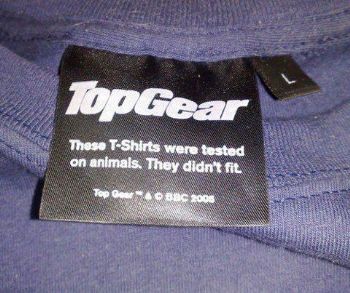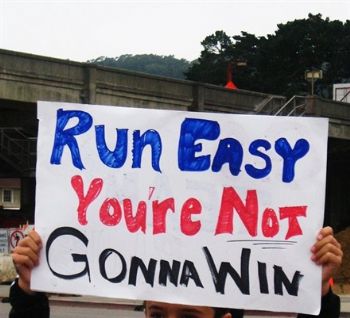 First Page
1
2
3
4
5
6
7
8
9
10
11
12
13
14
15
16
17
18
19
20
21
22
23
24
25
26
27
28
29
30
31
32
33
34
35
36
37
38
39
40
41
42
43
44
45
46
47
48
49
50
51
52
53
54
55
56
57
58
59
60
61
62
63
64
65
66
67
68
69
70
71
72
73
74
75
76
77
78
79
80
81
82
83
84
85
86
87
88
89
90
91
92
93
94
95
96
97
98
99 100 101 102 103 104 105 106 107 108 109 110 111 112 113 114 115 116 117 118 119 120 121 122 123 124 125 126 127 128 129 130 131 132 133 134 135 136 137 138 139 140 141 142 143 144 145 146 147 148 149 150 151 152 153 154 155 156 157 158 159 160 161 162 163 164 165 166 167 168 169 170 171 172 173 174 175 Last Page