| | |
| --- | --- |
| | TIMOTHYNOHE's Recent Blog Entries |


Friday, July 06, 2012
I was just about halfway through my long (hot) run today, wondering if I was going to need the bushes when I passed through a construction zone: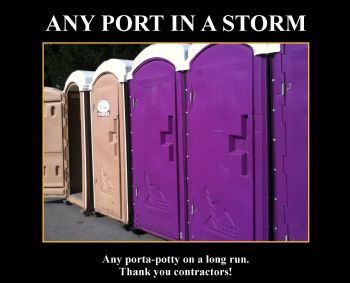 Thursday, July 05, 2012
We had everybody over yesterday and I was manning the grill. And I ate too much garbage.

When I stood on the scale this morning, the tale was told. But i did not panic. Yes, it looked bad. But I also knew it was like only temporary. You don't bounce 5 pounds in a day for real. It may take a couple of days for that bounce to go down, but it's not real.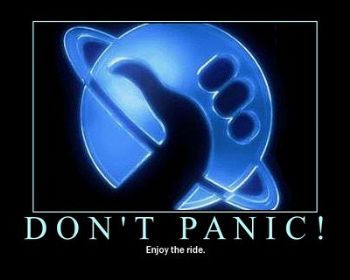 From the cover of The Hitchhiker's Guide to the Galaxy.

Today, I drank lots of water, ate lots of fruit, stayed out of the leftover chips and dips and dogs and burgers. I ate salad. Except for a modest breakfast, I only ate when I was really hungry. Which is to say not much. Right now, this minute, I could go for some real food for the first time all day (it's 11:00 PM), but I shall forgo that urge and go to bed in a few minutes.

Tomorrow is a long run. The alarm is set for 5:00AM because it will be about 100º for the high, so best get it in pre-dawn. I have bananas and oatmeal and lots of water. I will set up a water/nutrition station on the front porch and pass by every 3 or 4 miles.

I have this under control.


Wednesday, July 04, 2012
No race today. For the second time, I wrote a race time down wrong. MCVET 2011, I was late enough to see everyone go off, but still able to run the race, thanks to chip timing.

Today, I wrote down 9:00 for the Arbutus (MD) Firecracker 10k and I was 30 minutes late. It was 8:00 and I arrived in "plenty of time" for a 9:00 race, 8:30. And it is a gun timed race. So I missed it entirely.

I have to find something this weekend to put it back on my calendar.

Grrrrr.


Tuesday, July 03, 2012
... at least in Catonsville.

The day kicks off with the 30th Arbutus Firecracker 10k. Arbutus is the town adjacent to Catonsville. Close enough to walk to from my house. Then there are family picnic at the high school. We used to do that when the kids were little. The parade starts at 1:00 up on the main drag, Frederick Rd. We live one block off FredRd near the marshaling area, so we get a little parade-before-the-parade which has always been pretty cool.

FredRd has been lined with chairs since Fathers Day and has been steadily filling up since. Friday when the super-derecho came through (lights are still out all over town and it is hot!) there were chairs strewn all over FredRd. Very funny.

We always have people over, being so close to everything. So there is that. Then band music down at the High School and at sundown BOOM! Fireworks.

Last year, we skipped most of all that to go on vacation up at the Finger Lakes with our son and his in-laws. After I had run the 10k, we immediately hit the road for NY. Way up in upstate PA, She(WMBO) turned to me and told me to look out for gas stations, "I have about 30 miles left in the tank." Zoom!, one went by us and she started in with the "You missed it! I told you to look out." Hey, you're the drive, that's your job. By the way, why didn't you gas up before we left home? "Well, we had to leave as soon as you were done running." What did you do while I was running? "Shut up." Yeah, that's what I thought.

Next exit 6 miles. "We'll make that. Hope they have gas." Lying computer said we had 22 miles left in the tank. We were halfway in between and we ran out of gas.

She turned to me, smiled, and said, "I sure am glad you're in shape now." Yes, I ran back to the last exit, on the Interstate, in 100º heat. Fortunately, I found a kind soul to drive me back or I would have had to walk three miles all uphill with three gallons of gasoline, 24 pounds. Ugly as it was, that would have been a disaster.

Yes there was gas at the next exit.

This year we stay home.


Monday, July 02, 2012
The RWDaily. runnersworld .com posters are usually a little funny and always fun. This one? Not so much funny but definitely it made me smile.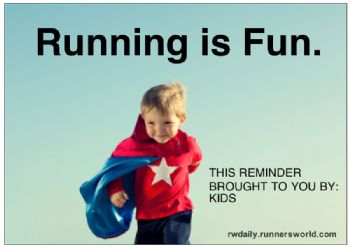 As much as I dislike "costume runners" I like this one. Where can I get that costume?
First Page
1
2
3
4
5
6
7
8
9
10
11
12
13
14
15
16
17
18
19
20
21
22
23
24
25
26
27
28
29
30
31
32
33
34
35
36
37
38
39
40
41
42
43
44
45
46
47
48
49
50
51
52
53
54
55
56
57
58
59
60
61
62
63
64
65
66
67
68
69
70
71
72
73
74
75
76
77
78
79
80
81
82
83
84
85
86
87
88
89
90
91
92
93
94
95
96
97
98
99
100
101
102 103 104 105 106 107 108 109 110 111 112 113 114 115 116 117 118 119 120 121 122 123 124 125 126 127 128 129 130 131 132 133 134 135 136 137 138 139 140 141 142 143 144 145 146 147 148 149 150 151 152 153 154 155 156 157 158 159 160 161 162 163 164 165 166 167 168 169 170 171 172 173 174 175 Last Page

Get An Email Alert Each Time TIMOTHYNOHE Posts