Sunday, July 01, 2012
With the Fourth of July coming up and having finally converted my grill to natural gas, I started to look around for good stuff to grill. I found some stuff that I have tried before, but never actually grilled myself and some new stuff.

Pizza. Forget delivery and DiGiorno — pizza is great on the grill! Simply brush olive oil on flattened dough (you can find pre-made pizza dough at most grocery stores!) and place it on the grill. Once grill marks appear, take it off the heat and add desired toppings, grilled side up. Place back on the barbeque for two to three minutes, or until the cheese is nice n' bubbly! No need to call Dominos ever again.

Quesadilla. Skip the pan and take the tortillas outside! Prepare the filing, then light up the grill. Brush the tortilla with olive oil and place on the heat, oiled side down. Top with cheese and fillings (chicken, beans, etc). Once the cheese starts melting and the bottom is browning, fold one side over with a spatula to seal it up. Remove from the heat and enjoy (with guacamole, of course!).

Mozzarella Cheese. What's better than cheese? Grilled cheese — without the bread! Take a thick slice of mozzarella cheese and lightly coat in an egg batter and bread crumbs. Grill for a few minutes on each size, or until the cheese starts to slightly melt. Serve with marinara sauce, crackers, or on a turkey burger!
Pineapple. It's time to bring the tropics to your backyard. Simply slice a pineapple into rounds and grill until brown — about three minutes per side. Feeling extra fancy? Brush the fruit in a honey-citrus marinade before throwing on the grill.

Ice Cream. Who said ice cream has to be a frozen treat? Scoop your favorite flavor into two-inch balls and place back in the freezer for two hours. Then, coat them in an egg batter and roll in shredded coconut; repeat three times. Place a metal skewer through the ice cream balls and put back in the freezer 'till frozen solid. Then it's grilling time! Cook for one to two minutes on each side or until the coconut is browned. Remove from heat, slide off the skewers, and enjoy with a cherry on top.

Berries. Berries may grow on bushes, but they're perfect on the grill! Create a simple lemon and sugar mixture and add blueberries, raspberries, and any other-berry favorites. Pour the mix in aluminum foil and seal up the sides. Place on the grill over medium heat for about 10 minutes. Serve immediately over grilled ice cream or Greek yogurt! (We don't think grilling the yogurt is a good idea, though…)

Peaches. Cut the peach in half and rub with butter. Place buttered-side down and close the lid. Grill for about four minutes on each side or until softened and charred. Can you say perfection? We recommend a big scoop of banana ice cream on the side!


Saturday, June 30, 2012
I saw this excellent poster today on facebook:




This thought should drive me out of the sack every other morning at oh-dark-thirty before it gets too hot and I am able to load up on excuses.


Friday, June 29, 2012
That is the title of a blog post by "swim bike mom". tinyurl.com/7ksv9yu I for one love triathlon, even if I am sidelined this year. Swim bike mom is a triathlete and she posted this photo on her blog:




"Remember when Tom Cruise made a fool out of himself on Oprah when he fell in love with Katie Holmes (nevermind the impending divorce)? Well, I did a similar thing when I came across Jackie Stringer's race photo this morning. Not because I am in love with Jackie (well, not yet… but having just "met" her… I might be…) – but because this race photo was so incredibly awesome to me. I saw it - said "hell yes!" out loud, wanted to jump up and down on the couch… then I posted on Facebook on Swim Bike Mom. https://facebook.com/SwimBikeMom "

Jackie started her journey at 415 pounds! She is now a swimmer and triathlete.

" I would encourage anyone to watch my progress as I train for the Half Ironman in Augusta on September 30th. Many people half my size wouldn't even dream of trying to even enter such an event. But IM DOING iT! First, last, dnf, at least I started and will continue to follow my dreams…. FOR ME."

A Half Ironman!

And this:

"FYI the day after this race, I swam the Ridges 5k open water swim from GA to NC… so anything is possible if you put your mind to it!!!"

A swim 5k! 3.1 miles swim! The swim leg of the Ironman is "only" 2.4 miles.

Go Jackie!


Thursday, June 28, 2012
My 11th grade English teacher was Mrs Margaret Burns. We all called her Maggie ... only behind her back. She was a fearful person. If she saw you chewing gum, by Jiminy, she could snag you by the collar from 20 feet away in a crowded hall.

Magie had a favorite quote that she would share with us often. In her inimitable North Carolina twang she would tell us "Do not squander time for that is the stuff that life is made of." She would of course remind us that one should never end a sentence with a preposition, but it was forgivable since Margaret Mitchell was a great American writer and she used that line in Gone With the Wind, the greatest movie ever made.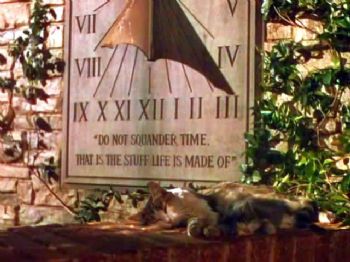 Of course Maggie Burns got a couple of things wrong. Firstly, Margaret Mitchell did not make up that line. It was a Benjamin Franklin quote: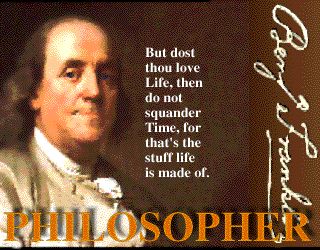 "But dost thou love life, do not squander time ..." translated to modern English would be "If you love life, do not waste time ..."

But I have to agree with dear Mrs Burns that it is a great quote. At this stage in my life, I find I am enjoying what I am doing more. I wasted so much time, squandered it, in my youth. I look back and wonder why I never was a runner earlier in my life. I wonder why I took so much time to decide to lose the excess weight.

Her second mistake? Gone With the Wind is one of the worst movies I ever had to sit through for three plus hours PLUS intermission with a girl. I think her name was Linda or Diane or something and I was hot for her. She wanted to see this movie and I asked her if I could take her. We came out and she was just gushing. She asked me if that wasn't the best movie I'd ever seen.

I told her the truth.

I never had another date with Linda or Diane or whatever. I guess she chose to not squander any more time with me.

My dad gave me some sage advice ... women do not want to hear the truth about things like Gone With the Wind. I should have told her how much I loved it.

But She(WMBO) tolerates my idiosyncrasy or idiocy and warns me when she plans to burn off an entire afternoon. She loves it too.

I still hate it.


Wednesday, June 27, 2012
The Glass Metaphor has always been incomplete in my mind. So I made this Motivational Poster.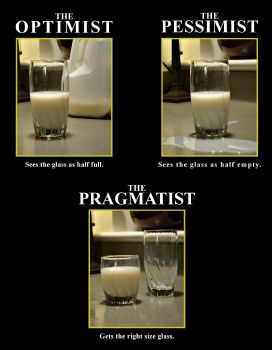 As I type this I don't know if you can read the small captions, so here they are:

The Optimist Sees the glass as half full.
The Pessimist Sees the glass as half empty.
The Pragmatist Gets the right size glass.

My cousin's cousin Kevin suggested I missed one:
The Opportunist Asks, "Are you gonna drink that?"
First Page
1
2
3
4
5
6
7
8
9
10
11
12
13
14
15
16
17
18
19
20
21
22
23
24
25
26
27
28
29
30
31
32
33
34
35
36
37
38
39
40
41
42
43
44
45
46
47
48
49
50
51
52
53
54
55
56
57
58
59
60
61
62
63
64
65
66
67
68
69
70
71
72
73
74
75
76
77
78
79
80
81
82
83
84
85
86
87
88
89
90
91
92
93
94
95
96
97
98
99
100
101
102
103 104 105 106 107 108 109 110 111 112 113 114 115 116 117 118 119 120 121 122 123 124 125 126 127 128 129 130 131 132 133 134 135 136 137 138 139 140 141 142 143 144 145 146 147 148 149 150 151 152 153 154 155 156 157 158 159 160 161 162 163 164 165 166 167 168 169 170 171 172 173 174 175 Last Page